Your Guide to Touring the Top Universities in Dallas
With its diverse population, growing number of microbreweries and restaurants, and abundant post-grad job opportunities, the Dallas–Fort Worth area is an awesome place to go to college. But it's also big, sprawling, and packed with traffic. So if you're planning to take a group of students from your high school, youth group, or after-school program to tour universities in Dallas, it's a good idea to plan your transportation ahead of time.
The DART public transit system is constantly expanding, but it's still mostly limited to Dallas proper, and many Dallas-area schools lie in suburbs or smaller cities that DART doesn't reach. That means a car or bus will likely be your best option. And if you need a ride that's more comfortable and spacious than a school bus and requires fewer drivers than a carpool, a charter bus could be a great choice.
GOGO Charters has minibuses and charter buses with climate control and reclining seats to keep your students comfortable as you drive between campuses and cities. Just give us a call at 214-431-5792. We'd love to help you plan a group visit to some of Texas's most popular universities.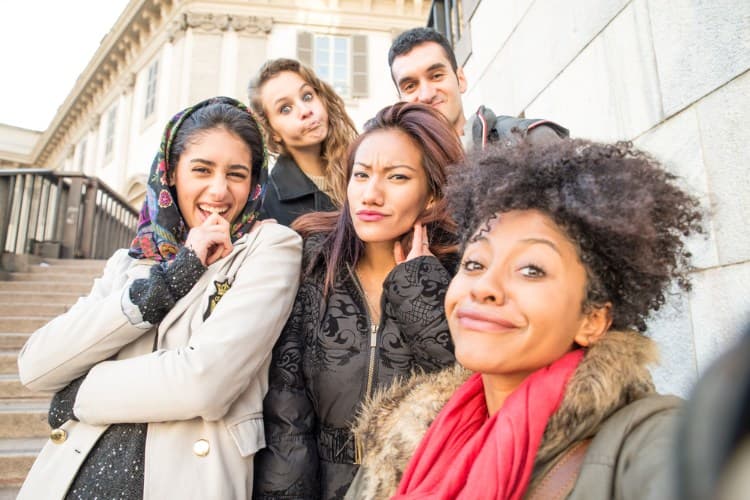 Dallas's Public Universities
University of Texas – Dallas
This research university is known for its business, engineering, science and audiology programs (yep, audiology!). It also boasts a convenient location in the Dallas suburbs and abundant sports teams, including esports teams for Overwatch, League of Legends, Smash Ultimate, and Rocket League.
UT-Dallas offers group tours for 10-30 people. The program consists of a welcome presentation by admissions officers and a one-hour walking tour. Reservations must be made at least two weeks in advance, and you must bring at least one adult chaperone for every 10 students. Tours start at 11 a.m. each weekday, and you should schedule your tour online two weeks in advance.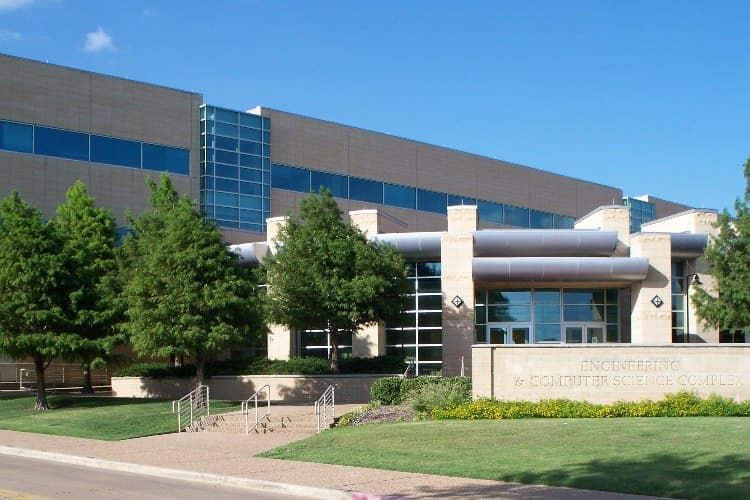 Image credit: Wikimedia Commons
Address: 800 W Campbell Rd, Richardson, TX 75080
Where to park your bus: Visitors to the campus must bring a driver's license and request a free one-day parking pass from the Visitor Center and University Book Store or the parking office at Parking Structure 3. This will let you park in Visitor or Green spaces. You can also request a permit in advance when you schedule your group visit.
University of Texas – Arlington
The largest university in the Dallas area and the second-largest school in the University of Texas system, UT-Arlington welcomes more than 40,000 students each year. This school is incredibly diverse—it's #1 in Texas for Bachelor's and Master's degrees awarded to African-American students and is designated as a Hispanic-Serving Institution by the U.S. Department of Education. It's also a favorite university for veterans, earning the #1 spot in the Military Times's rankings.
Group tours are available for middle, high school, and community college students as well as youth groups, sports teams, and scouting troops. You may bring 10-50 students, and tours take place on weekdays at 10:30 a.m. and 1 p.m. and Saturdays at 10 a.m. The student-led walking tour lasts about 1 hour and 15 minutes.
If you'd like to add on an admission information session, you must request it ahead of time. These sessions are held at 12:30 p.m. and 2:15 p.m. on weekdays only, so reserve a session early if you want to attend one.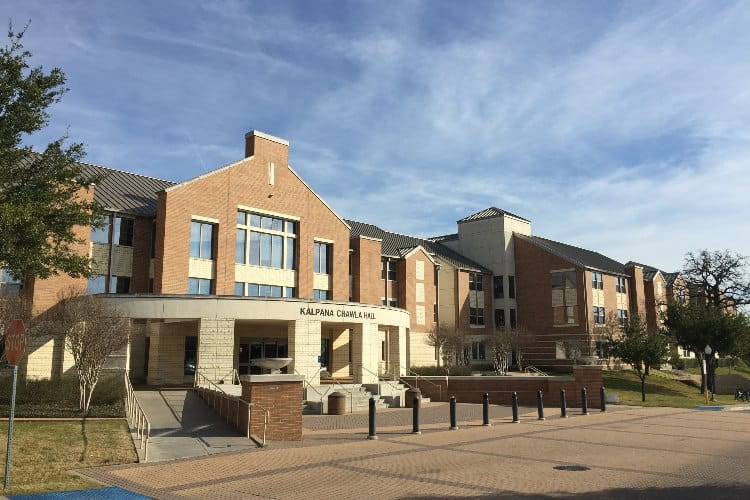 Image credit: Wikimedia Commons
Address: 701 S Nedderman Dr, Arlington, TX 76019
Where to park your bus: UT-Arlington has metered spots across campus that are open to visitors as well as visitors' spots in the Maverick and West Campus parking garages. Ask where there's room for your bus when you book your group tour.
University of North Texas
A Tier 1 Research University, UNT is known for the flexibility of its programs, with options for undergraduate, graduate, and online-only students. You can choose from 230 degree tracks in 14 different schools, and the university offers discounted tuition for Oklahoma residents as well as Texas ones.
If you're bringing a group of 10 or more people, you can book a group tour here at least two weeks before your visit. This group tour includes financial aid and scholarship information.
Because UNT is such a large university, the schools of business, engineering, music, science, visual arts, and journalism also offer school-specific tours. If you have students who already know what they want to major in, these tours could be a great option. You can book them using the same link as the general tour—just specify which schools you're interested in.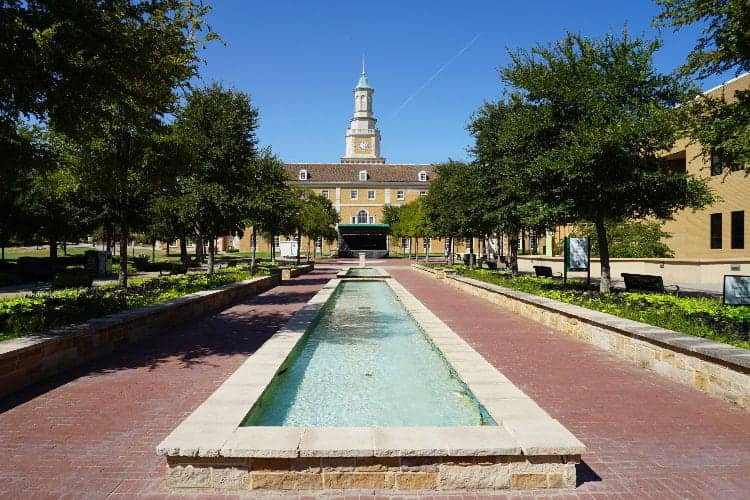 Image credit: Wikimedia Commons
Address: 1155 Union Cir, Denton, TX 76203
Where to park your bus: Since parking on campus is limited, the university asks that you request bus parking when you schedule your group visit. You can do so here.
Private Universities
Southern Methodist University
Recognized by U.S. News & World Report as the second-best university in Texas, this liberal arts school combines strong research programs with small classes for a challenging academic experience. Its business, arts, engineering and law programs are well-known throughout Texas and the U.S.
Group tours are available for 15-40 high school students Monday through Friday. You can sign up for your group tour here and choose between a campus tour, an admission information session, or a day that includes both.
If anyone participating in the tour has a mobility-related disability, make sure you contact the SMU accessibility office at 214-768-0496. We also have ADA-compliant buses to meet your group's needs.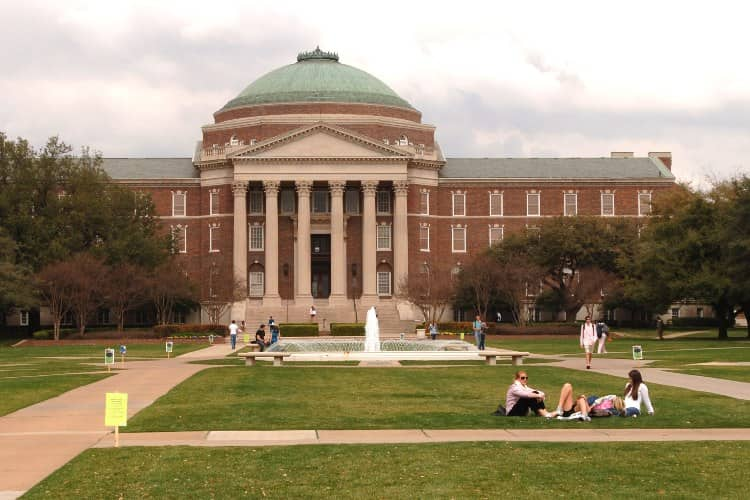 Image credit: Wikimedia Commons
Address: 6185 Airline Rd, Dallas, TX 75205
Where to park your bus: Because the school has limited parking that can accommodate buses, SMU asks that you request bus parking when you fill out the group tour request form above. You will then be assigned a parking location.
Texas Christian University
Texas Christian University offers small classes, an abundance of study-abroad opportunities, and a tight-knit student body who root for the Horned Frogs. Because it's a liberal arts school, students are expected to study a variety of disciplines before choosing from majors like Asian Studies, International Relations, and Latin American Studies.
If you're bringing students in grades 10-12, you can book a group tour for up to 40 kids. Group tours take place Tuesday through Thursday at 10 a.m. and 1 p.m. during the school year and at 10 a.m. during the summer. The visit lasts about two hours and includes a campus tour and an admissions presentation. You'll need to request a tour at least three weeks in advance, and if you have any special requirements, such as disability access, you can email grouptours@tcu.edu.
Image credit: Wikimedia Commons
Address: 2800 S University Dr, Fort Worth, TX 76129
Where to park your bus: In order to park on campus, you'll need a visitor pass. These passes are available 24/7 at the TCU Police Department. Once you have a pass, you can park in designated visitor lots and in any white-lined spaces on campus.
University of Dallas
This Catholic university offers a distinctive curriculum called "The Core," where all undergraduates are required to take classes on the "Great Works" of the Western canon. Rather than signing up for courses on a specific topic, students take broadly defined seminars like "Philosophy" or "History" where they discuss works by Homer, William Shakespeare, Immanuel Kant, Frederick Douglass, and Elizabeth Cady Stanton.
UD provides group visits for up to 40 students in grades 10-12. Offered Monday through Friday from 9 a.m. to 3 p.m, group visits last about two hours and include an admissions talk and a walking tour. You can schedule a tour by contacting the Campus Visit Coordinator at ojhernandez@udallas.edu or 972-721-5266 at least three weeks in advance. The coordinator can also provide information about accommodations for students with disabilities. Before you call or email about your visit, please note that UD doesn't host tours in October or March.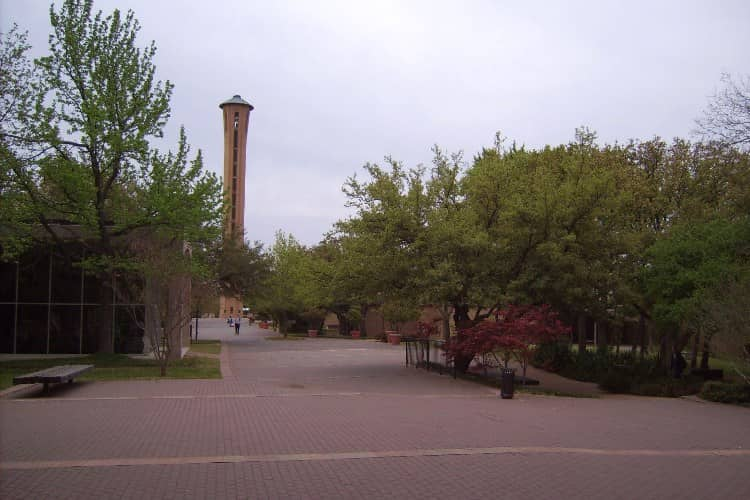 Image credit: Wikimedia Commons
Address: 1845 E Northgate Dr, Irving, TX 75062
Where to park your bus: The Campus Visit Coordinator will provide directions for where to park your bus when you call or email to make your reservation.
Dallas Baptist University
Dallas Baptist University appeals to students looking for small classes, an education based in Christianity, and flexible learning options like online courses. It's especially known for its undergraduate and graduate programs in business and Christian theology.
To visit with a group, you'll need to fill out the form located here. Campus visits take place Monday through Friday at 9:00 a.m. and 2:00 p.m. and on certain Saturdays at 10:00 a.m. If you'd like to bring your youth group or Christian school group to a service at Pilgrim Chapel, please make sure you request a visit on Mondays or Wednesdays at 9 a.m.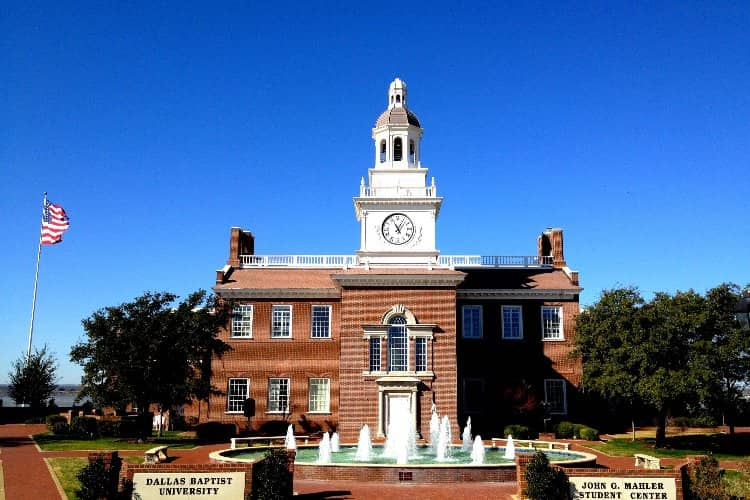 Image credit: Wikimedia Commons
Address: 3000 Mountain Creek Pkwy, Dallas, TX 75211
Where to park your bus: Once you submit your online form and your request for a visit is accepted, the admissions office will email you with directions and information about parking.
Plan a Group Campus Tour in Dallas
From massive public schools overflowing with diversity and research opportunities to small private schools where you'll debate Virgil with a dozen other people, the Dallas area has almost any kind of college you could imagine.
Make sure the students from your school, religious, or community group get to experience multiple universities before they apply by taking them on a motorcoach tour. GOGO Charters would love to help keep your kids safe and comfortable while they make an informed choice about where to spend their college years. Give us a call at 214-431-5792 to book your bus today.
Tags In
Do you need to rent a charter bus?
Do you need a long-term shuttle service?
We offer contracted shuttle services for businesses, schools, hotels, and more. Contact our experts at 1-844-897-5201 to discuss your long-term transportation plans.