Your Group Guide to Touring Colleges in Miami
If you live in Miami and you're helping a group of high school students or teen athletes explore their college options, you'll probably want to plan your campus tours well in advance. Schools like the University of Miami and Florida International University attract thousands of visitors each year, and they can quickly run out of tour reservation spots.
You'll also want to ensure you have group transportation for all of your students. Although Miami is constantly working on its public transit, many Miami-area schools actually lie in Miami Gardens, Coral Gables, or Boca Raton, which don't have rail service and don't have consistent public bus service. When city transit isn't available or doesn't fit your schedule, a private charter bus offers a safe, reliable alternative for large groups.
GOGO Charters can help you find a charter bus rental in Miami or compact minibus with air-conditioning, reclining seats, and even free WiFi to keep your students comfortable while you travel. Draw up your itinerary and then give us a call at 305-547-8457 so we can help you explore these South Florida schools.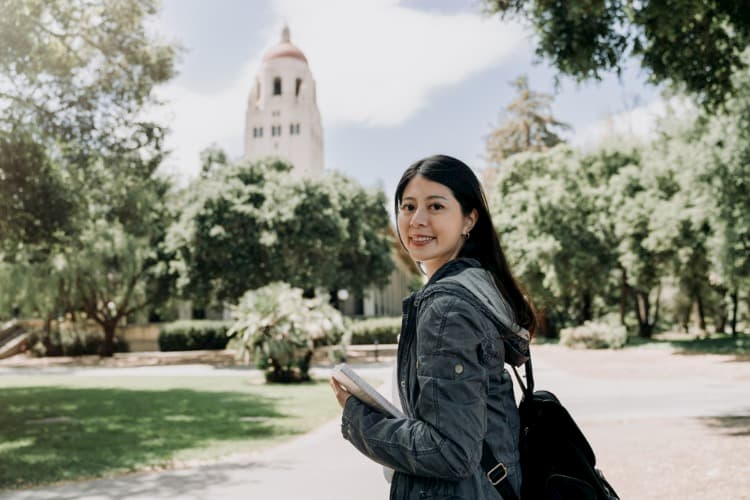 Large research universities:
University of Miami
University of Miami, Coral Gables, FL 33146
It's impossible to talk about colleges in Miami without talking about the city's most famous and most selective university. The University of Miami was ranked the #2 school in all of Florida by U.S. News & World Report in 2020, and it attracts students from around the world with its acclaimed business, biology, pre-med, and engineering programs.
The University of Miami isn't just about the academics, though. It consistently ranks high for student life too, due in large part to its beloved sports teams, the Hurricanes. The school has a strong "work hard, play hard" mentality, so if you're with a group of high-achieving students, you'll definitely want to make time to check out this school.
Group tours
You can request a group tour for 15-48 high school students and chaperones here. You'll want to send in your request at least 10 days before you plan to visit campus, and you'll need at least 1 chaperone for every 15 students. UM only offers group tours Mondays through Fridays at 10:30 a.m., and tours typically last about 1 hour and 15 minutes.
Your group will need to check in at the Whitten University Center by 10:15 a.m., so make sure your schedule allows enough time for you to reach the campus. Your charter bus rental can drop you off in front of the University Center, but it will have to park in Lot 42, which is across from the baseball stadium on Ponce de Leon Boulevard. If you have trouble finding the lot or the student center, you can call the admissions office at 305-284-5672.
Florida International University
11200 SW 8th St, Miami, FL 33199
Although many people don't realize it, the University of Miami is a private school. If you're looking for an exceptional public school in the Miami area, you'll want to look at Florida International University.
As its name suggests, FIU embraces Miami's multicultural milieu and welcomes many international students. Thanks to its high ranking for social mobility from U.S. News & World Report, it's also a popular choice for middle-class or lower-income students who want an exceptional education but can't afford UM's pricey tuition.
Florida International University offers more than 190 majors and is especially known for its programs in psychology, biology, criminal justice, hospitality administration, and international business management. It's also known for its diverse student body and two spacious campuses dotted with palm trees.
Group tours
Modesto A. Maidique is FIU's main campus, and the Biscayne Bay Campus houses the Communication & Journalism, Health Services Administration, Marine Biology, and Hospitality & Tourism Management departments. If your students aren't sure what they want to major in or have a variety of opinions, you'll want to visit MMC. If you're with a more targeted organization, like a journalism class, you could consider a tour of BBC.
Both campuses offer group tours for 8-40 students at a time. At MMC, these tours take place Monday-Friday from 10 a.m.-12 p.m. and 2 p.m.-4 p.m. At BBC, they take place on Mondays and Fridays at 10 a.m. or 12 p.m. You can make your reservation here and request parking for your bus when you reserve your trip.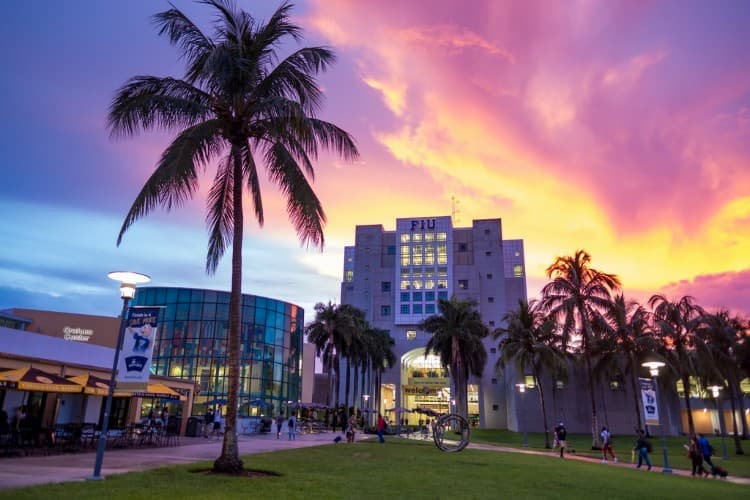 Image credit: Wikimedia Commons
Florida Atlantic University
777 Glades Rd, Boca Raton, FL 33431
Like Florida International, Florida Atlantic University is a large public college with a deep dedication to research. In fact, FAU spends an average of $62 million on undergraduate and graduate research each year.
Florida Atlantic also boasts the most racially diverse student body of any public university in Florida. The school is recognized as a Hispanic-Serving Institution, and Pell-eligible, first-generation, African American and Hispanic students all graduate at higher rates than the student body as a whole.
Group tours
Groups of up to 20 high school students can receive a private tour Wednesdays, Thursdays, or Fridays at 11 a.m. during the academic year. You must complete a group visit form at least 3 weeks before you arrive on campus and give the admissions office 3 to 5 days to confirm your visit.
Request parking when you make your reservation, and don't forget to store umbrellas, sunscreen, and water in your bus's overhead storage space. Miami's weather can quickly shift from pouring rain to oppressive heat, and you want your group to be prepared. After your tour, you can enjoy the bus's AC during your drive home.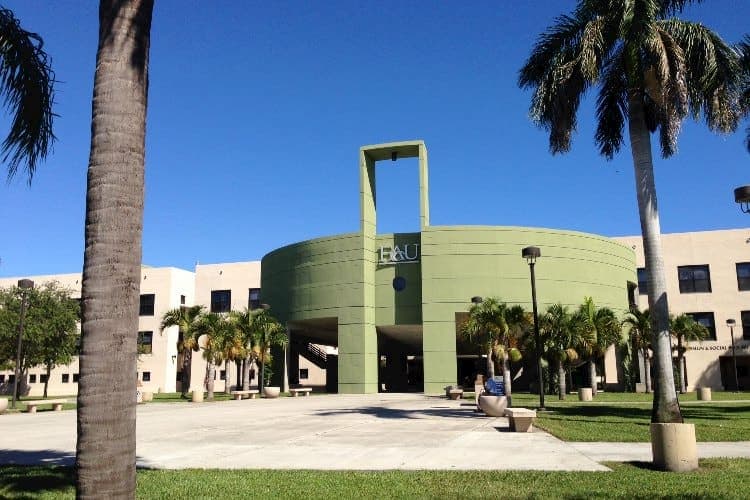 Image credit: Wikimedia Commons
Small private schools:
Nova Southeastern University
3301 College Ave, Fort Lauderdale, FL 33314
Nova Southeastern University, affectionately known as Nova, actually has a fairly large enrollment thanks to its satellite campuses in Puerto Rico and throughout Florida. However, its main campus in Fort Lauderdale creates the feeling of a small school by welcoming only a few thousand students.
Nova specializes in the health sciences and is especially known for its nursing program. You also may want to visit Nova if you have students interested in biology, psychology, business, or education or if you have students who crave small classes and lots of individual attention.
Group tours
Group tours at NSU last about 2 hours and include an admissions presentation and a walking tour of campus. The walking tour covers a lot of ground, so remind your students to wear comfortable shoes and let the admissions office know if anyone in your group has mobility-related disabilities. (GOGO Charters can provide an ADA-accessible bus if you need one.)
Group visits are normally available from June through December for groups, and you must request your tour at least 10 business days in advance by emailing the Group Visit Coordinator. The coordinator's contact information can be found here.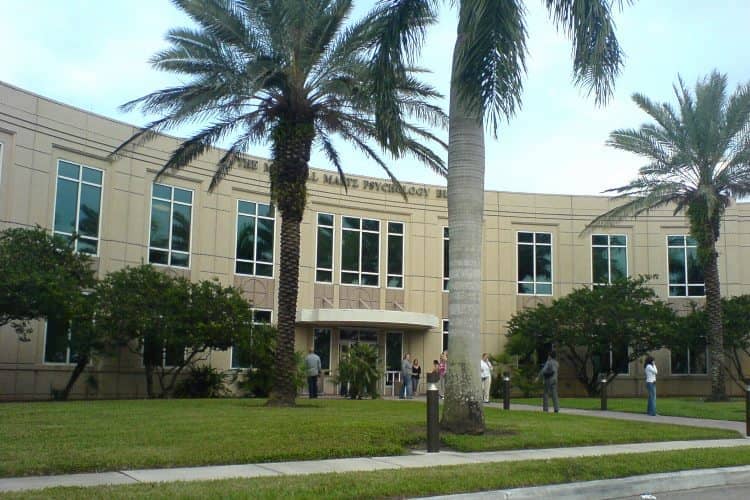 Image credit: Wikimedia Commons
Palm Beach Atlantic University
901 S Flagler Dr, West Palm Beach, FL 33401
Palm Beach Atlantic University lies about 2 hours outside of Miami in West Palm Beach, so you'll want to request free WiFi or flat-screen TVs on your bus to keep your youth group or students entertained while you travel there. Deeply dedicated to a Christian worldview, this university offers programs in Biblical leadership, medical missions, and Christian public policy in addition to standard academic classes.
Group tours
You can request a group visit to PBAU for groups of at least 10 junior or senior high school students. Because the school is so small, you can even customize your group visit with special requests. Make sure to mention that you will be traveling via charter bus when you make your reservation so the school can direct you to a designated bus parking location.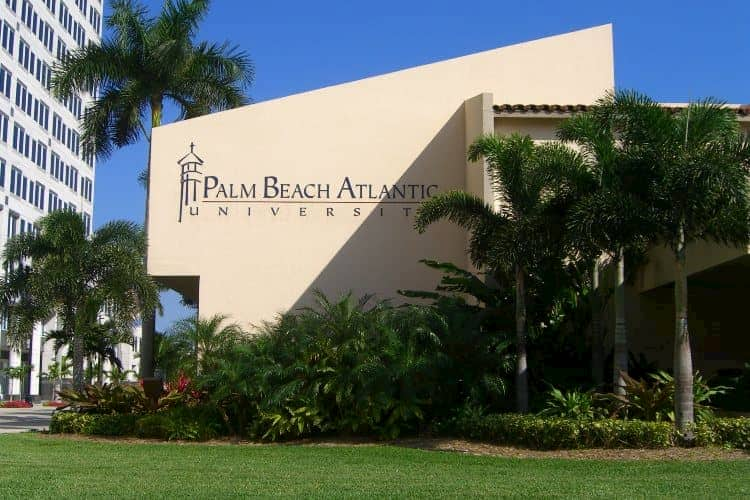 Image credit: Wikimedia Commons
St. Thomas University
16401 NW 37th Ave, Miami Gardens, FL 33054
This small private school welcomes less than 1,000 students each year, making it ideal for people who crave small class sizes and one-on-one interaction with their professors. St. Thomas is also known for its Catholic values and its commitment to economic diversity. Roughly half the students at the school receive funding from Pell Grants, and The Economist ranked St. Thomas as the fifth-best value of all schools in Florida.
Group tours
St. Thomas University offers admissions tours Mondays from 8:30 a.m. to 6 p.m., Fridays from 8:30 a.m. to 5 p.m., and Saturdays from 9 a.m.-noon. You can schedule your visit here. Make sure to mention that you're bringing a large group and traveling by charter bus so the school can provide parking and find the right day for your visit.
Organize Your College Tour in Miami
If you're planning to take your students or after-school group to tour college campuses in the Miami area, it's essential to plan your transportation ahead of time. GOGO Charters can help your group travel from the iconic University of Miami to the wonderfully diverse Florida Atlantic University in air-conditioned comfort. Just give us a call at 305-547-8457 and get ready to experience all that Miami's colleges have to offer.
Tags In
Do you need to rent a charter bus?
Do you need a long-term shuttle service?
We offer contracted shuttle services for businesses, schools, hotels, and more. Contact our experts at 1-844-897-5201 to discuss your long-term transportation plans.