Your Guide to Group Tours of Denver's Colleges
Transitioning from high school to higher education is a huge jump for students, so you'll want to make sure they're prepared. If you're a Denver educator planning a campus tour for your school class, academic club, or community organization, you'll have quite a bit of ground to cover. Denver has a couple of universities within the city limits, but many of Colorado's larger campuses lie in college towns outside of the state capital.
Some of these universities are around a 1- to 2-hour drive from Denver, meaning you'll definitely want your students to have a comfortable ride there. School buses are usually a cost-efficient option for short distances, but they can quickly get uncomfortable when you're stuck in traffic on the 65-mile stretch of I-25 between Denver and Fort Collins. Instead, try out a charter bus or minibus rental from GOGO Charters.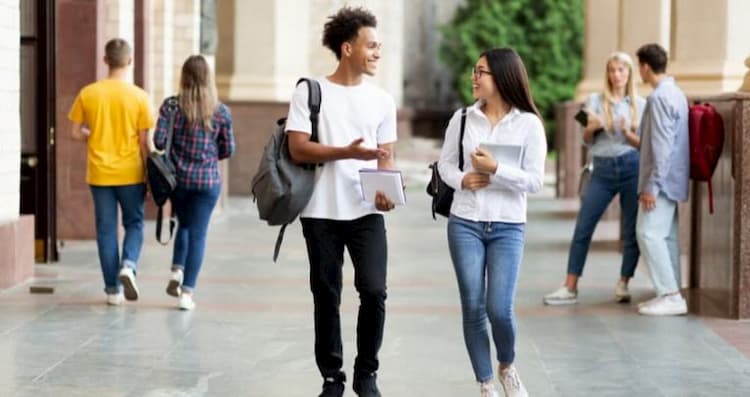 At GOGO Charters, we work with a large network of motorcoach partners and professional drivers to provide safe transportation for groups of all types. When you book a charter bus for your campus tour, not only will students travel safely, they'll travel comfortably too. Request amenities like WiFi, power outlets, TVs with DVD players, and reclining seats. No more "are we there yet?" or complaints about boredom. Everyone will stay entertained with onboard movies and access to WiFi on their mobile devices the entire ride. Give us a call at 720-216-2068 to book your campus tour shuttle at any time!
Universities and Colleges Located in Denver
University of Colorado, Denver (CU Denver)
Address: 1201 Larimer St, Denver, CO 80204
Phone: (303) 315-5969
As a part of the University of Colorado system, CU Denver offers a quality public education in the heart of downtown. CU Denver is well-known in the state for medical programs like nursing, physical therapy, and family medicine. This university also takes great pride in research, attracting the largest number of research grants in the state. The Anschutz Medical School shares an Aurora campus with Denver's Children's Hospital and the University of Colorado Hospital, making CU Denver a top contender for students interested in medicine.
Group Tours
Guided group visits are available on weekday mornings for 10 or more guests. If your group will include more than 50 people, you'll only be able to schedule your tour for Fridays. You'll need to have a chaperone for every 20 students. Visits last around three hours and include a welcome session, group activity, campus tour, and lunch. Educators can customize the tour to the needs and interests of their students. If your students are interested in a specific program (including the Anschutz Medical School), you'll have to schedule a separate departmental tour.
Charter Bus Transportation
Since the main CU Denver campus is located downtown, parking can be a hassle. Thankfully, metered street parking is plentiful and available around the Office of Admissions but not regulated by the university. Oversized vehicles are permitted to park at meters— just be sure your charter bus driver has enough change to cover a minimum of 4 hours.
To make your group travel experience as easy as possible, we'd highly recommend a minibus for your campus visit in Downtown Denver. Large groups in need of a full-size charter bus can still find parking accommodations along the area's roads and surface lots.
Metropolitan State University of Denver (MSU Denver)
Address: 890 Auraria Pkwy, Denver, CO 80204
Phone: (303) 556-5740
Once you're done at CU Denver, hop on over to MSU Denver. Seriously, hop on over—MSU Denver is right next door (the two schools along with the Community College of Denver make up the Auraria Campus downtown). Your group can walk over, or, if you're traveling with students who have mobility concerns, shuttle to MSU Denver in your ADA-accessible bus.
MSU Denver has a wide array of programs, with psychology and biology being among the most popular. As a commuter school, MSU Denver is a good choice for local students who need affordable education without the pressure of paying for expensive on-campus living.
Group tours
Group visits are available for up to 50 guests. You can choose between tour options that range from 1 to 2.5 hours. All visits include guided campus tours with MSU's student ambassadors, the CREW in Blue. Depending on the type of tour you choose, your visit will include an admissions presentation and Q&A session. Tours are held on weekdays at 10:00 a.m. or 1:00 p.m. and depart from the Jordan Student Success Building. The campus tour is a walking tour but is accessible for guests with mobility devices. If anyone in your group will need additional accessibility accommodations, notify the visitor's office at least 10 days in advance.
Note: MSU and CU Denver do share some buildings within the Auraria Campus. If you're planning to visit both on the same day, just let your tour coordinators know in order to avoid repetition.
Charter Bus Transportation
As with CU Denver's campus, MSU Denver's downtown location can make parking difficult. Metered street parking is available across from the Jordan Student Success Building, and surface lot parking is available for larger models of charter bus.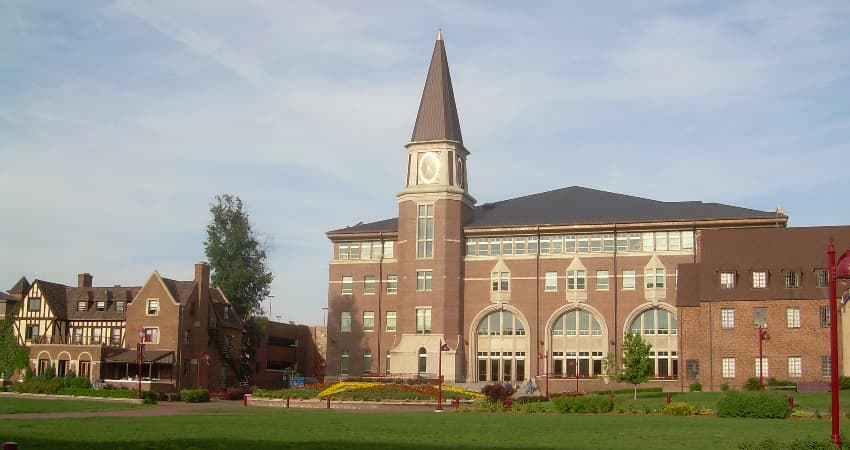 University of Denver (UD)
Address: 2197 S University Blvd, Denver, CO 80208
Phone: (303) 871-2000
This nationally-ranked research university is located south of Downtown Denver and is the oldest independent private institution in the Rocky Mountain Region of the U.S. DU is a small university but has more than 300 academic programs, including a renowned law school and business school. As with many private universities, DU is very expensive but does offer substantial financial aid options for students in need.
Group tours
DU offers guided visits for groups of up to 50 students high-school-aged and older. Younger students are welcome to take a self-guided tour of the campus. Groups need to have at least 1 chaperone per 10 students.
Tours are typically held on Monday and Wednesday mornings and last around two hours. Your tour will start at University Hall and will include an admissions presentation followed by a student-led campus tour.
Charter Bus Transportation
As a relatively small university, DU may have limited parking. At the time of your tour reservation, be sure to specify you're traveling in an oversized vehicle. Information about parking for your charter bus will be provided upon your tour confirmation.
Universities and Colleges Near Denver
University of Colorado Boulder (CU Boulder)
Address: Boulder, CO 80309
Phone: (303) 492-1411
Distance from Denver: ~30 miles
As the flagship university in the CU system, the Boulder campus is the largest by student population in the state. With more than 35,000 students, CU Boulder is the place to be for those who want a true college-town experience. CU Boulder is ranked among the top public universities in the country and offers some of the best affordable programs in engineering and business in the region. With nationally-ranked sports teams and more than 500+ academic organizations, being a CU Boulder Buffalo is a top choice for students who value athletics and extracurriculars as well.
Group Tours
CU Boulder offers group tour options for international, transfer, and high school students. Tours are only available on weekdays and usually start at 9:30 a.m. (available days and times are dependent upon the type of tour you request).
Unlike other universities on this list, CU Boulder can accommodate groups larger than 50. If you're bringing 50 or fewer students, you should request your tour at least 3 weeks in advance. Groups larger than 50 will need to request their visit at least 6 weeks in advance. Regardless of group size, be sure to have a chaperone to every 20 students. Tours include an information session, a walking tour of campus, and an optional on-campus lunch.
Charter Bus Transportation
Your tour will start at the Center for Academic Success and Engagement (CASE), where visitors can pay to park at an hourly rate, though parking may be limited for oversized vehicles like charter buses. Additional parking information for your charter bus will be provided once your tour request is confirmed with the university. A loading and unloading zone is located directly across from CASE for easy student pick-up and drop-off.
Colorado State University (CSU)
Address: Fort Collins, CO 80523
Phone: (970) 491-6444
Distance from Denver: ~65 miles
CSU is located in Fort Collins, about a 1.5-hour drive from Denver. The university has an additional campus in Pueblo, Colorado, but Fort Collins is the flagship location with around 34,000 students. Similar to Boulder, Fort Collins is a bustling college town, perfect for local Denver students who want independence from home (but still want to be a relatively short ride from family and friends). CSU's top programs include agricultural sciences, business, nutrition and food sciences, and engineering.
Group Tours
Group visits are available for up to 50 students during weekdays (usually Tuesdays, Wednesdays, and Thursdays) and should be scheduled at least 3 weeks in advance. Guided tours are reserved for visitors high-school-aged or older (younger students can take self-guided options), and you'll need to have a chaperone per 25 students.
Your group visit will last around 2.5 hours and will include an admissions presentation and tour of the campus. A lunch and student panel presentation are also optional additions to give students a better taste of the CSU experience.
Charter Bus Transportation
Hourly paid parking is available throughout campus for visitors. There are several lots around the University Welcome Center in Ammons Hall, where your tour will begin. Keep in mind that these lots can easily become packed during the spring and fall semesters. After your students unload at the welcome center, your driver can park just a few blocks away at Lot 195, next to the Moby Arena. Be sure to secure any necessary parking waivers (if your organization qualifies) at the time of your group reservation.
University of Northern Colorado (UNC)
Address: 501 20th St, Greeley, CO 80639
Phone: (970) 491-6444
Distance from Denver: ~65 miles
The city of Greeley is less than 2 hours north of Denver and is home to UNC. If your students are looking for an affordable public university but the CU and CSU campuses aren't appealing, take a tour of UNC. The university offers more than 100 undergraduate programs and an additional long roster of graduate tracks. Some of UNC's most popular undergraduate majors include business, nursing, and psychology.
Group Tours
UNC's group tours are available Tuesday thru Wednesday for high school and community college groups of 10 to 60 students. You'll need to have 1 chaperone per 12 students.  The 2-hour visit includes an information session and a walking tour of campus. You can add an on-campus lunch and a visit to one of the UNC Cultural Centers to your tour.
Charter Bus Transportation
Parking options for your charter bus will be available once the university approves your group tour request. If you're not traveling by bus, there are 2 lots in front of the University Center where your tour will start. The A-1 and A-2 lots require parking permits that can be purchased from on-site Pay to Park stations.

Image Courtesy of Wikimedia Commons.
Other Universities to Explore in Colorado
There are several other schools a short drive from Denver that offer more specialized university experiences. These universities do offer general group tours but may be best suited for academic organizations with specialized interests.
If you're traveling with a group of students in your high school STEM club, consider a trip to the Colorado School of Mines in the town of Golden. This small public university is recognized nationally for its programs in engineering and the sciences.
Address: 1500 Illinois St, Golden, CO 80401
Phone: (303) 273-3000
Youth groups doing campus tours with religious organizations (particularly those of the Roman Catholic faith) may want to consider Regis University. Regis is a private liberal arts institution with over 100 academic programs rooted in Jesuit principles.
Address: 3333 Regis Blvd, Denver, CO 80221
Phone: (800) 388-2366
Wherever your academic travels take you throughout the state, GOGO Charters will provide you with easy charter bus transportation for your students. From these smallest private universities to large public institutions, you won't have to worry about your ride!
Start Your Denver Academic Trip with GOGO Charters
Booking a charter bus for your Denver college tours starts with getting a personalized quote. When you call 720-216-2068, a rental expert will take your trip information to give you an accurate charter bus price for your trip. If it's your first time renting a charter bus, check out our complete rental guide to answer any questions you may have.
Tags In
Do you need to rent a charter bus?
Do you need a long-term shuttle service?
We offer contracted shuttle services for businesses, schools, hotels, and more. Contact our experts at 1-844-897-5201 to discuss your long-term transportation plans.