Guide to a Group Road Trip on the Blue Ridge Parkway
Blue Ridge Parkway is one of the best scenic routes to drive in the South. This 469-mile National Parkway stretches through Virginia and North Carolina, offering travelers beautiful views of the Blue Ridge Mountains. If you have a group of outdoor lovers, avid hikers, or even history buffs with you, a road trip along this scenic byway should be at the top of your bucket list.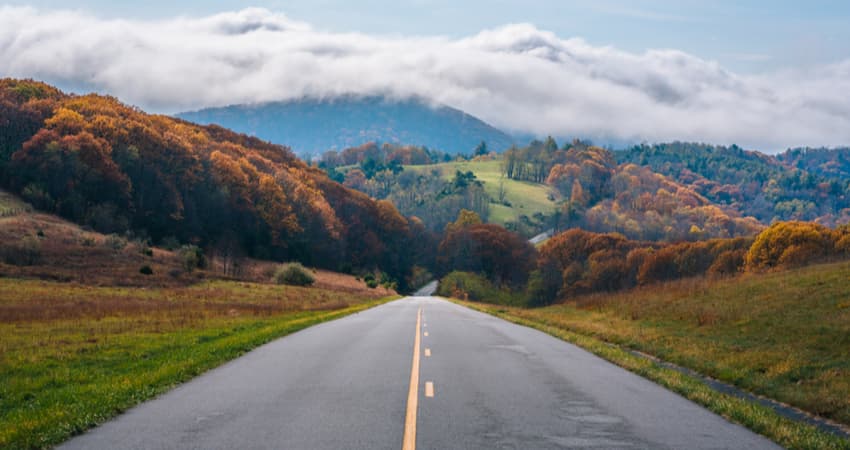 Figuring out where to start in planning your Blue Ridge Parkway group trip can be exciting, yet a bit daunting. GOGO Charters can take care of your group transportation with a private charter bus rental for the duration of your road trip. We've also compiled this helpful guide filled with travel tips and highlights to add to your Blue Ridge Parkway itinerary.
Keep on reading to learn more about Blue Ridge Parkway, and give the GOGO Charters team a call at 1-855-826-6770 to rent a charter bus once you have your itinerary organized.
Quick Navigation
Why should I rent a charter bus on the Blue Ridge Parkway?
There's something charming about hopping into a car or van and traveling hundreds of miles with your closest friends. That may work perfectly for groups of just a few passengers, but if you have a dozen or so people in your private tour group—you may want a better option. Here are just a few reasons why you should rent a charter bus instead:
Keep everyone together: On a route as long as the Blue Ridge Parkway, it's easy for a caravan of cars to get separated. Finding parking for several vehicles at certain destinations along the parkway may also be difficult. A charter bus rental will have enough space to accommodate everyone in your group, as well as all of your luggage. Whether you choose a minibus or charter bus rental, you'll have the space you need to keep everyone together.
Keep everyone comfortable: Traveling in a personal vehicle may be convenient, but traveling in a cramped sedan isn't usually comfortable. Not only will you have plenty of space on a bus, but you'll be able to request comfy amenities like reclining seats, climate controls, onboard restrooms, and WiFi. To top things off, you won't even have to worry about driving! Your GOGO Charters bus rental will include a professional charter bus driver.
Keep on your schedule: Since your group can travel together in one vehicle, it'll be easier to stay on the same page and travel schedule. GOGO Charters also works with your unique schedule, so you can create a customized itinerary of stops along Blue Ridge Parkway.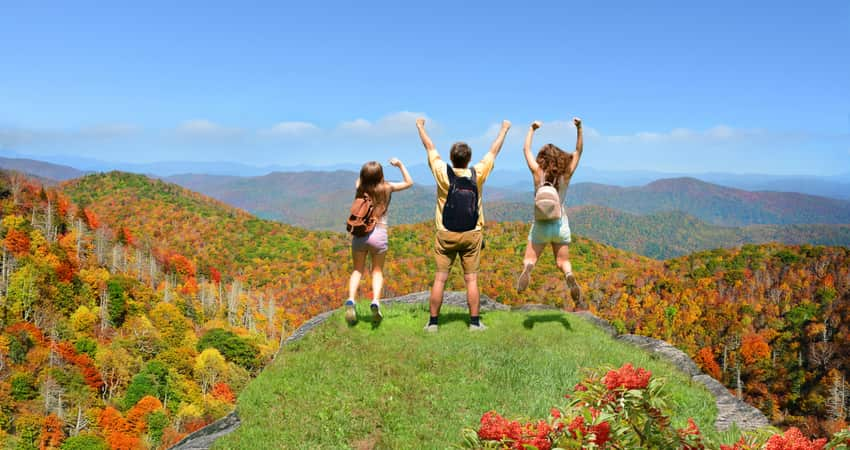 How should I organize my Blue Ridge Parkway itinerary?
Blue Ridge Parkway stretches from Shenandoah National Park in Virginia to Great Smoky Mountains National Park in North Carolina. Along the way, you'll find mileposts that indicate exactly where you are in your journey. Oftentimes, popular attractions along the byway are near a milepost. As you create an itinerary, take note of the milepost closest to your must-see attractions to make organizing your itinerary a little easier!
Quick tips for traveling with a group and by charter bus
Look at group hotel blocks: As you plan your trip and book your hotels at each overnight stop, you'll want to inquire about discounts for group reservations. Many hotels offer room blocks at a discounted rate, depending on your group size. Be sure to also book a room for your charter bus driver.
Secure overnight parking for your bus: Not all hotels can accommodate oversize vehicles overnight in their lots. So you'll want to ask at the time of booking whether your bus can park overnight. If not, organize off-site parking with private lots and notify your driver where they should park.
Pack a carry-on: You won't be able to access your luggage beneath the bus while on the road. If you're stuck in a long stretch between stops, you'll want essentials with you.
Blue Ridge Parkway Highlights in Virginia
About 215 miles of the Blue Ridge Parkway are located in Virginia. The byway kicks off at Mile 0 at Rockfish Gap, which is just a short drive from Shenandoah National Park. Here are just a few highlights on Blue Ridge Parkway in Virginia:
Apple Orchard Falls Trail at Milepost 78.4
Address: Apple Orchard Falls Trail Trailhead, Blue Ridge Pkwy, Buchanan, VA 24066
This 2.5-mile trail is considered a difficult hike and is recommended for avid hikers. If some members of your group are beginners, this hike is still doable; just take your time. This trail offers gorgeous views of the rolling landscape surrounding Apple Orchard Mountain and a waterfall at the end.
Charter bus rental parking: There are two different entry points for the trail, but you'll want to start at Sunset Field, which has plentiful and free parking.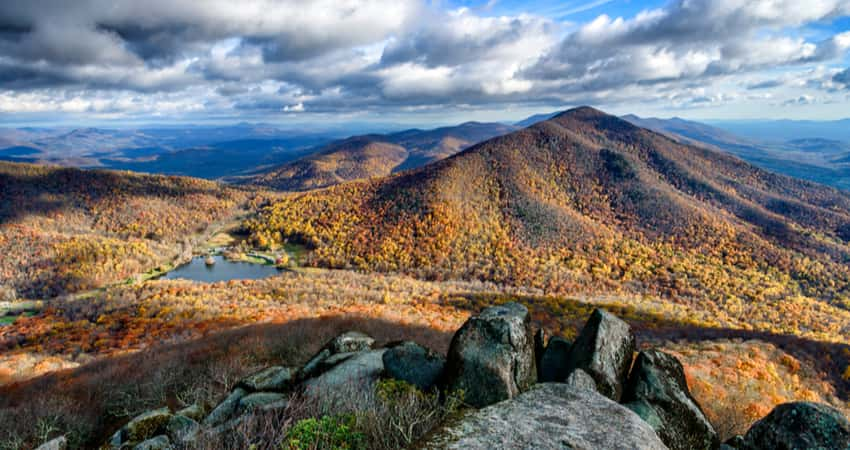 Peaks of Otter at Milepost 86
Peaks of Otter Visitor Center Address: 85919 Blue Ridge Pkwy, Bedford, VA 24523
The Peaks of Otter are three mountain peaks in the Blue Ridge Mountains located near Bedford, Virginia. The three peaks, Sharp Top, Flat Top, and Harkening Hill, are hailed for having amazing hiking areas with around 12 miles of trails to explore. One of the best ways to see the mountains is to have your driver stop at the Peaks of Otter Lodge. Here, you can grab a bite and relax before and after your hikes in the area. Hike the easy Abbott Lake Trail along the water, or challenge yourself with the strenuous 4.4-mile Flat Top Trail.
Charter bus rental parking: Parking can be found at the Peaks of Otter Visitor Center and at the Peaks of Otter Recreation Area just past the lodge.
Mabry Mill at Milepost 176.1
Address: 266 Mabry Mill Rd SE, Milepost 176, Meadows of Dan, VA 24120
Phone: (828) 348-3400
This historic water mill was built in 1905 by Ed and Lizzie Mabry and is a calming place to learn about local history and enjoy the natural landscape. Along with the historic mill, you'll see other parts of the Mabry home and business that have been preserved as a museum. Visit the blacksmith shop, moonshine still, and traditional farmhouse after exploring the watermill. If you're traveling during fall, this location is a wonderful stop to snap photos of autumn foliage. Hungry or want to grab a few souvenirs? The mill also has a restaurant and gift shop!
Charter bus rental parking: There's plenty of free parking available at Mabry Mill.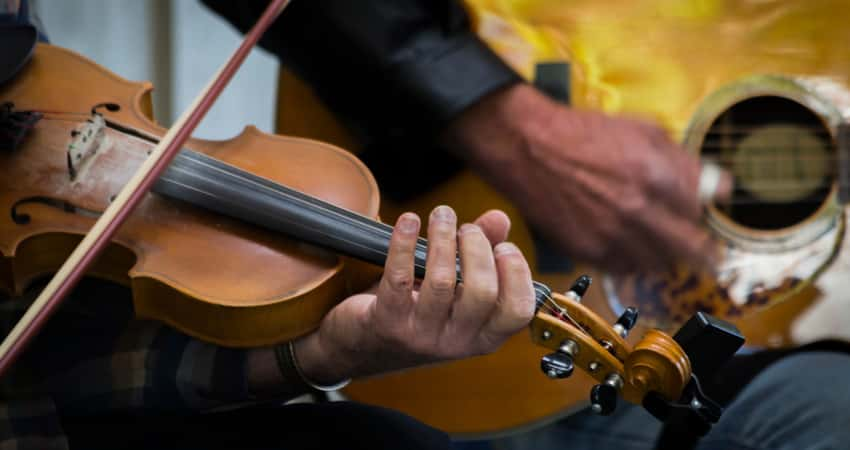 Blue Ridge Music Center at Milepost 213
Address: 700 Foothills Rd, Galax, VA 24333
Phone: (276) 236-5309
Bluegrass music is part of the heart and soul of Appalachia. The Blue Ridge Music Center serves as a museum, music venue, and regional visitor center. Stop by the museum to learn about how folk music developed in the region and major figures that shaped the art form. The music center also hosts concerts and music festivals throughout the year. So grab tickets to a show! It's not every day that you can enjoy a live concert atop a mountain.
Charter bus rental parking: Parking at the Blue Ridge Music Center is completely free. If you're attending an event, a National Park Service staff member or volunteer will direct your charter bus driver on where to park.
Blue Ridge Parkway Highlights in North Carolina
As you cross the Virginia-North Carolina border, set your sights southwest. When you travel the parkway in North Carolina, you'll go through Bowling Rock, Asheville, and a few other small towns before ending your trip near the Great Smoky Mountains National Park. Here are just a few stops to add to your North Carolina leg of the road trip: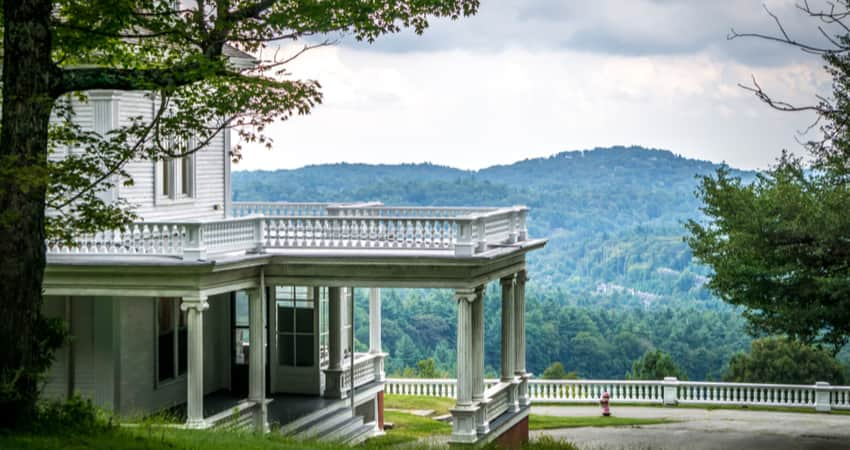 Moses Cone Memorial Park at Milepost 294
Address: Blue Ridge Parkway, Milepost 294, Blowing Rock, NC 28605
Phone: (828) 295-3782
The Moses Cone Memorial Park isn't just a park; it also includes the historic manor house and estate of local textile entrepreneur Moses Herman Cone. The gorgeous country estate is surrounded by park trails for walking, hiking, and horseback riding. Ranger-led tours of the estate and park are open to the public in summer and fall. You'll also find a gift shop and the Southern Highlands Craft Guild shop inside of the park's visitor center.
Charter bus rental parking: Parking lots tend to fill up early on weekend mornings, and overflow parking isn't readily available. You'll want to arrive as early as possible to ensure your bus driver can find a place to park. Oversized vehicle parking can be found at Trout Lake and near the Bass Lake lot.
Linville Falls at Milepost 316.3
Linville Falls Visitor Center Address: Warrior Ln, Marion, NC 28752
Phone: (828) 298-0398
Hiking trails at Linville Falls are relatively short, easy, and rewarding. There are a few moderate and strenuous routes that include stairs and having to cross wet areas for more advanced hikers. The trails are lined with beautiful foliage and wildflowers and feature four overlooks of this famous waterfall. Experienced outdoor enthusiasts may also want to consider planning a trip out to the Linville Gorge Wilderness. This area is often referred to as the "Grand Canyon of the East" and offers 39 miles of rugged but gorgeous hiking terrain.
Charter bus rental parking: A large parking area can be found at the visitor center. Parking is free of charge.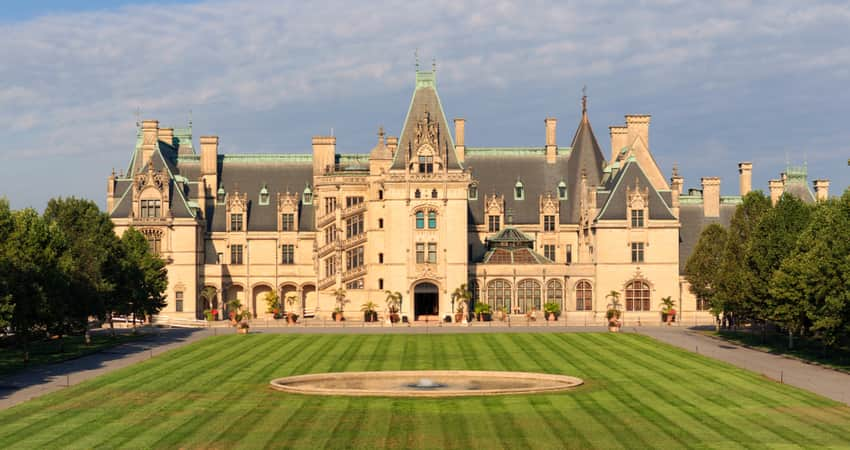 Biltmore Estate at Milepost 388.8
Address: 1 Lodge St, Asheville, NC 28803
Phone: (800) 411-3812
The Biltmore Estate is easily one of the most famous historic homes in the country. This extravagant Gilded Age mansion was built for George Washington Vanderbilt II and is still owned by the Vanderbilt family. At 178,926 square feet on more than 8,000 acres of land, this sprawling estate is the largest privately-owned home in the country. Today, the estate features a museum in part of the house, a hotel, restaurant, winery, and conservatory, and lush gardens. Self-guided tours, audio tours, and group travel events must be booked in advance online.
Charter bus rental parking: Parking can get tight since this attraction is so busy year-round. When you call to organize your group tour, make sure to inquire about oversize parking options.
Pisgah Inn at Milepost 408.6
Pisgah Inn Address: 408 Blue Ridge Pkwy, Canton, NC 28716
Phone: (828) 235-8228
Mount Pisgah is one of North Carolina's most beautiful peaks and the Pisgah Inn lets you lodge atop all of its natural beauty. You don't necessarily have to book a stay, but you can sit down for a meal or drink at the hotel's restaurant and enjoy the sweeping, breathtaking views from over 5,000 feet of elevation. You can also hike a variety of trails surrounding the inn, including the strenuous but well-worth-it 1.6-mile trail  to the mountain's summit.
Charter bus rental parking: The Mount Pisgah Parking Area will be on your left just before you reach the inn. Parking is free and open to the public.
Ready to Hit the Road?
With a private charter bus rental from GOGO Charters, seeing and enjoying every stop on your  Blue Ridge Parkway road trip will be a breeze. Get your group together, build your itinerary and call the GOGO Charter bus rental team 24/7 at 1-855-826-6770 to find a comfy and spacious transportation option for the entirety of your trip.
Do you need to rent a charter bus?
Do you need a long-term shuttle service?
We offer contracted shuttle services for businesses, schools, hotels, and more. Contact our experts at 1-844-897-5201 to discuss your long-term transportation plans.