7 Great Places to Social Distance in Miami
Miami's beautiful year-round weather makes it one of the easiest cities to social distance in. You can visit outdoor attractions even during fall and winter, and Miami has plenty of beaches, parks, historic neighborhoods, and gardens to keep your group busy. If you'd like to explore Southern Florida with your learning pod or family, just give GOGO Charters a call at 305-547-8457. We can provide a minibus or full-size bus rental for your trip to these social-distancing-friendly locations.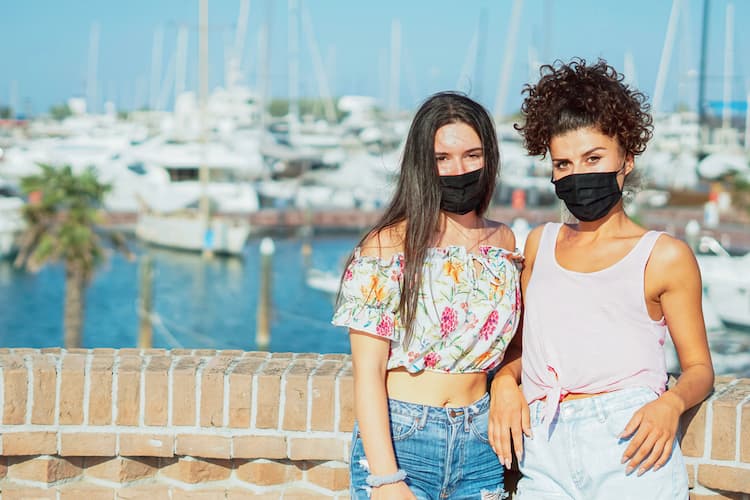 Lummus Beach Park on South Beach
It's hard to find a more iconic place to swim than South Beach, and Lummus Beach Park is one of its most popular sections. The park runs along Ocean Drive from 5th to 15th streets and is free and open to the public even during times of social distancing, though the city asks that you only visit in groups of 10 or less. You should also keep your distance from people who aren't in your pod and wear a mask when you're not in the water.
If you'd like to relax on the beach when it's not busy, try stopping by after 4 p.m. Although you might not want to swim in the evening, your group can still go for a walk or play a quick game of Frisbee beside the water.
Address: 1130 Ocean Dr, Miami Beach, FL 33139
Charter bus parking: Your charter bus driver can find metered street parking along Ocean Dr., Collins St. and Washington St.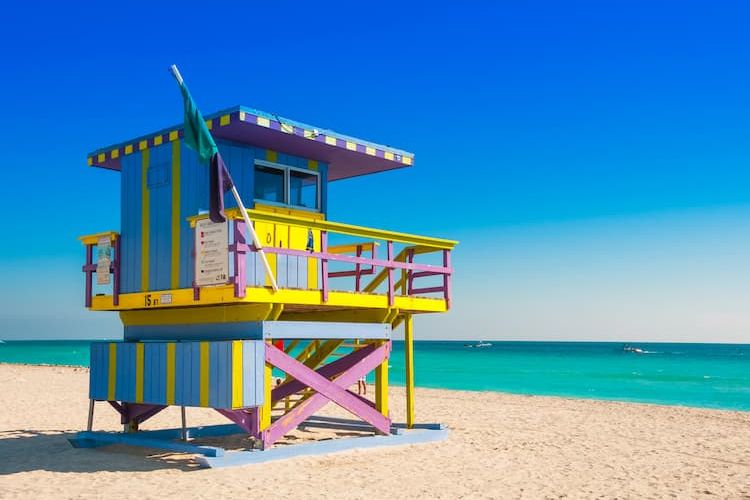 Crandon Park Beach
Located on the island of Key Biscayne just off Biscayne Bay, Crandon Park Beach has white sand, calm waters, and a picturesque waterfront promenade. This two-mile beach also boasts tennis courts, accessible paved pathways, a popular sandbar that many guests swim out to, and concession stands.
As at Lummus Beach Park, you'll want to stick to groups of 10 or fewer people and keep masks on when you're not in the water. You may also want to bring your own water sports equipment if you have any—although you can rent jet skis and paddle boards, it might be safer to use equipment other guests haven't touched.
Address: 6747 Crandon Blvd, Key Biscayne, FL 33149
Charter bus parking: Crandon Park has its own parking lot. Spaces typically cost $5, though oversized vehicles may have to pay extra if they need more than one.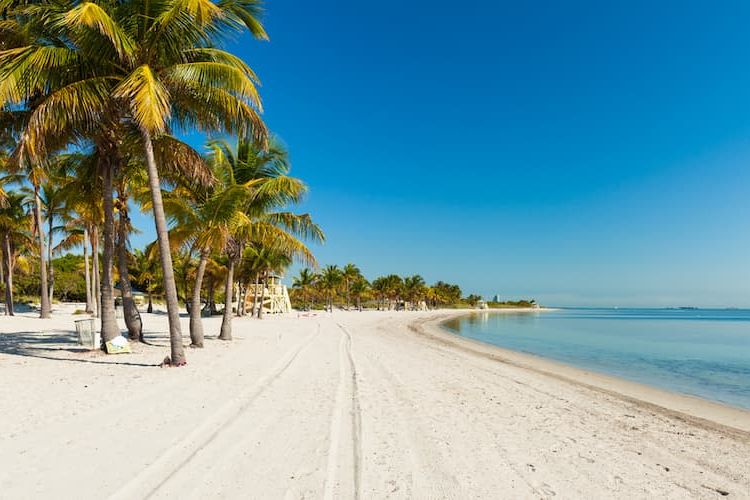 Bayfront Park
Spanning 32 acres in downtown Miami, Bayfront Park was Miami's first public park. Today, it draws in locals and visitors with a beautiful fountain, a historic waterfall built in 1926, and accessible paved paths along Biscayne Bay. The park also offers a small beach area and grassy lawns ideal for group picnics.
If you'd like to pick up some take-out, Bayfront Park lies near the Bayside Marketplace, an outdoor mall with stores, restaurants, and bars. Social distancing protocols at individual restaurants can vary, so you might want to do a little research before you head to the Marketplace.
Address: 301 Biscayne Blvd, Miami, FL 33132
Charter bus parking: Parking in downtown Miami is tricky, but your charter bus driver can drop you off and then use metered street parking or a paid public lot.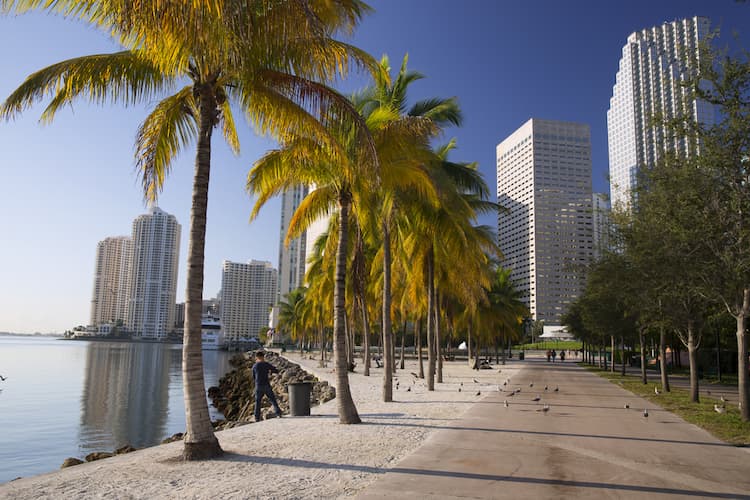 Little Havana
Although guided tours may not be available during social distancing, your group can still walk around Little Havana on your own. Take a few pictures for Instagram and experience the neighborhood's culture at famous spots like the rooster statue and Maximo Gomez Park, aka Domino Park.
Located at the corner of Calle Ocho and 15th Avenue, Domino Park serves as a gathering place for locals who want to play dominoes or chess. After watching a game, head to El Pub Restaurant and sit outside to dine on a sandwiche cubano, pan con bistec, or chori-pan. The Little Havana Visitor Center on Calle Ocho provides maps if you're not sure where you should go in this famous neighborhood.
Address: 1600 SW 8th St, Miami, FL 33135
Charter bus parking: Parking is limited in Little Havana, so you might want to ask your bus driver to drop your group off before parking in a paid lot.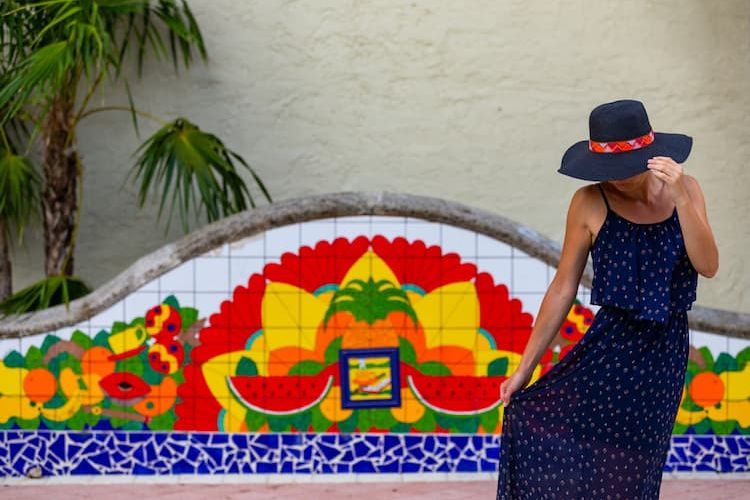 Wynwood Walls
This unconventional outdoor museum features more than 35 street murals created by graffiti artists from around the world. Although the art changes regularly, past contributors have included Aiko, Maya Hayuk, Retna, and Shepard Fairey, designer of President Obama's iconic "Hope" poster.
You can walk around Wynwood Walls for free, but during social distancing you'll need to buy timed tickets online or from the Guest Welcome Center before you're allowed in the gate. You should also stick to a small group of friends and stay masked during your visit.
The Walls are accessible to those using mobility devices, though it's important to note that the surrounding neighborhood can have narrow or muddy streets and not all nearby restaurants are accessible. If you want to eat outdoors in Wynwood, it's a good idea to check on eateries' accessibility and social distancing protocols before you arrive.
Address: 2520 NW 2nd Ave, Miami, FL 33127
Charter bus parking: Your driver will need to look for street parking or paid lots in the Wynwood neighborhood.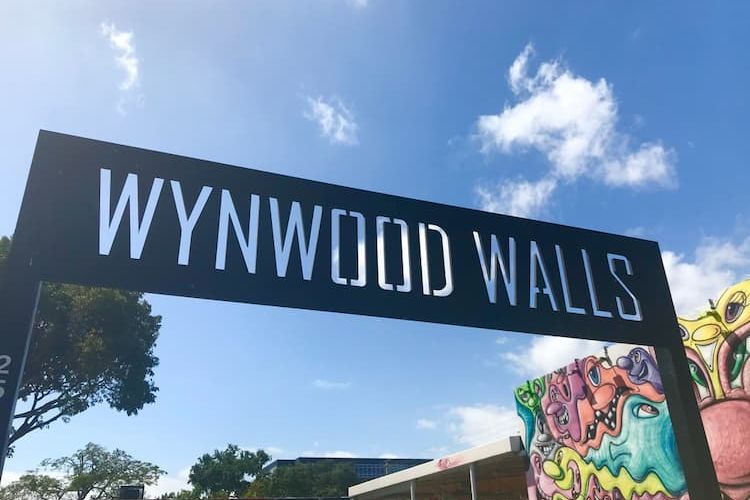 Fairchild Tropical Botanic Garden
A botanical garden is one of the most relaxing places to visit while social distancing, and Fairchild Tropical Botanic Garden has implemented multiple policies to protect guests from COVID-19. All guests must buy timed tickets, and the garden has set aside designated times for seniors or people who are especially vulnerable to COVID.
The botanical garden is also fully accessible. All exhibits can be reached while using a wheelchair or other mobility device, the buildings have automatic doors and ADA-compliant restrooms, and the guided tram tour accommodates wheelchairs and has assistive listening devices.
If you're not comfortable on a tram during COVID, your group can still explore on your own. Stroll past lakes filled with aquatic plants, see the colorful blooms in the tropical flower garden, and treat your kids to time in the children's garden and butterfly exhibit.
Address: 10901 Old Cutler Rd, Coral Gables, FL 33156
Charter bus parking: The Botanic Garden provides ample free parking.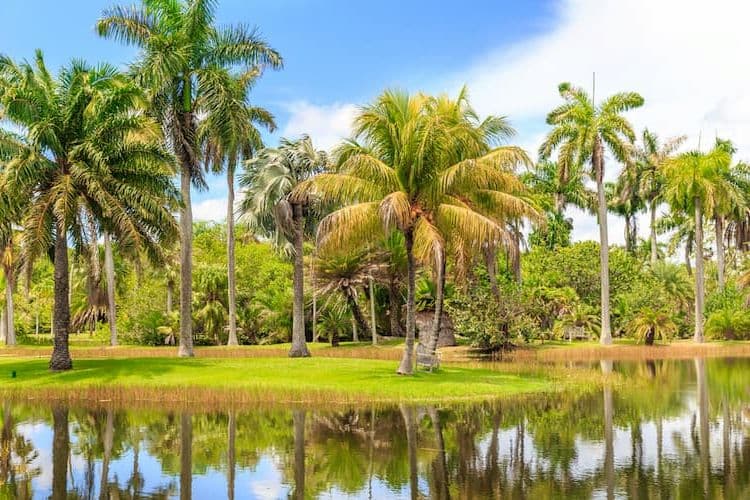 Vizcaya Museum & Gardens
This mansion-turned-museum was built by millionaire James Deering as his personal estate in 1914. Known for its Renaissance-style architecture and views of Biscayne Bay, Vizcaya has 10 acres of Italianate gardens that your group can explore while social distancing. You'll need to buy timed tickets online and wear masks, and you can walk around inside the house as well as around the gardens if your group feels comfortable.
Children under 5 and military veterans can visit Vizcaya for free, while children 6-12 and guests using wheelchairs receive discounted rates. If you or members of your group have mobility concerns, you'll want to note that the first floor of the house museum is accessible via a lift but the second floor is not. The gardens are also partially but not fully accessible for mobility devices, though you can still see beautiful flowers and fountains from just the accessible paths.
Address: 3251 S Miami Ave, Miami, FL 33129
Charter bus parking: Vizcaya has a designated parking area where your charter bus can park for a fee.
Organize a Socially Distanced Day Out in Miami
Whether you live in the city or you're dropping in from Fort Lauderdale or Boca Raton, your group will find plenty of socially distanced attractions to keep you busy in Miami. GOGO Charters follows COVID-19 safety protocols like sanitizing buses and requiring drivers to wear masks, so you can count on us for transportation during a socially distanced outing.
Need more inspiration for your safe group outing in Miami? Read through our three-part Ultimate Group Travel Guide  to Miami and the Beaches for the down-low on where to stay, what to see, and where to eat—which includes plenty of outdoor, open-air options in this sunny Florida city. Just give us a call at 305-547-8457 to start planning your outdoor adventure.
Tags In
Do you need to rent a charter bus?
Do you need a long-term shuttle service?
We offer contracted shuttle services for businesses, schools, hotels, and more. Contact our experts at 1-844-897-5201 to discuss your long-term transportation plans.