Things to Do While Social Distancing in Houston
As temperatures rise in Houston, you'll want to make the most of the great outdoors before the summer swelter kicks in. And while the COVID-19 pandemic is still ongoing, there are many ways your family and friends, educational pods, and groups of coworkers can get outside and move around safely.
If your established pod needs a lift around Houston, GOGO Charters is here to help. Our team can help your passengers traverse the city safely with a thoroughly sanitized and comfortable minibus or charter bus rental. Give us a call at (281) 407-2654 to learn how we can ease your travel plans throughout Texas and beyond!
Explore the Houston Botanic Garden
Address: 1 Botanic Lane, Houston, TX 77017
As the city's premier garden space, the Houston Botanic Garden offers 132 acres of horticultural displays, natural ecosystems, and walking trails—plenty of room for your group to spread out and stretch their legs after a winter cooped up inside. Here, your friends and family can learn about Houston's diverse landscapes (from the marshy wetlands to coastal prairies) and some non-native species like herbs and flowering plants.
Admission to the garden is $10-$15 on weekends and $8-$12.50 on weekends. All visitors 10 years or older are required to wear a buff, bandana, or mask over their nose and mouth while outdoors and indoors on Garden grounds, and all visitors must stay 6 feet apart from people not in their group.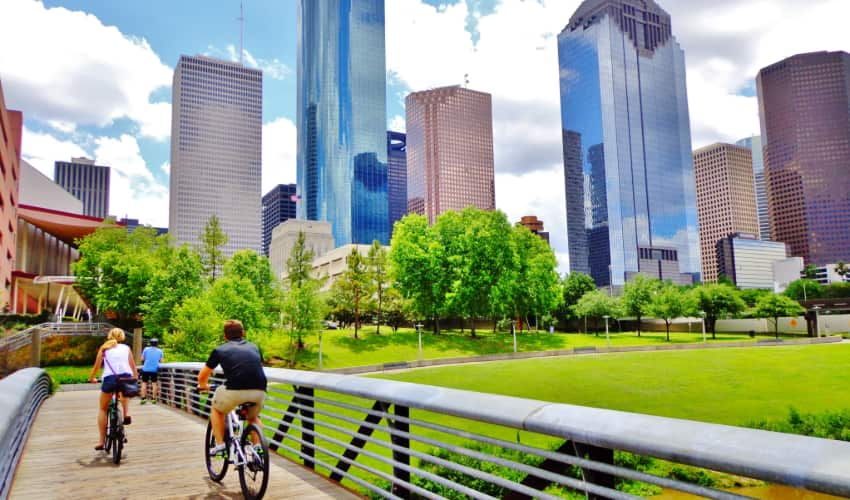 Hike or Bike the Buffalo Bayou Hike and Bike Trail
Also known as the Sandy Reed Memorial Trail, this paved walkway cuts through the heart of Houston and connects many of the city's parks that line the waterway. From here, your family and friends can take in views of the skyline and the river from a mostly shady and flat trail. Popular spots along this 15-mile walk include the Sabine Street Bridge (which has canoe and kayak launches if you'd rather paddle than walk) and the historic Glenwood Cemetery.
Plan a Photoshoot Along the Paul Carr Jogging Trail
Is your Instagram feed looking sparse, with all your favorite events canceled for the foreseeable future? Break up the stream of selfies with your pets and take a walk along this picturesque trail.
The Paul Carr Jogging Trail—which runs from Hamilton Middle School southward to the Katy Freeway Service Road—offers plenty of backgrounds for pictures, from restored Victorian mansions to funky street art. Whether you're posing in front of the colorful "Greetings from Houston" mural on White Oak Drive or the giant cabbage sculpture around 9th Street, your pod is sure to find a change of pace and some interesting subjects to photograph along this walking trail in The Heights.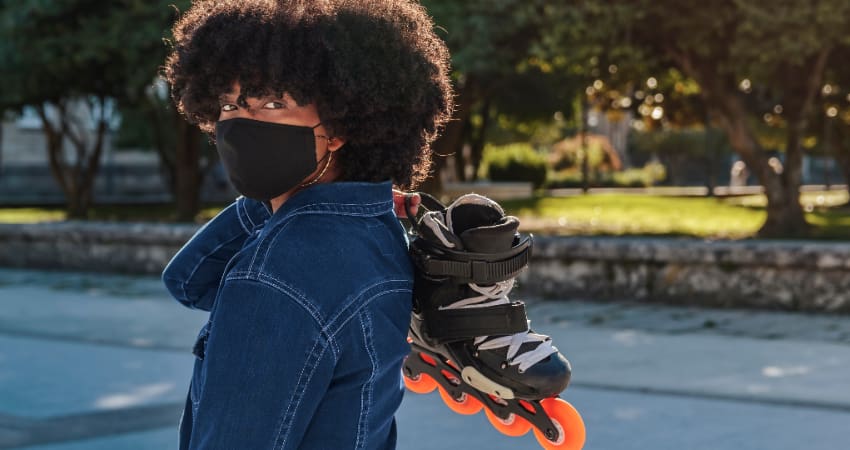 Roller Skate at Discovery Green
Address: 1500 McKinney St, Houston, TX 77010
In a lot of ways, this annual Discovery Green attraction will look the same as in past years. You can expect evenings filled with live DJs, themed throwback nights, and plenty of room for your friends and family to skate around under the stars.
But if you choose to hit the rink in 2021, you'll find a few precautionary measures in place to make this outdoor skate-fest a little safer:
Face coverings are required for all guests over the age of 2. If you don't have one, a mask will be provided.
You'll need to pre-purchase contactless tickets online and in advance.
The number of tickets available per day is limited compared to past years, and the rink capacity will be limited to 50%.
Expect high-touch equipment and entry points to be thoroughly sanitized regularly.
The rink will be open until mid-April, from 5 p.m. to 10 p.m. most weeknights and from 11 a.m. to 11 p.m. most weekends. Tickets are $12 per person and include a rental pair of skates, though guests are encouraged to bring their own four-wheel or in-line skates and their own safety gear. And as always, non-motorized wheelchairs are welcome.  If your small group needs an ADA-compliant bus rental to transport everyone to Discovery Park, just let your GOGO Charters reservation specialist know—we'll connect you with one at no additional cost.
Play Frisbee Golf at T.C. Jester Park
Address: 4201 T C Jester Blvd, Houston, TX 77018
We know frisbee golf is usually a group thing. But there's nothing wrong with a little friendly competition with your housemates or working on your throwing arm by yourself. If you're looking for an underrated Houston green space and want to get your steps in for the day, consider playing a round of disc golf at this Central Northwest neighborhood park. Time your visit right and you can even catch a colony of 100,000 Mexican free-tailed bats embarking on their nightly journey from under the Watonga Boulevard Bridge.
T.C. Jester Park offers 9 holes along the bayou and a basket near the parking lot to toss in some warm-up shots. Both the CDC and the Professional Disc Golf Association recommend bringing your own frisbees and sanitizing them between targets.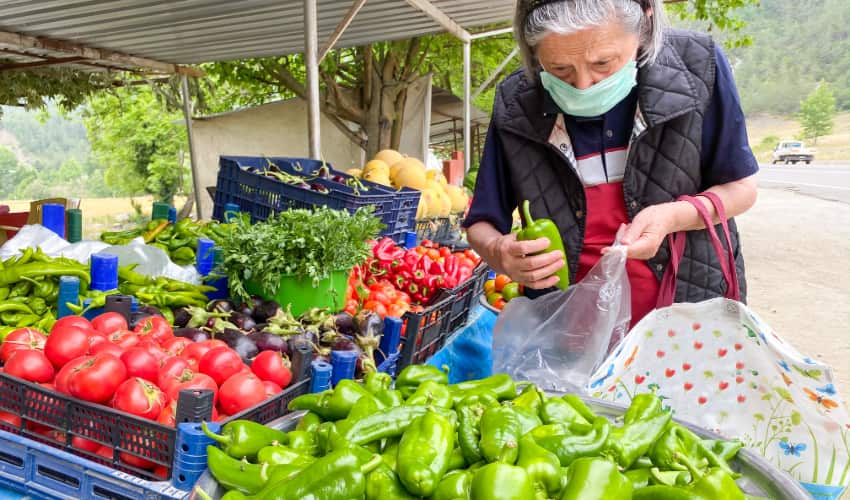 Hit the Farmers Market
Want to support local businesses? Mask up and grab some fresh fruit, veggies, and more at one of Houston's many still-operating farmer's markets:
The Houston Farmer's Market
Address: 2520 Airline Dr, Houston, TX 77009
When: 5:30 a.m. to 6 p.m. daily
The oldest and biggest farmers market in the city, this venue hosts over a dozen local farmers every day, all specializing in fresh produce and spices.
Urban Harvest Farmer's Market
Address: 2752 Buffalo Speedway, Houston, Texas 77027
When: every Saturday from 8 a.m. to 12 p.m.
While visitors are not allowed to eat while on the grounds while social distancing is in place, all hot food will be served as to-go orders. You even can pre-order your produce and pick it up before the market opens.
East End Farmer's Market
Address: 2800 Navigation Blvd, Houston, TX 77003
When: Sundays from 10 a.m. to 2 p.m.
Besides locally sourced meats and produce, this market also showcases handmade crafts, jewelry, and wares alongside live musicians and performers. As a precautionary measure, though, familiar high-touch attractions like the petting zoo may be postponed.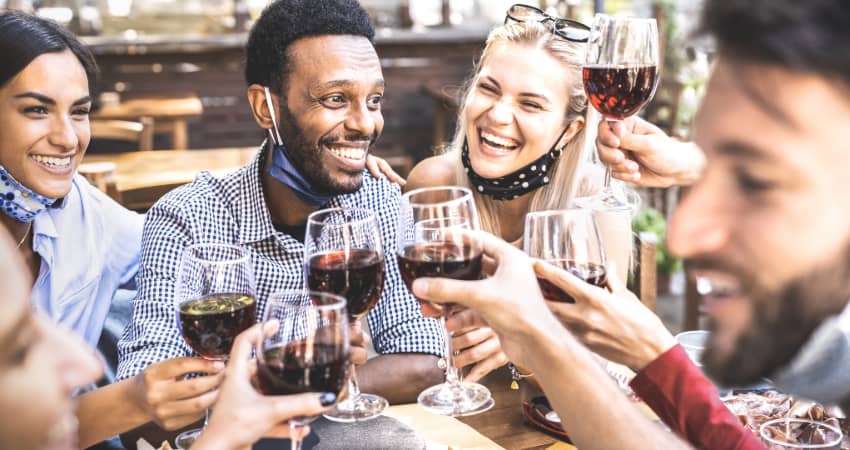 Grab a Bite Outdoors
Since the beginning of the pandemic, the city's Planning and Development Department has worked with local restaurants to make more outdoor dining spaces for their customers, thanks to the More Space Program. That means that rather than ordering delivery and take-out, your diners can enjoy their favorite restaurants while still maintaining social distance.
Here are a few local eateries that offer outdoor dining in Houston:
One Fifth
Address: 1658 Westheimer Rd, Houston, TX 77006
This Hyde Park Mediterranean restaurant converted part of its parking lot into an outdoor dining area covered by a tent. Choose from a curated selection of pasta and seafood dishes via scannable QR codes and digital menus, rather than worrying about how often the physical menus are sanitized.
Relish Restaurant & Bar
Address: 2810 Westheimer Rd, Houston, TX 77098
While this River Oaks haunt recently opened its dining room, it does offer outdoor dining under an extended awning with ceiling fans, if you're not comfortable with indoor seating just yet. Fan-favorite menu items include fried chicken and deviled eggs, and the reasonably priced wine list can make your Sunday brunch that much more relaxing.
Pondicheri
Address: 2800 Kirby Dr, Houston, TX 77098
This innovative Indian cafe boasts a rotating menu of seasonal flavors and fresh ingredients from the nearby Knopp Branch Farm. Raise a glass of rum-spiked mango-coconut lassi under a shady deck umbrella, and enjoy dishes such as fried pepper pakora stuffed with paneer cheese or pickled pepper pizza.
Plan a Safe Houston Outing with GOGO Charters
If you're going to be out and about in Houston, we want to make your travels as safe and easy as possible. Whether you're coordinating socially distant outings in the coming months or planning ahead for safer times, let the GOGO Charters team connect you with a personalized charter bus or minibus rental tailored to your group's needs. Call (281) 407-2654 whenever you're ready, and our 24/7 reservation team will offer a free, no-obligation quote for your Houston bus rental!
Tags In
Do you need to rent a charter bus?
Do you need a long-term shuttle service?
We offer contracted shuttle services for businesses, schools, hotels, and more. Contact our experts at 1-844-897-5201 to discuss your long-term transportation plans.