The Ultimate Group Travel Guide to Miami and the Beaches, Part 1
Miami, Florida is one of the few destinations in the States that is perfect for a group trip year round. Forget about freezing temperatures in winter or dry, drought-like air in the summer.
Yeah, Miami may have this little thing called "hurricane season," but that's why planning your group trip accordingly is so important! GOGO Charters is here to help you plan your next group trip in Miami with some useful tips and tricks. From bus rentals in Miami to top-rated hotels and picturesque attractions, we've compiled everything you need to know into this 3-part series about group travel in The 305.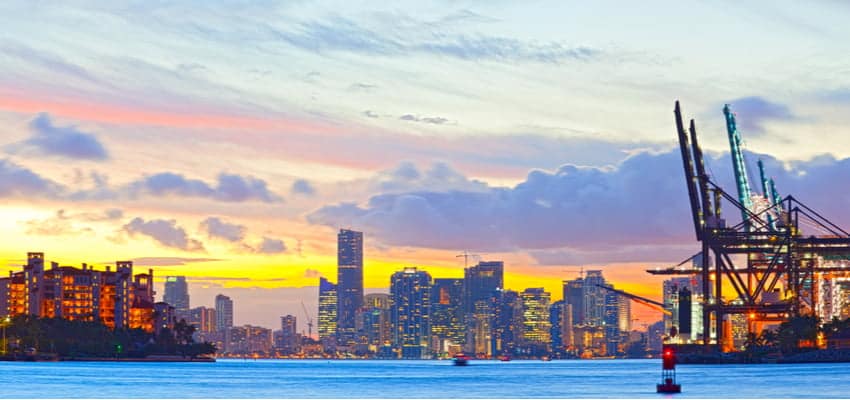 Why should groups visit Miami?
You don't necessarily "visit" Miami, especially if it's your first time trekking down the peninsula's east coast. Miami is more of an experience.
The 305 doesn't have the rush of theme parks like Orlando or the quaint but busy atmosphere of Tampa. But that's not why you go to Miami.
Go to Miami for the unique melting pot of cultures. Go to Miami for the beaches. Go to Miami for nightlife that never stops. Go to Miami for a luxe getaway from the mundane. Most importantly, go to Miami for the best Cuban food you'll ever have. Yes, ever.
When's the best time to visit Miami?
Florida gets a bad rep for turning into the seventh circle of hell during the summer months. Listen, it's really not that bad. We promise. Pack shorts, sundresses, sandals, plenty of sunscreen, and maybe an umbrella, and you'll be okay.
Expect travel season to be busiest during the temperate winter and early spring months, December through May. Temperatures usually rest in the perfect mid-70s (℉) during the winter and spring, while summer brings mid-to-high 80s, humidity, and marks the start of the rainy season.
Although Miami is usually a popular tourist destination during the fall and winter months, summer and spring are still lovely between storms. If your group is planning to fly, you'll catch the cheapest airfare during August, which marks the peak of hurricane season, extending into September.
Not too keen on organizing group airfare? Regardless of travel season, a charter bus rental in Miami is an efficient way to avoid annoying air travel.
Getting to and around Miami with a group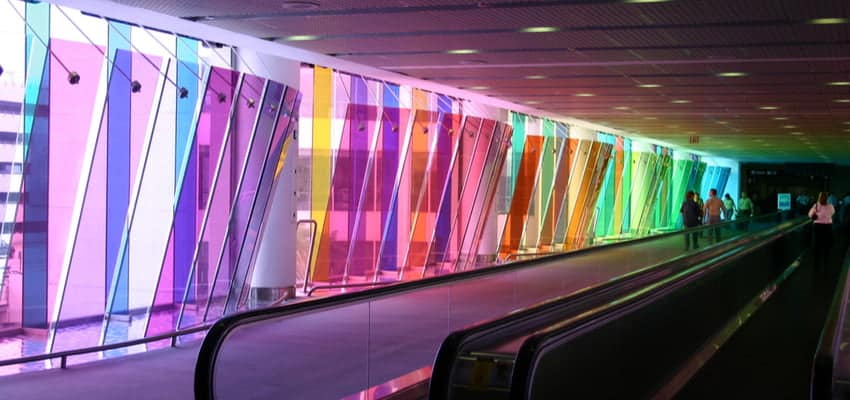 Air Travel
Flying into Miami International Airport (MIA) is like flying into any other major airport, it's just a little more international. After JFK in New York City, MIA has the largest influx of international passengers in the country.
Some airline companies may offer discounted group rates for groups of 10 or more, but this varies from carrier to carrier. American Airlines has a hub at MIA, offering the largest variety of inbound domestic and international flights.
If MIA isn't meeting your budget needs, try Fort Lauderdale-Hollywood International Airport (FLL) or Palm Beach International Airport (PBIA). These airports are located 26 miles and 70 miles north of Miami, respectively.
Ground Transportation
But what happens once you land? Miami isn't known for having the most effective public transportation. The city is putting in some effort, but it's nowhere near the efficiency level of transportation juggernauts like The Big Apple or Chicago.
Between the Miami Metrorail and Metromover, there's public transportation available from the airport to downtown, Brickell, and as far south as Dadeland. Hopping over to the beach or further south isn't as easy.
A rideshare service like Uber or Lyft may be feasible for small groups. These fares can add up quickly and large groups are at a disadvantage with needing to hail multiple vehicles.
Don't worry, this is where GOGO Charters steps in.
Renting a charter bus in Miami is your best bet for efficient group transportation wherever you want to go. You don't need to rent a full-sized charter bus; a minibus is a great option for beachbound vacation groups, destination weddings, or any other type of group event.
Benefits of a Miami charter bus rental
Let's talk Miami traffic. In short, it's rough. It can be especially rough for large groups of visitors who may not know their way around town. Miami trails right behind cities like Boston and Atlanta for worst traffic country.
With a minibus rental from GOGO Charters, navigating unfamiliar roads with Miami traffic hot on your tail won't be a worry. You won't need to stress about losing your group members when your caravan of rental cars gets separated. Everyone will be together for the entire trip and better yet, you'll have a professional driver behind the wheel.
Where should my group stay in Miami?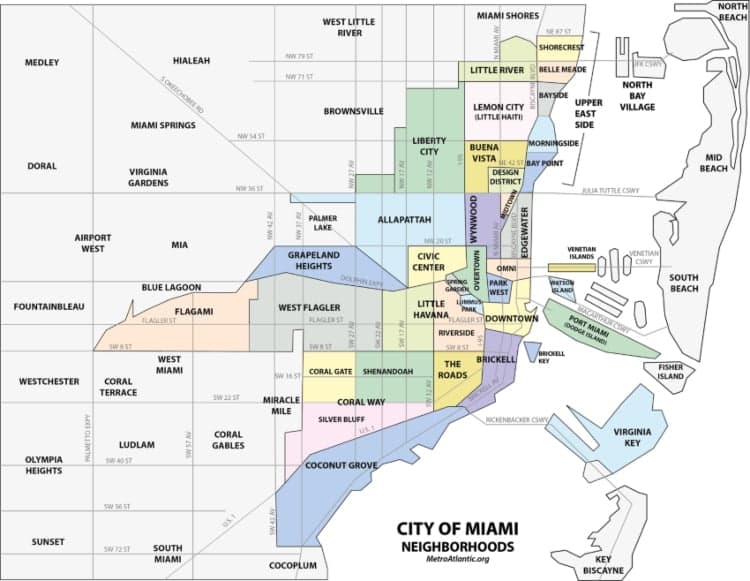 There's an array of lodging options across Miami. Choosing where you'd like to stay is dependent on not only budget but your group's accommodation taste and planned itinerary. If you're looking to stay in the heart of South Beach during peak travel season on a tight budget, you may want to reconsider your lodging plans.
Depending on your group size and room requirements, you can explore group rate options at some of these Miami hotels. Group rates are often available for special events like weddings and corporate functions, but private vacation groups can also contact the hotel directly for group rates. Each hotel holds a different requirement for considering group booking, ranging anywhere from 3 rooms to over 10 rooms. If your group is looking for an elevated lodging experience, these hotels offer large suites or bungalows that can usually accommodate up to 4 to 6 guests per suite.
Wherever you decide to lodge in Miami, you'll have designated transportation with a rental from GOGO Charters Miami. Shuttle in your sleek minibus from hotels to Miami's hottest attractions, restaurants, and nightlife.
Miami Beach
Nightlife. Sunshine. Speedos.
Fun fact: Miami Beach is indeed its own city, with South Beach (SoBe), Mid Beach and North Beach serving as its three main neighborhoods. Each area has its own unique flair, with SoBe being the most recognizable and tourist-heavy. These hotels are central to quintessential beach nightlife: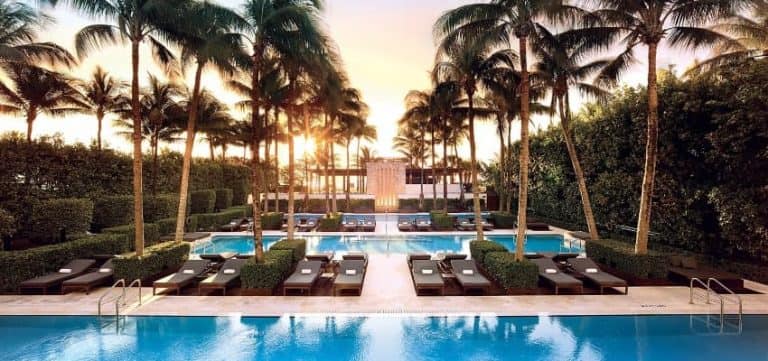 The Setai, Miami Beach
$$$$, ★★★★☆
Address: 2001 Collins Ave, Miami Beach, FL 33139
Phone: (305) 704-7817
Group rates: groups@thesetaihotel.com
The Miami Beach EDITION
$$$, ★★★★★
Address: 2901 Collins Ave, Miami Beach, FL 33140
Phone: (786) 257-4500
Group rates: (786) 257-4508
Riviera Hotel & Suites South Beach
$$, ★★★★☆
Address: 318 20th St, Miami Beach, FL 33139
Phone: (305) 538-7444
Brickell
Young. Posh. Professional.
Are you fans of rooftop bars, luxe dining, and shopping? You don't have to stay right on Miami Beach for these luxuries. Brickell is like the cool younger sibling of Downtown Miami, complete with a dirty martini and artisanal macarons in hand. It has the metropolitan feel of downtown with sweeping waterfront views like the beach.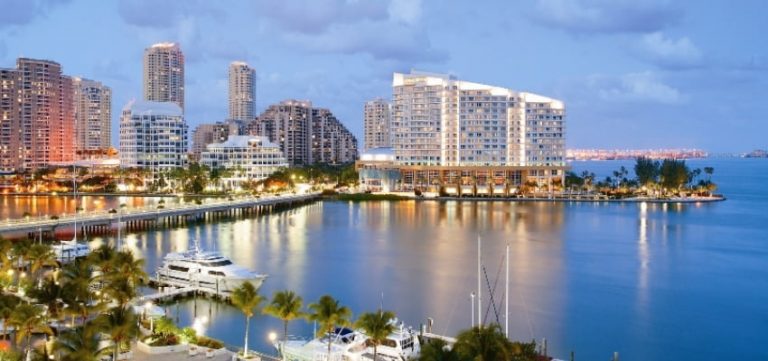 Mandarin Oriental
$$$$, ★★★★★
Address: 500 Brickell Key Dr, Miami, FL 33131
Phone: (305) 913-8288
EAST, Miami
$$$, ★★★★☆
Address: 788 Brickell Plaza, Miami, FL 33131
Phone: (305) 712-7000
Aloft Miami – Brickell
$$, ★★★☆☆
Address: 1001 SW 2nd Ave, Miami, FL 33130
Phone: (305) 854-6300
Downtown
"The City." Busy. Attractions Galore.
With the rise of popular neighborhoods like Wynwood and Brickell, Downtown Miami may seem like an old school place for some younger groups but it still has a lot going on. Downtown Miami has withstood the test of time and is still a great central location for visitors.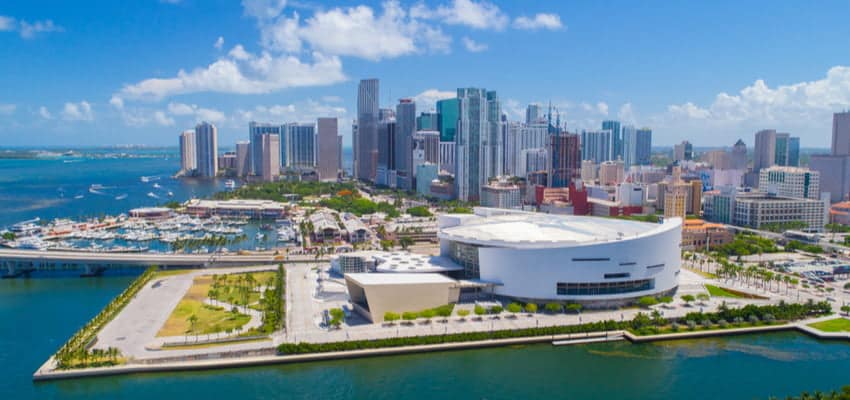 Kimpton EPIC Hotel
$$$, ★★★★★
Address: 270 Biscayne Blvd Way, Miami, FL 33131
Phone: (305) 424-5226
InterContinental Miami
$$$, ★★★★☆
Address: 100 Chopin Plaza, Miami, FL 33131
Phone: (305) 577-1000
Courtyard by Marriott Miami Downtown/Brickell Area
$$, ★★★☆☆
Address: 200 SE 2nd Ave, Miami, FL 33131
Phone: (305) 374-3000
Reserve a Private Miami Hotel and Airport Shuttle
Miami has so many beautiful hotels in prime locations for your group to book. These lodging options aren't just limited to Downtown, Brickell, and South Beach. Book an elegant hotel in Coconut Grove, a peaceful suite in Mid Beach or even a luxe resort option in Bal Harbour.
In Part 2 of this Miami travel guide series, we'll cover the best activities and must-see beaches in Miami. But you'll find plenty to do no matter where you stay in Miami and GOGO Charters is here to get you there quickly and safely. Call us at (305) 547-8457 for a free quote!
Tags In
Do you need to rent a charter bus?
Do you need a long-term shuttle service?
We offer contracted shuttle services for businesses, schools, hotels, and more. Contact our experts at 1-844-897-5201 to discuss your long-term transportation plans.