The Ultimate Group Travel Guide to Miami and the Beaches, Part 2
Welcome back to the GOGO Charters group travel guide to Miami. In Part 1 of our Ultimate Group Travel in Miami Guide, we covered why groups should visit The Magic City and the best places to stay. Now it's time to get into the fun stuff: the best attractions and beaches for a group to visit!
Buckle up on your charter bus rental and get ready for Miami's top sandy spots and attractions.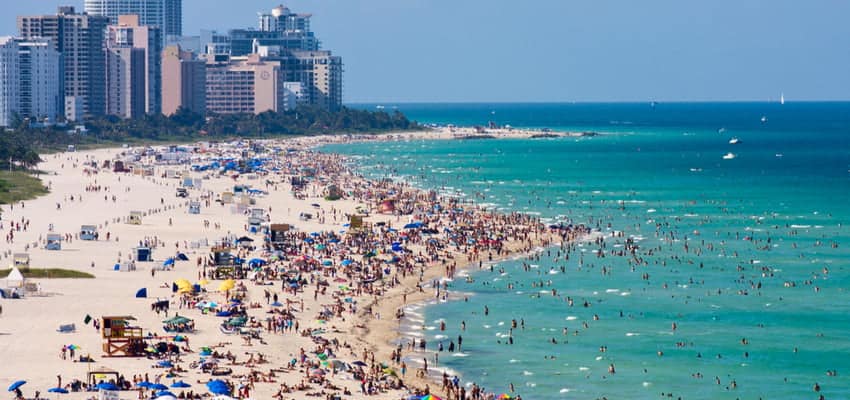 The Best Group Activities in Miami
Planning your itinerary can be tricky if you're traveling with a large group.
What if everyone wants to do something different?
What are kid-friendly attractions?
Where should we eat in Miami with a big group?
While Miami has a laundry list of fun things to do, it can be difficult choosing what's best for your group.
Choosing self-guided options rather than pre-booked tours and attractions will allow your group freedom to explore Miami as you please. Travel on your own time and build your own tour of Miami with a private GOGO Charters bus rental.
Attractions
These popular Miami attractions are group-friendly and also family-friendly for any trip. If you're a group of adults looking for a fun time, don't worry. We've compiled a list of great Miami nightlife for you too.
Bayside Marketplace
FREE. Downtown.
Address: 401 Biscayne Blvd, Miami, FL 33132
Bayside is more than just an outdoor shopping center. Some may call it a tourist trap, but if it's your first time in Miami, make it a point to go. It's a place where Miamians and tourists mix and mingle with live music and waterfront views. Walking around the shopping center can be a bit blasé, but grabbing a drink and dancing with your group or someone's abuela makes for a memorable experience. Bayside is spacious, making it perfect for large groups and centrally located in downtown for easy access to other sites. If your group loves basketball, hop over to the American Airlines Arena, home of the Miami Heat, right next door.
Vizcaya Museum & Gardens
$10 – $22. Coconut Grove.
Address: 3251 S Miami Ave, Miami, FL 33129
Arguably one of the most beautiful locations in Miami, Vizcaya is a historic villa built by Floridian businessman James Deering in 1916. The extravagant estate is an architectural love letter to the Mediterranean Revival and Italian Renaissance eras.
The estate is now a museum surrounded by lush gardens, serving as a major tourist attraction and event venue. Self-guided admission to the museum varies from being free to costing $22 per visitor. Group admission and guided group tour options are also available with pre-registration.
Wynwood Walls
FREE. Wynwood.
Address: 2520 NW 2nd Ave, Miami, FL 33127
Wynwood is a breath of fresh air compared to the troves of bikini-clad tourists on SoBe. Even if Wynwood-frequenters don't want to call it "hipster", it is. But that's not a bad thing. Wynwood is way more than just craft beer and trendy eateries. Wynwood has become the Miami Art District, having started with unique and creative murals from some of the world's best street artists.
The Wynwood Walls are some of the most popular murals in the area and easily the most "instagrammable" location in Miami. Take your group on a self-guided tour of the Wynwood murals, admire art from hundreds of artists, grab delicious food, or even hang around for some hip nightlife.
Everglades National Park
Park fees vary. Miami.
Address: 36000 SW 8th Street, Miami, Florida 33194 (Shark Valley Visitor Center)
40001 State Road 9336, Homestead, FL 33034 (Ernest F. Coe Visitor Center)
The Everglades may be a far cry from the glitz and glamour of the beach but hear us out: it's a great place to visit if you've never been to South Florida. There are multiple entrances and visitor centers to the Everglades, with Shark Valley being the most popular for Miami visitors.
Where else can you see alligators up close and personal? Well, Miami-natives can find them in their backyards, but if you're a group of out of towners, take a ride on the wild side. You can hike, canoe, fish, take an airboat tour, and so much more. You can even learn about Miccosukee tribal culture and catch a gator show at the Miccosukee Indian Village. After a long day of Florida nature, you can cool off in your climate-controlled charter bus.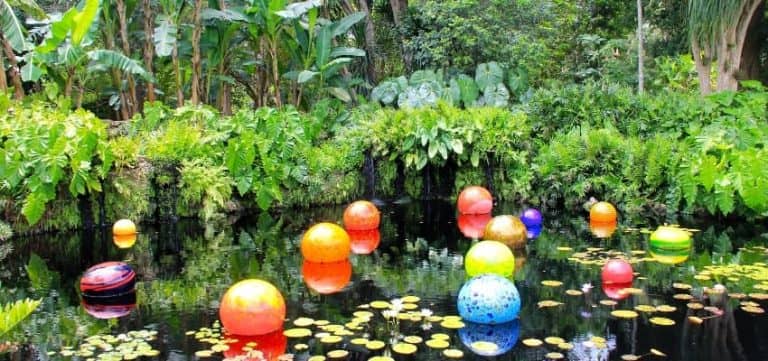 Fairchild Tropical Botanic Gardens
$12 – $25. Coral Gables.
Address: 10901 Old Cutler Rd, Coral Gables, FL 33156
About 10 miles south of Downtown Miami in the affluent suburb of Coral Gables lies a hidden gem. Fairchild is one of the most beautiful locations in Miami and is consistently ranked among the best botanical gardens in the country. Miami is one of the few cities in the United States that has the perfect climate for tropical plants to flourish year round.
Your group should visit Fairchild if you're looking for a peaceful break from the Miami hustle and bustle. Fairchild spans more than 85 acres, comprising of the country's largest palm collection, a conservatory filled with over 450 species of rare plants, artwork by famed glass sculptor Dale Chihuly, and an expansive indoor butterfly house. Take a guided tram tour inside the park, grab a bite at the on-site cafe, learn about hundreds of beautiful plants, and bask in South Florida's tropical beauty. Be sure to ask about group tour rates and guided options if you'll be attending with more than 20 people.
Art Deco Historic District
FREE. Miami Beach.
Address: 1001 Ocean Dr, Miami Beach, FL 33139
Home to countless restaurants, hotels, nightclubs and boutiques, Ocean Drive is the lifeline of South Beach. Art Deco architecture took the beach by storm in the 1930s, resulting in the postcard-worthy landscape that is now iconic SoBe.
The Art Deco Historic District has around 960 historic buildings marked by their rectangular forms, bold lines, pastel color palettes, and art nouveau influence. Have your charter bus driver drop your group off at 6th Street and walk the square mile to enjoy the architecture. If you're out in Miami on a hot day, keep cool on your private bus and build your own architecture tour before hitting the sandy beach.
Travel tip: If you're really looking to experience the magic of South Beach, tour the historic buildings in the evening to marvel at the Art Deco lighting.
Beaches and Beach Parks
You can't visit Miami without hitting the actual beach for a little while. Miami's best beaches aren't just limited to South Beach though. There's plenty of fun to be had in Mid Beach, peace and quiet on North Beach, and family fun at Key Biscayne. Load your umbrellas, coolers, and beach gear onto your charter bus, then rent a cabana at a swank hotel resort, or get down and dirty in the ocean.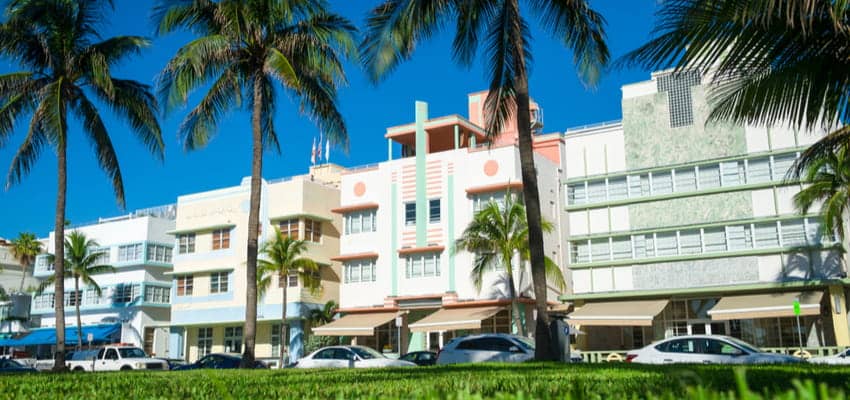 Lummus Park Beach
Classic South Beach. Art Deco. Big Crowds.
Address: 1130 Ocean Dr, Miami Beach, FL 33139
Lummus Park is arguably the most popular beachfront park in Miami Beach. Located between 5th and 15th street among the Art Deco District on South Beach, Lummus Park has space for volleyball, workout sessions, picnics, biking, and of course, sunbathing.
Travel tip: Forgot to bring your beach umbrella along? Rent umbrellas, lounge chairs, and cabanas from Boucher Brothers at Lummus Park.
21st St – 45th St Street Beach
Luxury Resorts. Smaller Crowds. Private Space.
Address: 21st Street and Collins Avenue, Miami Beach, FL 33139
This stretch of beach sits beyond the crowds of South Beach and just before the tranquility of Mid Beach. The area where 21st Street through 45th Street intersects Collins Ave is the place to be if you're lovers of all things luxury. You'll find some the chicest luxury hotels with private beach access like The Setai, 1 Hotel South Beach, and W South Beach.
12th St Beach
Vibrant. Fun. People Watching Central.
Address: 12th Street and Ocean Drive, Miami Beach, FL 33139
12th Street Beach is a predominantly LGBTQ area of South Beach. This part of the beach is wide and spacious, offering visitors plenty of areas to set up shop on pristine white sand. On 12th Street Beach, you'll see the vibrancy that Art Deco and the LGBTQ community brings to SoBe.

Crandon Park
Key Biscayne. Recreation. Underrated.
Address: 6747 Crandon Blvd, Key Biscayne, FL 33149
Are you a returning visitor that's tired of the South Beach crowds? Live like a local and head over to Key Biscayne instead. Crandon Park Beach is over the Rickenbacker Causeway from Brickell, about 6 miles from the mainland. The beach is spacious and perfect for large groups who want some peace, quiet, and a different beach experience. Hike some trails, admire Miami's nature, or even pack a picnic for your entire group.
Travel tip: If you're worried about your charter bus driver finding parking, Crandon Park has the most affordable and spacious parking options.
Haulover Beach Park
Calm Waters. Clothing Optional. Prime Shopping.
Address: 10800 Collins Avenue, Bal Harbour, FL 33154
Haulover Beach Park is located in northern Bal Harbour, an affluent waterfront Miami neighborhood nestled between the Atlantic Ocean and Biscayne Bay. Haulover Beach is mostly family-friendly until you hit the last 0.5 northernmost mile of the beach. This is where clothing becomes optional. Don't worry, there's clear and plentiful signage of where the nude beach starts. Along with being a beautiful beach and the most-visited nude beach in the world, Haulover is also close to luxury shopping. Explore the Bal Harbour Shops with around 100 luxe stores including big names like Balmain, Dior, and Prada.
Beach Bound Travels with GOGO Charters
Cool off on your charter bus after a long day of exploring Miami's tropical landscape. GOGO Charters has you covered for the ride back to your hotel or any other Miami hotspots after a sunny beach day. Grab some food or hit one of the city's many nightlife spots with suggestions in our conclusion to The Ultimate Group Travel Guide to Miami. Be sure to call us at (305) 547-8457 to secure your charter bus in Miami for your group of foodies or dancing queens.
Tags In
Do you need to rent a charter bus?
Do you need a long-term shuttle service?
We offer contracted shuttle services for businesses, schools, hotels, and more. Contact our experts at 1-844-897-5201 to discuss your long-term transportation plans.