The Ultimate Group Travel Guide to Miami and the Beaches, Part 3
We're rounding out the GOGO Charters Ultimate Group Travel Guide with the most important topics. Food and nightlife! Miami wouldn't be Miami without its diverse cuisine and reputation as a beachfront nightlife metropolis. Build your own food tour or indulge in a Miami bar hopping experience with a private minibus or charter bus rental.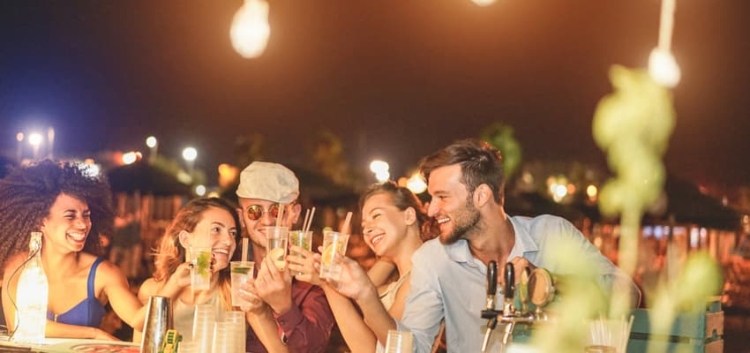 First, be sure to check out Part 1: Miami Group Transportation and Hotels and Part 2: Miami Beaches and Group Activities.
Now, let's jump right into the best Miami restaurants and nightlife spots for groups.
Restaurants
When you're in Miami, please eat the local cuisine. Forget big chains; taste the vibrant flavors of Miami's melting pot. There's an endless number of great places to eat in The 305, but these restaurants not only have delicious food, but they're also great for large groups.
Want to make a food tour out of your Miami trip? With a private charter bus or minibus rental, you can add as many eateries as you want to your itinerary.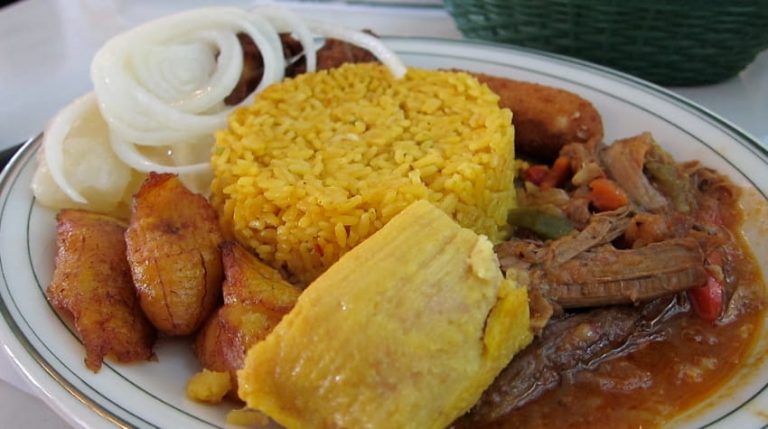 Versailles Restaurant
$$. Cuban food. Calle Ocho. Little Havana.
Address: 3555 SW 8th St, Miami, FL 33135
Phone: 305-444-0240
Cuban food in Miami is plentiful, but no restaurant has become more synonymous with Miami's Cuban cuisine than Versailles. Grab their famous Cuban sandwich or ropa vieja with a side of crisp yucca fries or maduros.
Part of the Cuban dining experience is enjoying food with family and friends. Versailles doesn't take formal reservations but if you're in a group of 15 or more people, it's recommended that you give them a call for easier accommodations.
Tip: Your experience wouldn't be complete without a cortadito. Versailles is open until 3:30am every Saturday, swing by for a quick caffeine pickup and a croqueta before hitting the club.
Yardbird Southern Table & Bar
$$$. Southern. Brunch. Miami Beach.
Address: 1600 Lenox Ave, Miami Beach, FL 33139
Phone: (305) 538-5220
Fried chicken and waffles? Yes, please. Look no further than Yardbird for some Southern comfort on Miami Beach. The farm-to-table eatery is famous among locals for having the best brunch in the city. Yardbird's Miami location was actually ranked among the top 100 brunch restaurants in the country by OpenTable. Groups of 13 or more should make a reservation at least 72 hours in advance.
CVI.CHE 105
$$. Peruvian. Seafood. Downtown.
Address: 105 NE 3rd Ave, Miami, FL 33132
Phone: (305) 577-3454
CVI.CHE 105 has three locations in Miami, with the Downtown and South Beach locations being the most popular. The authentic Peruvian restaurant takes cultural dining to an elevated level with an impressive ceviche menu and variations of traditional dishes. Groups of 9 or more should call ahead at (305) 305-1734 to reserve accommodations.
Wynwood Kitchen & Bar
$$. Latin-American Fusion. Tapas. Wynwood.
Address: 12550 NW 2nd Ave, Miami, FL 33127
Phone: (305) 722-8959
The artsy Wynwood neighborhood has multiple trendy and delicious food options that are great for groups. Wynwood Kitchen & Bar is no exception. This tapas style restaurant is located adjacent to the famous Wynwood Walls, boasting an array of Latin fare like ceviche, vaca frita, and empanadas. Large groups can order a variety of tapas to satiate the table and can be seated indoors or on the outside patio with live music and DJ sets. Reservations can be made through OpenTable for up to 20 guests, while bigger groups are advised to call.
Nightlife and Entertainment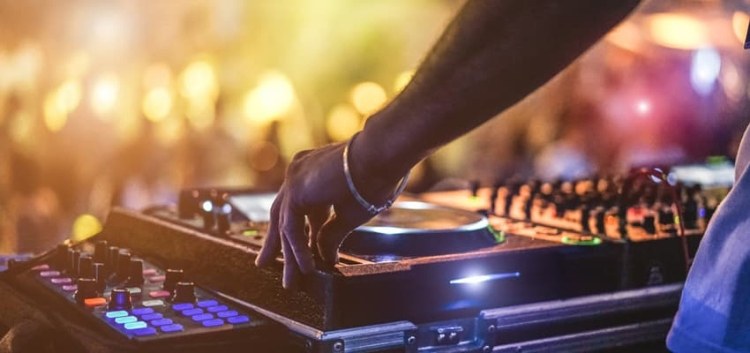 The party never stops in Miami. When we say "nightlife," that includes day partying, beachfront jams, nights out on the town, and everything in between. Miami has its fair share of huge extravagant dance clubs, posh rooftop bars, beachfront pool clubs, and even small, intimate speakeasies. Not every type of club or lounge is suited for a large group though.
Yeah, you can book a few private tables at most big clubs, but sometimes that isn't what you're going for. Maybe your group is looking for something different than the typical bass bumping and expensive bottle service of South Beach.
Hop on your Miami charter bus and party the night away for during your private girls' trip, bachelor party, or even a big birthday bash. GOGO Charters and your personal driver will handle the designated driving all day or night throughout The Magic City.
Palace South Beach
$$. Brunch. LGBTQ. Just a Good Time.
Address: 1052 Ocean Dr, Miami Beach, FL 33139
Palace is a historic LGBTQ community fixture on South Beach's iconic Ocean Drive. The restaurant and bar may be open until 1:00am for drinks and dancing, but the shining star of Palace is Saturday + Sunday Drag Brunch. Stop here for bottomless mimosas, delicious food, and a drag show with Miami's most fabulous queens.
With large tables and indoor/outdoor seating, Palace is great for groups. Drag brunch will run you a steep $45 but this includes your food, drinks, and a really great time. Make your group reservations through OpenTable or call (305) 531-7234.
STORY Nightclub
$$$. Dancing. EDM Galore. Quintessential SoBe.
Address: 136 Collins Ave, Miami Beach, FL 33139
STORY is like the more casual but still pretty cool younger sister of LIV Nightclub. LIV is the place to go if you want a luxe club experience, but STORY takes off some of the pressure to dress to the nines. STORY is a massive 27,000 square feet and puts a lot of focus on popular or upcoming electronic music. Book a VIP table for your group or enter the madness and try not to lose track of everyone on the dancefloor.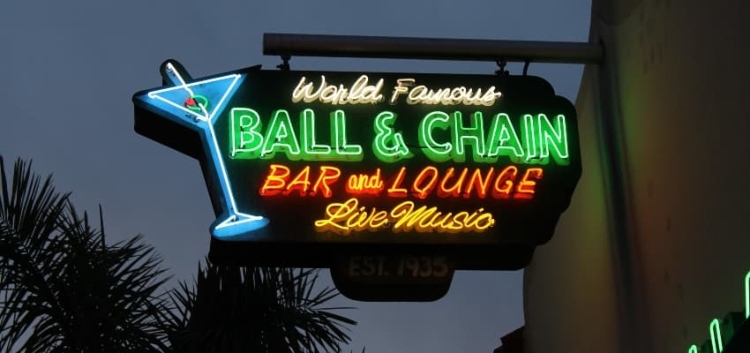 Ball & Chain
$$. Latin flare. Live music. Calle Ocho.
Address: 1513 SW 8th St, Miami, FL 33135
Ball & Chain is a little slice of history in Little Havana. It originally opened in 1935 as a saloon and made a strong comeback in 2014 after being closed for over 50 years. The Calle Ocho hotspot offers one of the most "Miami" nightlife experiences you'll find in the city. Enjoy live Cuban music, plenty of dancing, and obligatory mojitos.
Reserve a table for your large group or even book a private event if you're in town for a birthday party, wedding event, or any other social gathering.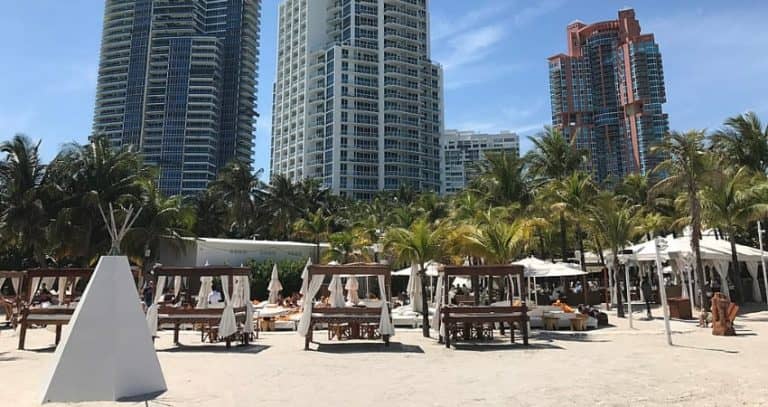 Nikki Beach Miami
$$$. Beachfront. Bikinis. Day and Night.
Address: 1 Ocean Dr, Miami Beach, FL 33139
Nikki Beach isn't your typical nightlife spot on South Beach. Just think of it as a giant beach club that includes a restaurant, private beach access, dance parties, and live music/DJ sets. Nikki Beach is famous for getting day parties started, but it also hosts night clubbing events with live entertainment. Rent cabanas or daybeds for your group and party the day (or night) away with your toes in the sand.
Do Your Group a Favor: Simplify Your Miami Group Travel
Traveling to Miami comes with an endless list of things to eat, drink, and experience. Feeling limited by your transportation options shouldn't be what stops your group from enjoying all the city has to offer.
Whether you're traveling with 15 or 50 people, taking care of your transportation is one of the first steps to a memorable Miami experience. You keep your eyes on sandy beaches, GOGO Charters will take care of how you'll get there. Call us at (305) 547-8457 to book a minibus or charter bus in Miami.
Tags In
Do you need to rent a charter bus?
Do you need a long-term shuttle service?
We offer contracted shuttle services for businesses, schools, hotels, and more. Contact our experts at 1-844-897-5201 to discuss your long-term transportation plans.