Traveling as a Group to Six Flags Magic Mountain from Los Angeles
In the mood for a thrilling theme park day with family or friends? Six Flags Magic Mountain has unlimited thrills for adrenaline junkies and roller coaster enthusiasts alike, offering rides like the  "Sling Shot" and "Drop of Doom" as well as 18 unique roller coasters— the world record for most roller coasters in an amusement park.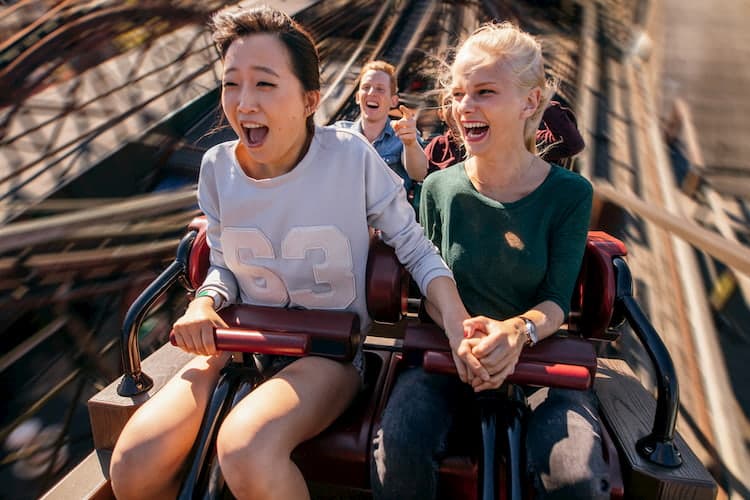 Think you can handle it? Screams, thrills, and chills are always a great addition to a summer day, but we think they're even better with a group. Before your next trip to Six Flags Magic Mountain, get together a few of your friends and family members to  share all the fun that this theme park has to offer.
Since transporting a group can be a bit tricky, we've put together a guide on the best ways we've found to get to Six Flags Magic Mountain from the Los Angeles area. Keep reading to determine which transportation method is best for you, and to pick up a few tips we've learned along the way!
Where is Six Flags Magic Mountain?
Though it's often associated with Los Angeles due to its proximity to the city, Six Flags Magic Mountain is technically located in Valencia, Santa Clarita, California— about an hour's drive (35 miles) northwest of LA.
How can I get to the park?
There are plenty of ways to get to Six Flags Magic Mountain; however, some methods might not be best for your particular situation. Take a look at a few options below, such as a personal car, public transportation, and a charter bus rental out of Los Angeles.
Personal Car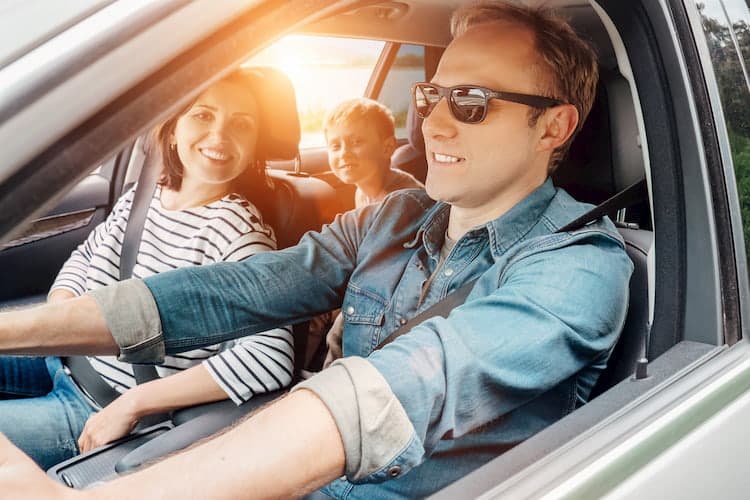 Cars are great for small groups of 3-5 people who wish to visit the park for a day. Since it's just a 35-mile drive up I-5, you can pick one driver for the way up and one for the way back.
Planning a caravan with a large group is possible, but separate cars might get lost along the way, creating an additional headache. If you're traveling with a larger group of 10-15 people, it's usually best to opt for a larger transportation option.
Public Transportation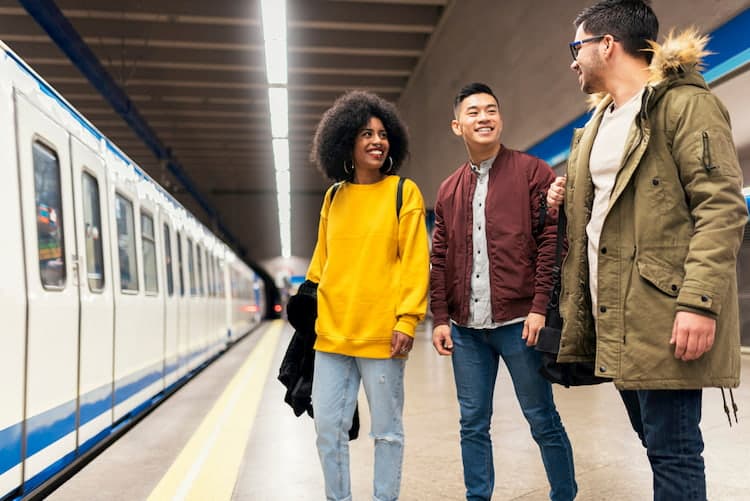 A public Metrolink train can take you directly from Los Angeles to Santa Clarita via the Antelope Valley Line. You'll board your bus at Union Station Los Angeles and enjoy an hour-long ride to Newhall in Santa Clarita. From Newhall, Magic Mountain is a 15-minute cab ride or rideshare trip away.
A round-trip ticket for the ride will cost about $14.00/person, as the Metrolink offers a 25% discount for rides taken exclusively on the Antelope Valley Line. The additional ride from the Newhall train station to the park will cost between $12 and $16 per car, one-way, depending on the time of day you're traveling (according to RideGuru). Of course, if you're traveling with a group that exceeds the capacity of one car, costs will add up as members move from the station to the park.
Trains depart from either station in 1-hour intervals, give or take. Be sure to plan your rides at the park accordingly before departing for the day.
Rideshare/Taxi
RideGuru estimates that a one-way trip to Six Flags Magic Mountain from Los Angeles via a rideshare service would cost roughly $50, and that only covers a ride for up to four people (unless you call an SUV, in which case you can expect to pay $80 for a one-way ride). While splitting into rideshare services is an option if your group members must travel from different starting points, the cost can quickly become overwhelming and put a serious dent in your day's budget.
The Best Travel Option for Groups: Private Bus Rental

Booking a private charter bus is a great option for medium or large groups of Angelenos who want to spend a day at Six Flags Magic Mountain: everyone can travel together on one vehicle, you'll get to choose when and where you depart, and you'll keep costs low by splitting the cost of your bus with your fellow group members.
Charter buses come in a variety of sizes, ranging from 18-passenger minibuses for small families to 56-passenger coaches for school groups, sports teams, or fraternities and sororities. A private charter bus from GOGO Charters will come with a professional driver who will navigate you directly from your home or predetermined meeting spot to the front gate of Six Flags Magic Mountain.
When divided among every group member, charter buses are an affordable group travel option with added benefits like a private driver, point-to-point transportation, amenities like reclining seats and on-board restrooms, and reduced parking costs. For example, a 20-passenger minibus rental will cost about $70 per person for a 10-hour rental*, assuming all 20 seats are full. Included in this rental is your driver's fee and gas costs to and from the park, and it eliminates the need to pay for an additional rideshare service to get you to and from the train station.
For your next group trip to Six Flags, book a charter bus of your own to enjoy an easy way to transport your group to and from the park!
*Example rate was calculated assuming an $140/hour fee, divided among 20 passengers. Your bus's cost will depend on several factors, outlined in our pricing guide.
Parking at Six Flags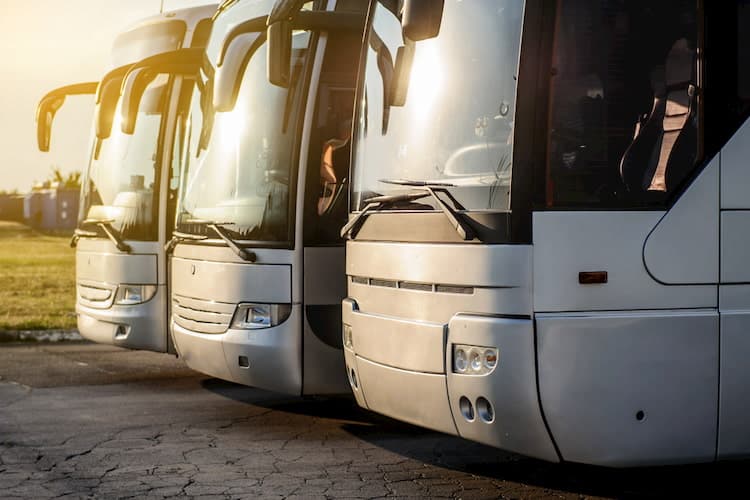 Parking for cars, vans, and buses costs $25 per vehicle, unless you choose a spot in the preferred lot (which starts at $35/vehicle). Since you'll have to pay for each individual vehicle that comes through the parking gate, you'll benefit from choosing a transportation option that can accommodate every member on your group at once to keep costs down.
If you're traveling on a bus that contains 20 or more passengers, your bus driver can even enjoy a complimentary ticket after showing a commercial driver's license. Now, your driver can get in on the fun instead of waiting for your group to head back to L.A.!
Does Six Flags Magic Mountain Offer Group Discounts?
Yes! Groups of 15-99 are encouraged to purchase tickets in advance to take advantage of a discounted rate and to help shorten ticket lines at the park. These groups will receive one free ticket for every 15 pre-purchased. Discounted group tickets are also available for smaller groups of 10-14.
If you wait to purchase your group's tickets at the park, you may not enjoy the same discounted rates.
When is Six Flags Magic Mountain Open?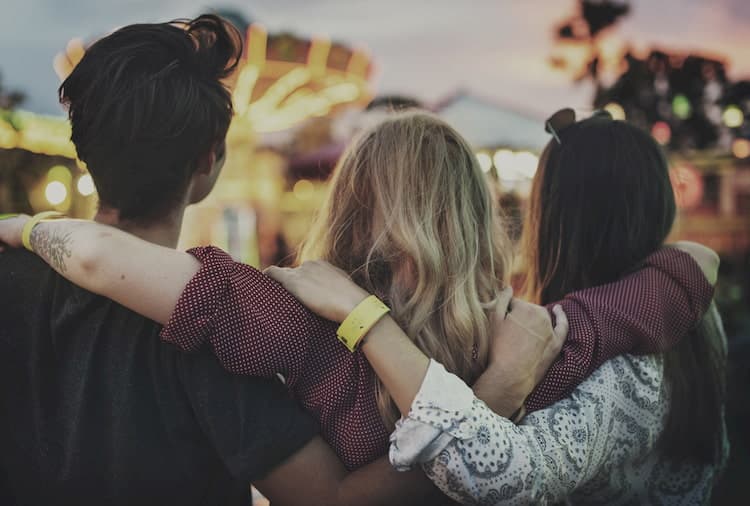 Park hours vary a bit depending on the time of year. As the summer progresses and daylight hours extend later into the evening, the park also extends their evening hours so guests can enjoy more thrills before heading home.
Most days, the park opens at 10:30am. Closing hours range from 6:00 p.m. to 10:00 p.m. Check the park's operating schedule prior to your visit to plan your day accordingly.
Bonus tip: Arrive right at opening and head straight for the rides in the back of the park. You'll enjoy minimum wait times at The Riddler's Revenge, Green Lantern: First Flight, Apocalypse, and more of your favorites before lines start to build up.
Booking a Private Bus to Six Flags Magic Mountain
Now that you've reserved your tickets, it's time to reserve your transportation. GOGO Charters is available 24 hours a day to help book the perfect bus for your trip to Six Flags, no matter how many people you're traveling with. Let our reservation specialists find the best charter bus for your group— all you'll need to do is enjoy a comfortable and safe trip to the park. Call 323-373-3085 to get your bus quote now!
Tags In
Do you need to rent a charter bus?
Do you need a long-term shuttle service?
We offer contracted shuttle services for businesses, schools, hotels, and more. Contact our experts at 1-844-897-5201 to discuss your long-term transportation plans.