The Ultimate Guide to Los Angeles Group Hikes
Wouldn't it be nice to be whisked away from it all? To soak in the SoCal sun without having to tune out the blaring car horns? Escape the gridlock of the concrete jungle altogether?
Then take a hike!
No, really, take a hike.
Despite its reputation as a glamorous, sprawling urban center, Los Angeles and the surrounding counties are a gold mine for outdoor recreation. With miles upon miles of untouched backcountry, refreshing mountain streams, and stunning views around every corner, why not share the experience with your friends, family, and kindred spirits?
Experiencing the great outdoors is so much greater with others, so we've put together this comprehensive guide to group hikes in Los Angeles, from how to find your community to the best trails for adventuring with large numbers of people.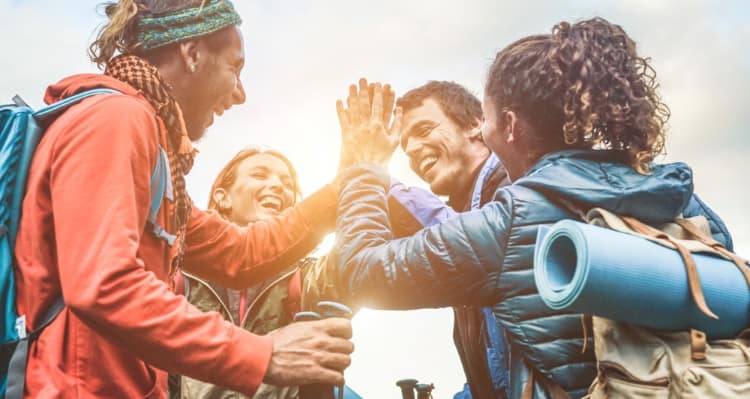 Before You Go
Many of the popular trails in the area are free and open to the public, especially within the bounds of national and state parks. But for trailblazers planning to stray from the beaten path— quite literally— it is worth looking into restrictions and regulations wherever you intend to hike. Some spaces, like the Angeles National Forest, require backcountry hikers to obtain a free permit upon reaching certain outposts so rangers can keep track of who is on the trails. Of course, regulations can differ from park to park, so save your group from hemming and hawing at the trailhead by doing your homework before heading out
While you're planning ahead, it would be wise to sort out the travel logistics to avoid transportation-related hiccups that can hinder your hike plans. Especially if you're venturing out with a large group of explorers, coordinating multiple carpools, deciding who drives, and finding enough parking for everyone at the trailhead can be a hassle.
Book through GOGO Charters, and your hiking group is guaranteed a safe and reliable ride that runs on a schedule you create. Simply draft up your ideal itinerary get a rough headcount, and give us a call at (323) 373-3085. We'll connect your group to an experienced, professional driver who can drop you off at the trailhead, work out the parking details while you hike, and meet back up when you're done, ready to take you home in a climate-controlled cabin with all the amenities to secure your group's comfort. With the ability to comfortably transport up to 56 passengers at a time, onboard WiFi and power outlets to secure that final connection to civilization, and roomy luggage bays with enough room to store even the bulkiest of gear, a private charter bus rental will provide all the little comforts your hiking group will appreciate before hitting the trail.
The More, The Merrier
Rule #1 of hiking: never go alone.
While this tried-and-true guideline has kept many hikers safe and accounted for over the years, finding fellow outdoor recreationists you actually want to hang out with can be a pain. If you're going to be spending hours together on the trail, why not turn it into an opportunity to make some friends?
The LA hiking community is very much alive and well-connected, with a number of groups, teams, and clubs that cater to a variety of demographics and skill levels. Los Angeles Hiking Group is perhaps the most well-known, with nearly 15,000 members and organized hikes throughout the year, but don't be afraid to reach out to more niche groups that better appeal to your interests. For example, LA hosts countless hiking groups for women, from the broad Women Who Hike group to Fat Girls Hiking, which focuses on body positivity and embracing the beauty of nature, even if you're new to the hiking scene.
Then again, who says you can't make your own hiking group within your own community? Whether you're seasoned veterans or beginners who have never owned a pair of hiking boots in your lives, bonding over a shared love of nature can be a great avenue for team-building and improving communication skills for any community, no matter the shape or size. As long as you 1) are all on the same page when it comes to how difficult you want the hikes to be, 2) can designate at least two trip leaders to plan ahead, and 3) have access to a first aid kit, nothing's stopping you from exploring everything the Los Angeles hiking trails have to offer.
The Best LA Hikes for Groups of All Skill Levels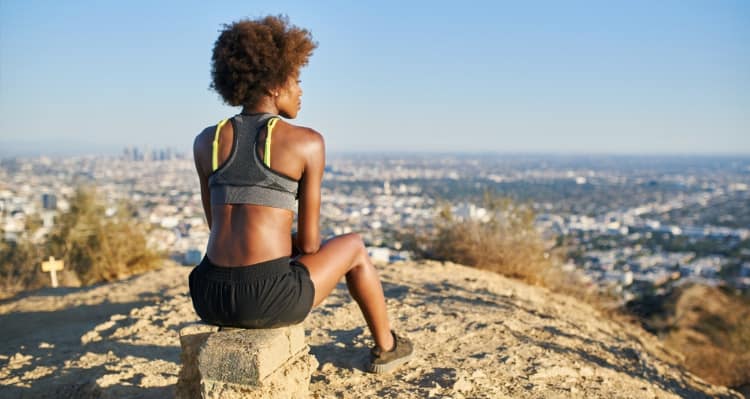 Griffith Park
From downtown LA, cast your eye northwestwards, beyond the manicured greens of Dodger Stadium, beyond the Los Feliz up-and-comers, even beyond the towering shadow of the Hollywood sign. Here lies an urban oasis with serious hiking potential: Griffith Park. While this popular green space hosts a variety of trails for trekkers of all skill levels, this Los Angeles park is especially kind to casuals, beginners, and those just dipping their toes into the LA hiking scene. Here are some of the most group-friendly hikes in the area:
Fern Dell
Address: 5375 Red Oak Dr, Los Angeles, CA 90068
Phone: (323) 666-5046
New to the hiking scene? Don't sweat it, because this trail is easy peasy: great for introducing your troop of little adventurers to the great outdoors, senior nature enthusiasts looking to stretch their legs among the sycamores, or just anyone who needs fresh air and some peace and quiet.
Starting from the Ferndell Nature Museum parking lot, this half-mile, streamside trail meanders through groves of lush, tropical greenery—an odd sight in the near-desert LA landscape, but hey, we're not complaining.
Bronson Canyon
Address: 3200 Canyon Dr, Los Angeles, CA 90068
Phone: (323) 666-5046
Nestled between Hollywoodland's rolling hills and the stately Griffith Observatory, this brief out-and-back is practically begging for movie buffs and pop culture fans to pay a visit. This 0.65-mile stretch has played the backdrop for countless blockbusters, including Invasion of the Body Snatchers and Star Trek VI. Eagle-eyed fans may even recognize the park's iconic 50-foot long tunnel—the remnants of a 1903 quarry—as the mouth of the Batcave from the 1960s Batman TV series!
Bee Rock
Address: 4730 Crystal Springs Dr, Los Angeles, CA 90027
Phone: (323) 664-6611
Deciding on a destination for your next group hike can be a mixed bag, especially if you're hitting the trail with a group of assorted skill levels. Luckily, this hiking trail offers plenty of options. Hikers can reach this hive-shaped overlook from two trailheads: Mineral Wells and Merry-go-round. While both routes grant visitors a birds-eye view of the park and city beyond from this hive-shaped look-out point, each trail grants its respective hikers unique experiences.
Only in it for the stellar views? Start at Mineral Wells, and at the fork, your group can choose between taking the short and steep Bee Rock Trail, or the windy, scenic Bill Eckert Trail. Whether you take the beeline right up the rock face or the shady route around the back of the hill, this loop trail clocks in around 2.6 miles
Just the brisk scramble up to a scenic overlook doesn't do it for you? Then we'll let you in on a LA secret: there are hidden ruins in the depths of Griffith Park. And if your group decides to take the long way round—from the Merry-go-round Trailhead—you can see them for yourself. Besides delivering to the top of Bee Rock, this 4-mile route winds through the remains of Old Griffith Park Zoo, which has laid abandoned since 1966. Be sure to pack a picnic lunch, because your group will not want to pass up the chance to nibble away on their PB&Js from inside rusted-out tiger enclosure.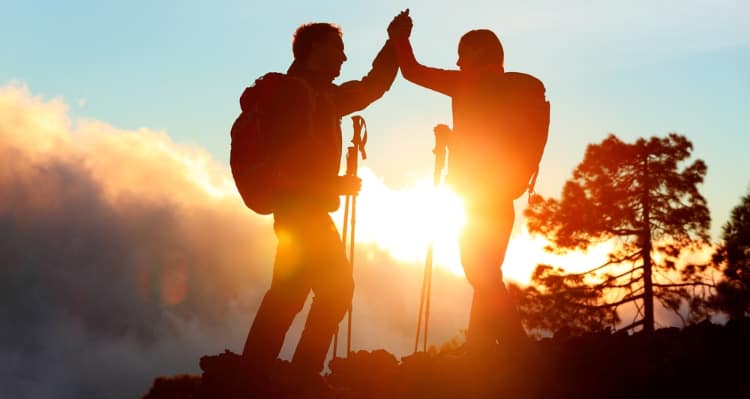 Three T's Trail via Icehouse Canyon
Address: Ice House Canyon Rd, Mt Baldy, CA 91759
Phone: (626) 335-1251
We'll be honest, this hike is not for the faint of heart. Countless wanderlust braggadocios will tell you it's a simple day hike, practically a walk in the park. But at the end of the day, it's a backcountry, 14.6 mile loop that ascends not one, not two, but three Angeles Forest summits: Thunder Mountain, Timber Mountain, and Telegraph Peak.
That's not to say it isn't worth the climb, because believe us, it is. Each peak offers sweeping, gorgeous views across the unforgettable California wilderness, from distant snow-capped peaks to winding river valleys. Just bear in mind the steep ascents—the worst being the ¾ mile stretch of 30+ degree inclines between Timber Mountain and Telegraph Peak—and the slippery downward slopes in between, and you'll be golden.
Pro top: although this trail is technically a loop, the last stretch from Manker Flat back to the Icehouse Canyon Trailhead flipflops back and forth across a winding, paved mountain road. Especially with a large group of hikers, dodging traffic while zigzagging along this roadway can be anxiety-inducing, if not straight-up annoying. Three T veterans recommend having your ride drop you off at the trailhead and meet you at the Manker Flat Campground after you've summited all three peaks. Don't worry; the campground can accommodate oversized vehicles, so even if you embark with a bus full of hikers, your private driver should not have issues reaching and parking there.
SoCal Six-Pack of Peaks Challenge
If you've read over the above hikes and thought, "Psh, this is childsplay. Where's the real adventure?" …. here it is.
Your challenge, should you choose to accept it, is to summit 6 Southern California mountains and take a selfie at the top of each—for the social media clout, yes, but also to log your progress on the Six-Pack of Peaks Challenge database.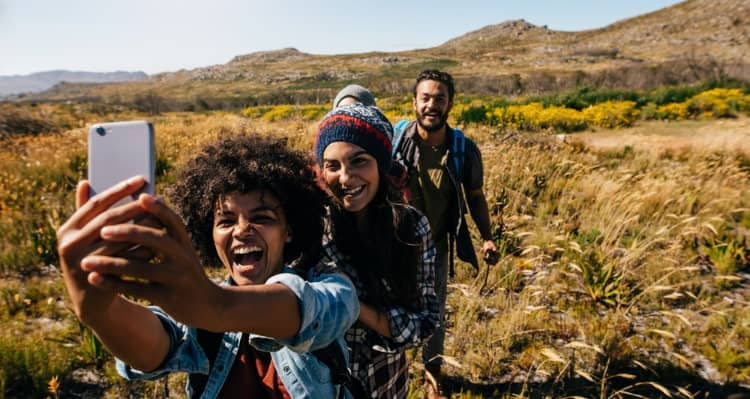 Challengers are encouraged to take on these ambitious hikes at their own pace, whether that be over the span of 6 months or 6 days. Given the frequency of fire closures, unfavorable weather conditions, and even hikers' personal preferences and skills, the Six-Pack community allows you to pick and choose which 6 summits you want to conquer from this list of 12 iconic SoCal climbs:
| | | | | |
| --- | --- | --- | --- | --- |
| Name | Summit | Total Ascent | Trail Length | Location |
| Mount Wilson | 5,712 ft | 4,600 ft | 14.5 mi | Angeles National Forest |
| Cucamonga Peak | 8,862ft | 4,200 ft | 12 mi | Angeles National Forest |
| Mount San Antonio | 10,064 ft | 3,990 ft | 11 mi | Angeles National Forest |
| San Bernardino Peak | 10,649 ft | 4,670 ft | 16 mi | Angeles National Forest |
| Mount San Jacinto | 10,834 ft | 5,480 ft | 19.5 mi | San Bernardino National Forest |
| San Gorgonio Peak | 11,503 ft | 5,470 ft | 18.5 mi | Angeles National Forest |
| Mount Baden-Powell | 9,399 ft | 2,800 ft | 8.3 mi | Angeles National Forest |
| Ontario Peak | 8,859 ft | 3,733 ft | 12.5 mi | Angeles National Forest |
| Sitton Peak | 3,273 ft | 1,960 ft | 9.2 mi | Lake Elsinore |
| Mount Pinos | 8,809 ft | 515 ft | 3.6 mi | Los Padres National Forest |
| Strawberry Peak | 6,164 ft | 1,510 ft | 7.5 mi | San Gabriel Mountains |
| Santiago Peak | 5,689 ft | 4,300 ft | 15.6 mi | Cleveland National Forest |
As you can see, a great number of these hikes are just a stone's throw away from the City of Angels, making this challenge the perfect adventure for any LA hiking group with a bit of a competitive streak. Remember, though, it's all in good fun. The Six-Pack of Peaks was created as a way to connect and cultivate the hiking community throughout the region, so gather up your fellow trailblazers and get to climbing!
Get Going with GOGO Charters
From the urban curbside to the trailhead and back again, GOGO Charters has you covered. We pride ourselves in mobilizing communities across the country through simple and efficient travel services, and the LA hiking scene is no exception. With access to a variety of charter buses and minibuses to accommodate adventuring groups of all shapes, sizes, and itineraries, it's no wonder why so many clients trust us with their group transportation needs in and around Los Angeles.
We're dedicated to making your ride as personalized as possible, whether that means establishing a long-term shuttle throughout the hiking season or offering a comfy reclining seat and room to stretch after a long day on the trail. Want to know how we can help? Call (323) 373-3085 today and our 24/7 team will be more than happy to answer your questions and connect you with the perfect ride plan for your hiking group.
Tags In
Do you need to rent a charter bus?
Do you need a long-term shuttle service?
We offer contracted shuttle services for businesses, schools, hotels, and more. Contact our experts at 1-844-897-5201 to discuss your long-term transportation plans.