The GOGO Charters Guide to Denver Beer Festivals
Denver is no stranger to craft beer and festival culture. The Mile High City is great at a lot of things, and brewing and drinking beer is one of them. In fact, Colorado is one of the most active states in the growing USA craft beer scene. Fort Collins and Colorado Springs have their feet in Colorado's craft brew arena, but as the state's capital, Denver still reigns supreme. Visiting Denver is a must for any beer lover and participating in a popular festival should be at the top of any local's list. There are dozens of festivals throughout the year and plenty of other Mile High activities to partake in. Renting a charter bus with GOGO Charters is your best group transportation option to get to and from any beer festival.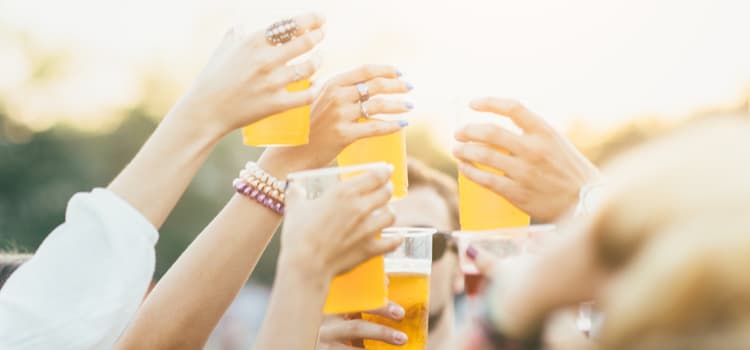 To rent a charter bus or minibus in Denver for a beer festival, brewery tour, or any other group event, call us at (720) 216-2068. We'll get you a free quote for your trip out on the town.
The History of Beer in Denver
Denver and the surrounding area has a lot of history under its belt, especially when it comes to beer. Coors Brewery was founded in 1873 in Golden, Colorado, just east of Denver. Coors remained one of the largest family-owned breweries in the country until 2006. The modern Coors Brewery produces big names like Blue Moon, Killian's, Coors, and Coors Light, making it a popular stop for beer-loving tourists. The historic Coors namesake also lives on in Downtown Colorado, with Coors Field, the home of the Colorado Rockies of Major League Baseball.
These big names in beer are only a portion of the beer landscape in Denver. Microbreweries and brewpubs arrived on the scene in 1988 with Wynkoop Brewery, which is located in what's now the popular LoDo neighborhood. Craft beer production has exploded in the state, with breweries like Great Divide and Black Shirt Brewing Co. becoming popular locally and heavy hitters like New Belgium and Oskar Blues taking the stage on a national scale. Today, the Denver area ranks among the likes of San Diego, Seattle, Chicago, and Portland for the most breweries per capita.
The Festivals
Denver's beer festivals range in size, duration, and time of year. From one-day brew fests to weekend-long events, there's something for everyone. Enjoy an endless number of beers and the company of friends, family, and fellow brew lovers.
Grab your tickets, book your private transportation with GOGO Charters, and get ready for a good time!
The Great American Beer Festival (GABF)
Fall (September – October)
Easily the biggest beer festival in Colorado, GABF brings breweries and patrons from across the country. This three-day event started in 1984 with just a handful of local breweries. Now, the festival is the largest in the country with over 800 breweries representing every state in the country. GABF has welcomed over 60,000 visitors the past few years and there's little indication that this attendance will slow down anytime soon. With over 4,000 beers to sample, there's sure to be something for everyone.
The festival is hosted by the Brewer's Association, a national trade group of over 7,000 breweries, retailers, and individuals dedicated to the craft brew field. GABF also includes a competition judged by a panel of professionals across more than 160 categories. Visitors are sure to get the best of the best brews when hitting GABF. Whether you're an IPA appreciator, a pilsener pundit, or a sour savant, this festival won't let you down.
Tips for Heading to GABF
Each beer festival has its own quirks and figuring out an efficient game plan depends on the festival layout, your personal tastes, and so much more. Check out a few helpful tips to get the most out of the United States' biggest beer festival:
Make a game plan. The Colorado Convention Center is a huge venue and there are thousands of beers under its roof during GABF. Create a list of priority brews and be sure to head there first.
Go big but don't go home. Large and popular breweries often rack up the longest lines the quickest at GABF. If these beers are on your "must-drink" list, go to these first.
Download the MyGABF mobile app. With so many booths to visit, this will help you keep track of what to drink and where to find it.
Don't forget about Denver Beer Week. If you want to get the beer train going early, GABF coincides with Denver Beer Week, which includes over 150 beer-related events across the city.
Think about food too. If you're as much of a foodie as you're a beer aficionado, be sure to swipe PAIRED tickets as soon as you can. Tickets can tack on a pretty penny to your GABF budget, but it's well worth it.
Reserve charter bus or minibus transportation. Private transportation is usually your best bet when attending with a group. Especially during an event where rideshares may become scarce.
Denver Brew Fest
Summer (July), Winter (January)
The Denver Brew Fest is held bi-annually at Mile High Station in Auraria, right around the bend from Mile High Stadium, home of the Denver Broncos. This festival is held over the span of one to two days during both the summer and winter sessions. With a focus on Colorado's local beer scene, the Denver Brew Fest is a great option for local beer lovers.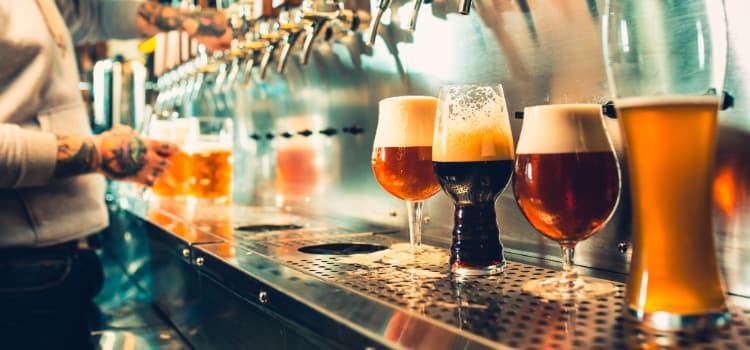 Each seasonal beer fest includes over 100 beers from more than 40 Colorado breweries. Winter Brew Fest and Summer Brew Fest are usually split up in two ways: one day with three sessions or two days with two sessions each. Along with beer from popular Colorado breweries like Left Hand Brewing and Avery Brewing, Denver Beer Fest also has live music and food trucks to keep the party going.
Tips for Attending a Denver Brew Fest
Opt for the VIP ticket. Denver Brew Fests are relatively affordable compared to many other fests. Paying the extra $10 for VIP ticket allows you one-hour early access and special beer and cheese pairings.
Leave the kids at home. Some fests may be a little lenient with little ones. Denver Brew Fest is exclusively 21 and up.
Mind the weather. The Winter Brew Fest is primarily indoors while the Summer Brew Fest has more wiggle room with outdoor tents. Be sure to dress accordingly.
Bacon and Beer Classic
Spring (May)
Do you like bacon? Do you like beer? Well, you're in luck! The Bacon and Beer Classic makes its way to Denver every spring at Mile High Stadium. The 4-city tour stops in the Mile High City, New York City, Seattle, and the Minneapolis area, bringing the best of local beer and bacon-centric dishes. With over 100 local beers and more than 30 bacon dishes from local chefs, visitors have plenty to satiate their palate.
The event offers a range of session and all-inclusive ticket options. General admission includes unlimited samples throughout the session while VIP packages include early access, exclusive libations, and more. Grab some friends, enjoy unlimited brews, endless bacon, music, and contests, all within the Broncos home turf.
Tips for Denver's Bacon and Beer Classic
Consider Power Hour or VIP. Crowds can get notoriously hectic, especially at popular vendors. If you're not prepared to put on your patience cap, spring for early entry.
Come hungry. Remember, the event is unlimited food and drink for three hours. You'll need all the room you can get.
Drink Responsibly. This tip is usually a given, but with unlimited samples, it's especially important to emphasize. Book a minibus with GOGO Charters to ensure you have a built-in designated driver after the event.
Denver Oktoberfest
Fall (September – October)
The historic German tradition of Oktoberfest made its way to Denver in 1969 in Larimer Square. Today, the Denver Oktoberfest celebration is a massive two-weekend party filled with beer, live music, competitions, and authentic German cuisine. Denver's Oktoberfest is regarded as being one of the biggest and best Oktoberfest celebrations in the nation, attracting over 450,000 people every year. Head down to the Ballpark neighborhood between LoDo and Five Points to enjoy one of the biggest free-to-enter parties in the state.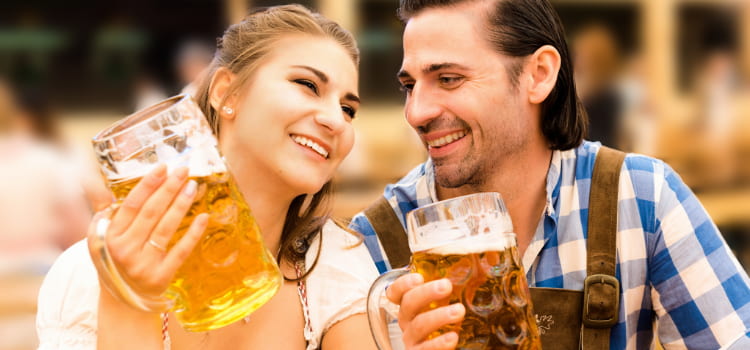 If your budget doesn't allow flying all the way to Germany for the real deal, or over to Cincinnati for a 900,000 person celebration, heading to Denver is a fun alternative. Reserve your private transportation with GOGO Charters and head to the festivities in style.
Tips for Celebrating Oktoberfest in Denver
Skip the craft beer for now. As we already know, Denver is big on craft beer but during Oktoberfest, German Spaten rules the tap. Local craft brews may be available, but it's best to keep it authentic.
Bring both cash and cards. Beverage tickets are available to purchase on site, while food can be purchased on a cash/credit basis.
Consider VIP tickets. Admission is free, but you'll have to pay for any brews and food you'll want. With VIP tickets you'll have an all-inclusive and all you can drink/eat experience.
Pre-organize your parking. Event admission is free but parking around Larmier Street is not. With GOGO Charters, you won't have to worry about parking, we'll handle the logistics.
Buy a stein. Denver's Oktoberfest steins are commemorative but also give you a hefty refillable drinking receptacle for the entire day.
The After Party
One of the best parts of beer festivals in Denver is the thriving culture surrounding it. Once the festival is over, there are dozens of local watering holes to commute between if your group desires. Many local Denver breweries often participate in festivals or host their own events in conjunction with city-wide festivities.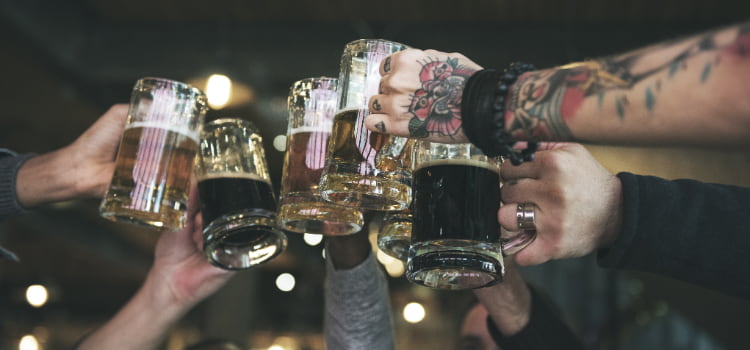 When you're planning an after party, you can rely on private charter bus transportation from GOGO Charters. You can live it up at Bacon & Beer, throw back German Spaten at Oktoberfest, or drink craft brews until your heart's content at GABF. Some events offer shuttle services to and from nearby breweries, but these often travel on a designated path and may not arrive at your desired stop. Your entire group will travel together to local bars, breweries, restaurants, or lodging arrangements with a professional driver manning your minibus. We work with your schedule and needs to give you the best Denver beer experience possible.
If you're not ready to call it quits after a festival, check out some of these popular Denver beer spots:
Freshcraft
Address: 1530 Blake St, Denver, CO 80202
Phone: (303) 758-9608
Black Shirt Brewing Co
Address: 3719 Walnut St, Denver, CO 80205
Phone: (303) 993-2799
Euclid Hall
Address:1317 14th St, Denver, CO 80202
Phone: (303) 595-4255
Falling Rock Tap House
Address: 1919 Blake St, Denver, CO 80202
Phone: (303) 293-8338
Reserve Your Denver Beer Festival Transportation
Beer festivals are all about having a good time with the people you care about the most. Everyone in your group can drink and be merry without worrying about who will miss out on the fun as the designated driver. GOGO Charters is here to provide your Denver charter bus transportation for your entire trip. Even if you're headed outside of Denver to Telluride for the Blues & Brews Festival or Colorado Springs for the All Colorado Beer Fest, you'll have designated transportation. Sit back and relax after a long day of brews and buds; we've got you covered. Call us anytime at (720) 216-2068 for a free quote!
Tags In
Do you need to rent a charter bus?
Do you need a long-term shuttle service?
We offer contracted shuttle services for businesses, schools, hotels, and more. Contact our experts at 1-844-897-5201 to discuss your long-term transportation plans.