School Pupil Activity Bus Rentals with GOGO Charters
The state of California places a great importance on the safety of its students when they're traveling to school events. When a school's regular buses are not a desirable option for student travel, event organizers turn to charter bus rentals for their superior amenities and comfort; however, these charter buses must be approved according to standards set by the state. A bus that has been approved is known as a School Pupil Activity Bus.
GOGO Charters reserves SPABs operated only by SPAB-certified drivers in the state of California throughout the year. The label ensures that buses are safe for student travel and are operated only by the most qualified drivers in California, making for safer school trips all over the state.
If you're not familiar with the term, keep reading to learn why SPAB certifications are important for school events: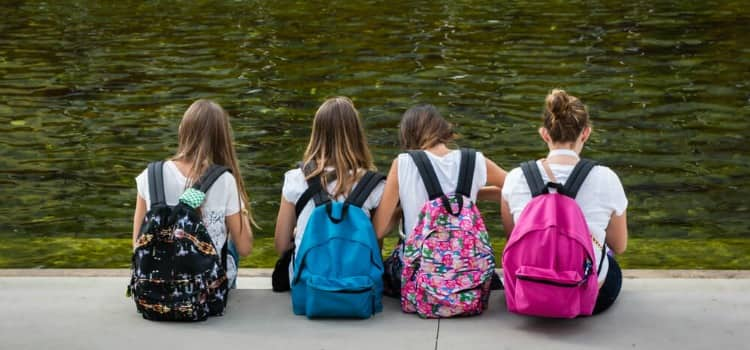 What is a SPAB?
A SPAB, or School Pupil Activity Bus, is a motor vehicle that is NOT a "traditional" school bus that will transport students to or from a school-related event in the state of California. This includes field trips, graduations, sporting events, and even proms.
Why is a SPAB certification important?
SPAB regulations hold buses to a higher standard than those that are transporting non-student groups. Buses must undergo an inspection and adhere to guidelines that govern details such as emergency exit placement, which material the wheels are made of, and how the reflectors are fastened to the vehicle. The vehicle must be re-inspected each year before it can continue to transport students. Drivers must also perform a daily inspection to ensure that the bus is in good condition.
SPAB-certified drivers are equipped to handle emergency situations, practice defensive driving, and more.
Is a SPAB the same as a school bus?
No. A SPAB is simply any vehicle that has been approved for use with school children. The label can also apply to limousines, party buses, minibuses, and sometimes privately-hired cars.
A SPAB is not permitted to transport students from their homes to their schools. SPABs must also remain in the state of California.
It's important to note that, in California, the term "school bus" applies not only to traditional school buses but to any vehicle designed, intended, or maintained for the purpose of transporting students at or below 12th grade. A bus is deemed a SPAB when it is used under contract between a school and a carrier.
A SPAB certification does not necessarily grant an individual the right to operate a traditional school bus.
How does a driver become SPAB-certified?
On top of an existing Class A or B commercial license, drivers are required to apply for a certificate and take a 35-hour SPAB certificate course. A certification is granted after successful completion of a 40-question written test and a driving exam.
Drivers can contact the School Bus Officer at their local California Highway Patrol office for an application. The CHP office will either enroll them in a local course or refer them to a nearby location that offers courses. There is a $25 application fee.
Applications include an inspection of the driver's safety record, criminal record, driving record, and medical record. If a driver has been convicted of a crime involving violence or drugs or has had their license revoked in the past 3 years, they are ineligible to receive a SPAB certification.
Each year, a SPAB-certified driver will need to complete 10 hours of behind-the-wheel training or classroom instruction to maintain their status. These classes include current laws and regulations, defensive driving, accident prevention, emergency procedures, and passenger loading and unloading.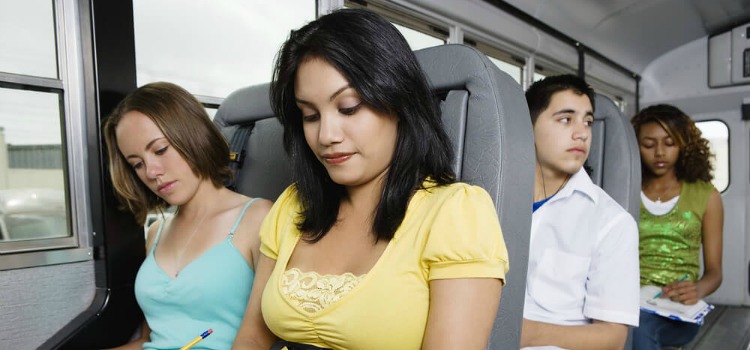 For how long can a SPAB-certified driver work?
Drivers must keep a log of their hours worked during a trip. They are not to exceed 10 hours of driving time within a work period. During this time, the driver must also take frequent breaks to avoid fatigue.
Driving time may only be added if the driver encounters adverse driving conditions, such as sleet or fog, heavy traffic, or other unexpected setbacks.
What else should I know about renting a SPAB?
Note that a designated SPAB vehicle is not permitted to travel faster than 55 miles per hour, so planners should take this into account when planning arrival times.
Drivers should also remember to keep records of their driving time, the vehicles they have operated, when vehicle inspections took place, what problems were present at any inspection, and road accidents they were involved in.
More information regarding SPAB regulations can be found through California School Bus Driver's Resources.
SPAB Buses with GOGO Charters
GOGO Charters ensures that all buses reserved for the purpose of school events in California are certified according to SPAB regulations. With access to the largest network of bus providers in the state, we're always able to find the safest and most comfortable bus for your school trip.
Take a look at the bus rentals you can book with us, and give us a call at 1-855-826-6770 to reserve your SPAB-certified bus today! We're available 24/7.
Do you need to rent a charter bus?
Do you need a long-term shuttle service?
We offer contracted shuttle services for businesses, schools, hotels, and more. Contact our experts at 1-844-897-5201 to discuss your long-term transportation plans.