Guide to Touring Philadelphia's Top Universities with a Bus
Looking at schools in the Philadelphia area? Let GOGO Charters provide you with the perfect bus to your next campus tour. We charter minibuses for a small group of friends, charter buses for large class trips, and all options in between to provide a comfortable journey for all traveling groups.
Since there's limited space in Philadelphia's urban environment, we talked to a few schools to find out how to make a bus trip run smoothly through all of the city's top universities. Keep reading below to learn how to make the most of your campus tour:
Temple University
Temple University offers dozens of renowned academic programs across a wide variety of fields, including leading art, dental, business, law, and medical schools. With a 15:1 student-to-faculty ratio, this university offers individualized attention not often found at public universities.
Freshman information sessions are available during the week and on some Saturdays throughout the year. Special arrangements are made for group tours of 10 or more, which include a 45-minute walking tour of campus and a 15-minute Q&A session.
Tour groups of all sizes are allowed on Temple's campus— we were informed that one group even brought 130 charter buses at once! Buses are welcome to tour, but the parking services department advises groups to contact the head of campus police at 215-204-0919 to let them know that a bus will be coming to campus. The campus police will tell you where to pick up and drop off passengers and where to park your bus while your tour takes place.
Book a charter bus to transport up to 56 passengers at once or a minibus for smaller groups of less than 35 passengers.
University of Pennsylvania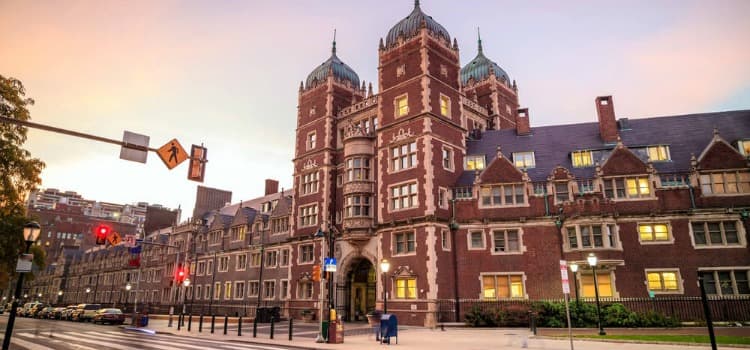 As a member of the renowned Ivy League, the University of Pennsylvania is a top choice for students from all over the United States. The university's most popular areas of study include finance, nursing, economics, biology, and political science, with undergraduate and graduate programs offered for multiple areas of study.
All prospective students are required to schedule a tour in advance. Group visits of 15-50 people can be scheduled 3 weeks prior to the requested visit date.
Before your tour, your bus driver may drop off your group on Spruce Street near Perelman Quadrangle and the Office of Undergraduate Admissions. Make sure your bus driver is with the bus and visible at all times to avoid ticketing fees! 
Buses may park in the nearby Campus Park & Ride facility. While this facility typically accommodates RVs or traveling entertainer buses, they also provide parking to private charter buses and minibuses. Parking rates start at $30/day and can be found on their website.
Note that demand is high for group tour slots at UPenn, so the university recommends refraining from securing travel arrangements until after your registration is confirmed.
Booking a Penn tour at the last minute? We're able to accommodate last-minute requests! Just give us a call with your group information at 1-855-826-6770 and we'll find the perfect bus for you.
Drexel University
Drexel University has a smaller student body and more compact campus with the same urban environment as other universities in the area. Drexel is a great option for students who wish to pursue engineering.
The university recommends inquiring about group visits at least four weeks before your desired tour date. Once your tour is confirmed, we'll be here to find a minibus that's perfect for your group.
Due to limited space, there is no bus or minibus parking available on Drexel's campus; however, if street parking is available nearby, a bus may use the amount of metered spots it requires.
Buses may also park at the front of the Vidas Athletic Complex parking lot, unless an event is taking place at the time of the tour. If you wish to secure a parking spot with the athletic department, contact them at 215-895-1419 prior to your tour.
Since Drexel's campus is compact, we recommend booking a minibus for your group to help minimize traffic.
Villanova University
Located in a suburban setting about 30 minutes outside of Philadelphia, Villanova University offers a small, quiet campus with just under 7,000 students enrolled. Villanova offers five schools, four of which extend to graduate programs, including a school of business and a school of law.
Groups of 12 or more may register for a visit three weeks prior to their desired tour date.
Buses may drop off passengers in Connelly Circle, which can be accessed through the North Gate security office next to Bartley Hall. After drop-off, buses can park in the W-2, one of the west campus lots.
Before your tour, contact the parking office at Parking@villanova.edu to let them know you'll be bringing in a bus. Not sure which bus you need? Check out our guide to choosing the best bus type for your group to see which model you want to reserve.
Swarthmore College
Swarthmore's unique 425-acre campus is a college as well as a dedicated arboretum. Just 11 miles southwest of Philly, the school provides easy access to city life. Aside from the liberal arts academic program it's known for, Swarthmore also offers an undergraduate engineering program.
Submit a group tour request to Swarthmore's website no later than two weeks before your planned date. They do not host group tours in the summer.
Swarthmore is unable to accommodate parked buses on campus, but buses may drop off passengers at the Rose Garden Circle and may park at the nearby Springfield Mall.
Schedule Your Own Campus Tour
Curious about pricing? Read our complete guides to charter bus pricing or minibus pricing and see which one is best for you.
If you've never booked a charter bus before, read our complete guide to charter bus rentals to learn more about the renting process. No matter the size of your group, we've got a bus that's perfect for you.
Our reservation specialists are also available 24/7 at 1-855-826-6770 to answer any questions you may have and to find the perfect bus for your group. Give us a call to get started today!
Tags In
Do you need to rent a charter bus?
Do you need a long-term shuttle service?
We offer contracted shuttle services for businesses, schools, hotels, and more. Contact our experts at 1-844-897-5201 to discuss your long-term transportation plans.