The 5 Best Places for a Ski Trip on the East Coast
If you're a serious skier, I already know what you're thinking. "Why would I ski on the East Coast?"
Sure, you're less likely to find powdery slopes, steep glades, or long, long trails like those in Colorado, Utah, or even California. In fact, pretty much the only powder you'll find out East will be in western New York and Pennsylvania, thanks to the weather coming off the Great Lakes. Instead, many of the rounded mountain slopes on the East Coast are icier and rockier than out West, and tend to have a lot more trees you have to dodge.
But you know what they say: smooth slopes never made a skilled skier.
So if your group is up for a challenge—or if you're traveling with Easterners who don't want to worry about paying the extra airfare—the East Coast has plenty to offer for you.
If you're not sure where to start, GOGO Charters knows a few places you're bound to love! Keep reading to learn more about planning your next East Coast ski trip, and get in touch if you ever need a ride to the slopes. Our team will be more than happy to set you up with the perfect ride plan when you call 1-855-826-6770 today!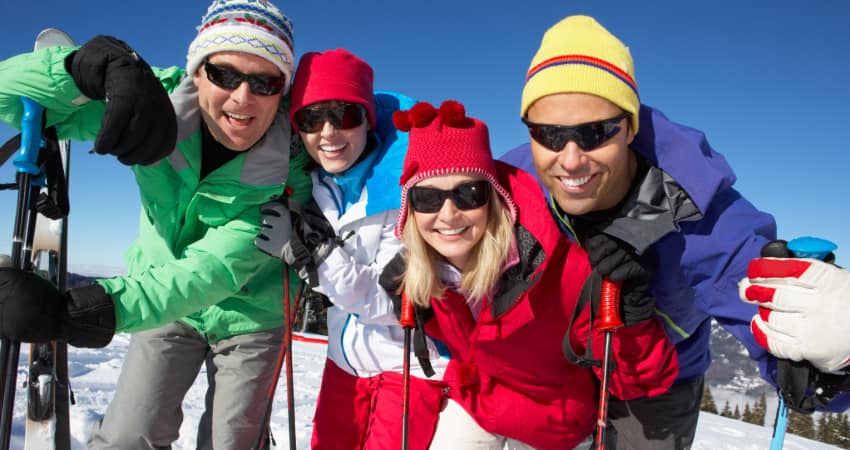 Ground Transportation for Your Ski Trip
The best ski resorts are in remote locations by design. This is fantastic if you're looking to get away from it all—not so much when it comes to figuring out how you're going to get there. Even if your group is planning to fly to your destination, don't be surprised if a multi-hour drive stands between your terminal and the slopes.
So what are your group's ground transportation options?
Rental cars: Probably your first thought, right? Almost every airport has some form of car rental service nearby. However, finding a ride that has enough room to stash your skis, luggage, and jackets comfortably is no easy feat. And finding multiple cars that can accommodate everything and everyone can get expensive quickly—plus, the adults in your group will have to take turns driving through the mountains, which is never fun.
Rideshares: So what if you leave the driving to someone else? But hailing multiple Ubers and Lyfts can get pricey if you're traveling long distances or relying on them throughout your entire trip. Also, you'll have to call them up as you need them, and waiting around for your driver to get to where you are is a total bummer when all you want to do is get on the slopes.
Resort shuttles: Depending on where you ski, some ski resorts have shuttle programs to give skiers a lift from nearby airports. Whether or not your resort offers a shuttle depends on a lot of factors—how close it is to the terminal, how mountainous the roads are, etc.—but if they are an option, your group should consider taking advantage of it.
Private shuttle rental: When you rent a charter bus or minibus to service your ski trip, you decide where and when you want your ride to be, and rest assured it'll be there right when you need it. Easily store your boots, poles, and other equipment in the spacious luggage bays under the bus. Split the price of your rental between all your passengers, and your ground transportation will likely cost the same (if not less!) than if you hailed rideshares for the duration of your trip—plus you'll have access to tons of amenities you won't find in a Lyft or an Uber. The long stretch between the airport and the resort will surely fly by once you pop a movie into the DVD player, scroll through your social feed on free WiFi, or catch some Zs in a plush, reclining seat (all available upon request). If you decide to go this route, GOGO Charters can hook you up with the perfect bus rental. Just call 1-855-826-6770 to get started!
Now, on to the fun part—all the best places to plan your group's East Coast ski trip!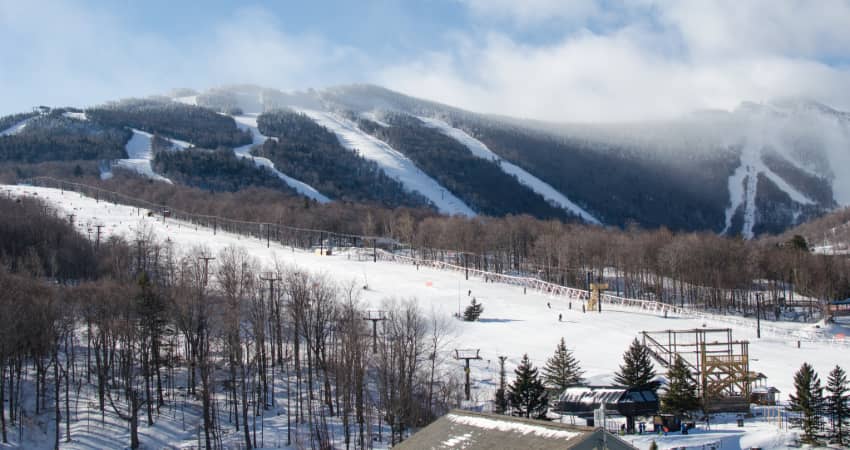 1.   Killington, Vermont
Address: 3861 Killington Rd, Killington, VT 05751
Closest Airports:
Rutland-Southern Vermont Regional Airport (RUT): 22 miles, 35 minutes away
Burlington International Airport (BTV): 94 miles, 2 hours away
Did you honestly expect us to talk about East Coast skiing without mentioning Killington? It's the biggest ski resort on this side of the States—spanning 1,510 acres and 7 peaks, it's no wonder many call it "The Beast." Killington Resort is also one of the most renowned in the country, with second-to-none accommodations to boot. While many East Coast ski resorts are only open from about mid-December to early March, Killington has offered extended seasons, from October to May, in years past. Combine the diverse and challenging courses and trails with some of the highest-rated ski lodgings in the country and a fantastic nightlife scene when you venture into town, and you'll have the perfect mix of pushing your abilities and kicking back with your friends if you ski here!
Customizable group packages are available for winter visitors with 20-person groups. These packages can include anything you might want during your stay, from childcare services to snowmobile tours and exclusive gear rental bundles. Call 800-752-2005 or email groups@killington.com to learn more once you have a headcount and a list of dates.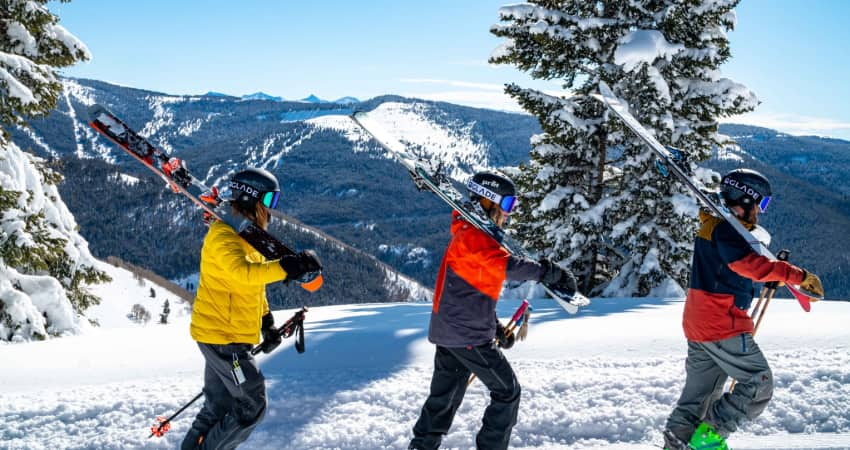 2.   Sugarloaf, Maine
Address: 5092 Access Rd, Carrabassett Valley, ME 04947
Closest Airports:
Portland International Jetport (PWM): 120 miles, 2 hours 30 minutes away
Mount Washington Regional Airport (HIE): 130 miles, 3 hours away
One of the most remote ski spots on the list, Sugarloaf Mountain is the place to ski if you're shredding with the best of them. Here, you'll find the only lift-served skiing above the tree line in the East. So if zigzagging through trees isn't your cup of tea, the peak of Sugarloaf Mountain is one of your best bets for finding wide-open snowfields on the East Coast.
This is also a favorite destination for backcountry skiers on a budget. Groups of up to 12 expert skiers who are eager to explore the backcountry here can save time and money by renting a CAT snow crawler to take them into remote slopes—no long hikes or expensive helicopter dropoffs necessary.
The only downside? Skiing is Sugarloaf's main (and honestly only) attraction—no glitzy resorts or off-mountain nightclubs in sight. That means that if your skiers are planning to stay overnight or want to find someplace else to spend your evenings, you'll definitely need a reliable ride between the mountain and your lodgings or a bar. Just let the GOGO Charters team know where you want to go, and we can set up a shuttle service that works for your schedule!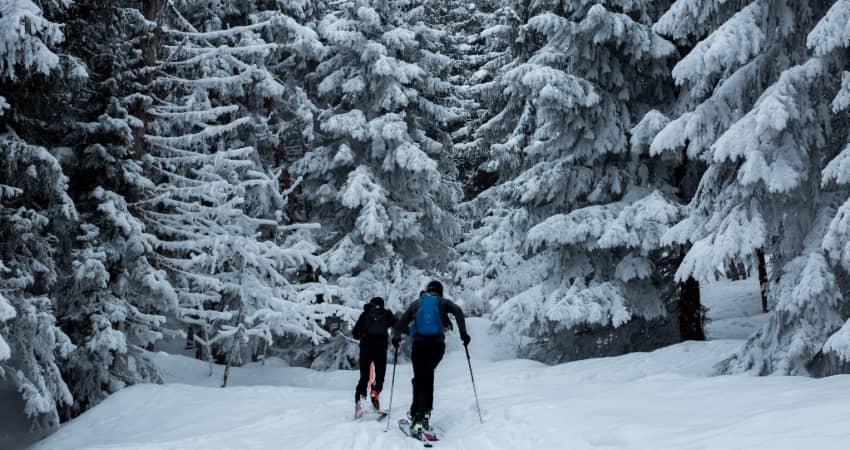 3.   Jay Peak, Vermont
Address: 830 Jay Peak Rd, Jay, VT 05859
Closest Airport:
Burlington International Airport (BTV): 71 miles, 1 hour 30 minutes away
Don't let the remote location sway your group from venturing out to Jay Peak. The long drive will be well worth it once you see the sheer amount of snow on the mountain—which receives the most natural snowfall of any ski mountain in the Eastern U.S. As an added bonus, the resort here combines the natural stuff with 80% snowmaking to secure a lengthy ski season by East Cost standards—mid-November through mid-May.
Besides the 81 trails onsite (20% novice, 40% intermediate, 40% advanced), outdoor enthusiasts can also enjoy backcountry ski excursions and lessons with the resort's resident experts. Or if you're looking to thaw out after a day in the snow, there's plenty of indoor activities to keep you entertained: a ropes course, an ice rink, a movie theater, and even a heated indoor water park, just to name a few!
Groups of all kinds can find a good deal here. Whether you're teaching a bunch of novices or training experienced racers, Jay Peak has a group program to suit your itinerary. If you're arriving with over 20 guests, be sure to email groups@jaypeakresort.com to inquire about group dining discounts and lodging at the resort.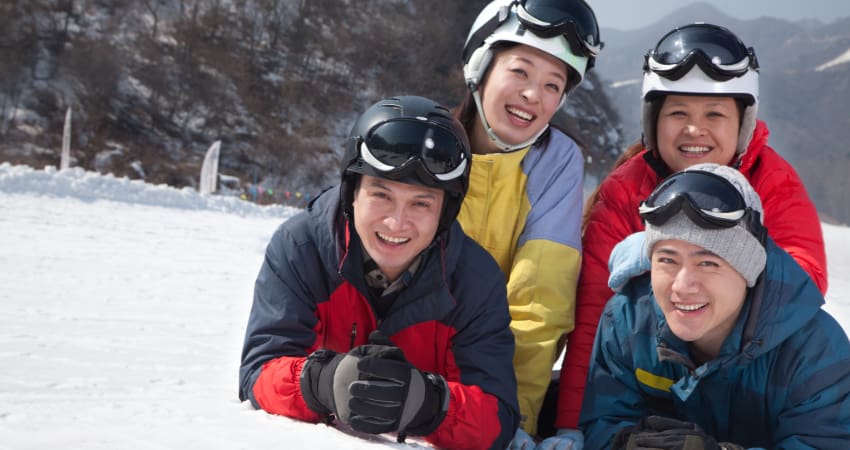 4.   Camelback Mountain, Pennsylvania
Address: 301 Resort Drive, Tannersville, Pennsylvania
Closest Airports:
Lehigh Valley International Airport (ABE): 45 miles, 1 hour away
Newark Liberty International Airport (EWR): 86 miles, 1 hour 45 minutes away
Of course, East Coast skiers don't have to limit themselves just to New England. If your group would like to stay closer to the Mid-Atlantic, Camelback Mountain Resort is your stop.
While it's mostly seen as a summer getaway for NYC residents who want cool mountain air and don't mind the two-hour drive, the resort here has been rated as Pennsylvania's top ski spot for years. Yes, the snow on these slopes is mostly artificial. But there are few places this close to the city that offers over 30 beginner and intermediate (and a couple of double-diamond!) trials, all of which are well-lit come nightfall. After you've had enough skiing for the day, enjoy off-slope activities like a snow-tubing hill for little ones, zipline excursions, roller-coaster rides, and even a water park in the warmer months.
If you're coming in with 15 or more people in tow, be sure to take advantage of the group discount and perks that come with buying admission in bulk (complimentary tickets, extra lift passes, lesson packages, and more). You'll need to call 570-629-1661 (ext. 2) at least 48 hours before your stay to arrange everything and inquire about the best place to park your shuttle.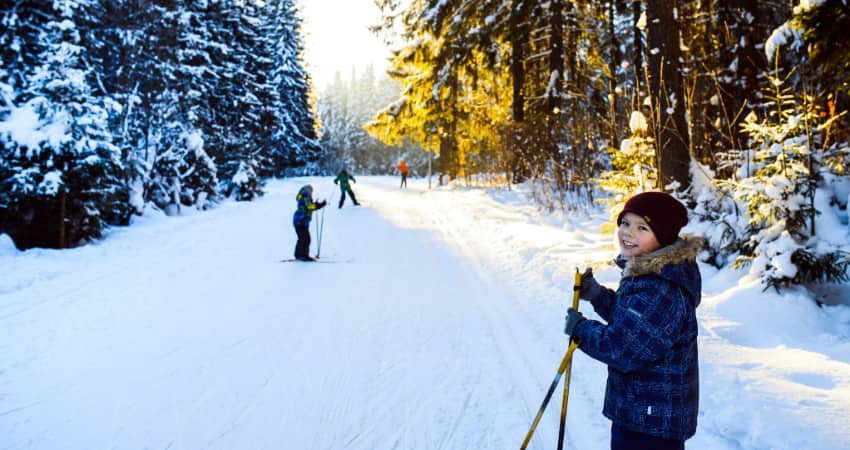 5.   Butternut, Massachusetts
Address: 380 State Road, Great Barrington, Massachusetts
Closest Airports:
Bradley International Airport (BDL): 47 miles, 1 hour 10 minutes away
Boston Logan International Airport (BOS): 140 miles, 2 hours 11 minutes away
Day-tripping from Boston with a bunch of kids in tow? The Ski Butternut resort, nestled in the rolling Berkshire Hills of Massachusetts, is a great place to introduce your youth group, your club, or your friends' kids to skiing! The 100% snowmaking here ensures the slopes are well-covered and safer for your little skiers, regardless of the weather. Also, there's an easy cross-mountain trail so it's a snap to get between any of the 22 ski trails on site. And if a set of skis aren't quite your kids' speed, there's always the tubing hill at the base of the mountain!
If you're here with total beginners, definitely take advantage of the lift, rental, and lesson packages by contacting the on-site ski school at 413-528-2000 (ext. 150). There are also varying discounts available for scout troops, skiing clubs, select afterschool programs, or other groups of 15 or more skiers and a huge parking lot with plenty of room to keep your bus while your kids shred the slopes.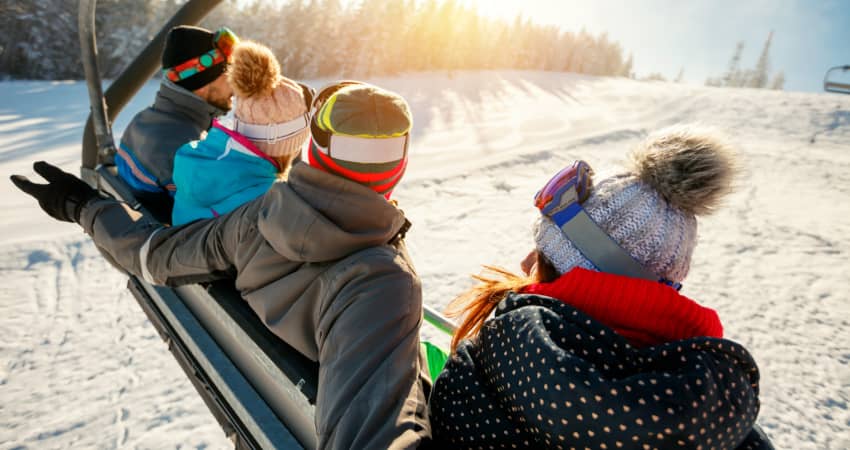 Start Planning Your East Coast Ski Adventure
Whenever you've nailed down where you want to go and who's coming with you, GOGO Charters will be here to help you get to your skiing destination. Our network of buses gives you many rental options to choose from, whether you need an ADA-compliant coach or a specific set of amenities to keep your passengers entertained. Call 1-855-826-6770 at any time, and our 24/7 reservation team can help you hash out the rest of your trip details—from finding you the perfect bus to offering a free, personalized quote for your rental. Get in touch today to secure your ground transportation so you can focus on enjoying your trip once it's time to hit the snow!
Do you need to rent a charter bus?
Do you need a long-term shuttle service?
We offer contracted shuttle services for businesses, schools, hotels, and more. Contact our experts at 1-844-897-5201 to discuss your long-term transportation plans.