Places to Social Distance in Atlanta
While we would not recommend Atlanta sightseeing under the current circumstances, if you are planning to be out and about in ATL, we'd like you to travel safely. That's why GOGO Charters put together this list of places you can easily visit while social distancing.
Whether your friends and family need some time away from home, you want to treat your essential workers to a fun outing, or you're planning future excursions in the city, GOGO Charters is here to make your Atlanta travels easy. Give us a call at (404) 425-9570 and we'll be more than happy to set your group up with a thoroughly cleaned vehicle that allows everyone to sit at least six feet away from each other. Rest assured your driver will wear proper PPE at all times as they whisk you away to any of the social-distancing-friendly destinations in Atlanta:
Explore ATL's green spaces.
They don't call Atlanta the "city in a forest" for no reason. Here, you'll find 36% of the city is under a tree canopy, and there are nearly a dozen parks to stretch out in and enjoy the sunshine. While Centennial Olympic Park—downtown's biggest green space—will be closed for the indefinite future, most of Atlanta's other parks remain open to the public from 6 a.m. to 11 p.m. daily (just avoid the athletic courts and playgrounds, as most of them are still closed).
Here are just a few ways you can enjoy the great outdoors within city limits: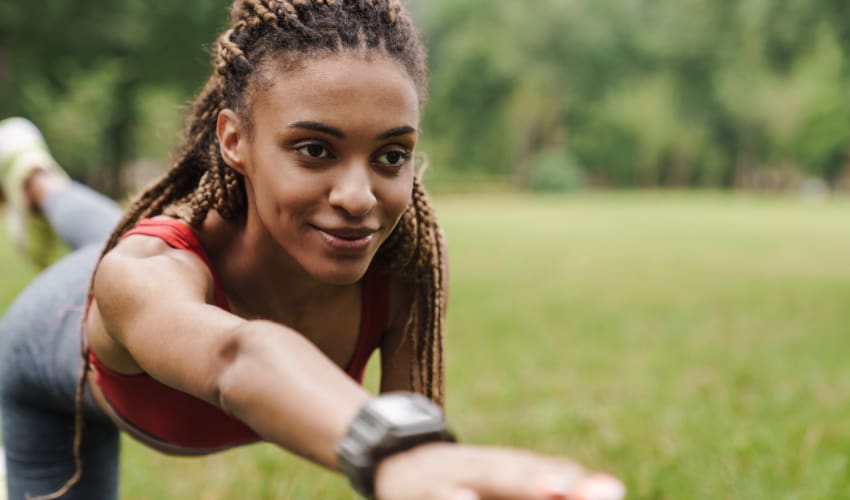 Do some yoga in Piedmont Park.
We could all use some deep breaths and meditation nowadays. So why not do it outside?
Although the Piedmont Park Conservancy's free yoga sessions have moved to the digital space until further notice, nothing's stopping your small group from setting up your yoga mats and flowing on your own. The large swath of grass at the southeastern edge of the park—dubbed "The Meadow"—should offer plenty of space to spread out away from the sidewalk crowds, but if it's a particularly sunny and sweltering day, nearby Oak Hill will provide the shade your yogis need.
Charter bus parking: Parking in Piedmont is very limited—especially for buses and oversized vehicles—so let your driver drop everyone off near the garage at the center of the park. They can find a paid lot somewhere in the surrounding Midtown area while your group sets up your yoga session.
Address: 400 Park Dr NE, Atlanta, GA 30306
Wander through the Atlanta Botanical Garden.
If you're already in Piedmont Park and want to stop and smell the roses (literally), there's no place better than the ATL Botanical. From the elegant Japanese maples at the entrance to the practical and educational Edible Garden near the back, every garden on the grounds is still open to the public—though some of the interactive, high-touch elements of the Children's Garden are closed until further notice.
The Garden now limits the number of people allowed in at a given time and uses a system where guests reserve a time slot for their visit before they arrive, which means you can enjoy the grounds without worrying about too many people crowding you. There are also multiple hand-sanitizing stations scattered throughout the gardens, if you forget your sanitizer at home.
Charter bus parking: Parking here is much the same as the rest of Piedmont Park. Your driver will need to find a paid lot somewhere else in Midtown.
Address: 1345 Piedmont Ave NE, Atlanta, GA 30309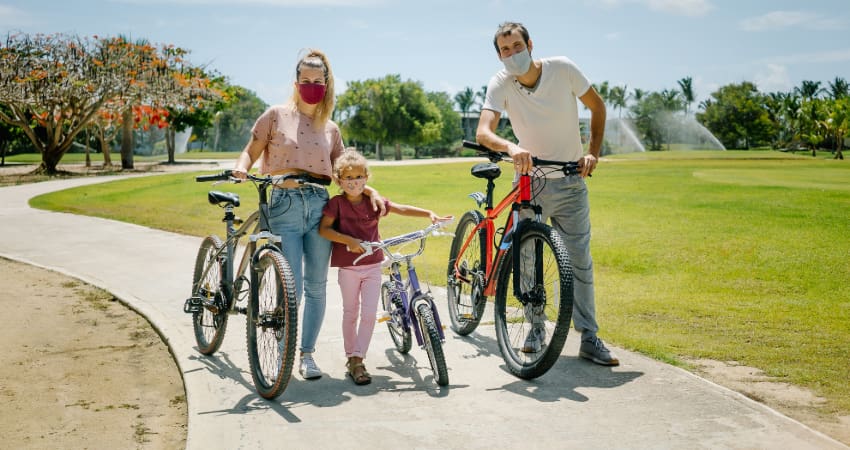 Walk the Beltline.
You can't mention "Atlanta" and "outdoors" without recommending this popular walking and biking trail. It connects Piedmont Park to Inman Park and is a favorite amongst local joggers, cyclists, and dog walkers.
Perhaps the most popular stretch of it is the Eastside Trail—the 2.25-mile span between Irwin Street and the intersection of Monroe Drive and 10th Street. It's well-lit, lined with cool restaurants that offer carryout meals, and a great spot to look at murals and street art. The downside? Its popularity means this stretch can get congested quickly on sunny weekends, making social distancing difficult. Either plan your outing here for a weekday morning when it's less likely to be busy, or avoid this area altogether while exploring.
Charter bus parking: There's motorcoach-friendly parking at the Inman Park MARTA station, but where you park your bus ultimately depends on where you start and how far you want to go. Set a realistic expectation as to how far everyone will want to walk, so your driver can meet up with you right when you need it—with the AC blasting and a plush reclining seat waiting for you.
Brush up on your history at Oakland Cemetery.
Sure, hanging around a cemetery may seem a little macabre. But this 1850s burial ground is full of beautiful stonework and lush greenery that's sure to be a pleasant change of pace for those of us stuck at home.
All private guided tours of the grounds have been canceled, but if you're here to learn a thing or two, you still have options. Keep your phone handy and call (678) 365-0232 to start a dial-in tour of the African American Burial Grounds at the center of the park. The Historic Oakland Foundation also provides printable self-guided tour maps for straightforward sightseers and scavenger hunts of various difficulties for the young and young-at-heart.
Charter bus parking: There's a spacious parking lot to the west of the grounds that offers plenty of room for motorcoaches most days. Have your driver drop everyone off at the gravel lot a block south of it (next to the cemetery's main entrance) and meet back up with you there when you're ready to head home.
Address: 248 Oakland Ave SE, Atlanta, GA 30312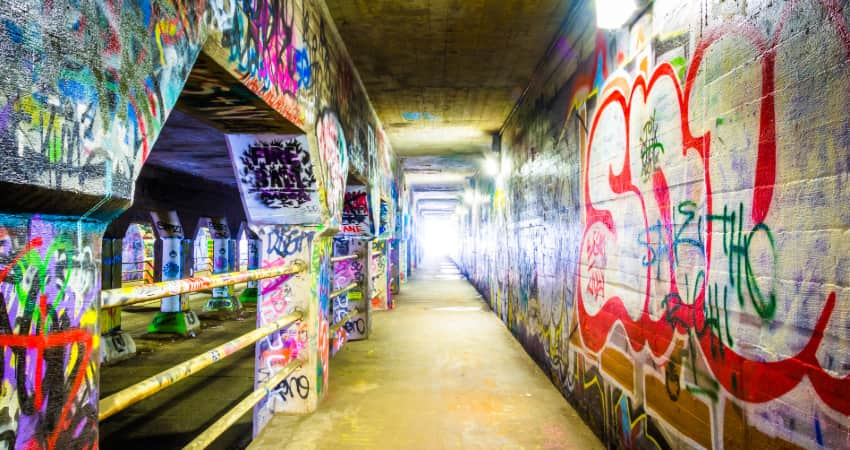 Get cultured with a street art tour.
If you've already toured all the digital museums you can take, there's still a way you can take your culture trip out and about. Atlanta streets are home to over 1,000 murals, after all! And while it'll be hard to see them all in one day, getting some fresh air and seeing the new pieces in your favorite neighborhood is a great way to spend the afternoon.
If you're still hesitant to join a packed guided tour, there are always downloadable self-guided walking tours that cover basically any stretch of the city—from the Krog Street Graffiti Tunnel in Cabbagetown to the bright paintings splashed on the exteriors of trendy restaurants in East Atlanta, from the classic murals around Old Fourth Ward to the new art along the Beltline. That way, you can focus on the neighborhood or scene that best piques your interest, and you can take as much time as you want to look at every piece.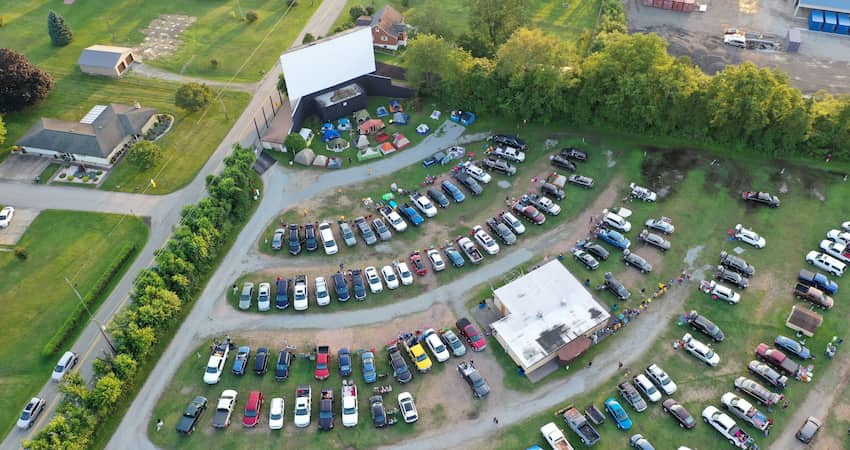 Catch a drive-in-movie.
That's right, Atlanta's local-favorite drive-in joint, the Starlight Drive-In Theatre, is still open for business!
As long as you park at least 10 feet away from your neighbors and stay inside your vehicle for the duration of the show, you can see double features of newly released films and even select concerts on the silver screen. The concession stand is open between shows and asks patrons to stand six feet apart while in line—though you're allowed to bring in your own food if you want to play it safe.
And yes, oversized vehicles like sprinter vans and small buses are allowed in as well! Just keep in mind that you'll be directed to park in the back half of the lot and possibly off to one side so as to not block other movie-goers' views.
Charter bus parking: Your small coach should be able to park in any of the screening lots among the other cars.
Address: 2000 Moreland Ave SE, Atlanta, GA 30316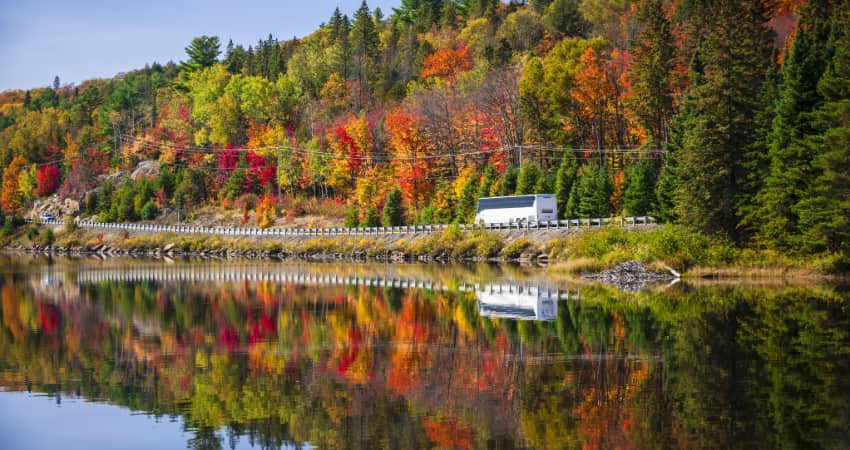 Take a scenic drive.
Speaking of enjoying the outside world from the relative safety of a vehicle, a scenic drive outside city limits is a great way to get your nature fix without having to worry about dodging oncoming hikers on narrow trails.
And around Atlanta, there are plenty of picture-perfect spans of road to choose from. There's at least a half-dozen state-designated scenic byways within a 2-hour radius of the city, and they highlight a range of Georgia's landscapes—from the soft and gorgeous Blue Ridge mountains north of the city, to the rolling pasture fields down south, to vibrant forests in the northeast and west.
The best part? You won't need to get out of your vehicle except to make a pit stop or to pick up lunch. And if you reserve a charter bus with an onboard restroom and plenty of storage space for your coolers, you won't have to leave your motorcoach at all!
Charter bus parking: Obviously your parking situation depends on which scenic byway you choose to take. As a general guide, keep an eye out for designated state parks and national wildlife areas. Many of the North Georgia byways pass through at least one, and these areas often have visitor centers with ample parking space for a bus or van.
Ease Your Transportation Plan with a Bus Rental
We understand that travel—let alone group travel—is not at the forefront of everyone's mind quite yet. But whenever you're ready to get out there again, GOGO Charters will be here to make your transportation easy and stress-free.
In the meantime, if your group of close friends, students, or essential staff needs a ride around Atlanta, you can trust our 24/7 team to hook you up with a sanitized motorcoach and a driver who will always wear proper PPE during your trip. And at the end of the day, it's your rental—so you call the shots when it comes to safety measures taken onboard. Call (404) 425-9570 to request staggered seating arrangements, mask requirements, and preboarding temperature checks, and we'll offer a free, no-obligation quote for your rental plan!
Tags In
Do you need to rent a charter bus?
Do you need a long-term shuttle service?
We offer contracted shuttle services for businesses, schools, hotels, and more. Contact our experts at 1-844-897-5201 to discuss your long-term transportation plans.