How Employers Can Increase Atlanta's Transit Ridership
With it's narrow roads and funnel-like road system, Atlanta is one of the worst U.S. cities for traffic congestion. In fact, Atlanta commuters each spend an average of 61 hours in heavy traffic per year. Commute delays such as these can lead to slowed economic growth and a decline in quality of life.
Public transportation has the power to keep a city's economic activity running despite high congestion levels. It promotes sustainable jobs and living wages, especially for disadvantaged workers. But for those who can afford to drive to work, expanding the transit system isn't enough to reduce the number of cars on the road.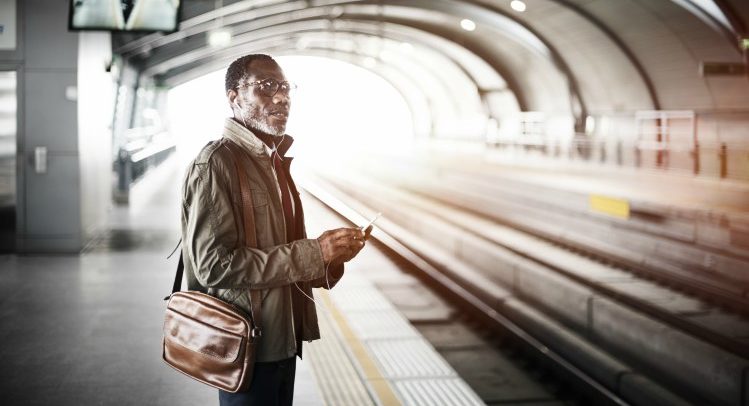 Expanding Public Transit for Everyone Else
This year's Metro Atlanta Speaks survey showed that 51% of metro Atlanta's residents would be willing to pay higher taxes for an improved public transportation system. Over 90% of respondents agreed that building a better transit system is "very important" or "somewhat important."
The problem lies in sustaining wide-spread adoption of public transit. People are quick to support the expansion of MARTA and other local transportation systems until they are asked to use it themselves. They'll vote to increase funding for transit with the hope that other people will use it.
When the I-85 bridge collapsed in March 2017, MARTA ridership spiked by 25%. Since then, the number of people using their services daily has dropped 2% lower than before the collapse. If this trend continues, CEO Keith Parker's prediction of an increase in transit users as gas prices rise will lead to another drop once fuel prices stabilize.
As long as it's economical and convenient to drive to work, commuters will choose their personal vehicles to avoid transit stations. Atlanta's companies have the power — and responsibility — to make their employees commutes more efficient by encouraging use of public transit.
Uncovering the Real Cost of Driving
Taking in factors like depreciation, fuel costs, insurance, and more, owning a car is more expensive than taking public transportation. But some people rationalize their choice to drive because the daily costs are sometimes indirect.
"Proving that it's more expensive to drive is challenging," said David Ederer, graduate research assistant at Georgia Tech's Urban Transportation Information Lab. "Car ownership is subsidized and the cost of owning is hidden. For example, free parking at your job isn't really free. It's an expense to your employer that could otherwise go toward your salary."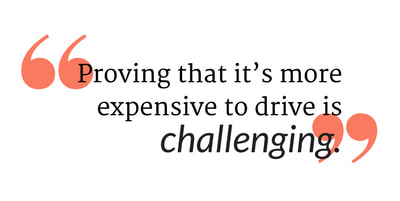 Employers can incentivize its employees to use transit by implementing a parking buyout program. The program would treat parking as a perk with a monetary value associated with it. Employees could elect to give up their parking space in exchange for cash.
In 2008, the Gates Foundation could no longer offer free parking to its 1,200 employees. To reduce the number of employees needing parking spaces, it offered employees $3 per day to choose an alternate form of transportation. Their program reduced the percentage employees who drive to work from 90% to 34% by 2016.
To further encourage employees to take public transit, Atlanta companies can pay for commuters' bus and rail fares. Thanks to Georgia's Commuter Choice Tax Benefits program, employers and employees can both take advantage of tax breaks.
"If employer programs can complement transit," said Ederer, "it can be a really good thing." By implementing programs that promote the use of public transit, companies have the opportunity to reduce traffic and contribute to the city's economic growth.
Solving the First Mile/Last Mile Problem
Another deterrent keeping commuters from choosing public transit is the walk to and from the station or bus stop. This inconvenience is known as the first mile/last mile problem.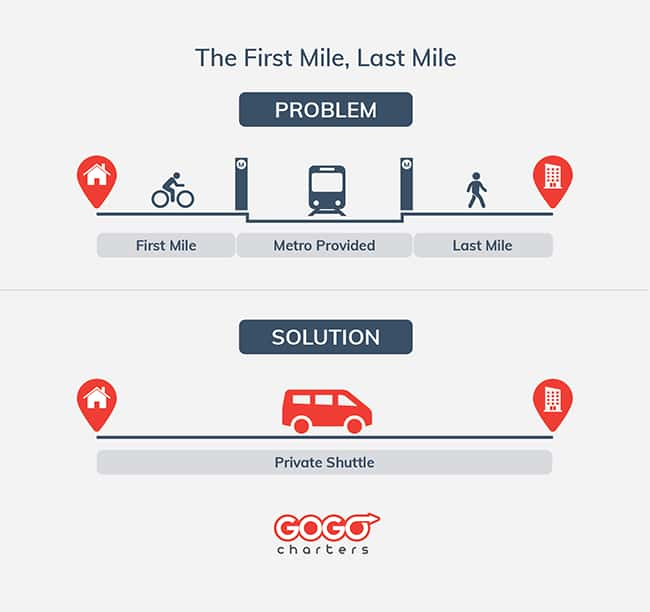 Most people are only willing to walk one-fourth of a mile to the nearest station. If transit stations are far away from where they live and work, car owners will choose to drive instead.
In Silicon Valley, major corporations like Google and Apple have the resources to address this issue. With company-sponsored shuttle programs, their employees can ride directly from their San Francisco neighborhoods to corporate headquarters outside the city. According to a 2015 study, this program prevented 47% of employees from choosing a single-occupant vehicle commute.
Few companies can offer transportation services of that scale, but Atlanta's top employers can use shuttle services to solve the "last mile" that employees have to walk from the nearest MARTA station to the company's headquarters.
"If the the shuttle program is well-designed," explained Ederer, "and done in collaboration with other programs to increase transit use, it is possible to decrease single-occupant vehicle trips. For example, a firm may offer free transit passes, as well as a shuttle to and from a heavy rail station."
Welcoming More Commuters to Atlanta
In October 2017, city officials submitted a bid to entice Amazon to build its second headquarters in Atlanta. If Amazon accepts, it would bring 50,000 new jobs to a city that's already feeling the weight of its transit issues.
But David Ederer says the new jobs wouldn't necessarily guarantee aggravated traffic conditions.
"I think we can catch up," said Ederer. "Even if Atlanta doubled in size, it would only be about as dense as Minneapolis. Going forward, we need to allocate space for human needs, like grocery stores and movie theatres, rather than car storage. If we continue the way we are now, though, it would be a mess."
Amazon's Seattle office already runs a shuttle program that brings employees from outside the city to its headquarters. Ederer says that these kinds of programs can shift riders who would have used transit to a private shuttle. This benefits individual employees but does little to change the overall transportation system.
As the population increases, businesses can take an active part in Atlanta's economic growth by creating programs that encourage transit use. By providing incentives like parking buyouts, transit passes, and shuttle services, they can help fight traffic congestion and support the city's transportation system.
Tags In
Do you need to rent a charter bus?
Do you need a long-term shuttle service?
We offer contracted shuttle services for businesses, schools, hotels, and more. Contact our experts at 1-844-897-5201 to discuss your long-term transportation plans.