Best Day Trips from NYC
Travel from New York City with a Charter Bus Rental
If you're traveling outside of New York City limits for a day trip, GOGO Charters will make sure your ride is easy with a private charter bus rental. You can choose from a variety of charter bus rental types to make sure you have the best ride for your group. Whether it's a full-sized charter bus rental or a minibus rental for anywhere from 18 passengers to 30 passengers, you'll keep everyone riding together, comfortably, and on time.
Your charter bus rental can include premium amenities like free WiFi and TVs with a DVD player, so if you're planning a long-distance trip, make sure to request the kind of accommodation you want for your group. All of the destinations on this list are an hour or two away—the perfect amount of time for your group of travelers to enjoy a movie with your motorcoach's onboard TVs and DVD player, or refresh with a nap in your plush, reclining seat.
When you're ready to book your charter bus rental for your next day trip from New York City, give us a call at 1-844-897-5201 to speak with a reservation specialist and get a free, no-obligation quote.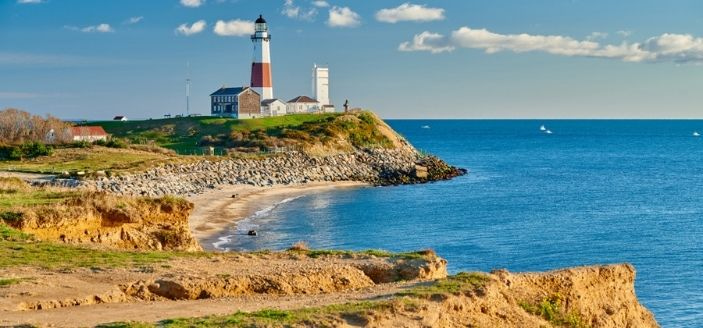 Long Island
The heart of Long Island, New York is a mere hour and a half from Manhattan and stocked full with places to go and things to do for a fun-filled day trip.
If you're traveling for a field trip, visit the Lost City of Atlantis-themed Long Island Aquarium. It's known for its 20,000-gallon coral reef display, one of the largest all-living coral displays in the Western Hemisphere. This beautiful aquatic destination is also a worthy venue beyond NYC city limits to host a big event like a wedding or Bar Mitzvah.
More interested in adult getaway inspiration for a bachelorette party or corporate retreat? Long Island Wine Country attracts New Yorkers to sip and explore 57 distinct wineries and wine producers all across the island. Consider planning a custom wine tour to visit local favorites like Paumanok Vineyards, Macari Vineyards, and Channing Daughters Winery.
Long Island Aquarium
Address: 431 E Main St, Riverhead, NY 11901
Phone: 631-208-9200 ext. 426
Paumanok Vineyards
Address: 1074 Main Rd, Aquebogue, NY 11931
Phone: 631-722-8800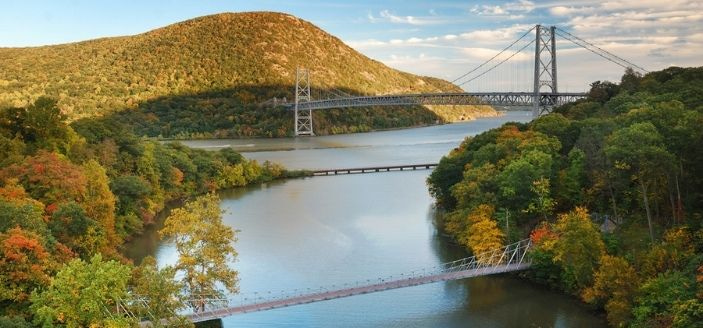 Hudson Valley
Two hours north of the hustle and bustle is Hudson Valley, a comfy rural region of New York state stretching along the Hudson River. History buffs will want to plan a trip around one of the region's many historical sites like Vanderbilt Mansion National Historic Site or Saugerties Lighthouse, while nature lovers will want to hike at Fall Views Park or Teatown Lake Reservation.
If you're planning a big event or occasion, consider renting a charter bus and carting your crew to a popular Hudson Valley gathering ground. The Franklin D. Roosevelt Presidential Library and Museum is a great choice for a high school field trip, where students can explore presidential history or enjoy a lecture or film presentation, and its location makes for a polished atmosphere for a company conference.
Planning a wedding, nonprofit fundraiser, or corporate event? The Storm King Art Center, a 500-acre outdoor sculpture museum, offers a stunning backdrop for any event and beautiful venues like a Normandy-style chateau.
Franklin D. Roosevelt Presidential Library and Museum
Address: 4079 Albany Post Rd, Hyde Park, NY 12538
Phone: 845-486-7770
Storm King Art Center
Address: 1 Museum Rd, New Windsor, NY 12553
Phone: 845-534-3115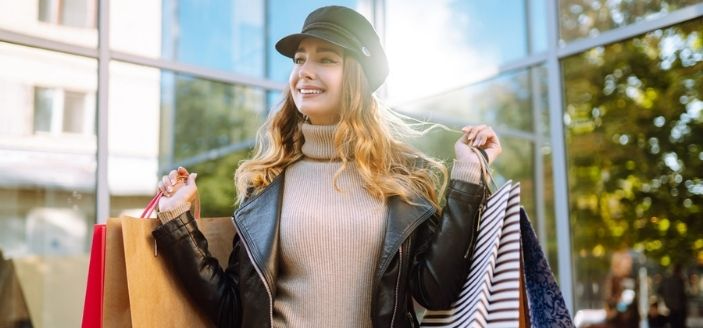 Woodbury Common and Sugar Loaf Village
Ready to shop until you drop? Head to Woodbury Common and Sugar Loaf Village, two shopping hotspots approximately 90 minutes north of New York.
Fashionistas will want to spend the day at Woodbury Common Premium Outlets where they can restock their closets from premium, designer outlet stores like Balenciaga, Fendi, Kate Spade, Valentino, Versace, and more. A mere 11 miles away in the town of Sugar Loaf is Sugar Loaf Art & Craft Village, the place to go for artisan boutiques selling goods like handmade pottery, furniture, candles, jewelry, and paintings. You can also plan to catch a show at the beautiful Sugar Loaf Performing Arts Center, a rustic-chic auditorium that stages plays, concerts, and musicals.
Woodbury Common Premium Outlets
Address: 498 Red Apple Ct, Central Valley, NY 10917
Phone: 845-928-4000
Sugar Loaf Performing Arts Center
Address: 1351 Kings Hwy, Sugar Loaf, NY 10981
Phone: 845-610-3485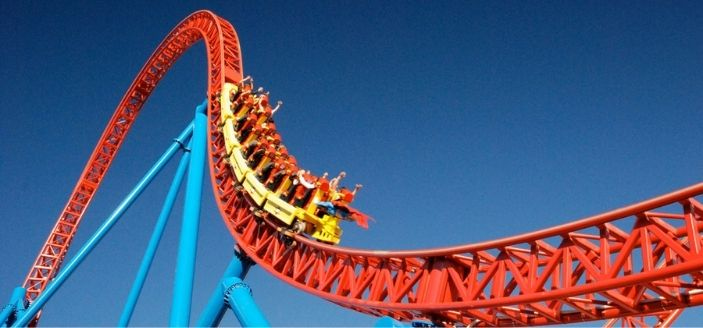 Six Flags Great Adventures
If you're looking for an NYC getaway that's fun for everyone, look no further than Six Flags Great Adventure, an amusement park about an hour from the city in New Jersey. Enjoy thrilling, DC Comics-themed roller coasters and rides like SUPERMAN™: Ultimate Flight, THE DARK KNIGHT™ Coaster, and WONDER WOMAN™ Lasso of Truth. You can also plan a company picnic, birthday party, or group outing around one of the park's many seasonal events like Fright Fest in October or Holiday in the Park from November through January.
Address: 1 Six Flags Blvd, Jackson Township, NJ 08527
Phone: 732-928-2000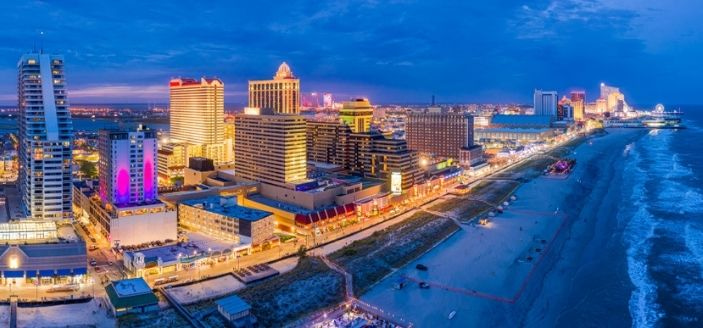 Atlantic City
A resort city on the Jersey Shore, travel to Atlantic City for the day to experience ritzy casinos, white sand beaches, and the world-famous oceanfront Atlantic City Boardwalk. This historic promenade is a must-see in the city, spanning five miles of restaurants, shopping, casinos—and uniquely—entertainment piers extending over the ocean. Bring your group travelers to Garden Pier for arts and culture like the Atlantic City Historical Museum, or Steel Pier for carnival games and rides like the sky-high Ferris wheel that offers spectacular views of the city.
For a more adult-centric day trip, plan a fun bachelor or bachelorette party, birthday celebration, or other special occasions at one of the many casinos in Atlantic City. World-class gambling can be found at casinos like Bally's Atlantic City Casino, Borgata Hotel Casino and Spa, and Caesars Atlantic City Casino.
Atlantic City Boardwalk
Address: 2301 Boardwalk, Atlantic City, NJ 08401
Phone: 888-228-4748
Bally's Atlantic City Casino
Address: 1900 Pacific Ave, Atlantic City, NJ 08401
Phone: 609-340-2000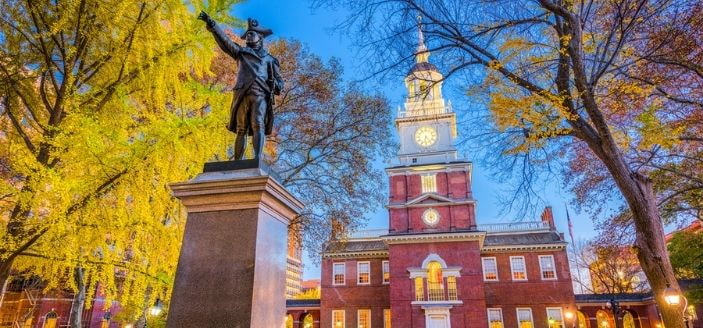 Philadelphia
Just ride two hours out of New York City to find yourself in Philadelphia, Pennsylvania, a historic city rife with enough art, culture, food, and fun for an exciting day trip.
Bring students to Philadelphia for an educational field trip exploring American Revolutionary history. You can plan to visit sites like the Liberty Bell, Independence Hall (where the Constitution of the United States was drafted and signed), and the Museum of the American Revolution.
You can also plan a day trip around the many destinations along the Benjamin Franklin Parkway, like the Philadelphia Museum of Art, City Hall, Sister Cities Park, and The Academy of Natural Science of Drexel University, and The Franklin Institute. One of America's oldest and most celebrated museums, The Franklin Institute—named for founding father Benjamin Franklin—houses fascinating exhibitions about a variety of scientific topics like the human body, astronomy, steam power, tech, and more.
Consider planning a company event, meeting, wedding, or other private party here, where you can reserve the majestic Benjamin Franklin Memorial and Jordan Lobby, featuring a 20-foot statue of Franklin beneath an 82-foot domed ceiling.
Independence Hall
Address: 520 Chestnut Street (between 5th and 6th Streets), Philadelphia, PA 19103
Phone: 215-965-2305
The Franklin Institute
Address: 222 N 20th St, Philadelphia, PA 19103
Phone: 215-448-1200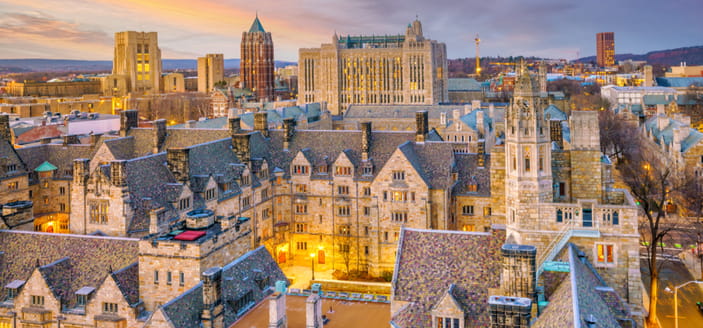 New Haven
Looking for a day trip from New York City slightly off the beaten path? Head to New Haven, Connecticut, a coastal city in Connecticut only 90 minutes away that's home to the sprawling Yale University campus.
Travel here with a group of students for a campus bus tour of the institution, or bring a group to explore Yale University's historic campus and premiere educational centers. Your group can visit the Yale Peabody Museum of Natural History, among the largest, oldest, and most prominent natural history museums in the world, and the Yale University Art Gallery—the oldest university art museum in the United States.
Yale University also frequently hosts prominent American artists, politicians, and cultural influencers to participate in events, so plan your group visit around one of the university's many public film screenings, lectures, seminars, or festivals.
Yale University Art Gallery
Address: 1111 Chapel St, New Haven, CT 06510
Phone: 203-432-0600
Yale Peabody Museum of Natural History
Address: 170 Whitney Ave, New Haven, CT 06511
Phone: 203-432-8987
Rent Your New York City Day Trip Charter Bus Today
Decided on a destination for your group day trip from New York City? The next step is to rent your charter bus by calling GOGO Charters at 1-844-897-5201. Our reservation team is available anytime, 24/7, to hear about your ideal trip, answer any questions, and provide you with a free, no-obligation quote.
Do you need to rent a charter bus?
Do you need a long-term shuttle service?
We offer contracted shuttle services for businesses, schools, hotels, and more. Contact our experts at 1-844-897-5201 to discuss your long-term transportation plans.