The Best Group Day Trips from Miami
Miami's far-south location can sometimes make it tricky to plan an easy day trip. Thankfully, there are a handful of day-trip-worthy locations within a 2-hour drive for groups that want to get out of Miami. Whether you're planning a friends' trip, a field trip, or a company day outing—GOGO Charters can help your group travel anywhere in South Florida for the day! Keep on reading to learn more about the best group day trip locations from Miami and how to get there!
How to Travel
So, you're planning a group day trip from Miami? Fun! But nobody wants to opt as the driver? Understandable. Transportation isn't necessarily the most entertaining part of planning a trip. That's where GOGO Charters and a charter bus rental come into play. Small and large groups alike won't have to worry about traffic around Miami with a private minibus or charter bus rental from GOGO Charters. Our Miami charter bus rental services can be personalized to the needs of every type of group. Need a spacious charter bus for your extended family vacation? No problem. How about a compact bus for your girls' weekend? We've got you covered. Travel with comfortable amenities like WiFi, reclining seats, and TVs, with a professional charter bus driver behind the wheel all trip long.
Call (305) 547-8457 24/7 to chat with a GOGO Charters representative about booking a charter bus rental in Miami!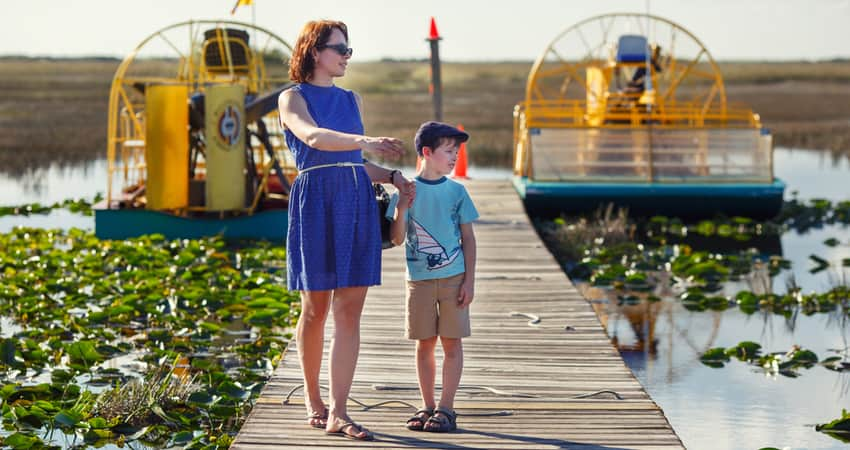 The Everglades
Great for: school groups and scout troops
Distance from Miami: ~1 hour
As one of the largest units in the National Park Service, Everglades National Park offers hours of things to do for educational groups of all ages. There are multiple entrances and visitor centers to the Everglades, each a different distance from the heart of Miami. The Shark Valley Visitor Center in far west Miami and the Ernest F. Coe Visitor Center in Homestead are the best places to start your Everglades visit. Both visitor centers offer educational programs like ranger-guided tours by foot and by tram. Your educational group can learn about the diverse native wildlife in the Florida Everglades and the importance of protecting this sprawling wetland. On top of touring a small portion of the 7,800 square miles, your group can also go on a boat ride, canoeing or kayaking, fishing, and bird watching.
Charter bus rental parking: If you're visiting in an oversized vehicle, you'll find designated parking spaces at the Coe or Shark Valley Visitor Centers. Be sure to indicate that you'll be traveling by bus rental when you inquire about booking an educational program.
Palm Beach
Great for: friends weekends and celebrations like birthdays
Distance from Miami: ~1.5 hours
Miami definitely has its ritzy neighborhoods but those areas often come with big crowds and hordes of tourists. If you want to soak up the sun, do some luxury shopping, have an upscale waterfront meal, or tour a historic attraction—the Palm Beach area is the perfect place. Do some high-end shopping on Worth Avenue (Palm Beach's Rodeo Drive), soak up some sun at John D. MacArthur Beach State Park, take a historic tour of Juno Beach Pier, and learn about rescued exotic animals at McCarthy's Wildlife. Once your group works up an appetite, you'll find a variety of upscale eateries around South County Road like locally-loved Buccan or Café Boulud.
Charter bus rental parking tip: Much of the available parking in Palm Beach is located on the street. Finding a parking spot in a lot that can fit your minibus or charter bus rental may be difficult.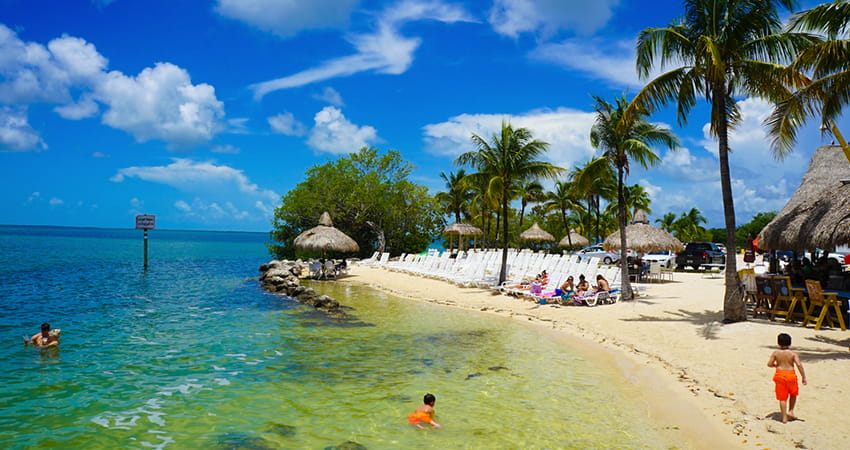 The Keys
Great for: families, adult groups, school groups, company day retreats
Distance from Miami: ~2 hours
Well, the northernmost Keys at least. Traveling all the way down to Key West from Miami is doable for a day trip, but will take around 3.5 hours each way. You can easily reach Key Largo and Islamorada in under 2 hours, which makes these islands easier for day trips The Keys offer a laid-back atmosphere for adults looking to unwind and fun activities for groups traveling with kids. If you're an active bunch, plan a day of snorkeling off of Key Largo at Cannon Beach or picturesque John Pennekamp Coral Reef State Park. Groups that want to stay on land and enjoy the waterfront breeze should grab drinks at ​​Florida Keys Brewing Company or Islamorada Brewery & Distillery. These northern Keys are also home to aquatic wildlife sanctuaries like Theater of the Sea where you can get up close and personal with animals while learning about vital conservation.
Charter bus rental parking tip: Public parking for a charter bus or any other type of oversized vehicle can be limited in The Keys, especially if you're traveling during peak season. Call ahead to your stops of choice in Key Largo and Islamorada to ask about oversized spaces in each establishment's parking area.
Naples
Great for: adult and family vacations
Distance from Miami: ~2 hours
Want to feel like a group of retirees for the day? Naples is the place. This small Florida city is located on the East Coast and is often considered a sleepy waterfront retirement town. But don't worry if you're traveling with kids and still want a little excitement, Naples will still have some things for you to do. Consider visiting the Naples Botanical Garden or Corkscrew Swamp Sanctuary to get in touch with nature, enjoy the sunshine at Lowdermilk Beach or Delnor-Wiggins State Park, and stroll historic areas like Third Street South in Old Naples. If you find that your group has some extra time to spare, consider hopping up north a few miles to Bonita Springs for quiet, pristine beaches and prime golf courses.
Charter bus rental parking tip: Keep in mind that the City of Naples does not allow buses or other oversized vehicles to park within one block of beaches and has parking restrictions in historic areas.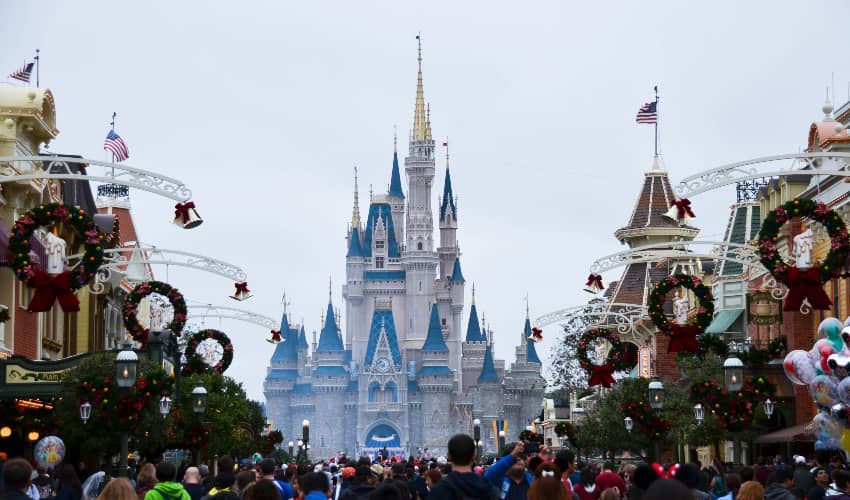 Orlando
Great for: school trips, groups with kids, and groups of theme-park-loving adults
Distance from Miami: ~3.5 hours
Okay, traveling from Miami to Orlando may be pushing it for a day trip, but is it doable? Sure. When you're traveling by charter bus, you won't have to worry about driving after a long day of fun at Disney World or Universal Studios. Enjoy a day at one of the major theme parks or visit a smaller park like LEGOLAND, Crayola Experience, or Gatorland. There's plenty to do outside of theme parks in Orlando too. Tour the gorgeous Bok Tower Gardens or Harry P. Leu Gardens, stroll around bustling Downtown Orlando or check out local educational spaces like the Orlando Science Center. If theme parks aren't your thing, your group can shuttle over to Cape Canaveral to check out the Kennedy Space Center, one of NASA's most famous facilities.
Charter bus rental parking tip: Each theme park has designated parking areas for oversized vehicles like charter bus rentals.
Travel From Miami with GOGO Charters
When you're ready to start day tripping from Miami, give the GOGO Charters team a call at any time! You'll have an experienced rental representative available to help you find the best bus rental from Miami for your group trip. Pick up the phone 24/7 at (305) 547-8457 for a free rental quote
Do you need to rent a charter bus?
Do you need a long-term shuttle service?
We offer contracted shuttle services for businesses, schools, hotels, and more. Contact our experts at 1-844-897-5201 to discuss your long-term transportation plans.