How To Have An Epic Adventure From Miami to Key West
Are you planning an iconic drive from Miami to Key West? This classic American, 110-mile trip boasts a breathtaking stretch of Florida's best coasts, picturesque photo opportunities, and some of the most entertaining places in the U.S. that you just can't miss.
What makes this epic adventure across 42 bridges (yes, 42) even better? The chance to share these experiences with a group. Once you've checked off every item from your itinerary in Miami, it's time to round up your group, pack your bags, and set off for Key West, because there's simply no other place like it.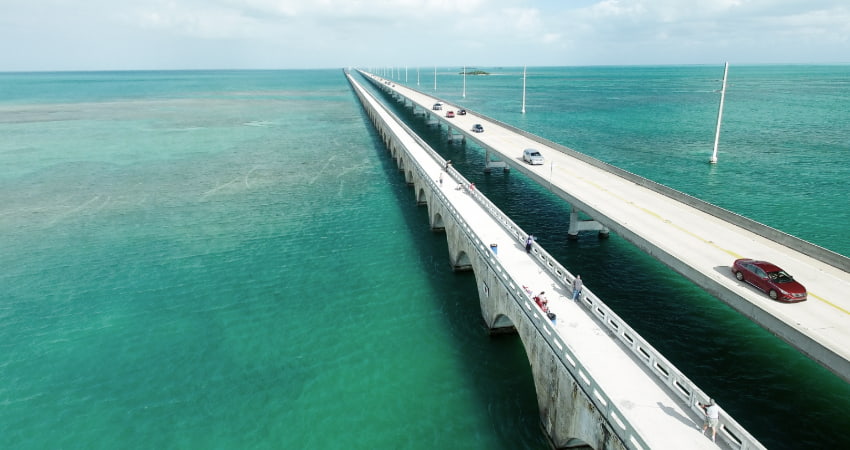 The Best Way To Travel With A Group in the Keys
Before hitting the road, you'll want to plan accordingly to ensure that nothing and no one is left out. You may have your itinerary planned and group members rounded up, but it's easy to brush over one of the most important parts of the trip: the transportation.
Forget coordinating times, figuring out places to meet, splitting bills, and making sure everyone in your group is accounted for. Instead, keep everyone together with a charter bus rental. While renting a car (or a few) may seem like a reasonable and affordable method of transportation, any travel expert would tell you that when traveling with a group, keeping everyone together is key for a stress-free, memorable trip.
When you work with a charter bus rental company like GOGO Charters, you're guaranteed a worry-free experience at a price everyone can afford. With a variety of bus rentals in Miami available for any-sized group, like 18-passenger minibuses all the way to full-sized charter bus rentals that can carry up to 56 passengers, you can rest assured there's room for everyone. You'll never have to worry about separating your group, people arriving at staggered times, or getting lost. Instead, your group can enjoy the panoramic views of south Florida from plush, comfortable seats while your professional driver handles the rest.
Plus, with amenities like TVs, air conditioning to beat the Florida heat, on-board restrooms, WiFi, and more, your group will be in complete comfort while they enjoy each other's company. Without the hassle of splitting between car rentals, you can all focus on taking in the coastal beauty, all without worrying about if your car rental is insured, parking, or directions in an unfamiliar place.
Tips & Tricks On Getting The Best Out Of The Keys
You've got your group packed up and ready to go, comfortably-seated in an air-conditioned bus. But what's next? Four hours is a long time to be on the road, so why not make the best of it?
If you've got the time, we recommend making your trip span over seven to eight days to make sure you get the best out of the Key's top spots. While driving through South Florida is always a gorgeous trip, between March and May is the ideal time due to more stable weather and the thinning out of tourist groups (along with more reasonable prices). July tends to be the hottest month, while January is usually the coldest month, and September reigns at the top for the rainiest month.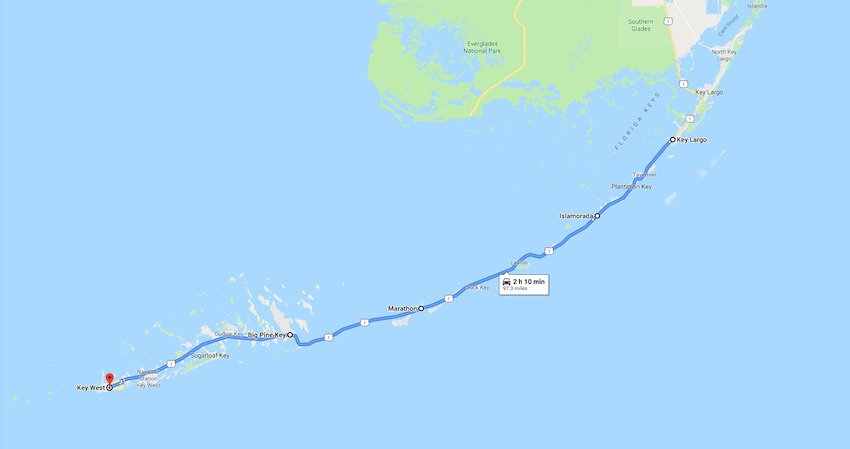 Our travel experts gathered up just a few of the top spots to hit while making this epic adventure, so if you're ready for the ride of your lifetime, consider stopping at these locations and soak in the unreal coastline views on the way.
Stop 1: Key Largo
Key Largo will be the first of the Keys you'll pass through but definitely not one to miss. Key Largo boasts unbelievable natural landscapes, filled to the brim with local character and a hint of Caribbean vibes. Interestingly enough, Key Largo is has made cameos in one of Ernest Hemingway's work, as well as a famous song by the Beach Boys. Obviously, this place sparks some serious inspiration.
After about an hour and a half of riding from Miami, your group will be ready to settle into your hotel and set off to explore. In order to see the full potential for Key Largo, we recommend spending around two nights here.
Go Snorkeling Off The Coast
Sundiver Snorkel Tours
Departure Address: 102840 Overseas Hwy, Key Largo, FL 33037, USA
Crystal clear water, coral reefs, and dazzling sunshine. There are a variety of different snorkeling excursions to choose from ranging from $40-$55 per person, but these underwater adventures let you explore coral reefs, coastal wildlife, and miles of deep-blue water. In the duration of two to three hours, you'll have the chance to see another level of the Keys' beauty.
Explore Nature
John Pennekamp Coral Reef State Park
Address: 102601 Overseas Hwy, Key Largo, FL 33037
There's more to Key Largo than beautiful coasts and beachy shores. Explore miles of hiking trails at the very first underwater park in the U.S. at John Pennekamp State Park. Made to preserve the only living coral reef in the country, you can discover coral reefs, seagrass beds and mangrove swamps that make the Keys so iconic.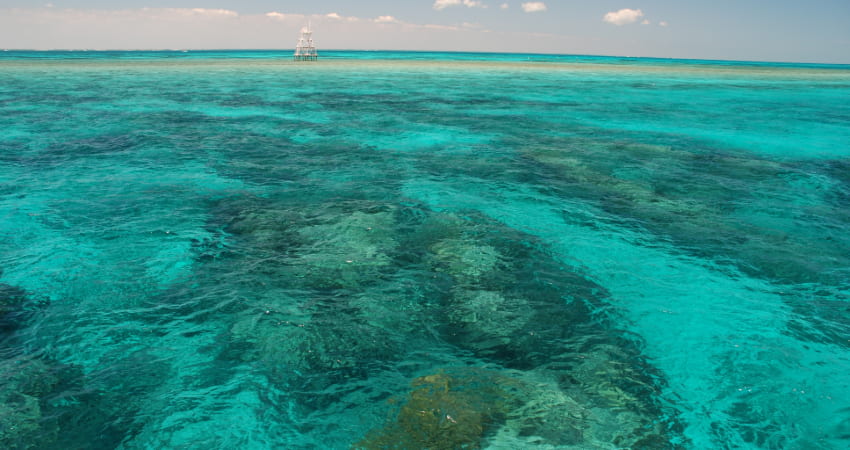 Indulge in Local Cuisine
With a place full of tradition and culture, one can only imagine the millions of cuisine options to choose from. Whether it's fresh seafood or a delicious cocktail, your entire group will leave feeling satisfied. Let your driver drop you off for a night of worry-free fun, and when you're ready to go back to your hotel, they'll be there to provide you with a safe ride.
Jimmy Johnson's Big Chill
Known for: beachfront views, entertainment, and winning the Key Largo cook-off
Address: 104000 Overseas Hwy, Key Largo, FL 33037
The Pilot House Restaurant & Marina
Known for: fresh-caught seafood, family-friendly atmosphere, glass-bottom bar patio
Address: 13 Seagate Blvd, Key Largo, FL 33037
Snook's Bayside Restaurant and Grand Tiki Bar
Known for: island-style drinks, ocean views, American cuisine
Address: 99470 Overseas Hwy, Key Largo, FL 33037
World Famous Caribbean Club
Known for: hot clubbing spot, Key Largo's oldest bar, live music & sunsets
Address: 104080 Overseas Hwy, Key Largo, FL 33037
Stop 2: Islamorada
While Isalmorada lays close to Key Largo, the atmosphere is a complete change. With a less commercial feel and a closer connection to locals, your group will find Islamorada the perfect spot to wind down, relax, and rejuvenate. You'll find the turquoise waters and white sands on the drive over worth the drive itself. One or two nights work for this stop, depending on your specific timeline.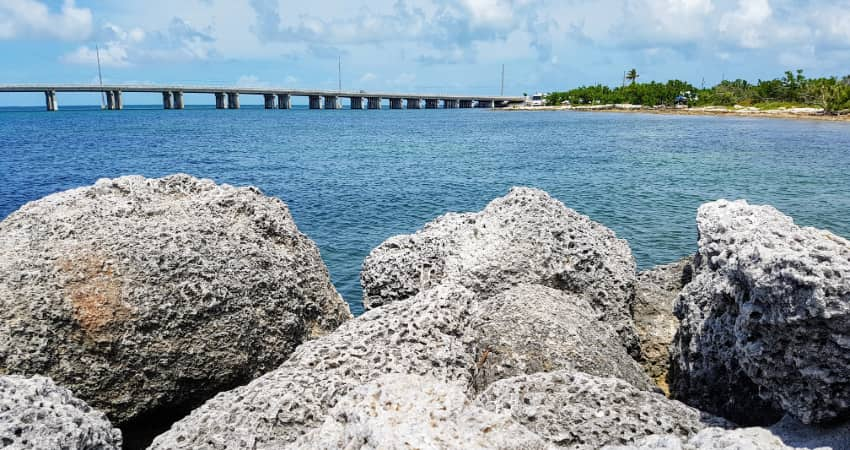 Learn The History Of The Keys
Keys History & Discovery Center
Address: 82100 Overseas Hwy, Islamorada, FL 33036
Just built in 2013, the Keys History & Discovery Center devotes its time to depicting the early culture and history of the Keys. If you're a fan of pirates, you'll love the exhibit dedicated to pirates, wreckers, and salvagers, as well as other fascinating displays and a 35-seat movie theater.
Dive All About It
History of Diving Museum
Address: 82990 Overseas Hwy, Islamorada, FL 33036
Ever wonder how diving started and how much it's evolved throughout history? The History of Diving explores diving with relics, exhibits, and equipment that showcases the evolution of diving. This fascinating museum dives through over 4,000 years of diving, making it one unique stop you don't want to pass on.
Grab A Local Beer
Florida Keys Brewing Company
Address: 81611 Old Hwy, Islamorada, FL 33036
Sure, you can get a beer anywhere, but have you ever tried a beer brewed right in the Keys? We didn't think so. While you have a driver to take you anywhere you want, take advantage of not being the DD and sample of Florida's best local beer in a chilled-out, fun atmosphere.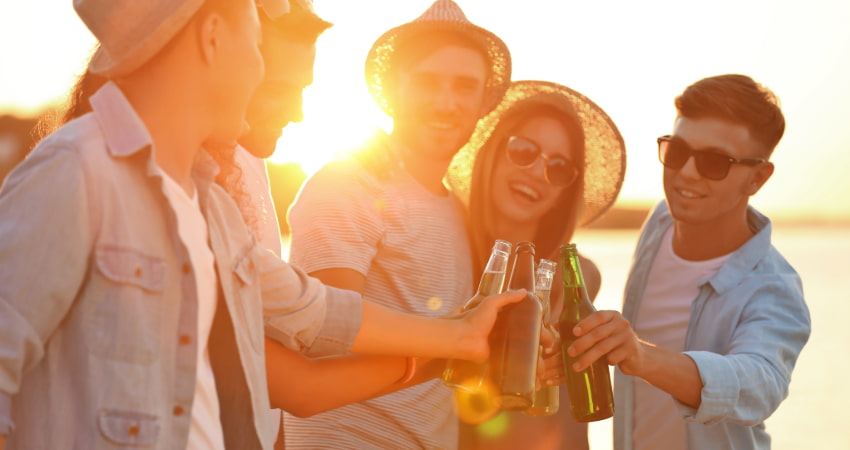 Feed The Tarpons
Robbie's
Address: 77522 Overseas Hwy, Islamorada, FL 33036
Robbie's isn't your typical spot to grab food and drinks; it's an iconic spot people far and wide flock to. Explore watersport activities, local shops, indulge in food and drinks, support artists, and feed giant tarpons. Just don't lose a finger while you're at it.
Stop 3:  Marathon
While Marathon tends to be a short transit stop for most, it still holds glorious views and local attractions that will definitely add value to your trip. Since this spot tends to not be the biggest tourist attraction, we recommend only spending a day here, but consider these following spots if time allows it.
Save The Turtles
Turtle Hospital
Address: 2396 Overseas Hwy, Marathon, FL 33050
Support a local turtle rescue and take a tour of the Turtle Hospital's facilities and sea turtle rehabilitation area. With a presentation and a behind the scenes tour, you can end the experience by feeding adorable sea turtles living at the hospital.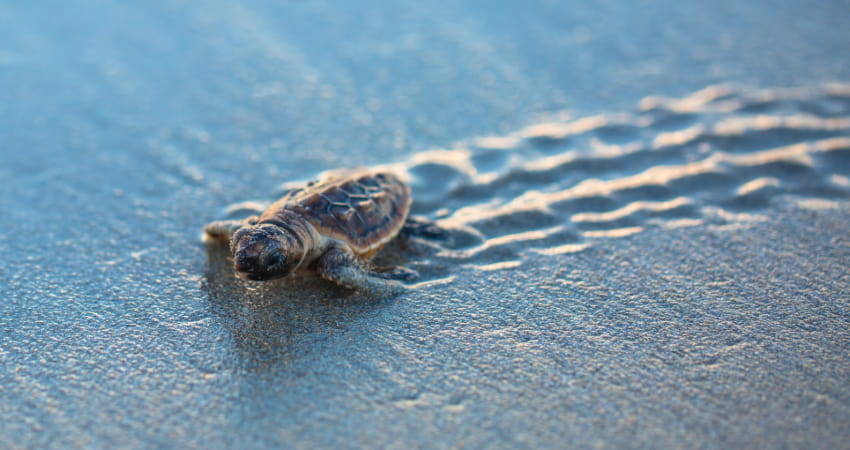 See Some Dolphins
Dolphin Research Center
Address: 58901 Overseas Hwy, Grassy Key, FL 33050
After getting to know local turtles, head over to the Dolphin Research Center to explore 90,000 square feet of saltwater lagoons. Home to dolphins and sea lions, this non-profit facility promotes education, research, and rescue of marine mammals.
Catch Some Rays
Sombrero Beach
Address: Sombrero Beach Rd, Marathon, FL 33050
Finish your time at Marathon by soaking up the sun at Sombrero beach. Perfect for swimming, picnics, beach sports, and more, this is the best spot for winding down before your next move. Plus, if you're in town April – October, you may be lucky enough to spot Loggerhead turtle nestings.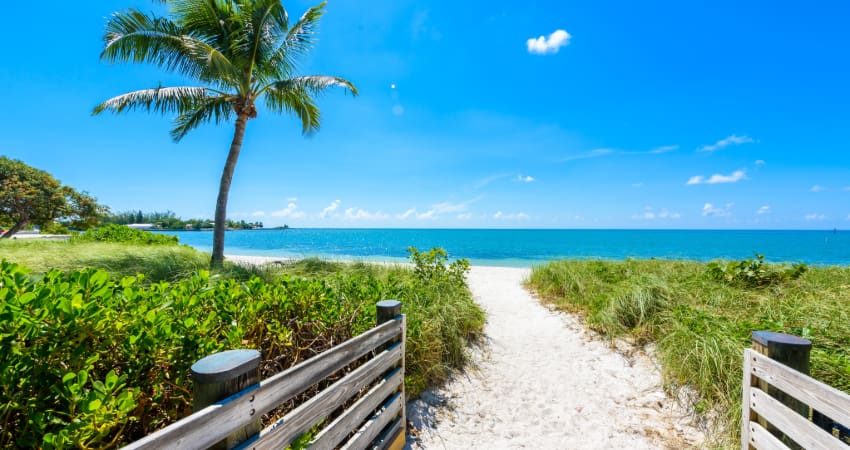 Stop 4: Big Pine
Hold on tight, you're entering the wild side of the Florida Keys. Big Pine lets you take a step back from commercialization and enjoy nature. Most of the land is a protected preserve, making it an amazing retreat for nature lovers. Spend at least a day here, especially if you're itching for adventure.
Get In Touch With Nature
Bahia Honda State Park
Address: 36850 Overseas Hwy, Big Pine Key, FL 33043
With a historic bridge and an award-winning beach, this state park has over 500 acres of land to explore, including an offshore island. Discover the best that the Keys have to offer with pure unadulterated nature.
Explore Uninhibited Territory
Big Pine Kayak Adventures Inc
Address: 1791 Bogie Dr, Big Pine Key, FL 33043
Whether you're into kayaking or not, you don't want to miss the opportunity to explore what makes Florida so unique. Take an eco-tour via kayak to get personal views of dense mangrove forests and wildlife you won't find anywhere else.

Stop 5: Key West
Last, but not least, Key West is a legend and worth the week-long journey. Key West offers something for just about anyone, whether you're seeking adventure or relaxation. If you're not falling in love with deep, turquoise waters, you'll be head-over-heels with intense culture. Depending on your timeline, we recommend trying to stay for at least two days to experience as much as you can.
Learn About Shipwrecks
Shipwreck Museum
Address: 1 Whitehead St, Key West, FL 33040
Travel back to the 19th century and discover a 400-year story of shipwreck salvage in Key West, all accompanied with actors, films, and artifacts. You'll learn all about the city's unique maritime history in an 1850's wrecker's warehouse.
Sit Back and Relax
Smathers Beach
Address: 2601 S Roosevelt Blvd, Key West, FL 33040
Have some fun in the sun at one of the most popular and largest beaches in the Keys. There's nothing better than relaxing on white sand underneath the palm trees and escaping from tourists—all while having your own personal chauffeur.
Go South
Southernmost Point
Address: Whitehead St & South Street, Key West, FL 33040
This monument marks the southernmost tip of the continental U.S. and sits only 90 miles away from Cuba. The famous concrete buoy provides spectacular views and is a popular gathering spot for photographers and tourists.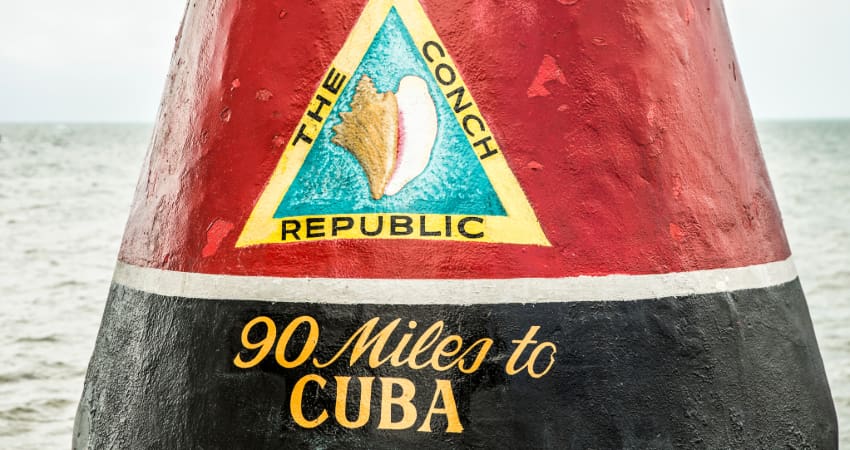 Choose Your Friends At GOGO Charters
While there's unlimited things to do and see during your journey from Miami to Key West, we've only listed a few popular spots that our clients have loved. When you choose to travel with GOGO Charters, you'll be provided exceptional service with knowledgeable, local drivers who know how to get you there. Whether you're traveling personally, for work, for school, or more, we've got your group travel needs covered when you call us at 305-547-8457.
Tags In
Do you need to rent a charter bus?
Do you need a long-term shuttle service?
We offer contracted shuttle services for businesses, schools, hotels, and more. Contact our experts at 1-844-897-5201 to discuss your long-term transportation plans.