The Top 6 Group Day Trips from San Francisco
San Francisco has a lot to offer for first-time visitors and life-long residents alike! But even when you have access to some of the finest art galleries, state-of-the-art tech facilities, and budget-friendly destinations in the region, you'll still need to step away from the hustle and bustle of the city every once in a while.
Looking for the perfect day trip for your company team-building outing, bachelorette weekend, or family get-together? Look no further! We've put together this list of the top group-friendly day trips from San Francisco—and can even help you figure out how you'll get there. Give us a call at 415-450-6401 whenever you've nailed down where and when you want to go, and our 24/7 team of experts can connect you to a reliable and comfortable bus rental from our nationwide network. That way, no one has to worry about driving and everyone can sit back, relax, and enjoy the journey in and out of SF.
Berkeley
Distance from San Francisco: 20 minutes
Sure, if you're heading into this popular college town, you've most likely got a UC Berkeley campus tour filling up a chunk of your day. But if your aspiring academics have time and want a taste of what their future alma mater has to offer, there's still much to explore outside the university setting.
Like many college towns, Berkeley is a hub for Bohemian counterculture—making it perfect for culture-nuts and foodies. Check out Telegraph Avenue for bookstores, casual farm-to-table bistros, and quirky shops. Have younger kids in tow? Take them to Tilden Park to keep them preoccupied for a few hours while your prospective students tour the campus—there's a steam train ride, a small working vegetable farm, and even an old-fashioned merry-go-round.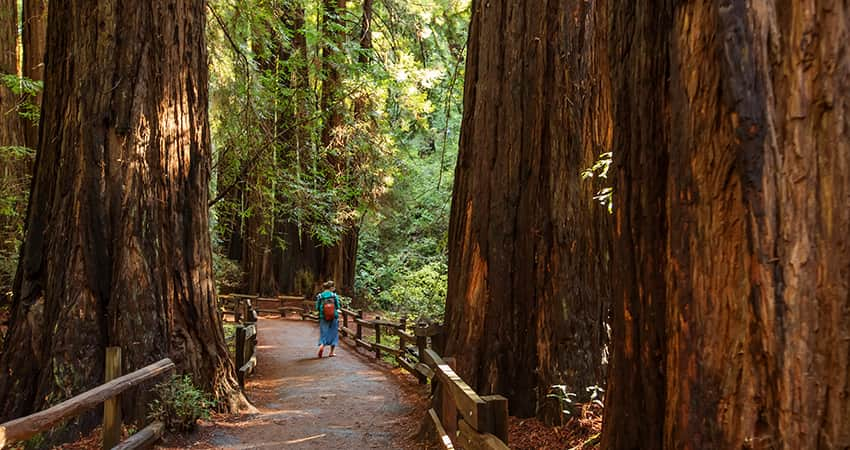 Muir Woods
Distance from San Francisco: 45 minutes
Feel adventurous? Then round up your hiking buddies, outdoor adventure group, or fellow picnickers for a day trip out to Muir Woods National Monument! In these 240 acres of woodlands, kids and kids-at-heart will enjoy taking in the larger-than-life redwoods, giant ferns, banana slugs, and other ancient wildlife that's been here since the days of the dinosaurs.
The most common mistake first-time visitors make when planning a visit to Muir Woods is forgetting to make the proper reservations—which are required to enter the forest and to park on the grounds. To ensure availability, we recommend contacting the park's office at least a month ahead of your visit so there are no awkward mix-ups at the gate. Parking reservations are on a per-car basis, which is why visiting in an oversized vehicle like a minibus or a charter bus can be beneficial for larger groups. Rather than arriving multiple vehicles and paying $8.50 per car, you can rent a minibus and pay $30 for everyone or rent a charter bus and pay $45. When you split the cost evenly amongst your passengers, many groups find it cheaper to take the bus!
Half Moon Bay
Distance from San Francisco: 50 minutes
Most notably, this beachside town is known for hosting Maverick's Surf Contest—one of the most popular and dangerous surfing competitions in the world. So whether you're here to watch the pros take on 30-foot waves from the safety of Pillar Point or to hang ten with the best of them, nearby Maverick Beach is sure to provide entertainment and prime wave-watching for your visiting group.
Not here for the beach? History buffs will love exploring the town's 1840s Spanish Colonial architecture and centuries-old cemeteries, while golf enthusiasts can enjoy some tee time at the picturesque courses along the coast.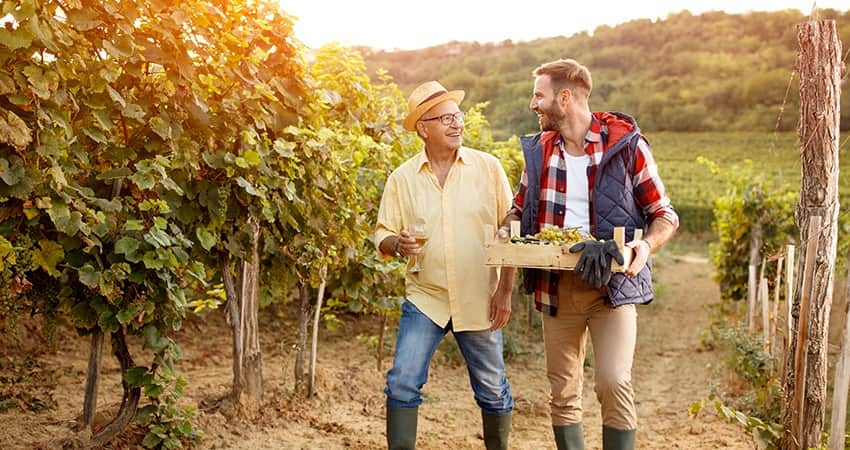 Napa Valley
Distance from San Francisco: 90 minutes
These destinations are no secret—nearly 3 million folks venture out to nearby Napa Valley for a vineyard or winery tour to seek fresh air and some of the world's best wineries. Nearly 95% of the 500 establishments here are family-owned, which means your group can support local growers while you take in the beautiful Mediterranean-esque views and delicious sips.
And while the area does offer preset vineyard-hopping tours that span the 150-year history of the valley, for those who like to taste and explore at their own pace, we recommend reserving a private bus rental. That way, your connoisseurs can pick and choose which establishments they want to visit rather than hoping the Napa Valley Wine Train stops at their desired winery. Plus, everyone will have a designated driver already when it's time to head home, so no one has to worry about sitting out and driving their personal car or waiting around for an Uber or Lyft to arrive.
Monterey
Distance from San Francisco: 3 hours
Sure, this coastal city is a bit of a stretch for a simple day trip. But getting there is half the fun—especially if you make it a road trip along the Pacific Coast Highway!
After stopping for a few group selfies with the California coastline as your backdrop, there is one Monterey destination you'll be remiss to miss: the famous Monterey Bay Aquarium. Here, visitors can meet some of California's marine wildlife, from adorable sea otters to a mischievous giant octopus to a stunning wall of kelp forests. As of this writing (December 2021) the aquarium is only admitting a limited number of visitors per day to stop the spread of COVID-19. Field trips are still admitted, though, and the aquarium can provide free programs and educational materials for learning groups of all ages.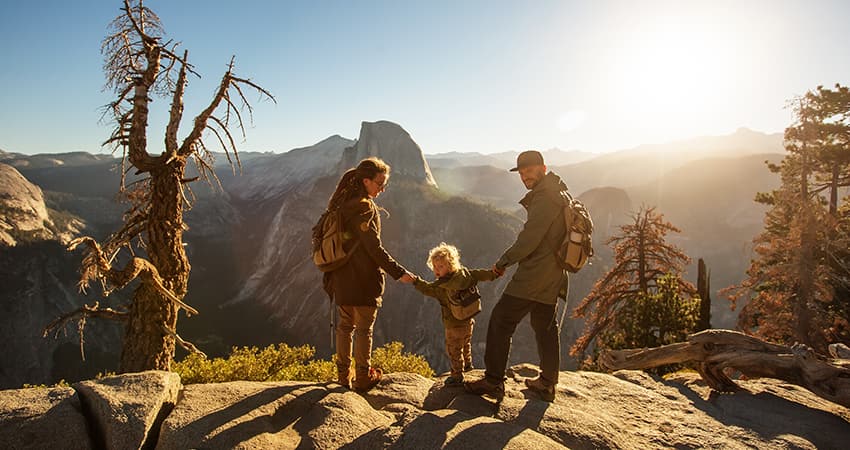 Yosemite National Park
Distance from San Francisco: 4 hours
At 340 miles round-trip, the journey to this famous national park made famous by Muir's writings is a bit of a long haul—but once you see the breathtaking views of El Capitan and the Half Dome, we bet you'll think it's worth the drive.
You can technically see the park's highlights in a day, especially if you leave very early in the morning and let a pro bus driver handle the ride home after a long day on the trails. But considering there's so much to take in even while driving through—not to mention all the world-renowned hikes you can take here—we recommend spending at least two days if you want to make the most of Yosemite. (If you do decide to spend the night, just keep in mind that you'll be responsible for your charter bus driver's lodging as well.)
Start Planning Your SF Day Trip
With GOGO Charters on your side, group day trips from the Bay Area have never been easier. We pride ourselves on the custom bus rental plans we craft for our clients—which means you'll always have the ideal motorcoach and itinerary for your trip, no matter where you go. From breezy wine tour minibus shuttles to charter bus road trips out to California's finest national parks, our 24/7 team will be happy to connect you with the perfect ride for your day trip.
Call 415-450-6401 today to receive a free and no-obligation bus rental quote tailored to your trip details!
Do you need to rent a charter bus?
Do you need a long-term shuttle service?
We offer contracted shuttle services for businesses, schools, hotels, and more. Contact our experts at 1-844-897-5201 to discuss your long-term transportation plans.