The Best Group Day Trips from Washington D.C.
Now, we agree that bringing your youth or school group on a trip to The National Mall is profoundly educational and important. And planning a corporate get-together at the local Top Golf is bound to be a ton of fun! But why not try something different for your group of travelers that's beyond Washington D.C. borders? From beautiful beach towns to robust American cities and historical preservation parks, you can plan an awesome day trip mere hours away to destinations in Virginia and Maryland that are perfect for groups. Let GOGO Charters recommend for you a few of our favorite places to plan a day trip from Washington D.C.!
1. Baltimore, MD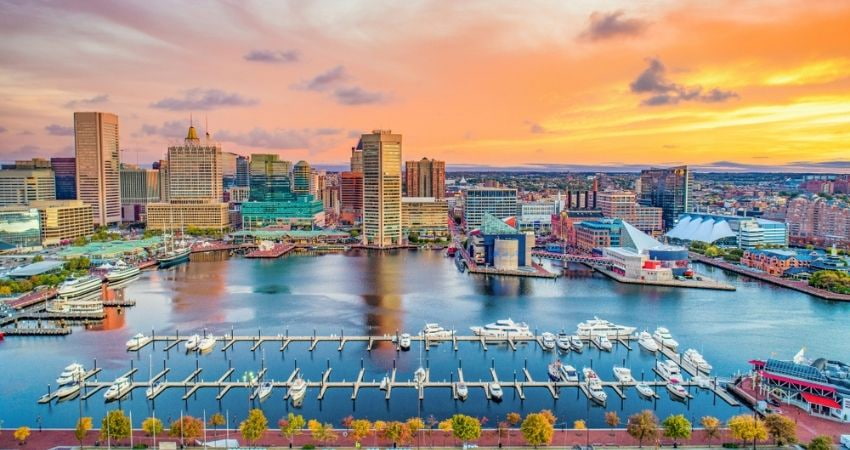 Distance from D.C.: approx. 1.5 hours
If you're looking for a day trip destination near D.C. that packs a punch, look no further than Baltimore, Maryland. You can spend whole days exploring the food, culture and history of this coastal Maryland town, but if you're visiting for just one day, plan your itinerary around the Inner Harbor. Here you'll find popular attractions like the Maryland Science Center, National Aquarium, and American Visionary Arts Museum. For a traveling group of sports fans, catch a Baltimore Ravens game at M&T Bank Stadium or head to Oriole Park at Camden Yards, home of the Baltimore Orioles and one of the most historic baseball stadiums in the country.
Don't forget to complete your day with a group lunch or dinner in a popular neighborhood like Hampden or Fell's Point. We suggest trying Woodbury Kitchen, an old flour factory turned farm-to-table kitchen serving tasty New American fare. In the mood for seafood? Check out Thames Street Oyster House for a raw bar of local shellfish and northeastern dishes like Maryland crab cakes and New England lobster rolls.
National Aquarium
Address: 501 E Pratt St, Baltimore, MD 21202
Phone: (410) 576-3800
Oriole Park at Camden Yards
Address: 333 W Camden St, Baltimore, MD 21201
Phone: (410) 685-9800
Woodbury Kitchen
Address: 2010 Clipper Park Rd Suite 126, Baltimore, MD 21211
Phone: (410) 464-8000
2. Mount Vernon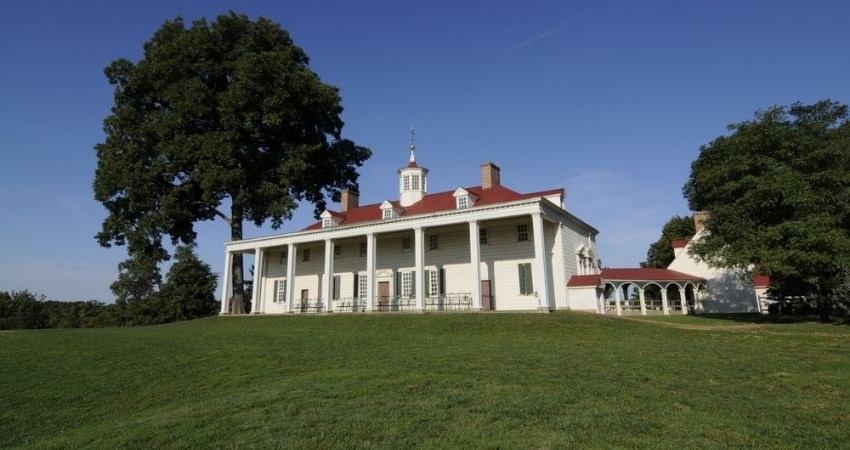 Distance from D.C.: approx. 45 minutes
Address: 3200 Mount Vernon Memorial Hwy, Mt Vernon, VA 22121
Phone: (703) 780-2000
For a historically-significant field trip or military group staff ride, you can easily spend a day visiting George Washington's Mount Vernon on the Potomac River. This sprawling estate includes Washington's iconic mansion and grounds, and exhibition galleries dedicated to the life and legacy of Washington, from his leadership in the Revolutionary War to his day-to-day life at the estate.
Groups of 20 or more can enjoy discounted admission of $18 per person, which includes a tour of the mansion, entrance to the historic area, the Ford Orientation Center, the Donald W. Reynolds Museum and Education Center, and the Distillery & Gristmill. For greater immersion, opt for a themed tour. Choose from guided tours like Mrs. Washington's Mount Vernon, where you'll "walk the grounds with Martha," or The Enslaved People of Mount Vernon Tour, a free tour that details the stories of the enslaved people who built and operated Mount Vernon.
3. Chesapeake Bay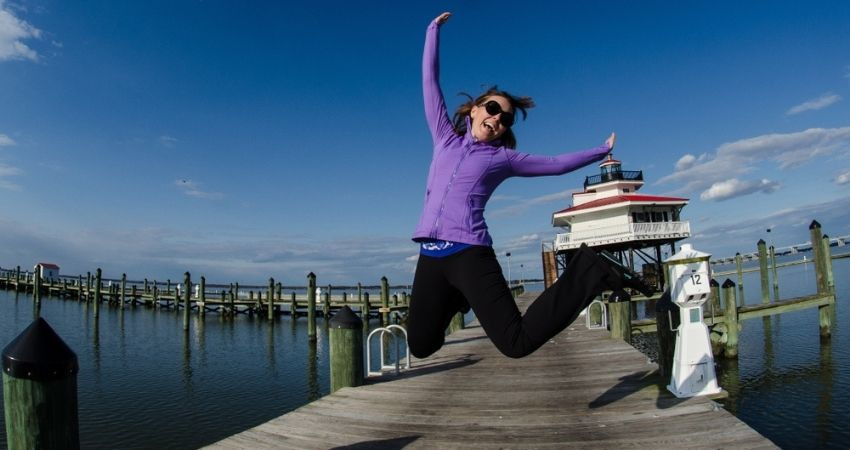 Distance from D.C.: approx. 2 hours
In the need of a local beach escape? Head to Maryland's Chesapeake Bay, a seaside haven for city-slickers to enjoy fresh seafood, explore lighthouses and maritime museums, and walk around salt-brushed beach towns. Visit waterfront destinations like St. Michaels, home of the Chesapeake Bay Maritime Museum, or catch a ferry to Tilghman Island, Hooper's Island, or Smith Island. On Smith Island, you and your group can grab a slice of decadent, pancake-thin-layered Smith Island Cake, the official Maryland State Dessert. We recommend a bite from Smith Island Bakery or the Bayside Inn Restaurant.
For a group of sea-foodies, plan your trip to the Chesapeake Bay around a famed seafood festival. The Susquehanna Wine & Seafood Festival in Havre de Grace is well worth planning an entire trip around. This two-day September event features live music, cooking demos, and buckets of steamed crabs ready to be paired with a glass of Seaglass Wine or Heavy Seas beer. You can also plan a trip around the Maryland Seafood Festival in Annapolis, or the U.S. Oyster Festival in St. Mary's County.
Chesapeake Bay Maritime Museum
Address: 213 N Talbot St, St Michaels, MD 21663
Phone: (410) 745-2916
Smith Island Bakery
Address: 20926 Caleb Jones Rd, Ewell, MD 21824
Phone: (410) 425-2018
Susquehanna Wine & Seafood Festival
Address: Concord Point Lighthouse, 701 Concord Street Havre de Grace, MD 21078
Phone (for B Scene Events): (410) 409-7123
4. Annapolis, MD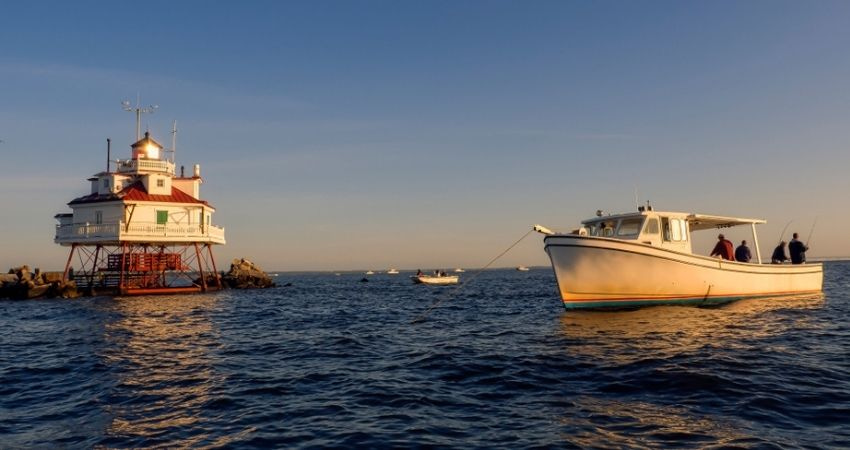 Distance from D.C.: approx. 1.75 hours
Also found on the Chesapeake Bay is the city of Annapolis, America's Sailing Capital, and the capital city of Maryland. Here, you can plan visits to the U.S. Naval Academy, tour the Maryland State House, and explore African-American history at the Banneker-Douglass Museum. To spend a beautiful afternoon enjoying the waterfront, plan to hop on a cruise from Annapolis Harbor. You can enjoy a guided cruise through the bay to visit the famous Thomas Point Lighthouse, or maybe you want to enjoy a sailing cruise with Schooner Woodwind.
In the mood for a sip by the sea? Plan a weekend to visit Great Frogs Winery, an old tobacco farm-turned-vineyard specializing in growing French Bordeaux varietal grapes. Enjoy a flight of wines paired with cheese and charcuterie, stroll through the vast vineyards, and play lawn games like cornhole between rows of grapevines. This spot is also a beautiful place to go for a wedding event like a rehearsal dinner, bridal shower, or bachelorette party.
U.S. Naval Academy
Address: 121 Blake Road, Annapolis, MD 21402
Phone (for Tours): (410) 293-8687
Thomas Point Shoal Lighthouse Tours
Address of boat dock: 723 2nd St Annapolis, MD 21403, behind the Annapolis Maritime Museum
Phone (United States Lighthouse Society office): (415) 362-7255
Great Frogs Winery
Address: 3218 Harness Creek Road, Annapolis, MD 21403
Phone: (410) 626-6193
5. Colonial Williamsburg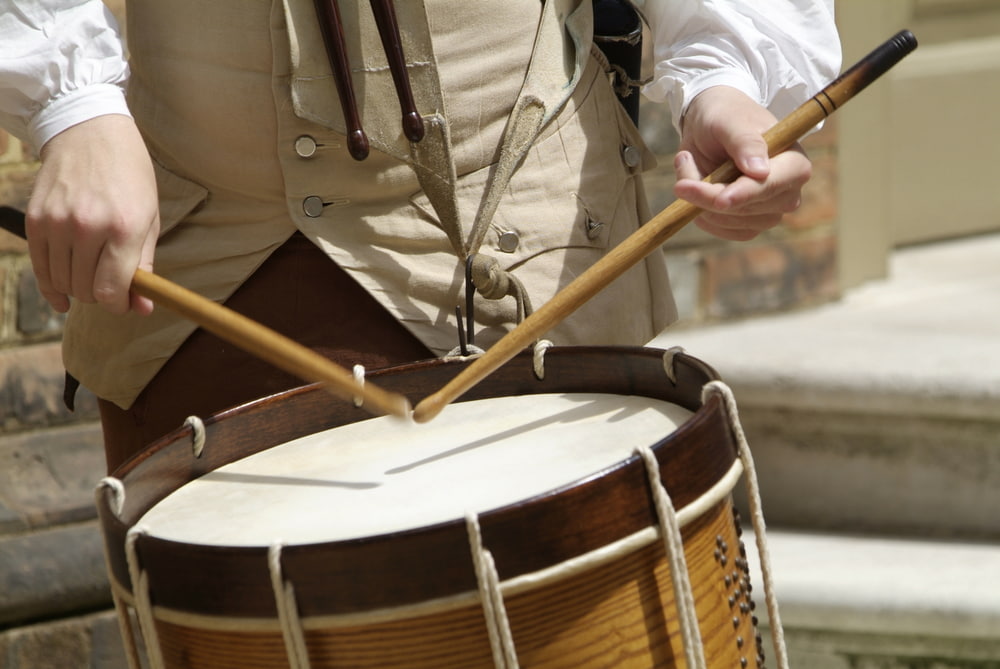 Distance from D.C.: approx. 3 hours
Address: 101 Visitor Center Dr, Williamsburg, VA 23185
Phone: (855) 771-3290
Plan a school field trip, homeschool experience, or adult day trip to Colonial Williamsburg, the world's largest living history museum preserving American colonial history. You'll discover the Governor's Palace, the Raleigh Tavern, and historically re-enacted trades like blacksmithing, crafting fine furniture and instruments, and 18th-century medicine. Also, set aside time to visit the Art Museums of Colonial Williamsburg: the Abby Aldrich Rockefeller Folk Art Museum and The DeWitt Wallace Decorative Arts Museum.
School groups can enjoy single-day or multi-day trips with themed, educational tours like "Colonial Government and the Birth of our Democracy" and "Women in 18th Century Williamsburg." Adult groups can visit anytime, any day, or enjoy the opportunity to participate in an evening program. Join the Shadows of the Past ghost tour and hear spooky stories from colonial times, or join in on song and dance at the African American Music program.
6. Richmond, VA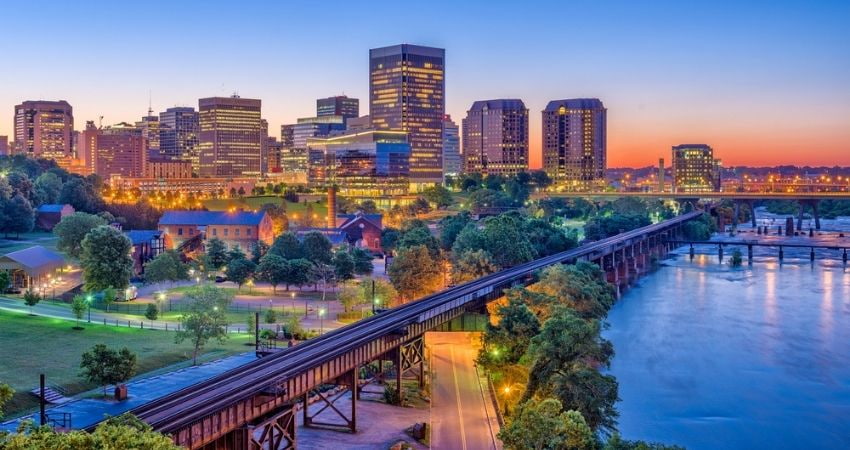 Distance from D.C.: approx. 2.5 hours
If you've never planned a trip to Richmond, Virginia, now's your chance. Don't overlook this great American city packed with historic charm, an impressive arts and culture scene, and tons of craft breweries. You can visit the Virginia Museum of Fine Arts, where admission is completely free, and plan to spend time at the Lewis Ginter Botanical Garden and Virginia Museum of History & Culture.
For unique shopping, dining and entertainment, you'll want to head to the Carytown neighborhood of Richmond. Plan to explore the Carytown Farmers Market, catch a flick at The Byrd Theatre, and browse the shelves at shops like Bygone's Vintage Clothing, Mamie's Apothecary, and Carytown Tobacco. And don't leave without exploring some of Richmond's brewery scene. With more than 40 breweries to grab a cold one at, we recommend Hardywood Park Craft Brewery or The Veil Brewing Co. for a tasty local brew.
Virginia Museum of Fine Arts
Address: 200 N. Arthur Ashe Boulevard, Richmond, Virginia USA 23220
Phone: (804) 340-1400
The Byrd Theatre
Address: 2908 W Cary St, Richmond, VA 23221
Phone: (804) 353-9911
Hardywood Park Craft Brewery
Address: 2410 Ownby Ln, Richmond, VA 23220
Phone: (804) 420-2420
7. Shenandoah National Park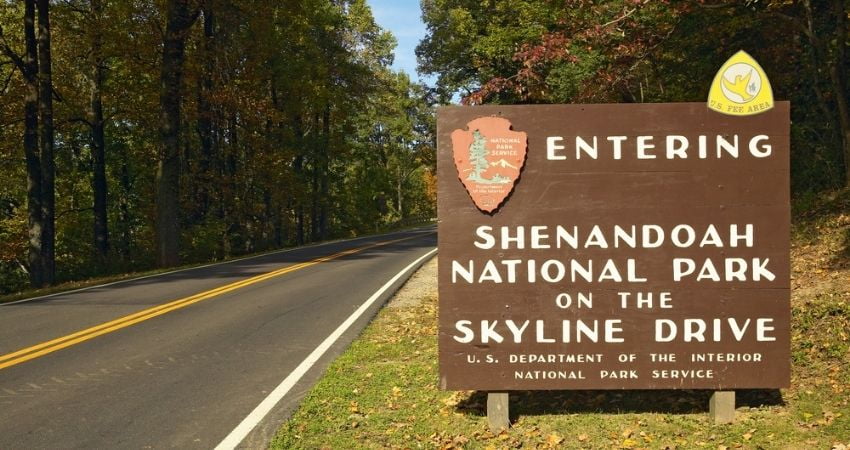 Distance from D.C.: approx. 2.5 hours
Address (Front Royal Entrance Station): 17157 Skyline Dr, Front Royal, VA 22630
Phone: (540) 999-3500
A great escape from the city's hustle and bustle, Shenandoah National Park in Virginia is a stunning 200,000 acres of forest, waterfalls and vistas just west of Washington D.C. in the Blue Ridge Mountains. You can bring a youth group or scout group here to go hiking, camping or horseback riding, or plan a large group dinner or event at the Skyland resort's Pollack Dining Room or Mountain Taproom.
Traveling to Shenandoah National Park via charter bus rental is one of the best ways to experience the Skyline Drive, a scenic, winding road through the park with nearly 70 overlooks with views of the Shenandoah Valley. You can plan stops at the park's points of interest—like the mountain-top Big Meadows and the Skyland resort—and enjoy the scenery through your bus rental's large, panoramic windows.
Rent a Charter Bus from Washington D.C.
Ready to hit the road and see the best of what's to see around Washington D.C.? GOGO Charters can pair you with the best type of a charter bus transportation for your next group trip. Give us a call at 202-741-9808 and tell us all about your plans and itinerary for your day trip, and we'll provide you with a free, no obligation quote!
Do you need to rent a charter bus?
Do you need a long-term shuttle service?
We offer contracted shuttle services for businesses, schools, hotels, and more. Contact our experts at 1-844-897-5201 to discuss your long-term transportation plans.