A Group Guide to Day Trips from San Antonio
San Antonio is a great place to be and visit, but sometimes you  need to get out of town. Looking for the perfect day trip excursion for your crew? GOGO Charters has got you covered! We've put together some of the best spots within driving distance of the Alamo City that can appeal to a wide range of groups—from kid-friendly adventures to adults-only wine tours.
And if you ever need a ride to the action, look no further than the GOGO Charters network. We provide custom charter bus rentals and minibus shuttles for group trips throughout the country, and we'd love to get your group going on your San Antonio day trip. For more information about the types of buses you can book and bus rental pricing, call (210) 568-8122 and our 24-hour team will be happy to help.
Now, on with the road trip!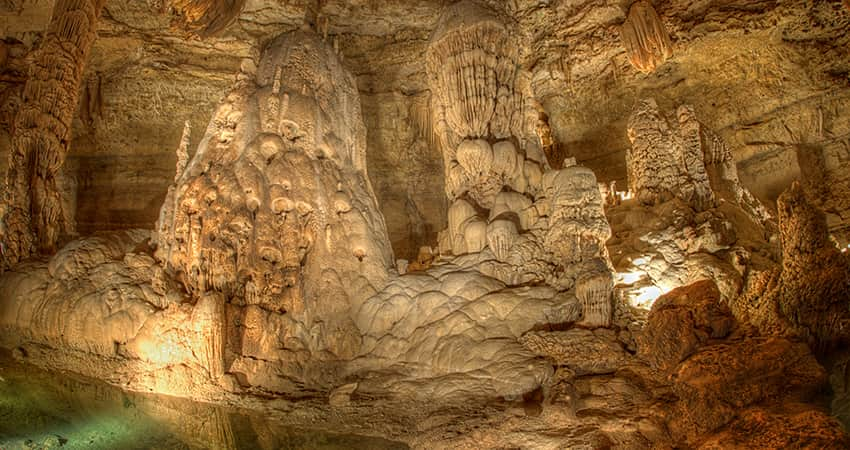 New Braunfels
Distance from San Antonio: 40 minutes northeast
There are two reasons this little town is a local-favorite day trip from San Antonio. One: New Braunfels is just a short drive away. Two: it's home to charming storefronts, rich Germanic history, and the world-famous Schlitterbahn Waterpark!
Gather up your dance partners for a night of line dancing at Texas' oldest dancehall, Gruene Hall, or grab a bite to eat at Texas' oldest bakery, Naeglin's German Bakery. And if you ever need an escape from the Texas heat, hop aboard your climate-controlled bus rental and check out the Natural Bridge Caverns, located a quick drive past city limits. The limestone cavern systems offer stunning sights and photo ops, and no matter how hot it gets above ground, the caves stay 70 degrees Fahrenheit all year round!
Fredericksburg
Distance from San Antonio: 1 hour northwest
Fredricksburg is home to many points of interest, including the National Museum of the Pacific War, award-winning shopping centers, and easy access to the hiking trails of the Enchanted Rock State Natural Area.
That being said, one of the most popular draws to this sleepy town is all the libations Texas Wine Country has in store. Let the professionals take the wheel so your buzzy bunch can enjoy the wineries and vineyards along Fredericksburg Wine Road 290 without having to designate a driver. Plus, when you rent a private charter bus or minibus shuttle, you set the itinerary and route schedule—so your group can explore Texas Wine Country at your own pace!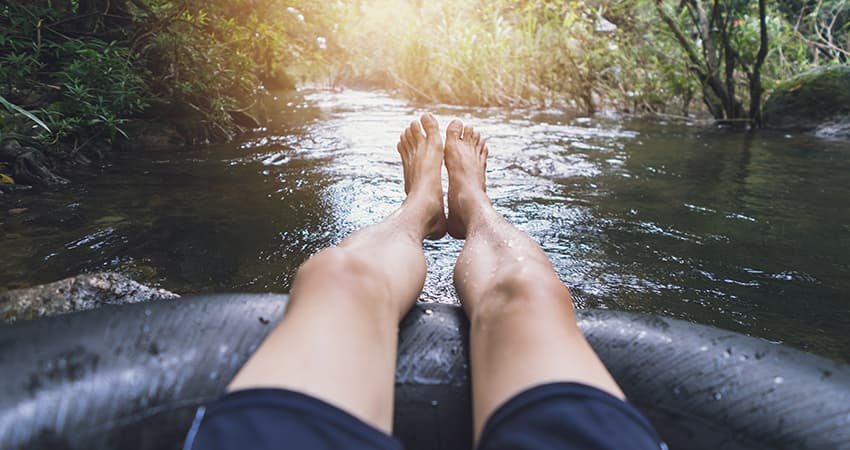 San Marcos
Distance from San Antonio: 1 hour northeast
This charming college town marks the halfway point between Austin and San Antonio, making it a popular day trip from Austin and SA alike. Many folks find themselves in San Marcos to visit Texas State University students or alumni, but there's still much to do here even if you're not planning a campus tour.
Prime example? Tubing! While many Texans enjoy passing the time by floating along the lazy rivers that wind through this part of the state, the stretch of the San Marcos River that flows by the town is a hidden gem with significantly fewer crowds than the Guadalupe. San Marcos offers plenty of outfitter options when it comes to renting tubes, kayaks, paddleboards, and the like—but if your group would rather bring your own gear, let your GOGO Charters rep know ahead of your trip. We'll be able to connect you with a bus rental that can accommodate all your equipment as well as your passengers!
Austin
Distance from San Antonio: 1.5 hours northeast
Some say if you can't find something fun to do in Austin, that's a "you" problem. But we get it—there is so much this capital city has to offer, first-time visitors and frequent day-trippers alike are often overwhelmed. So if you aren't coming into town specifically for SXSW, Austin City Limits, or any of the dozens of festivals Austin has on the calendar, we suggest prioritizing based on your group's interests:
Traveling with history buffs? You can't go wrong with a tour of the Texas State Capitol Building or the Governor's Mansion.
Looking to stretch your legs? Austin boasts a wide range of green spaces and state-funded parks where you can do just that. Take a stroll through Zilker Park's botanical gardens, or venture out to McKinney Falls State Park for a fun day of hiking and swimming.
In desperate need of quality Tex-Mex? (Who isn't?) You can't throw a rock without hitting a Mexican-inspired kitchen, taco bar, or fusion restaurant—though keep an eye out for Valentina's Tex Mex BBQ, Tamale House East, ATX Cocina, or Guero's Taco Bar if you want a local-approved eatery.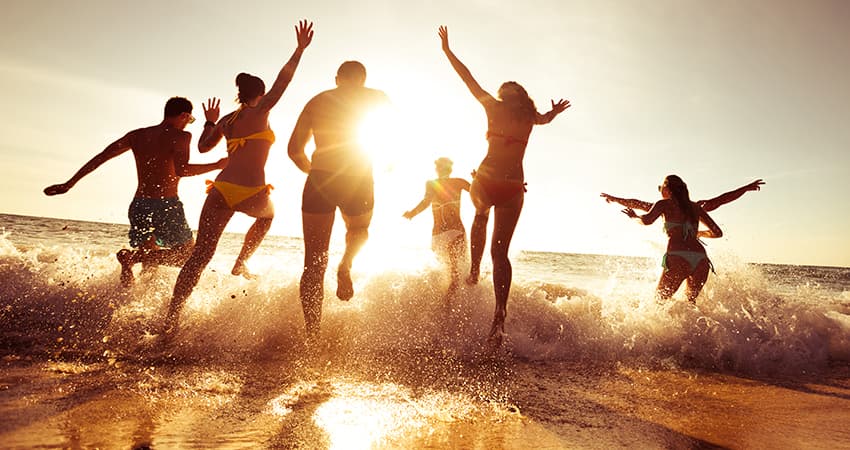 Corpus Christi
Distance from San Antonio: 2 hours southeast
If you're planning a beach trip from San Antonio, you'll be hard-pressed to find a more convenient and comfortable option than the white sands of Corpus Christi. Due to the high wind speeds coming in off the Gulf, this town is considered one of the best North American cities for windsurfing, kiteboarding, kite flying, and sailing.
Even if you're here for a relaxed, toes-in-the-sand, sun-and-surf kind of day, Corpus Christi is the perfect day trip from San Antonio for your group. Take a stroll along the scenic Bayfront Seawall, or plan a visit to the Texas State Aquarium to learn more about the marine life that calls the Texan Gulf Coast home.
Laredo
Distance from San Antonio: 2.5 hours southwest
Laredo is most notably known as the oldest crossing point along the Mexico-United States border and the country's largest inland port of entry. But even if you're not planning to cross over, Laredo is a great place to stop if you want a taste of Mexican culture without worrying about customs and passports.
Plan a walking tour (or just a drive-by) of the historic downtown area to admire the Spanish Colonial architecture and multiple picturesque cathedrals, including the towering Our Lady of Guadalupe Catholic Church. Visiting with a school group? Learn about the history of the short-lived Republic of the Rio Grande by touring its capitol building, which only served as the headquarters of the republic for one year in the 1840s.
Houston
Distance from San Antonio: 3 hours east
Last but not least, we have Houston. At 3 hours of travel time without accounting for traffic, this destination city is stretching the limits of what's defined as a day trip from San Antonio. That being said, a visit to Houston is always worthwhile—especially when someone else is doing all the driving! Load up your private charter bus rental and let a professional driver take care of the logistics, so your group can explore the rockets of Space Center Houston, upscale shopping of The Galleria, and all the fun of the annual Livestock Show and Rodeo without stressing over parking.
Get Out of Town with GOGO Charters
Whenever you're ready to start planning your day trip from San Antonio, we'll be with you every step of the way. From answering your motorcoach questions so you can rent a bus with confidence, to providing free, no-obligation bus rental quotes tailored to your trip details, GOGO Charters makes it easy to book a group transportation service throughout Texas and beyond!
Call (210) 568-8122 at any time, and our 24/7 reservation team will be ready to assist you with the San Antonio charter bus rental process.
Do you need to rent a charter bus?
Do you need a long-term shuttle service?
We offer contracted shuttle services for businesses, schools, hotels, and more. Contact our experts at 1-844-897-5201 to discuss your long-term transportation plans.