How to Sleep on a Bus: Tips to Fall Asleep While Traveling
Sleeping on a bus is an essential skill if you're preparing for a long-distance bus ride or overnight charter bus trip. Thankfully, when it comes to knowing how to sleep on a bus, GOGO Charters has over 25,000 trips' worth of experience to share. Whether you're looking to catch a quick nap en route so you wake up refreshed at your destination, or you need to find restful sleep on an overnight ride and keep your natural sleep cycle in rhythm, there are a number of easy ways to sleep on a charter bus.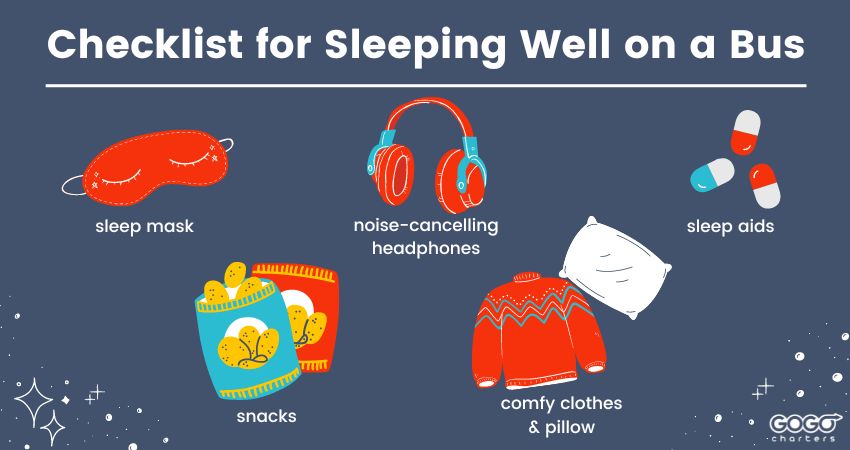 1. Invest in a travel pillow and eye mask
One of the most challenging parts of sleeping on a bus is getting comfortable. Your charter bus rental can have reclining seats, footrests, and customizable climate controls that will help ensure you have a comfortable ride. But using a soft travel pillow for neck support and an eye mask to block out light will help tremendously if you're trying to fall asleep. You can find affordable options on Amazon or an off-price retailer like TJ Maxx and Marshalls. Also, consider purchasing a pair of ear plugs to block out the noise of traffic and fellow passengers.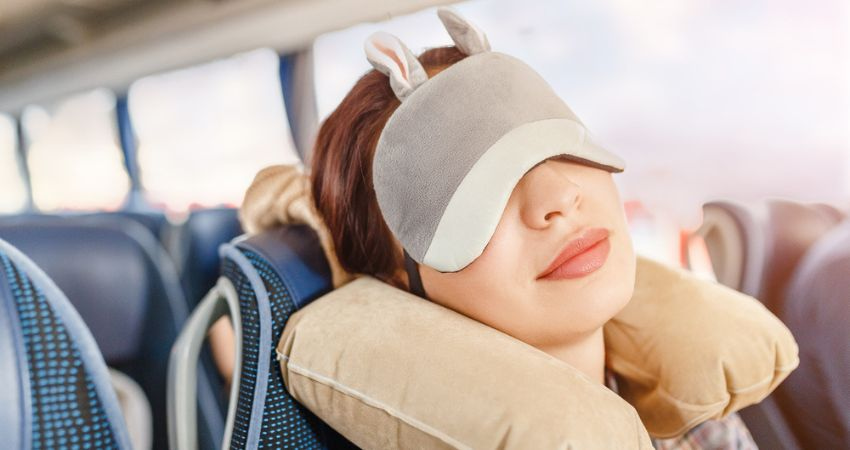 2. Wear comfortable clothing and pack a blanket
Few things can help you feel comfy and cozy on a bus like your very own blanket. Charter buses can have air-conditioning running during warm months, and while most allow you to personalize the airflow in your seat, it could still be a chilly ride if you're not prepared. You may also want to dress in comfortable layers, such as a sweatshirt or hoodie over a tee shirt, and leggings or sweatpants. Avoid denim, short skirts, and restrictive clothing that may make it difficult to find a comfortable sleeping position.
3. Bring water and snacks with you on board
Being hydrated and choosing the right snacks for your bus trip can help you settle in for your journey and be comfortable during the ride. Avoid caffeinated beverages and opt for non-perishable, filling snacks like nuts, crackers, or granola bars. Snacks will be especially important if you find yourself traveling with kids. And don't worry about bathroom breaks—most charter bus rentals include an onboard restroom at the back of the bus you can use while en route.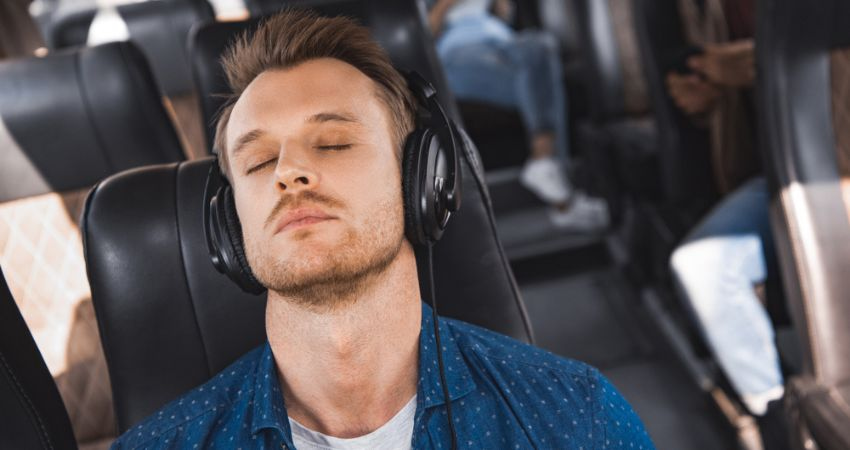 4. Choose a seat toward the middle of the bus
A seat in the middle of a charter bus is likely to have the smoothest ride, which will help if you're trying to sleep during your trip. The back of the bus is where you'll feel the most bumps, and is also where the onboard restroom may be, so it can be a high-traffic area on long-distance bus rides. If you can't find a seat near the middle of the bus, near the front is your next best choice. This is where an eye mask can come in handy if you're riding at night so that beams from headlights and street lamps don't keep you awake.
5. Listen to audio with noise-canceling headphones
If you're planning to snooze your charter bus ride away, choose a podcast, audiobook, or relaxing music playlist to listen to—preferably with noise-canceling headphones so you can drown out the sound of chit-chat and traffic. Don't have noise-canceling headphones? No problem. Whatever you choose to listen to, make sure it's something you can enjoy and wind down with. Music or a podcast series will sooner lull you to sleep than a TV show episode or movie. You can also choose to read a book on the bus to help calm your mind and avoid any bright lights from device screens.
6. Consider taking a sleep aid
A simple, over-the-counter sleep aid could be a good one-time solution for catching some z's on a bus trip. Products like Zzzquil, Dream Water, and melatonin supplements are popular OTC sleep aids for travelers journeying overnight and could help you stay on your regular sleep cycle. You can also consider Dramamine if you're prone to motion sickness since it induces drowsiness soon after taking it. However, taking a sleep aid may not be for you. Before consuming any supplements it's important to speak with your healthcare provider to ensure it's safe for you to take an OTC sleep aid.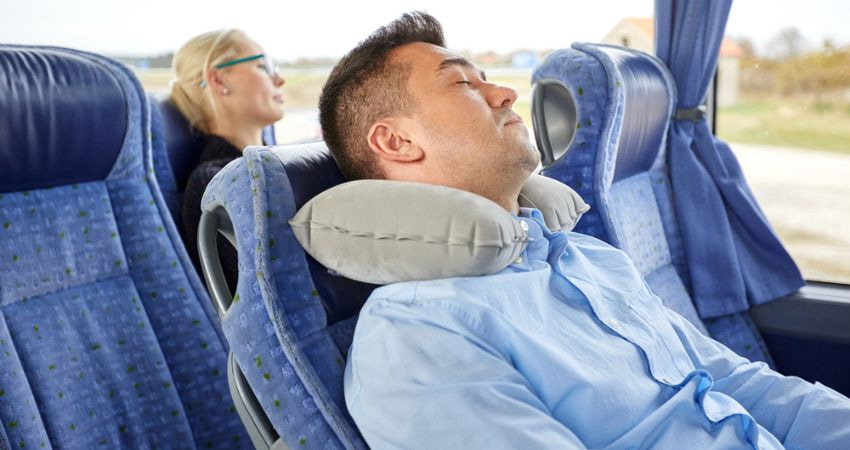 Book a GOGO Charters Bus Rental Today
If you're planning a multi-day or overnight group trip, call GOGO Charters at 1-855-826-6770 and book a motorcoach for the journey. From Chicago to Nashville, Boston to Washington D.C., and any other destination in North America, we can provide you with expert group transportation services for any occasion. Don't sleep on booking a ride with us—rent your charter bus today.
Do you need to rent a charter bus?
Do you need a long-term shuttle service?
We offer contracted shuttle services for businesses, schools, hotels, and more. Contact our experts at 1-844-897-5201 to discuss your long-term transportation plans.