Planning Your Group Tour Through San Francisco Wine Country
I think we can agree that at this point… we all need a break.
And when the pandemic has passed, what better way to reunite with old friends than by sipping handcrafted Chardonnay on a mountainside vineyard in Northern California?
Next stop: San Francisco wine country—one of the most acclaimed and prolific regions of vineyards and wineries in the world. While the region is one of the smaller California wine regions when it comes to land area, there are over 800 winemaking facilities producing over 1,000 brands of wine in Napa and Sonoma counties alone. Add stunning views and a mild, Mediterranean climate, and you've got a fantastic and refreshing adventure waiting for any group of wine enthusiasts you want to bring along.
Want to explore the Northern San Francisco Bay wine region, but need help getting started? Don't sweat it—GOGO Charters has put together this guide to touring SF wine country with a group, just for you. Keep reading to learn more! And whenever you're ready to reserve your ride, give us a call at 415-462-2870. Our 24-hour team would love to help you find the right vehicle for your wine country group tour and offer a free, no-obligation quote for your rental.
Getting Around San Francisco Wine Country
If you want to plan a much-needed family reunion, a "welcome back" outing with the office, or a retreat with your bridal party and alcoholic drinks will be involved, you'll need a reliable ride there and home.
You could force someone into the role of DD through a round of "nose goes," but who wants to miss out on all the fun? And sure, rideshare services are an option—but you'll need to call them up as you need them, and nothing kills a buzz faster than waiting around for enough Ubers to accommodate everyone.
Reserve an SF wine tour rental through GOGO Charters, though, and you won't have to think about transportation logistics during your trip. Let a professional driver from our network be your DD for the day, and rest assured that your bus will be waiting for you at each and every stop. Bus rental options include motorcoaches as small as a compact minibus and as large as a charter bus, so you should have no problems finding the right vehicle to suit your group's size.
And for the same approximate cost as hailing multiple Ubers or Lyfts throughout your wine country tour, your personalized bus rental will include comforts you won't find in your average taxi or in your friend's minivan. Free WiFi for sharing your favorite photos, TV screens and a DVD player for on-the-road movie marathons, plush reclining seats and panoramic windows for kicking back and taking in the gorgeous rolling mountainscape—just say the word, and the GOGO Charters team can make it happen. (Also, as long as you let us know when you book, we can get you a ride that allows alcohol onboard!)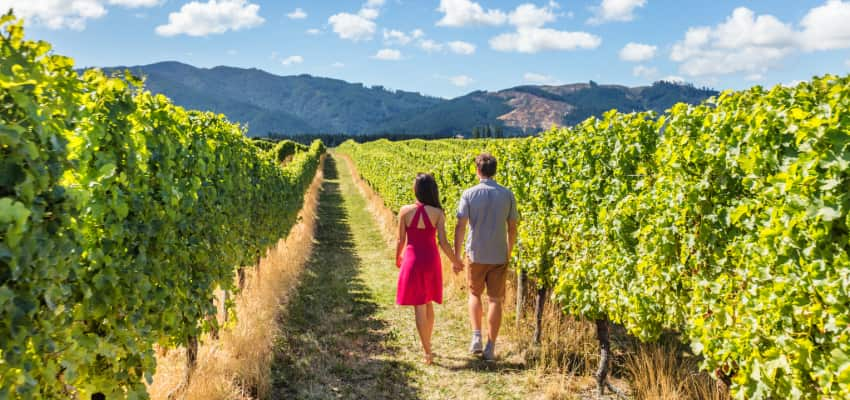 Napa Valley
Distance from San Francisco: ~1.5 hours
When you think of "San Francisco wine country," this place is likely what comes to mind. And for good reason! With nearly 500 wineries within Napa County (95% of them are family-owned, by the way!) and a reputation for producing the best wine in the States, it's no wonder nearly 3 million visitors are drawn here every year.
So how should your group make the most of Napa Valley? Well, there's the Napa Valley Wine Train: a 6-hour ride in a restored antique train car that offers a crash-course in the area's 150-year history. It offers tastings at three of the area's oldest wineries and is a popular option for first-time visitors. But if your group wants to chart your own course, reserving a private tour shuttle may be a better option. That way, you can enjoy the tastings at your own pace and prioritize the establishments that pique your group's interests, like:
Sattui Winery
Address: 1111 White Ln, St Helena, CA 94574
Phone: 707-963-7774
Features: a wide variety of award-winning wines and frequent events like BBQs and live concerts
Darioush Winery
Address: 4240 Silverado Trail, Napa, CA 94558
Phone: 707-257-2345
Features: opulent grounds and architecture, as well as detailed tours of the owner's extensive personal wine collection
Sterling Vineyards
Address: 1111 Dunaweal Lane, Calistoga, CA 94515
Phone: 707-726-6136
Features: Greek architecture and an aerial tram up to sweeping clifftop views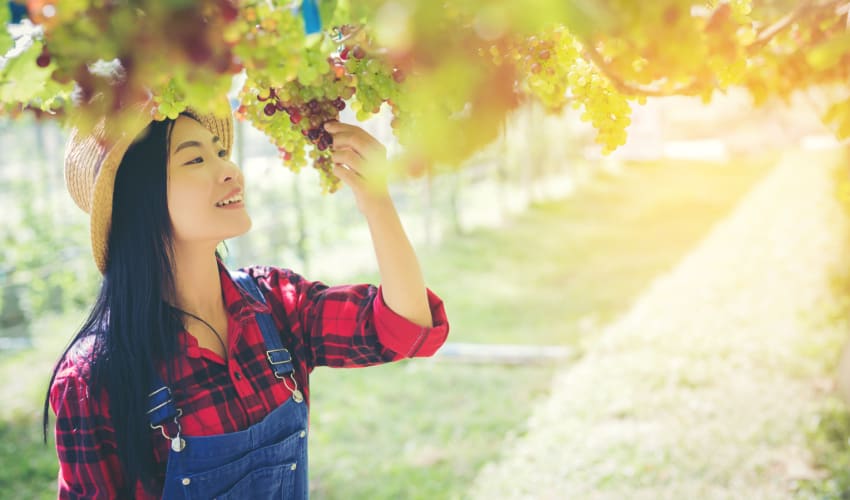 Sonoma Valley
Distance from San Francisco: ~1 hour
If your wine enthusiasts want the California wine country experience without all the pomp and circumstance—or the large crowds, for that matter—Sonoma is where it's at. It's considered the birthplace of California winemaking, which is reflected in the many historical sites you can visit while you're here. Explore the remains of Mission San Francisco Solano (the site of California's first vineyards), and don't worry about leaving your wine bottles and other belongings on the bus while you do—your professional bus driver can look after your personal belongings stashed away in your overhead storage bins. After you're done sightseeing, your group will want to check out these popular Sonoma Valley wineries:
Landmark Vineyards
Address: 101 Adobe Canyon Road, Kenwood, CA 95452
Phone: 707-833-0218
Features: picture-perfect grounds and a rotating selection of food trucks
Scribe Winery
Address: 2300 Napa Road, Sonoma, CA 95476
Phone: 707-939-1858
Features: roots in pre-prohibition winemaking and a young, hip atmosphere that connects the old and new
Ferrari-Carano Vineyards & Winery
Address: 8761 Dry Creek Road, Healdsburg, CA 95448
Phone: (707) 433-6700
Features: Tuscan-style blends and 5 acres of gardens and fish ponds to wander through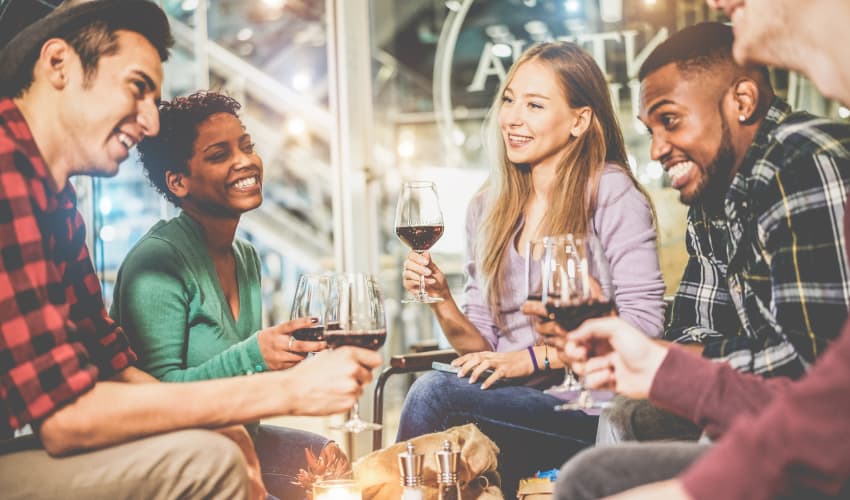 Monterey Wine Country
Distance from San Francisco: ~2 hours
Okay, so this place is technically considered its own distinct wine country—not a part of San Francisco's. But many Bay Area wine-lovers consider the region's selections of Pinot Noir and Chardonnay here well worth the trek, and Monterey Bay's wine scene is great for SF locals looking for a change of pace. We've put together a few vineyards your group might want to visit, but no matter where you end up, expect ocean breezes and laid back vibes all around:
Folktale Winery & Vineyards
Address: 8940 Carmel Valley Rd, Carmel-By-The-Sea, CA 93923
Phone: 831-293-7500
Features: adorable cottages nestled in the valley with bright and airy tasting rooms
Hahn Estate Winery
Address: 37700 Foothill Rd, Soledad, CA 93960
Phone: 831-678-4555
Features: rustic, remote mountain views and ATV tours of the sprawling family estate
Chalone Vineyards
Address: 32020 Stonewall Canyon Rd, Soledad, CA 93960
Phone: 707-933-3235
Features: the oldest grapevines in Monterey County and wine tastings in a dormant volcanic cave
Explore the Best of California Wine Country
Now that you know where to go, all that's left to do is figure out how you're going to get there. Let GOGO Charters take the wheel, so you can get back to enjoying your San Francisco winery tour. From a fleet of full-sized motorcoaches for your entire company to a zippy minibus shuttle for your friends and family, our network of coaches will let you get there all together and all at once—safe and sound. Just call 415-462-2870 with your trip details (a headcount, your itinerary, and a list of amenities you want on the bus) and we'll connect your group with the perfect ride.
Tags In
Do you need to rent a charter bus?
Do you need a long-term shuttle service?
We offer contracted shuttle services for businesses, schools, hotels, and more. Contact our experts at 1-844-897-5201 to discuss your long-term transportation plans.