The Best Group Day Trips from Atlanta
Need a break from Atlanta's busy roads and hectic traffic? Get out of town for a day! A group day trip will give you a breather from ATL and time to connect with your favorite people.
Explore a new city with friends, family, or even a community organization and leave the transportation up to GOGO Charters. Instead of keeping track of a caravan in bumper-to-bumper traffic on 285, rent a private charter bus to simplify your entire trip out of Atlanta. You'll have plenty of space for everyone to ride together and relax while a professional driver whisks you away to your destination. Put a movie on your bus's onboard TVs, pass the time by streaming music and podcasts with WiFi, or stretch out and catch some z's in reclining seats. When you call (404) 425-9570, just ask your reservation expert about the amenities you can request on your minibus or charter bus.
Check out these perfect day trip destinations for your next group outing: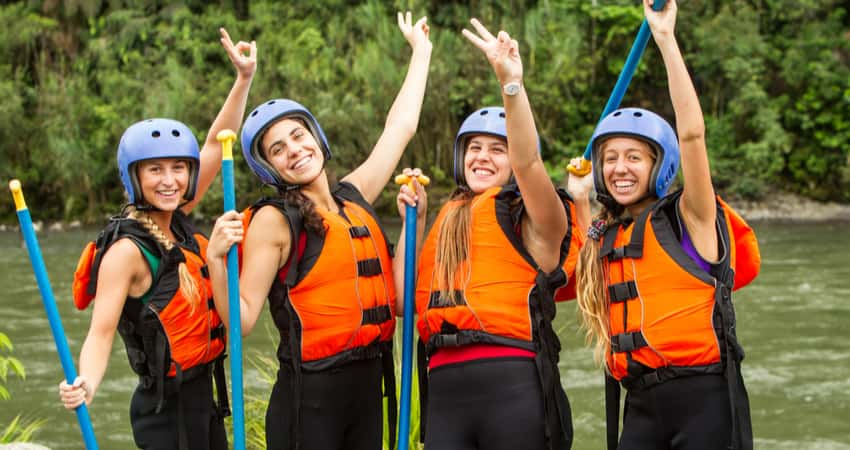 For Groups of Thrill Seekers: Columbus
Distance from Atlanta: ~1.5 hours or 110 miles
No, we're not talking Six Flags Over Georgia (Although, Six Flags is plenty fun.) Head on down to Columbus for some of the best white water rafting in the state. This portion of the Chattahoochee River is the longest urban whitewater rafting experience in the world. It's the perfect team-building activity for friends, work colleagues, or sports teams.
Whitewater Express offers rafting trips ranging from the classic 2-hour experience to a difficult 2.5-hour trip over rough waters. Each boat can hold 4 to 7 people, so large groups will have to split up. Don't worry though, this will open the experience up for some friendly competition!
If anyone in your group is looking for extra thrills, book a zipline experience to round out your day. Once you're done at Whitewater Express, cool off on your charter bus and swap out your damp clothes in your onboard bathroom. Then grab a bite to eat in Downtown Columbus or keep your day rolling at other local attractions like The National Infantry Museum.
Whitewater Express Address: 1000 Bay Ave, Columbus, GA 31901
Phone: (706) 321-4720
Charter bus travel tip: Parking at Whitewater Express is notoriously tight and some visitors have to park blocks away when driving themselves. When you travel by charter bus, you'll have the option to have your driver drop you off at the entrance before parking off-site.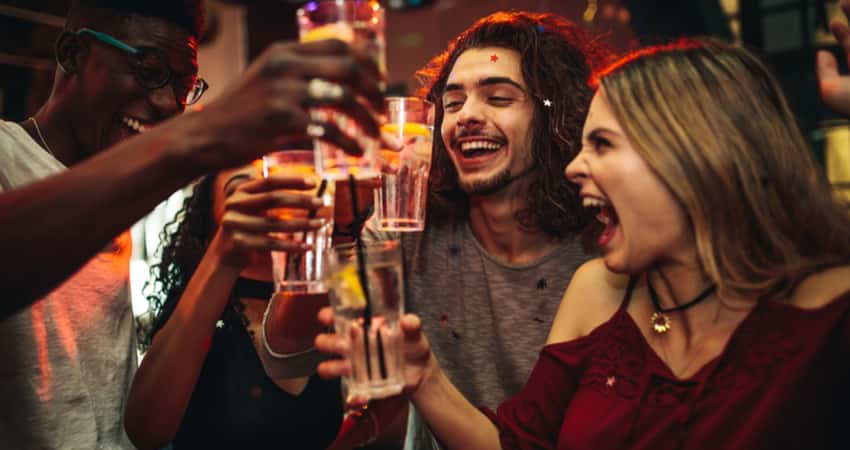 For a Friends Trip: Chattanooga
Distance from Atlanta: ~2 hours or 115 miles
Are you looking to get out of ATL for a short friend's trip or even a bachelor/ette party bash? Consider visiting Chattanooga. Although Chatt isn't as lively as Savannah or Nashville, there's plenty to do across the city for groups who want to enjoy bar hop a little closer to home. The Southside, City Center, and MLK neighborhoods have several bustling bars, restaurants, and breweries that are within walking distance of one another. Though, you won't need to hoof it when you book a private charter bus with GOGO Charters. Your driver will be a built-in DD during your visit to these popular Chattanooga bars:
Grab some brew, enjoy live music, and play a few rounds of pool or darts at Chattanooga's most popular Irish pub.
Address: 35 Patten Pkwy, Chattanooga, TN 37402
Phone: (423) 468-4192
Pickle Barrel
With its rustic decor, rooftop deck, and delicious fried pickles, the Pickle Barrel is a must-stop bar for any Chatt visitor.
Address: 1012 Market St, Chattanooga, TN 37402
Phone: (423) 266-1103
HiFi Clyde's Chattanooga
HiFi Clyde's has barbecue, affordable drinks, live music with a spacious dancefloor, and retro arcade games. What more could you ask for?
Address: 122 W Main St, Chattanooga, TN 37408
Phone: (423) 362-8335
If you're traveling with kids or underage passengers, don't worry, there's something in Chatt for you too. Check out attractions like the Tennessee Aquarium, Ruby Falls, and the Tennessee Valley Railroad Museum instead.

For Outdoorsy Folks: Providence Canyon State Park
Distance from Atlanta: ~2.5 hours or 147 miles
Address: 8930 Canyon Rd, Lumpkin, GA 31815
Tired of hikes around Kenesaw Mountain and Amicalola Falls? Head over to Providence Canyon! Providence Canyon is one of Georgia's many beautiful state parks and is perfect for groups who want to break a sweat. Whether you're traveling with friends and family or your local scout troop, groups of all types will enjoy "Georgia's Little Grand Canyon." The park has over 10 miles of trails lined with lush foliage and towering rock formations that are sure to make for a great photo op. If you're traveling with young, curious minds, check out the geology and astronomy programs held at the park on select days. Hike the trails, enjoy a packed picnic lunch, and learn about Georgia's breathtaking natural landscape.
Charter bus travel tip: Entrance to Providence Canyon is usually $5 per car, but oversized vehicles will have to pay additional fees. Minibuses with capacities of up to 30 passengers will pay $30. Full-sized buses with more than 30-passenger capacities will pay $70.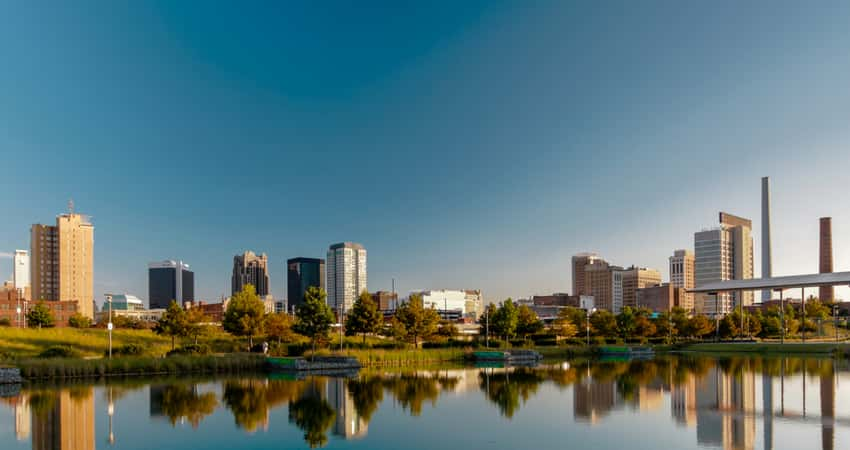 For Groups of History Lovers and Foodies: Birmingham
Distance from Atlanta: ~2.5 hours or 150 miles 
If you've been in Atlanta long enough, you've probably visited all the Civil Rights Movement historic sites and chowed down on the city's best food. Switch things up with a tour of Birmingham. Alabama's capital was a major player in the Civil Rights Movement and is now home to several educational museums and historic sites. Birmingham may seem like an unlikely spot for foodies, but you'll be surprised by the selection of tasty bites. Whatever type of food you're looking for, Birmingham has it.
Plan a day filled with visiting these Birmingham historical sites and pencil in time to indulge in local bites along the way:
Birmingham Civil Rights Institute
The Birmingham Civil Rights Institute uses multimedia exhibits to document the journey of the Civil Rights Movement from the Jim Crow-era to the groundbreaking demonstrations of the 1950s and 60s. Groups of 25 or more visitors will receive discounted admission and must make a reservation in advance.
Charter bus travel tip: If you're traveling by charter bus, free parking is available behind the museum along 15th Street North. Your charter bus can stay parked here while you explore the surrounding Civil Rights District.
Address: 520 16th St N, Birmingham, AL 35203-1911
Phone: (205) 328-9696
16th Street Baptist Church
This historic African American church is located across the street from the Birmingham Civil Rights Institute in the Civil Rights District. The church and its partitioners fell victim to a Ku Klux Klan bombing in 1963, killing four young girls. Today, the church stands as a memorial and space for an active congregation. Historic tours are available for groups with prior reservation.
Address: 1530 6th Ave N, Birmingham, AL 35203
Phone: (205) 251-9402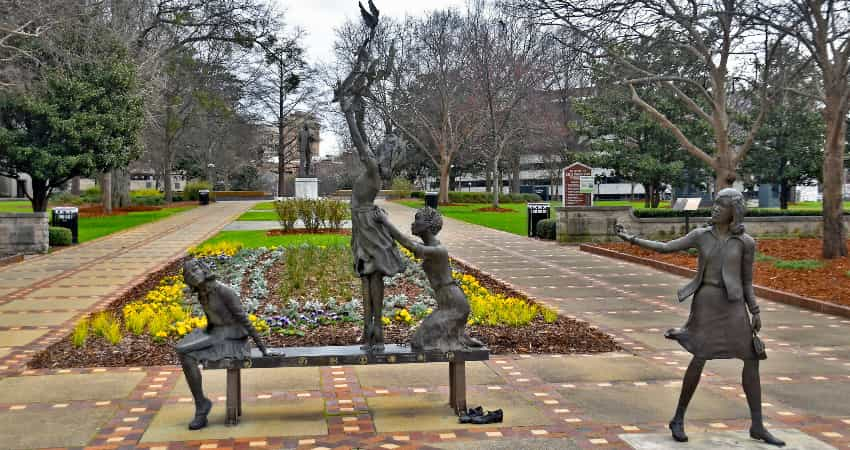 Kelly Ingram Park
After your visit to the Civil Rights Institute and church, hop on over to Kelly Ingram Park next door. This park served as a major staging area for demonstrations and events during the Civil Rights Movement. The 4-acre park is filled with memorials and statues commemorating the movement.
Address: 500 17th St N, Birmingham, AL 35203
Phone: (205) 458-8000
Now that we've covered some historic spots, let's move on to Birmingham's food scene. If you need some ideas of where to chow down, consider one of these local eateries: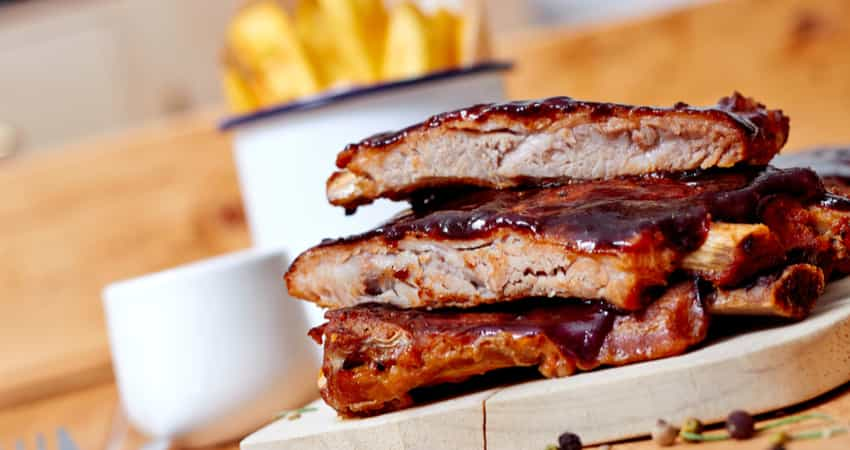 Saw's BBQ
This beloved barbecue joint has several locations around Birmingham. Stop by the Saw's BBQ in Homewood for fall-off-the-bone ribs or visit the Saw's Soul Kitchen in Avondale for southern favorites like shrimp n' grits. Don't forget to save room for dessert! Their banana pudding is some of the best you'll ever have.
Homewood Address: 1008 Oxmoor Rd, Homewood, AL 35209
Phone: (205) 879-1937
Avondale Address: 215 41st St S, Birmingham, AL 35222
Phone: (205) 591-1409
Bright Star Restaurant
Bright Star is Located a few miles south of Downtown Birmingham in Bessemer, Alabama. This family-owned restaurant has been serving up Greek fare with a little southern twist since 1907. Hop on your bus and ride down to Bessemer for seafood gumbo, Greek-style snapper, and Greek-style beef tenderloin.
Address: 304 19th St N, Bessemer, AL 35020
Phone: (205) 426 1861
Bamboo on 2nd
Bamboo on 2nd's tasty menu takes flavors from Japan, Tibet, Nepal, The Philippines, and many other countries across Asia. Along with its Pan-Asian food, the restaurant also offers a seemingly endless drink menu with a variety of sake, cocktails, and wine.
Address: 2212 2nd Ave N, Birmingham, AL 35203
Phone: (205) 703-0551
Charter bus travel tip: Parking your charter bus at Birmingham's restaurants may be difficult. Consider finding a lot in advance that offers pre-paid parking so you know exactly where to send your driver after getting dropped off at your eatery of choice.
Hit the Road with GOGO Charters
Whenever you're ready to get out of town for a day, call GOGO Charters up at (404) 425-9570. A rental expert will help walk you through the bus rental process and get you a customized quote for your trip. Even if you're planning a weekend trip or weeklong trip, you can count on GOGO Charters for safe and smooth transportation out of Atlanta!
Tags In
Do you need to rent a charter bus?
Do you need a long-term shuttle service?
We offer contracted shuttle services for businesses, schools, hotels, and more. Contact our experts at 1-844-897-5201 to discuss your long-term transportation plans.