Your Guide to a Group Road Trip on the Pacific Coast Highway
It's hard to find a more scenic road than the Pacific Coast Highway. Running from just north of San Francisco to just south of Los Angeles, this route offers stunning views of the Pacific Ocean and gives you the opportunity to stop in some of California's most popular cities.
Looking for a fun and relatively affordable way to go from SF to LA with a large group? Book a charter bus and take a road trip down the PCH. Whether you need a bus for your church group or just for a large group of friends, GOGO Charters has you covered. Give us a call at 415-462-2870 (San Francisco) or (323) 373-3085 (Los Angeles) to start planning today.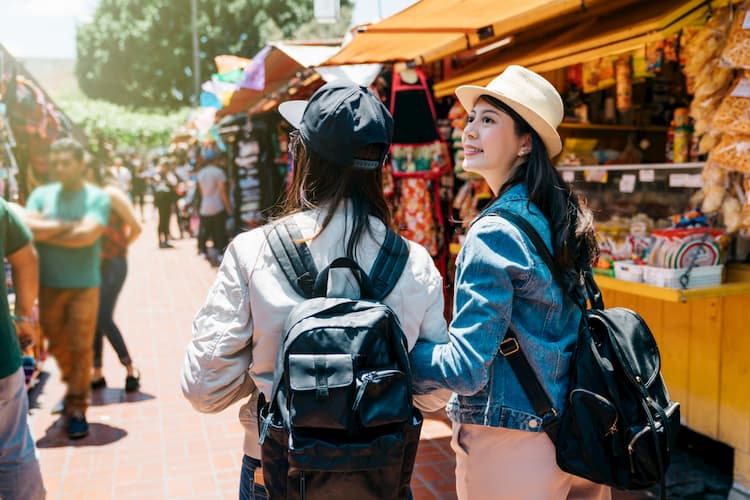 What You Need to Know about the PCH
The Pacific Coast Highway, aka California Highway 1 or SR-1, officially covers 650 miles and runs from the tiny town of Leggett in Mendocino County to the also-small town of Capistrano Beach in Orange County. However, most groups don't opt to drive the whole highway—instead, they start in either San Francisco or Los Angeles and stop once they reach the other.
So should you go north-south or south-north? It depends on what's most important to you. Driving from south to north puts you on the inside of the winding roads, so it feels safer. But driving from north to south puts you closer to the ocean, so you have far better views of the waves. Since you'll have a professional to take care of the driving, it's up to your group to decide which route suits you better.
How to Prepare
Driving from San Francisco to Los Angeles or vice versa along the PCH takes about 8 hours if there's no traffic. But why would you want to rush through the drive when you could take the chance to explore California? Realistically, you should organize a road trip of 3-5 days in order to see all of the cities and attractions along your route. That means you'll need to plan well to make the trip comfortable for everyone on the bus.
1. Build in rest stops.
Although the Pacific Coast Highway passes through major cities like San Francisco and Los Angeles, it will also take you through long stretches of natural landscape, like Pfeiffer Big Sur State Park and Los Padres National Forest. These areas are beautiful, but you could go as much as 40 miles without seeing a gas station, fast-food place, or rest area.
Make sure you stop before you enter these stretches of road to get snacks, stretch your legs, and use the restroom. You'll probably also want to check with your driver to ensure that the bus has plenty of gas for the drive ahead.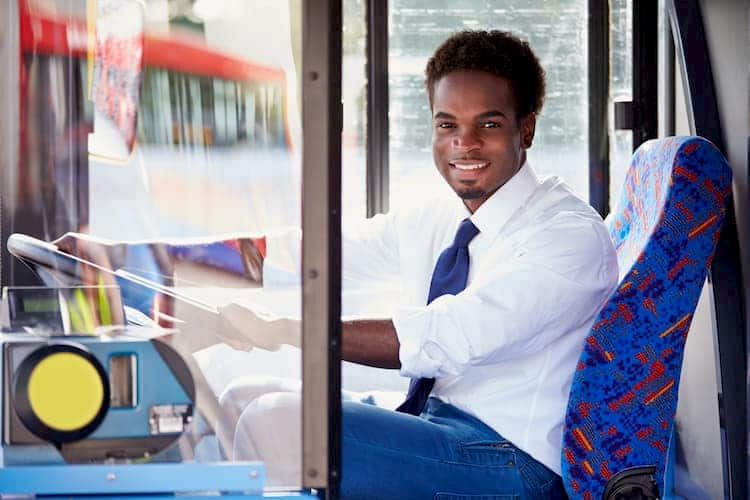 2. Make plans for when you can't stop.
Fortunately, a charter bus has ways to keep you comfortable during long stretches of unbroken driving. Most charter buses have more legroom than planes or cars, and you can walk up and down the aisles when you need to. Store healthy snacks and water bottles in the overhead storage space, and use the small onboard restroom (available in full-size charter buses) if you can't wait until the next stop.
Since the PCH has many curves and hills, you may also want to make sure you pack motion sickness medicine. The good news is that charter buses can be easier on those with motion sickness than cars because they're larger. If someone in your group is worried about falling ill, encourage them to sit in the middle of the bus where the turns aren't as obvious. You can also turn up the AC to prevent illness—all of the charter buses in the GOGO Charters network have climate control.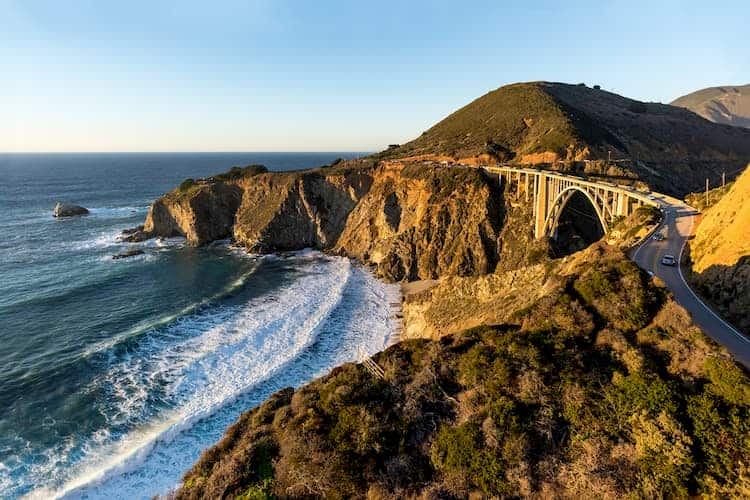 3. Check on the roads.
Sections of the Pacific Coast Highway often have to close because of landslides. Check the California Department of Transportation website to make sure the roads are safe and open before you embark on your group trip. If you need to adjust your itinerary, just call GOGO Charters at 415-462-2870 or 323-373-3085 and let our 24-hour representatives know what changes you have to make.
4.  Take your time.
If you rush down the PCH, all you'll experience is traffic and curving roads. (And if you just want to get between LA and SF in a hurry, I-5 is faster anyway.) The point of taking the Pacific Coast Highway is to experience the views and beachside cities along the way, so build time into your schedule to explore Monterey, Santa Barbara, or San Luis Obispo. Book overnight accommodations for your group in a couple of cool cities, and don't forget to book accommodation for your driver as well.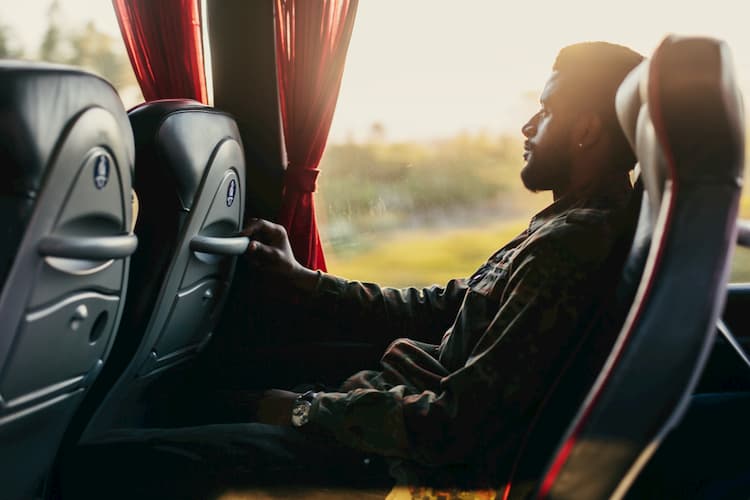 Where to Stop During Your Road Trip
So you've decided you want to take on the Pacific Coast Highway, and you definitely want to stop along the way. Here are a few of the can't-miss attractions you'll run into on your bus. This list starts in San Francisco and goes south, since that route is a bit more scenic, but you can still easily stop at all of these attractions if you're going south to north.
San Francisco
You won't manage to see all of San Francisco's amazing attractions in just a day or two, but you can focus on the city's greatest hits before you take off down the PCH. Have a picnic in Golden Gate Park while gazing at the iconic bridge, ride the streetcar to the famous Pier 39, or schedule a group tour of Alcatraz before you depart. Since San Francisco's streets are narrow and many of these attractions get crowded, your charter bus can drop your group off and then head back to your hotel or a public lot until you're ready to be picked up.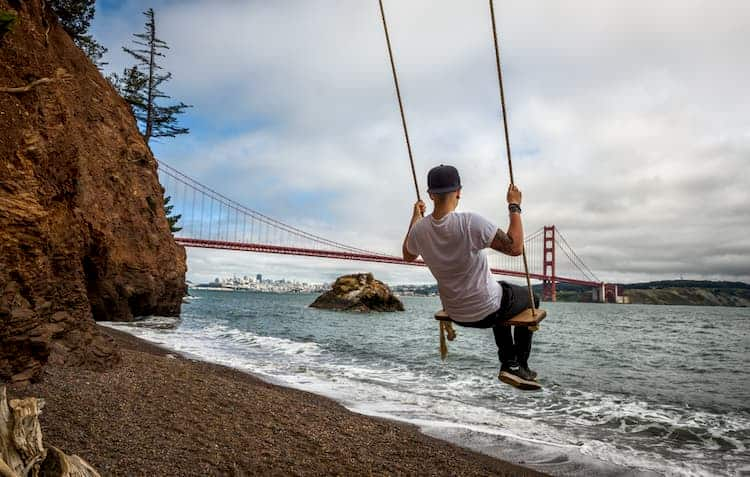 Most groups will want to spend a minimum of 1 full day and night in SF, so booking a hotel here is a great idea. This also ensures your driver can transport you all over the city and still get plenty of rest (they need 8 hours of sleep for every 10 they spend on the clock). Once you've gotten a taste of the Bay Area, hop on your charter bus to continue your journey through California.
Cannery Row in Monterey
When you leave San Francisco, you'll start discovering California's lesser-known hits. Stop in Monterey to visit Cannery Row, the subject of the novel by John Steinbeck. Although the last sardine cannery shut down in 1973, the canneries have now been converted into restaurants, bars, and boutiques that your group can explore. If you spend the night in San Francisco and head south in the morning, you'll arrive in Monterey just in time for lunch.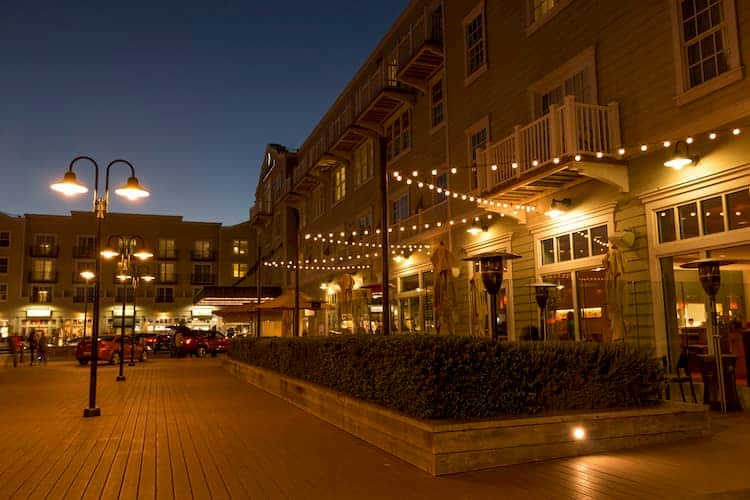 Parking around Cannery Row is limited. You can find metered street parking as well as a few paid garages and lots, but you may want to ask your driver to drop you off so you don't have to walk from the closest parking location. When you're done shopping and eating, your bus will pick you up so you can continue on your journey.
Cannery Row address: 501 Cannery Row, Monterey, CA 93940
Hearst Castle in San Simeon
Heart Castle lies about 2.5 hours from Monterey, making it a perfect place to stop when you need a break from the car. Request flatscreen TVs on your bus so you can watch a movie while you drive through Pfeiffer Big Sur State Park, and then get off the bus and stretch your legs by exploring this massive estate.
Created for the newspaper tycoon William Randolph Hearst by the architect Julia Morgan, Hearst Castle took nearly 30 years to build—it was under construction from 1919 to 1947. When you sign up for the Grand Rooms Tour or the Accessibility Designed Grand Rooms Tour, a professional will guide you through the main building, the "Casa Grande," so you can see the Assembly Room, Refectory, Morning Room, Billiard Room, and Theater.
If your group is capable of climbing winding flights of stairs, you can opt for the Upstairs Suites Tour, which will take you through the private living quarters of Hearst, his family and his guests. You'll get to see Hearst's Gothic Suite, the Celestial Suite, the Library, and the outdoor Neptune and indoor Roman swimming pools. As a bonus, Hearst Castle has its own parking lot with plenty of space, so you can easily get back to your charter bus when you're finished exploring.
Hearst Castle address: 750 Hearst Castle Rd, San Simeon, CA 93452
San Luis Obispo
Located about an hour south of Hearst Castle, San Luis Obispo is a good place to stop for dinner and to spend the night before continuing your trip on the Pacific Coast Highway. Known for its picturesque beaches and forests, SLO has a strong college-town vibe courtesy of California Polytechnic State University, aka Cal Poly. That means it has plenty of cool restaurants and craft beer to complement its character-filled inns.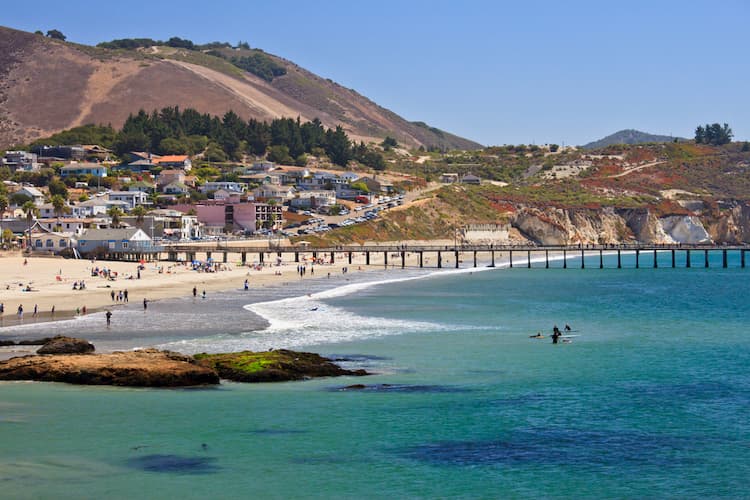 Book a group reservation at Apple Farm or the Seaventure Beach Hotel and leave your charter bus there while you eat at Novo, Luna Red, or Thomas Hill Organics. You can even go for a sunset stroll on peaceful Pismo or Avila Beach before you get back on the bus.
Santa Barbara
Known for its Spanish Colonial architecture and its beautiful beaches, Santa Barbara is a popular stop for groups who want to swim or tour historic buildings. If you're looking for a beach day, start by walking along Stearns Wharf, which provides breathtaking views of the Pacific Ocean and Santa Ynez Mountains. The wharf lies right next to East Beach, a family-friendly beach with cafes and lifeguards. The beach offers street parking, and Stearns Wharf has a paid lot.
Stearns Wharf address: 217 Stearns Wharf, Santa Barbara, CA 93101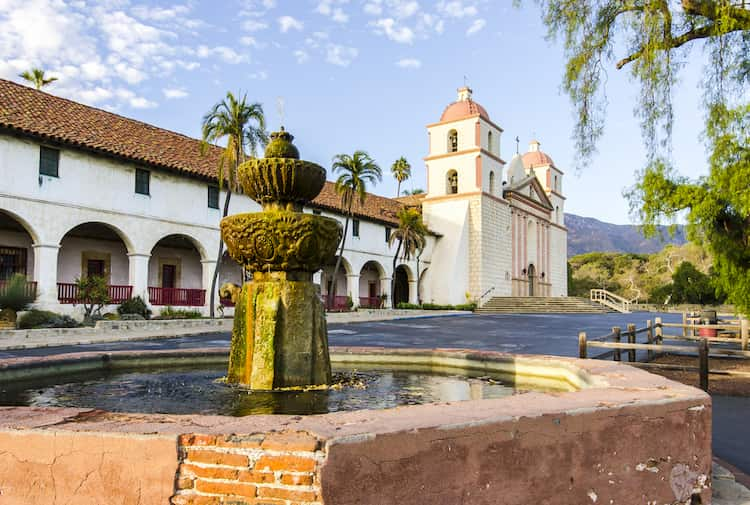 More into history? Check out the Old Mission Santa Barbara, originally founded by Franciscan friars in 1786 in an effort to convert the Chumash tribe who lived in the area. Today, the Old Mission serves as an active church as well as a museum, and it welcomes groups who want to see Chumash artifacts and tour the beautiful pink-and-white stone building. It also has its own parking lot where you can leave your bus.
Old Mission Santa Barbara address: 2201 Laguna St, Santa Barbara, CA 93105
Los Angeles
Once you leave Santa Barbara, you're only about 2 hours from Los Angeles. Keep following the Pacific Coast Highway and you'll hit Malibu, with its celebrity homes and beautiful beaches like Zuma and Surfrider. You can stop to swim or sunbathe or keep following the highway to reach Santa Monica's famous pier, home to a roller coaster, a carousel, and an abundance of arcade games. The pier has a variety of parking options for charter buses that can be found on the Santa Monica city website.
Santa Monica Pier address: 200 Santa Monica Pier, Santa Monica, CA 90401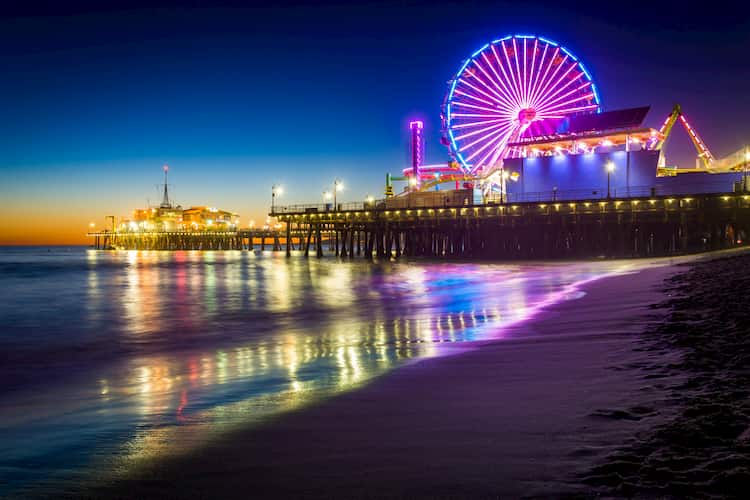 Once you're in LA, you can spend a few days exploring the attractions in the heart of the city, like the TCL Chinese Theatre, the Hollywood Walk of Fame, and the Hollywood sign in Griffith Park. Your charter bus will drop you off near the Chinese Theatre or the Griffith Observatory so you don't have to worry about figuring out how to navigate the city's public transit with your group.
If you want to stick close to the coast, you can skip central LA and go straight from Santa Monica to Long Beach or Huntington Beach. Both of these towns are known for beautiful beaches and great waves for surfing, and a charter bus gives you freedom to drive up and down the Southern California coast until you find a beach that's right for your group.
Experience the Beauty of the Pacific Coast
There's no better way to see California than by driving down the Pacific Coast Highway. And if your group wants to spend your time admiring California's beaches and forests instead of worrying about navigating the roads, GOGO Charters can help. Let us provide a professional, experienced driver so you can lean back in a reclining seat and gaze out the panoramic windows at the scenery. Just call 415-462-2870 (San Francisco) or 323-373-3085 (Los Angeles) to start planning your Pacific Coast Highway road trip.
Do you need to rent a charter bus?
Do you need a long-term shuttle service?
We offer contracted shuttle services for businesses, schools, hotels, and more. Contact our experts at 1-844-897-5201 to discuss your long-term transportation plans.