7 Fun and Safe Ways to Social Distance in San Antonio
As major Texas cities like San Antonio begin to open back up, groups planning reunions should still exercise caution when meeting up. Whether you're planning a family get-together, a field trip with your educational pod, or catching up with a few friends—San Antonio has several ways for your group to enjoy each other's company safely. Spend a day outdoors or socially distanced at local attractions.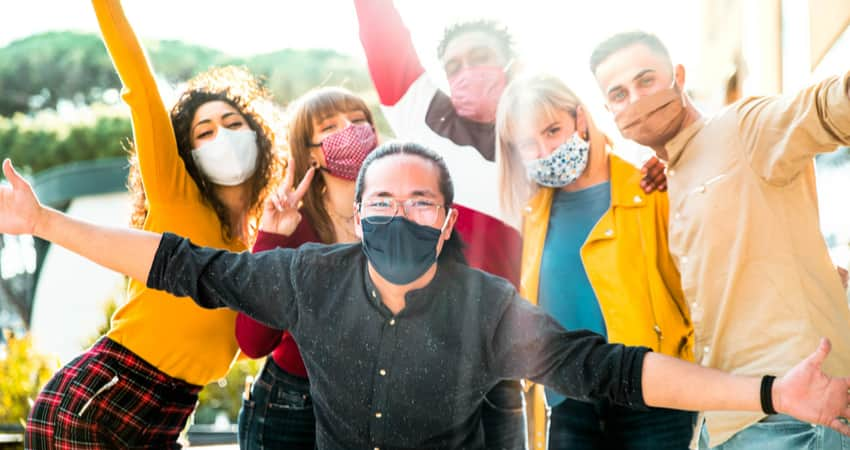 GOGO Charters can keep groups traveling in San Antonio safe and comfortable during a socially distanced outing. Renting a charter bus is the perfect transportation solution for groups who need plenty of space to social distance onboard. You can rent a minibus for your extended family outing at the San Antonio Zoo or reserve a full-size bus rental for your scout troop field trip to Texas state parks. A GOGO Charters bus rental expert can help you choose what type of bus is the best for your group's size and can also answer any important questions about our safety policies during the ongoing health crisis.
Rent a safe and sanitized charter bus rental in San Antonio with GOGO Charters by calling (210) 568-8122 at any time! Now, let's get into a few activities you can safely enjoy out in Alamo City.
Explore Comanche Lookout Park
San Antonio has numerous beautiful parks and green spaces for groups to enjoy the outdoors. With a hillside vantage point overlooking the city and miles of easy-going trails, Comanche Lookout Park is one of the city's most scenic spots. The vantage point historically served as a vital part of warfare and hunting for the Apache and Comanche tribes.
Spending time in the open air with your group can help keep everyone safe. There are 5 trails, including a small section of the El Camino Real de los Tejas National Historic Trail.
Address: 15551 Nacogdoches Rd, San Antonio, TX 78247
Phone: (210) 207-7275
Charter bus rental parking: There are two parking areas located at the Julia Yates Semmes Library on the edge of the park and at 15600 Nacogdoches Rd. Both parking lots are spacious and there should be plenty of space for your bus rental.
Visit the San Antonio Botanical Garden
The San Antonio Botanical Garden is where nature and art come together to bring visitors an educational and enjoyable experience. You'll find a variety of lush gardens over 33-acres alongside special art exhibitions like the Frida Kahlo Oasis. Learn about Texas native flora and fauna, as well as exotic species of tropical plants.
Visitors are highly encouraged to purchase tickets online in advance. While in the gardens, guests must socially distance themselves from other visitors outside of their group, and face coverings are strongly recommended.
Address: 555 Funston Pl, San Antonio, TX 78209
Phone: (210) 536-1400
Charter bus rental parking: Guest dropoff spots are located just north and south of the main entrance. Bus parking is available just south of the Goldsbury Foundation Pavilion on Pinckney Street.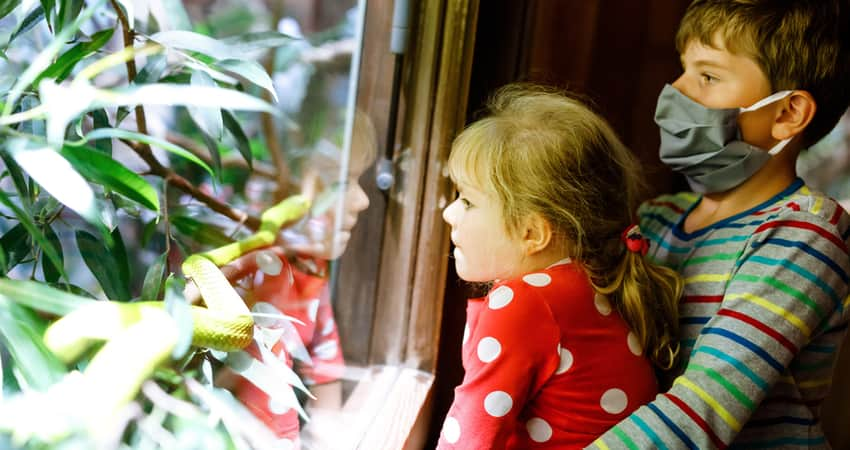 Learn about animals at the San Antonio Zoo or Natural Bridge Wildlife Ranch
San Antonio's wildlife centers have developed some creative ways to keep visitors in touch with animal residents throughout the pandemic. These include virtual tours, as well as drive-thru options. Recently, though, both the San Antonio Zoo and the Natural Bridge Wildlife Ranch have reopened for in-person visits with safety precautions. Book a safari experience and interactive educational program at the Natural Bridge Wildlife Ranch or grab group tickets to the zoo for your entire family.
Guests are highly encouraged to wear masks in open-air areas and are required to wear a face covering while indoors in restrooms or dining areas. Be sure to inquire about group ticket policies or reservations at your wildlife center of choice.
San Antonio Zoo Address: 3903 N St Mary's St, San Antonio, TX 78212
Phone: (210) 734-7184
Charter bus rental parking: Since the zoo is located in Breckenridge Park, parking can be a bit difficult. You'll want to inquire with the zoo about which parking area would be best for oversized vehicles.
Natural Bridge Wildlife Ranch Address:  26515 Natural Bridge Caverns Rd, San Antonio, TX 78266
Phone: (830) 438-7400
Charter bus rental parking: Plenty of on-site parking is available at the ranch. If you're traveling for a safari experience, you'll want to inquire about regulations for oversized vehicles.
Appreciate fine art at the McNay Art Museum
Take your group of art lovers over to the McNay Art Museum for a socially distanced stroll through the galleries. The McNay Art Museum is the first modern art museum established in Texas. Located in a Spanish Colonial Revival-style mansion that once belonged to founder Marion Koogler McNay, the museum houses more than 20,000 objects. The permanent collection includes works from modern famed American and European artists like Pablo Picasso, Georgia O'Keeffe, Paul Cézanne, and Mary Cassat.
Museum capacity will be limited to 75% and all visitors ages 2 or older will be required to wear face coverings throughout the galleries. Be sure to socially distance from other guests in the
Address: 6000 N New Braunfels Ave, San Antonio, TX 78209
Phone: (210) 824-5368
Charter bus rental parking: On-site parking at the museum is free for all vehicles. Bus drop-off is located right outside of the sculpture garden and designated bus parking can be found just south of the general parking lot.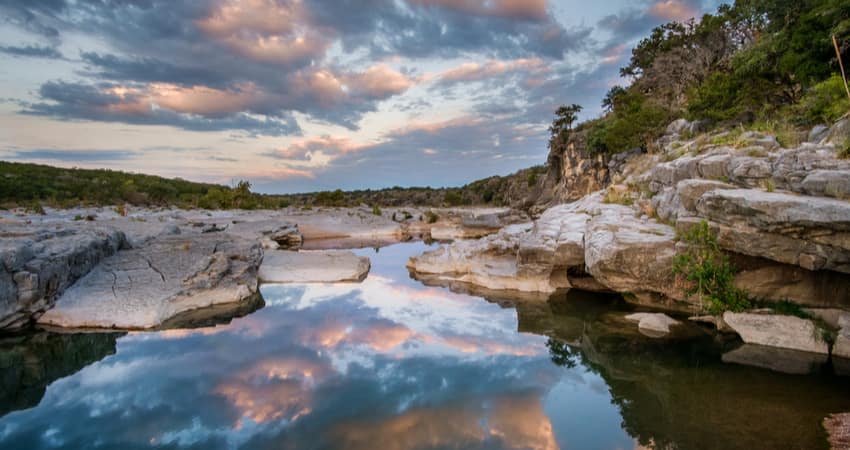 Cool off in the river at Pedernales Falls State Park
Looking for a safe way to beat the Texas heat this spring or summer? Hop into the Pedernales River or get some exercise hiking around the scenic park. There are designated swimming areas for your group to cool off and 9 hiking trails to choose from. Most trails in the park are considered moderate hikes, so be sure you have comfortable shoes and plenty of water before you hit the trail. Groups can also canoe, kayak, or horseback ride in the park too.
Visitors must reserve their visit in advance through the park's website. Keep in mind that the park's day-use hours may be limited due to the ongoing health crisis.
Address: 2585 Park Rd 6026, Johnson City, TX 78636
Phone: (830) 868-7304
Charter bus rental parking: Parking areas can be found in multiple areas throughout Pedernales. You'll want to pick a lot closest to your swimming or hiking area of choice.
Hike, bike, and learn about San Antonio history on the Mission Trails
San Antonio is one of Texas' most historic cities and there are sites all over the city that are a must-see for history lovers. The Mission Trails snake throughout the city and are an open-air way to learn about the city's rich history. You can walk, bike, or shuttle on your charter bus between the more than 30 sites along the trail system. You'll see architecturally significant areas like the King William Historic District and culturally important spots like the La Villita Historic District, home to The Alamo.
Address: Varies
Phone: (210) 932-1001
Charter bus rental parking: Parking will vary depending on where you plan to go on the trail system. You'll need to organize dropoff and parking with your charter bus driver. Just be cautious when organizing parking in historic districts, as many have strict parking restrictions.
Appreciate local art from the San Antonio Street Art Initiative
The San Antonio Street Art Initiative is working to build the largest outdoor art gallery in Texas. This project has brought together more than 45 artists and counting to paint around 60 murals throughout the city. Craft a customized itinerary of works from the initiative's online map and have your own open-air arts tour throughout the city. Begin your day at the initiative's inaugural mural space housed inside of the Hopscotch San Antonio art gallery.
If you're planning to visit Hopscotch, all guests will be required to wear face coverings while in the gallery. Your group should also take proper precautions when touring the murals. This may include distancing from others who may be visiting the murals and wearing masks throughout your private tour.
Hopscotch San Antonio Address: 711 Navarro St. Suite 100, San Antonio, TX 78205
Charter bus rental parking: Parking around town will vary. You'll have to organize parking at each mural site with your charter bus driver. Consider utilizing street parking areas and public lots.
Safely Travel in San Antonio with GOGO Charters
Even though restrictions are easing, groups of travelers should still take safety precautions while in San Antonio. GOGO Charters will always put your safety first so you can enjoy a stress-free ride in San Antonio. Call (210) 568-8122 to rent your San Antonio charter bus today!
Do you need to rent a charter bus?
Do you need a long-term shuttle service?
We offer contracted shuttle services for businesses, schools, hotels, and more. Contact our experts at 1-844-897-5201 to discuss your long-term transportation plans.