Social Distance-Friendly Activities in Las Vegas
Since the beginning of the COVID-19 pandemic, most Las Vegas restaurants, casinos, gyms, and museums have enforced strict capacity limits, only taking in 25% of the crowds they usually do. Many adult entertainment establishments, bars, and nightclubs are closed down entirely. And while some may say that takes all the fun out of a trip to Vegas, there is a bright side: there are no lines and virtually no traffic in a city that's usually a whirlwind.
All that's to say—if you're careful and know where to go, your small pod of family and friends can still enjoy a fun, social distance-friendly outing in Las Vegas!
One way to keep everyone together and relatively safe during your trip? Rent a private shuttle bus, so no one has to risk exposure to strangers on public transit or hail multiple taxis, Lyfts, or Ubers! The GOGO Charters team prioritizes your health and safety, which is why you can expect a bus rental that's thoroughly sanitized between trips, a professional driver who will always wear a mask, and any number of onboard safety measures you request.
Here are a few outdoor spaces and experiences we recommend:
Check Out the Neon Museum
Address: 770 Las Vegas Blvd N, Las Vegas, NV 89101
This museum is dedicated to Vegas's bygone neon installments and is just a few blocks away from both the Strip and Fremont Street's spectacles.
Lately, the Neon Museum is limiting the number of tickets sold per day to keep the crowds to a minimum. If the idea of weaving through the indoor galleries still makes your group uncomfortable, though, don't sweat it—the main attraction is the outdoor Neon Boneyard, anyway. Here, you'll find almost every neon and bedazzled sign to have decorated the city since the early 90s!
The museum is open from 2 p.m. to 10 p.m. most days, and you'll need to reserve your group's tickets online and in advance. Expect a no-touch temperature check when you walk through the entrance, and everyone over age 9 will need to wear a mask. Frequently touched surfaces will be disinfected every hour.
Admire Downtown Street Art
The first thing most people notice when they come to Vegas? The neon and bright lights.
The second thing most people notice? All the street art!
While the Arts District is a great place to check out museums and galleries, if you want to see the highest concentration of outdoor art (for free!) then your group should walk around downtown. Here, you'll find not only graffiti art and murals on nearly every street, but also the occasional sculpture—like the giant praying mantis outside The Container Park or Big Rig Jig, two semi trucks seemingly backflipping over each other in a shopping mall.
If your pod does want a more structured experience, DTLV Artwalk offers 1.5-hour walking tours for $25 per person. The local tour guides receive daily wellness checks and have instated a flexible canceling and rescheduling policy. Face coverings are not required to tour in the warmer months—because the tour is outside, and the heat in Vegas is no joke—but when it's cooler outside, masking up is highly advised. Max capacity for the walking tours is 8 people, and private tours are available for your pod of art lovers to get cultured without walking with strangers.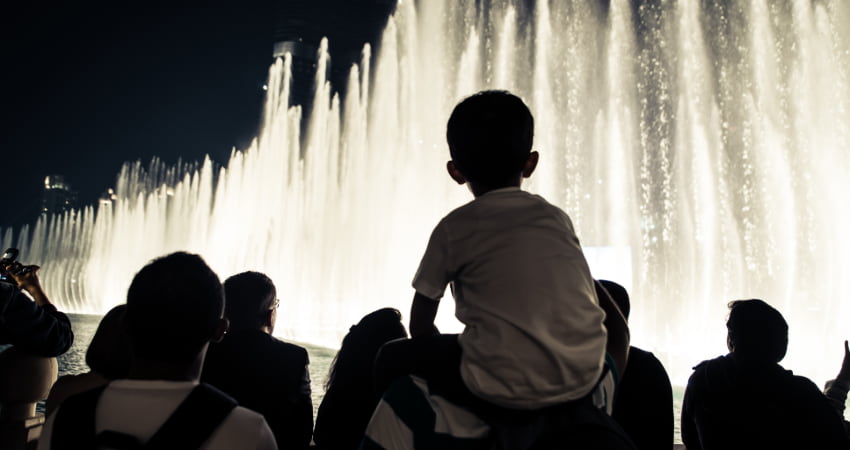 See the Bellagio Fountain and Botanical Gardens
Address: 3600 S Las Vegas Blvd, Las Vegas, NV 89109
The Strip has always had a way of bringing a slice of other countries to the Nevada desert—a kind of escapism we could all use nowadays. And if you can't go to Italy due to travel restrictions, the Bellagio is a decent second choice.
The Bellagio Fountain (you know, that 8.5-acre pond with 1,214 spritzers that shoot water 460 feet in the air) is still running its regular rotation of water shows most evenings:
Monday through Friday—every thirty minutes between 3 p.m. and 8 p.m., every fifteen minutes between 8 p.m. and midnight
Weekends and holidays—every thirty minutes between 12 p.m. and 8 p.m., every fifteen minutes between 8 p.m. and midnight
While normally this attraction brings a large crowd of spectators, with fewer folks in town, it should be easy enough to find a spot away from other people so you can watch the dazzling waterworks in relative safety.
The Bellagio is also home to a 14,000-square-foot, glass-roofed Conservatory that features an array of botanical displays rotating seasonally—cherry blossoms in the spring, aromatic flowers in the summer, a winter wonderland come December, etc. The gardens are technically indoors, yes, but they're like the fountain: spacious, with plenty of room to maintain social distancing.
The Bellagio asks all guests and visitors to mask up in both indoor and outdoor public spaces. Handwashing stations have been set up throughout the lobby and public areas, and you may see floor markers designating how far apart visitors should stand.
Explore the Pioneer Trail
Starting Address: 333 S Valley View Blvd, Las Vegas, NV 89107
This trail combines stretching your legs with learning more about the city, which is perfect for a schooling pod or a household of history nerds who have been stuck inside a little too long.
The Las Vegas Pioneer Trail is a 16-stop community-built trail that highlights important sites throughout the city. The trail starts at the Las Vegas Springs Preserve (home to an 8,000-year-old irrigation system) and winds its way through the city. You'll pass old Korean farmers' homesteads, the site of the old Moulin Rouge (Vegas's first hotel-and-casino), fairytale castles and public cemeteries, before concluding at the WWII-era Biltmore Village.
Many of the trail's pit stops are miles apart, so more than likely your group will want to set up a ride plan before you embark. A minibus shuttle can drop you off at nearly any stop along the Pioneer Trail, wait for you to walk around and see the sites, and be ready with crisp AC when you're ready for the next one.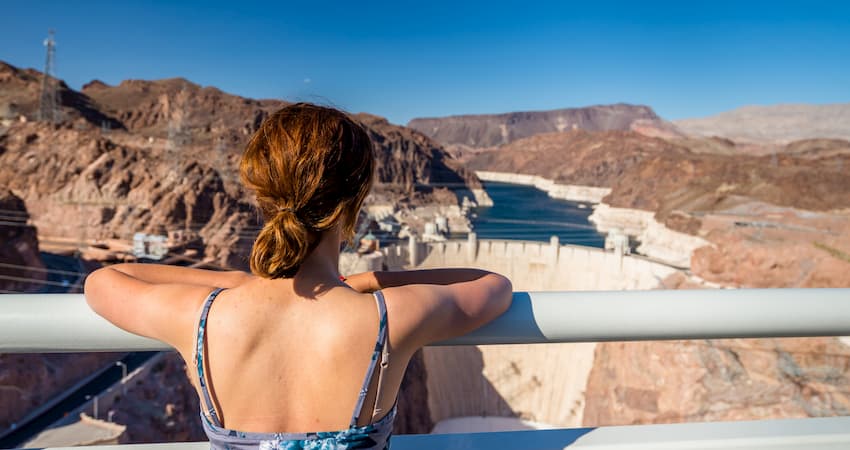 Enjoy the Outdoors at Lake Mead
Address: 10 Lakeshore Rd, Boulder City, NV 89005
A mere 40-minute drive from downtown Las Vegas, this recreation area offers some peace and quiet away from the city's bustle. The park's namesake—the 250-square-mile manmade Lake Mead at its heart—boasts 750 miles of shoreline, day beaches, fishing docks, and more. From day hikes out to bubbling hot springs to relaxing kayak excursions on the water, there's no shortage of opportunities to get out and enjoy the outdoors with your family or close friends.
Also located in this park is the legendary Hoover Dam: the 1936 hydroelectric dam that once powered every light in Vegas. Unfortunately, the visitor center and power plant tours are closed to the public until further notice—but you can still take the scenic drive around the dam and take in the views. The Historic Railroad Hiking Trail connects the dam to the Lake Mead Recreation Center's main entrance. The trail offers a wheelchair accessible path through abandoned rail tunnels and outdoor exhibits that showcase the larger-than-life mechanisms that once powered the dam.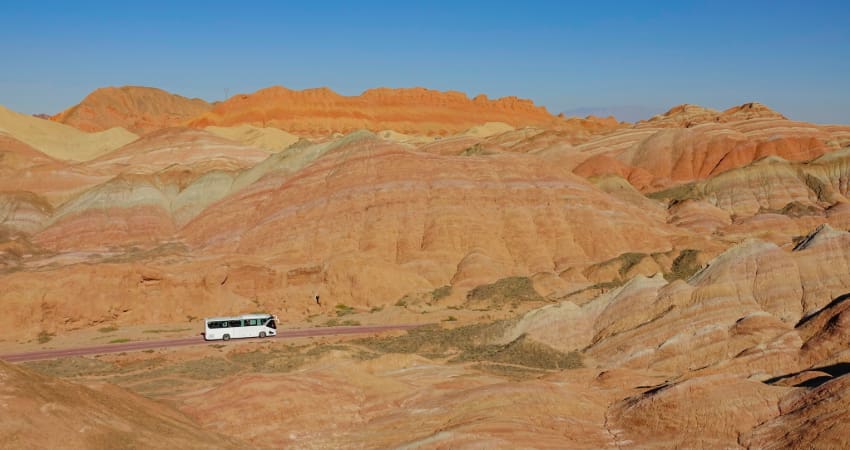 Drive the Red Rock Canyon Loop
Address: 1000 Scenic Loop Dr, Las Vegas, NV 89161
As a popular, outdoorsy Las Vegas destination, Red Rock Canyon is a great place to walk around and look at nature, even when there isn't a pandemic. But what makes it even better when it comes to social distancing is the fact that you can tour it without even leaving your vehicle! The park's 13-mile scenic drive loops through sandstone cliffs, fossilized sand dunes, and crisp desert air and offers stunning views in all directions.
Between November 2020 and May 2021, Red Rock Canyon is requiring that all visitors who wish to drive the scenic loop make a reservation beforehand. This timed-entry ticket will designate what time you can enter the loop, but there is no time limit as to how long you can spend driving and looking around. Reservations for commercial vehicles (aka: minibus and charter bus rentals) cost $17 per bus.
Speaking of oversized vehicles, keep in mind that buses over 25 feet long are only allowed to stop and park at these specific locations along the loop:
Calico Vista 1
Sandstone Quarry
The High Point Vista
Willow Spring
Lost Creek
Pine Creek Vista
If your group has their heart set on disembarking at any other lookout point, consider opting for a sprinter van or small minibus rather than a full-size motorcoach.
Plan Your Socially Distanced Las Vegas Outing
Whenever you're ready to round up your family, friends, or coworkers and blow off some steam in Vegas, GOGO Charters will be waiting with a sanitized ride. Give us a call at 702-475-4900 to learn more about how we can keep your group safe and healthy between stops, and we'll offer a free, no-obligation quote tailored to your transportation needs!
Tags In
Do you need to rent a charter bus?
Do you need a long-term shuttle service?
We offer contracted shuttle services for businesses, schools, hotels, and more. Contact our experts at 1-844-897-5201 to discuss your long-term transportation plans.