Fun Places to Social Distance in Austin
Life in Austin is probably still looking a bit different these days as the COVID-19 pandemic continues. Thankfully, there are quite a few ways to enjoy the city in a safe way. So if your established pod of friends and family members, work team, or educational group wants to plan a day out in Austin, GOGO Charters can help. We've compiled a few fun and safe options for you to enjoy. We can also help your group travel safely with a thoroughly sanitized minibus or charter bus rental. Give the GOGO Charters team a call at 512-640-4096 to reserve a comfortable ride for your outing.
Now let's hop into some fun (but safe!) ways to navigate cool Austin locations during a pandemic: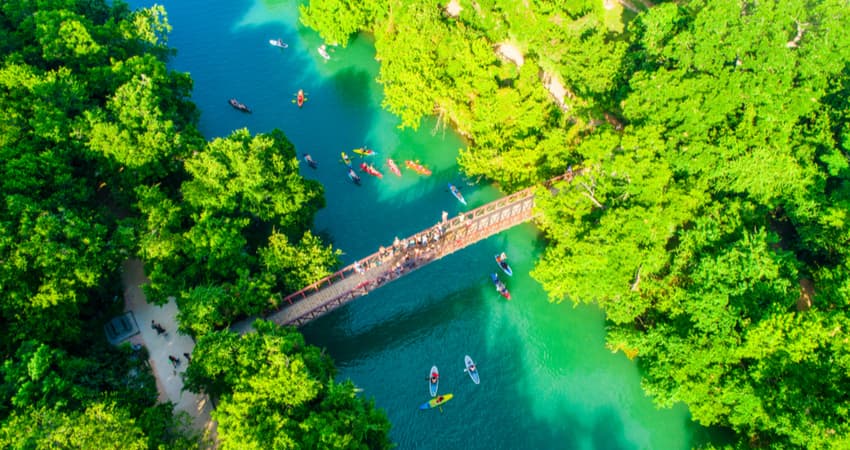 1.   Explore Austin's famous Lady Bird Lake.
Long-time Austin locals have probably been to Lady Bird Lake more times than they can count. If you've been stuck in the house though, visiting Lady Bird Lake is a great way to get some fresh air. Take a stroll along the Lady Bird Lake Hike-and-Bike Trail, rent kayaks and paddleboards on the lake, or have a group picnic at one of several green spaces on the water. Keep in mind that there are a few precautions you should take when visiting this popular area. Some water equipment rental companies may be closed or have adjusted rental guidelines to keep everyone safe. Also, be sure to stay six feet from other visitors on the Lady Bird Lake Trail and abide by the one-way traffic rules that are in place.
Charter bus parking: Since the area around Lady Bird Lake is usually quite busy, you may have trouble finding parking for oversized vehicles like charter bus rentals. Oversized parking can be found along South Lakeshore Boulevard or in several lots at Festival Beach.
Lady Bird Lake Lakeshore Address: 2525 S Lakeshore Blvd, Austin, TX 78741
2.   Support local restaurants and breweries with outdoor dining or takeout.
Local businesses need support from their communities now more than ever. Although large groups should reconsider sitting down in a dining room for a meal, there are still other options for you to support Austin's beloved eateries and breweries. One of the safest ways is to order takeout. Many businesses, even those that don't traditionally offer takeout, are giving diners options to chow down on tasty food at home. Austin is also home to numerous restaurants and breweries with spacious patios and gardens. If you're planning to dine in, be sure to call ahead to inquire about rules or regulations the business has in place.
Cosmic Coffee & Beer Garden
Address: 121 Pickle Rd, Austin, TX 78704
Phone: (512) 481-0694
This laidback coffee and beer spot has a large backyard with picnic tables for groups. No groups over 10 are permitted at this time though. Bigger groups can get tasty beer, cocktails, coffee, and food truck bites to go.
Perla's Seafood and Oyster Bar
Address: 1400 S Congress Ave, Austin, TX 78704
Phone:  (512) 291-7300
Perla's is arguably one of the best seafood restaurants in Austin. This popular SoCo eatery has a spacious shaded patio for you to safely chow down on lobster rolls and raw oysters. Contactless curbside pickup is also available for those who would prefer to dine at home.
Jester King Ranch
Address: 13187 Fitzhugh Rd, Austin, TX 78736
Phone: (512) 661-8736
Jester King is a brewery, kitchen, farm, and event venue all rolled into one. The ranch has plenty of covered picnic table seating for diners to social distance. Reservations are required for groups. If you have 6 or more people, you'll need to reserve more than one table.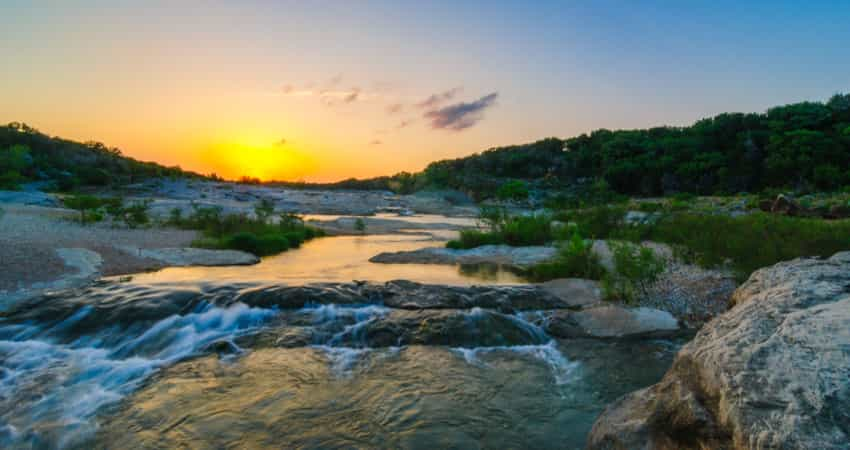 3.   Go out of town for a hike.
Traveling long distances isn't recommended at this time, but you can still have fun while sticking close to home! The area surrounding Austin is home to several state and regional parks that make wonderful day trip destinations. Plan a group hike with your pod at these Austin parks:
Pedernales Falls State Park
Address: 2585 Park Rd 6026, Johnson City, TX 78636
Phone: (830) 868-7304
Distance from Austin: ~1 hour or 42 miles
Pedernales Falls will give groups beautiful views of Texas Hill Country. Choose from 9 hiking trails, observe native wildlife in the parks' bird blinds, or go for a swim in part of the Pedernales River. Groups of 10 or more are generally not allowed unless you are living in the same household. Call the park ahead of time to ensure your group is allowed to visit during your desired time.
Charter bus parking: Parking areas can be found throughout the park, including near the entrance, at trailheads, and at the visitor center.
Blue Hole Regional Park
Address: Blue Hole Ln, Wimberley, TX 78676
Phone: (512) 660-9111
Distance from Austin: ~45 minutes or 38 miles
Blue Hole Regional Park is usually a busy swimming area in the summer, but you'll find it's a peaceful and serene location without the crowds during the off-season. The spring-fed swimming area is surrounded by cypress trees, nature walking trails, and picnic areas.
Charter bus parking: There is a spacious lot on Blue Hole Road near the entrance where your bus can park.
McKinney Falls State Park
Address: 5808 McKinney Falls Pkwy, Austin, TX 78744
Phone: (512) 243-1643
Distance from Austin: ~20 minutes or 10 miles
Onion Creek runs through McKinney Falls State Park, offering visitors a beautiful backdrop for a day of hiking. Pack up your water shoes and explore one of ten trails, cool off in swimming holes, or plan a picnic with your group.
Charter bus parking: This park is relatively large and you'll have several lots to choose from depending on where you start your day. The biggest lots are located at the Upper Falls and Lower Falls.
4.   Get up close and personal with animals at zoos and nature preserves.
Being inside at a museum or aquarium may be out of your comfort zone right now. So why not spend a day at outdoor learning centers? Austin-area zoos offer amazing fun and educational opportunities for visitors of all ages. These zoos are primarily outdoors and most offer options for guests to stay in their own personal vehicles while driving through the safari.
Meet rescued exotic animals at the nonprofit Austin Zoo, have a Texas-style African Safari experience at Natural Bridge Wildlife Ranch, or feed a herd of longhorns at Exotic Resort Zoo. Private guided tour options are available at Exotic Resort Zoo and the Austin Zoo, while self-guided safaris can be booked at Natural Bridge Wildlife Ranch. Keep in mind that safari drive-through options are not suitable for oversized vehicles like charter buses and that group admission may be limited at this time.
Austin Zoo
Address: 10808 Rawhide Trail, Austin, TX 78736
Phone: (512) 288-1490
Exotic Resort Zoo
Address:  235 Zoo Trail, Johnson City, TX 78636
Phone: (830) 868-4357
Natural Bridge Wildlife Ranch
Address: 26515 Natural Bridge Caverns Rd, San Antonio, TX 78266
Phone: (830) 438-7400
5.   Take a self-guided tour of Austin's street art murals.
Austin is a creative city, and there's art everywhere you turn. Spending time in a gallery or art museum (if they're open) may not be a good option for groups. Instead, you should consider creating a tour of the city's street art. There's street art spread across Austin's many hip neighborhoods, so you'll definitely want a comfortable ride. Create an itinerary, book a comfortable bus rental, and safely shuttle to different locations across the city. Here are just a few mural highlights:
"Greetings from Austin"
South Austin
This is one of Austin's most popular and Instagrammable murals.
Address: 1720 S 1st St, Austin, TX 78704
Closest charter bus parking: Street parking along West Annie Street.
"Tau Ceti"
Downtown Austin
Tau Ceti holds the title of Austin's tallest mural.
Address: The corner of Brazos Street and E 2nd Street
Closest charter bus parking: Street parking on Live Oak Street.
"You're My Butter Half"
East Austin
Grab your partner or even a loved one and take a photo in front of this cute mural at Bennu Coffee. Consider supporting local businesses and pick up a snack or drink while you're there!
Address: 2001 E Martin Luther King Jr Blvd, Austin, TX 78702
Closest charter bus parking:  Bennu Coffee has its own lot but your charter bus likely will not fit. Advise your driver to park along Poquito Street instead.
"We Rise"
Central Austin
This mural pays tribute to important figures in the Black community.
Address: The corner of E 12th Street and Chicon Street.
Closest charter bus parking: A private lot with oversized parking is located just across the street.
Organize a Socially Distanced Day in Austin with GOGO Charters
Whenever you're ready to get your pod together and explore the city, GOGO Charters will have a safe and sanitized ride for you. Call 512-640-4096 at any time to reserve a private charter bus rental for your day of socially distanced activities in Austin!
Tags In
Do you need to rent a charter bus?
Do you need a long-term shuttle service?
We offer contracted shuttle services for businesses, schools, hotels, and more. Contact our experts at 1-844-897-5201 to discuss your long-term transportation plans.