Fun Places to Social Distance in Boston
You can practice social distancing without giving up all the advantages of living in Boston. Many of the city's most popular outdoor attractions, including parks, gardens, and trails, remain open for locals who need a little fresh air and excitement. Gather your pod of close friends or family and rent a minibus from GOGO Charters to explore what the city has to offer. Just give us a call at (617) 206-3898 and let us know what kind of charter bus rental you need to visit these attractions.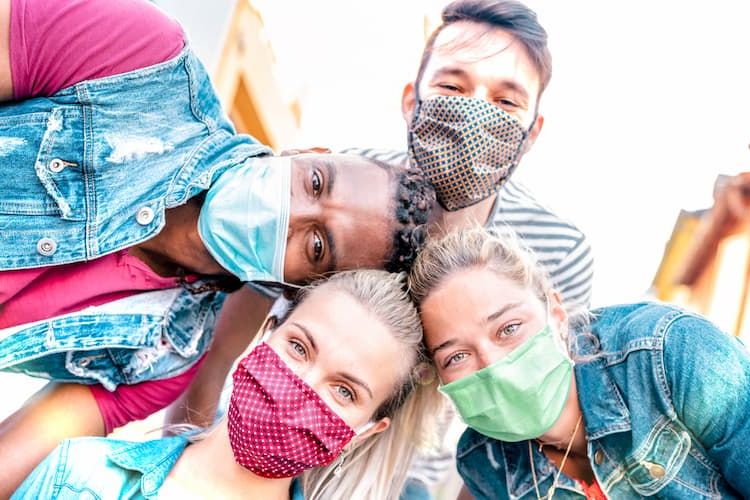 Charles River Esplanade
One of Boston's most beloved greenspaces, the Charles River Esplanade lies next to the Charles River Basin, in the area between the Longfellow and Boston University bridges. This beautiful promenade includes a 17-mile trail where people walk, jog, and bicycle. Though you probably won't want to explore the entire path in one go, the length of the trail makes it easy to social distance.
All around the path you'll find green lawns where your group can hold a picnic in spring, summer, or fall. Just make sure you keep your distance from people outside your pod while you go for a walk, lounge on the grass with a book, or take in the stunning views of the city's skyline.
Address: Charles River Esplanade, Boston, MA 02116
Charter bus parking: You'll probably want to have your bus drop you off near the pedestrian bridges that lead to the Esplanade and then park in one of the public paid lots nearby.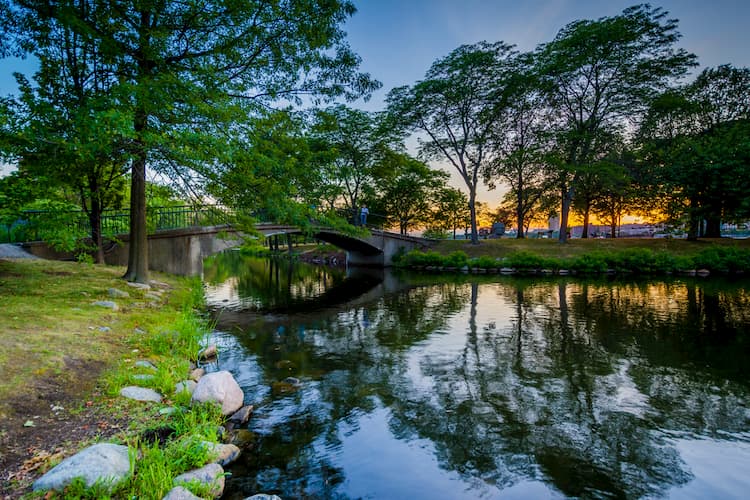 Rose Kennedy Greenway
If you'd like to go for a walk through downtown Boston and the Wharf District, try the Rose Kennedy Greenway. This paved path offers beautiful views of the harbor and is surrounded by lawns, trees, and flowers. Although the nature around here is beautiful, you'll also find plenty of striking human-made features, like benches, fountains, and public art displays.
Want to add some specific attractions to your visit? Stop by the Mothers' Walk, where dozens of people have paid to have their loved ones' names inscribed in the paving stones. You can also visit the Carolyn Lynch garden, where volunteers grow sustainable, organic vegetables. Just stay cognizant of other visitors to the attractions so your group can keep your distance.
Address: Atlantic Ave, Boston, MA 02109
Charter bus parking: Your bus can park in one of several paid lots near the aquarium that offer easy access to the Greenway.
Boston Public Garden
Established in 1837, the Boston Public Garden was the first public botanical garden in the U.S. For double historical points, it lies next to Boston Common, the first public park in the U.S., so you can easily visit both in a single trip.
While the Boston Common was designed to be a practical way to get across town, with wide, clear pathways, the Public Garden was always meant to be a place for wandering. The pathways meander through groves of trees and fields of flowers, past abundant fountains and lagoons. Admire monuments bordered by colorful blooms or watch the famous swan boats drift across the water during your visit. Admission is free, so you won't have to worry about breaking your group's budget.
Address: 4 Charles St, Boston, MA 02108
Charter bus parking: The Boston Public Garden lies in the heart of the city, with the Charles River Esplanade to the west and the Rose Kennedy Greenway to the east. That means you can use the same paid parking lots when you visit all 3, especially if you have your charter bus driver drop you off in an unloading zone and then go park in a public lot.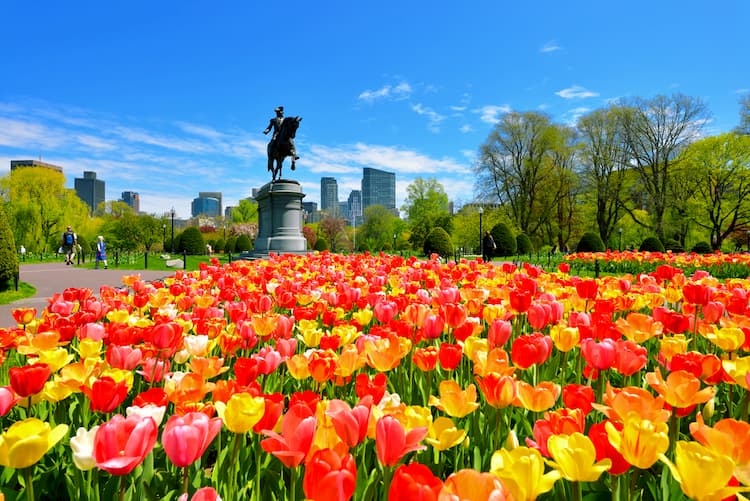 Freedom Trail
Exploring Boston's Freedom Trail is a little different during the pandemic. Many of the historic buildings along the trail are closed, and guided tours aren't being offered. But your group can still take a self-guided tour by following the golden "Freedom Trail" markers implanted in the city's sidewalks. The entire trail covers about 2.5 miles, so if you're traveling with young children or people with limited mobility, you might want to ask your bus driver to drop you off at a few points along it.
When you follow the trail, you'll walk past 16 landmarks that were important to the American Revolution, including the site of the Boston Massacre, Old North Church, the Paul Revere House, and Bunker Hill. Pose for pictures in front of the buildings and fields, and read the signs to learn more about the history of each location. Just make sure you wear a face covering and stay six feet away from others, as the Freedom Trail is firm about those rules.
Address: Monument Sq, Charlestown, MA 02129 (Bunker Hill Monument—north end of the trail)
Charter bus parking: There are three oversize parking lots near various parts of The Freedom Trail: at the Boston Convention and Exhibition Center (415 Summer Street, Boston, MA 02210), at Constitution Wharf (1 Constitution Road, Charlestown, MA 02129), and at Sargent's Wharf (269 Commercial Street, Boston, MA 02109).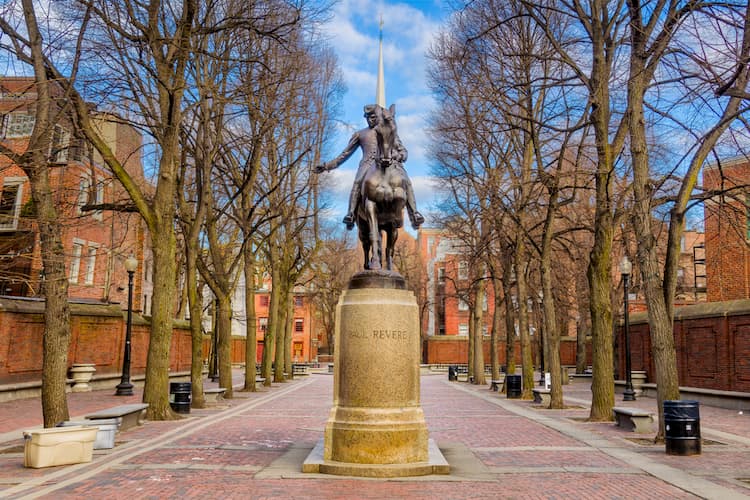 Black Heritage Trail
The Freedom Trail isn't the only trail in Boston packed with historical significance. The Black Heritage Trail spans 1.6 miles and explores the sights in a historically Black neighborhood on the north slope of Beacon Hill. This is the largest collection of well-preserved historic landmarks from a free, pre-Civil War Black community. Although the National Park Service isn't offering its regular guided tours during the pandemic, you can still pick up a brochure and use it to lead your group through a self-guided exploration.
You'll see 14 historic sites during your tour, including homes, schools, churches, businesses, and stations on the Underground Railroad. Trail highlights include the African Meeting House, the oldest still-standing Black church in America, the memorial to the 54th Regiment Massachusetts Volunteer Infantry, and the Abiel Smith School, the first public school in Boston for African American children.
Address: 14 Beacon St, Boston, MA 02108 (southern starting point of the trail)
Charter bus parking: Beacon Hill offers very little parking, so your charter bus driver will probably want to drop you off and then park in a public paid lot in downtown Boston.
Jamaica Pond
This glacial kettle hole inspired Frederick Law Olmsted so much that he chose to design a park around it. He kept most of the vegetation already surrounding the pond and added new trees, shrubs, and walkways to create a beautiful greenspace. Since Jamaica Pond is the largest body of water in the series of parks called the Emerald Necklace, it's a popular destination for sailing and rowing in the summer.
When the weather's too cold for boating, your group can go sledding at the Sugar Bowl or jog along the 1.5-mile path. In spring, summer, or fall, Jamaica Pond is also a beautiful place to watch cormorants, picnic on Pinebank Promontory, or go fishing (as long as you have a permit!) The best part? You can easily do all of these activities while keeping your distance from anyone outside of your group.
Address: 507 Jamaicaway, Jamaica Plain, MA 02130
Charter bus parking: Jamaica Pond has its own parking lot where you can leave your bus.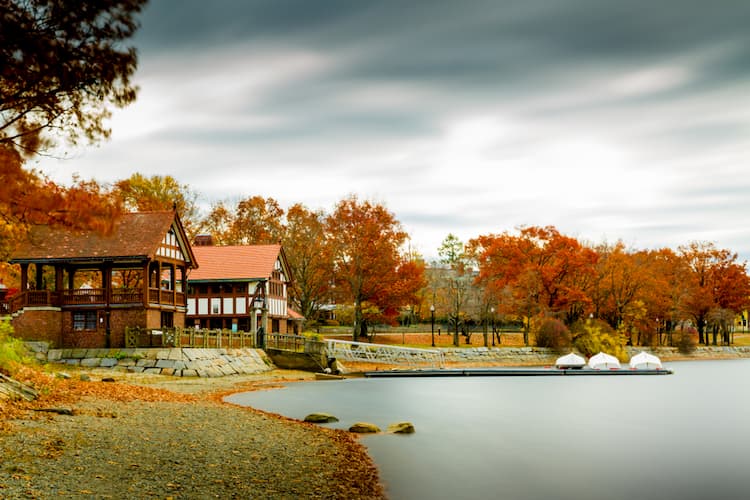 Arnold Arboretum
Boston doesn't just boast the oldest public botanical garden in North America–it also boasts the oldest public arboretum. Maintained by Harvard University, this arboretum was designed by Frederick Law Olmsted, just like Jamaica Pond. It's also completely free and open to the public every day.
If your group wants to get out of your houses or apartments and do some forest bathing, ask your bus to drop you off near the arboretum so you can explore 281 acres of trees. You'll see more than 16,000 plants, including katsuras, redwoods, Franklin trees, three-flowered maples, golden larches, and cypresses. The Arnold Arboretum is mostly wheelchair-accessible, though there are some high hills that may be challenging for people using mobility devices. If you need an accessible bus rental for your trip to the arboretum, just let GOGO Charters know when you call to book.
Address: 125 Arborway, Boston, MA 02130
Charter bus parking: You can find free street parking along the Arborway, Bussey Street, and Walter Street.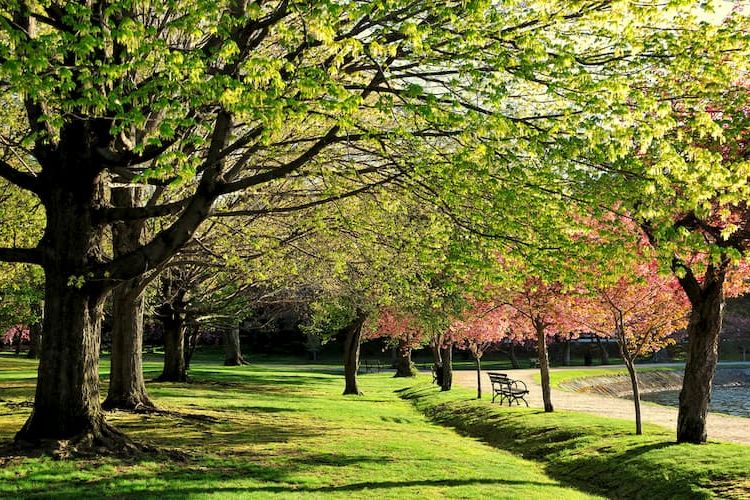 Forest Hills Cemetery
This 275-acre cemetery provides a final resting place for many of Boston's most notable residents, but it's also a beautiful garden and arboretum. Originally built in 1848, Forest Hills holds the graves of abolitionists William Lloyd Garrison and Lucy Stone, writers e.e. cummings, Eugene O'Neill, and Anne Sexton, and businessman Joseph "Wally" Walcott, who was the first African American to own a nightclub in New England. Walcott operated Wally's Jazz Cafe, which still stands today and once hosted performances by Billie Holiday, Branford Marsalis, and Sarah Vaughn.
Although many people visit Forest Hills to relax in nature, it remains a working cemetery, so the staff asks that visitors be respectful toward those visiting lost loved ones. Strolling among the trees or sitting down to rest beneath them is fine, but let your group know that they shouldn't walk dogs, jog, or bicycle in the area. You'll also need to make sure you wear masks and keep six feet away from other groups during your nature walk.
Address: 95 Forest Hills Ave, Jamaica Plain, MA 02130
Charter bus parking: Your bus can park along Forest Hills Avenue, the main drive leading up to the front gate.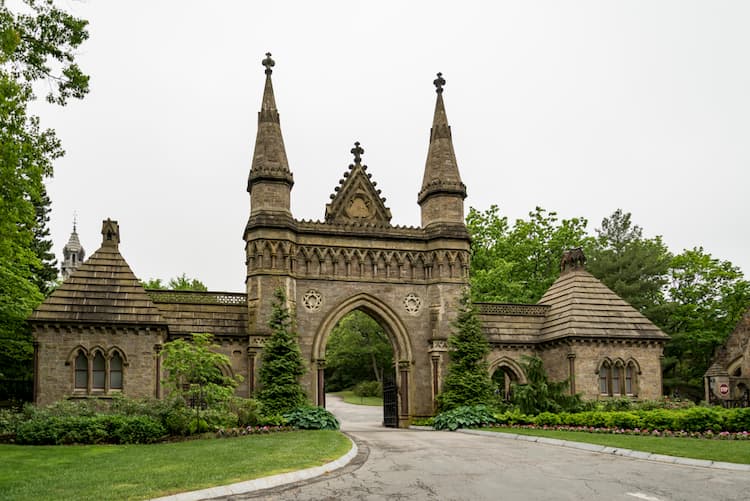 Have Fun While Staying Safe in Boston
It's important to take social distancing seriously, but GOGO Charters also understands that sometimes you need to get out of the house. That's why we've implemented new safety measures on all of the buses and minibuses in our network. Just gather your pod, grab your most stylish mask, and give us a call at (617) 206-3898 to arrange a trip around Boston's best socially distanced attractions.
Tags In
Do you need to rent a charter bus?
Do you need a long-term shuttle service?
We offer contracted shuttle services for businesses, schools, hotels, and more. Contact our experts at 1-844-897-5201 to discuss your long-term transportation plans.