Things to Do While Social Distancing in San Francisco
While a lot of San Francisco is still closed, there are still plenty of ways you can enjoy the world outside your house or apartment while maintaining social distancing protocols.
Whether you're with essential coworkers in need of some team-building fun, a school group seeking some off-screen enrichment, or just your roommates or family who are tired of being inside, GOGO Charters is here to help you.
Just round up your established pod of people, clue us in on your itinerary, and bring a mask and some hand sanitizer, and we'll handle the rest. Our team can find you a ride that best suits your trip needs—from minibus shuttles for your small crowd to full-size charter bus rentals with plenty of room to keep your distance from other passengers while on the road. Rest easy knowing your rental will be thoroughly sanitized before and after your trip, and your driver will be wearing proper PPE the entire time.
Not sure what's on the table for your outing? We've rounded up some activities your passengers can still enjoy while social distancing in San Francisco:
Do Tourist-y Stuff
If you're a local, you've probably been there and done that already. But if you haven't, why not venture out and see the sights? All the best San Francisco tourist attractions are outdoors anyway!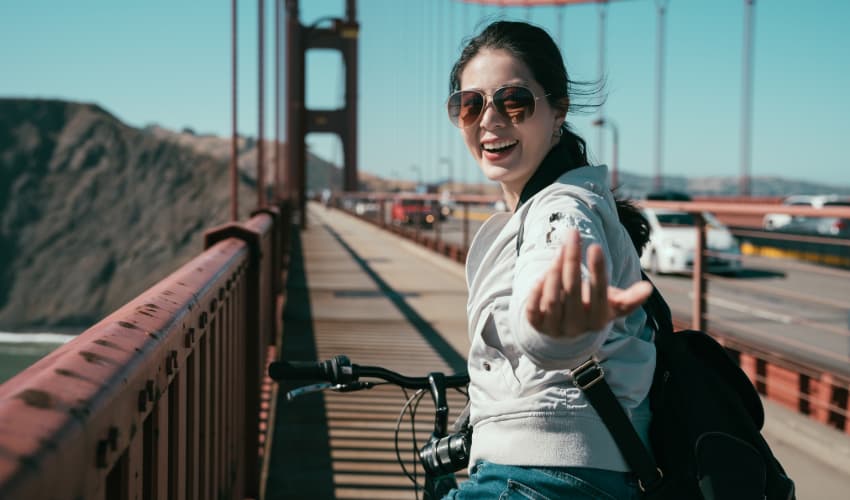 The Golden Gate Bridge
There are plenty of places in San Francisco to see the Golden Gate Bridge from afar—but there's nothing like experiencing it up-close-and-personal. And now that the bridge is seeing about a third of the traffic it usually does, it's the perfect time to take in the views from SF's most iconic landmark.
All 1.7 miles of the Golden Gate's sidewalks are open to pedestrians and bike traffic. Which side of the bridge you're permitted to walk on (the eastern sidewalk or western sidewalk) depends on the time of day and time of year, so do your homework before you embark.
And yes, the bridge is accessible to folks with wheelchairs and other mobility devices! You'll be directed to stay on the East Sidewalk (so be aware of when this side is open), and your bus driver can meet you on the other side in an ADA-compliant vehicle, ready to whisk you to your next destination.
Lombard Street
This place is often credited as the "crookedest street in San Francisco." While the title is not exactly true (the SF street with the most hairpin turns is on Potrero Hill), Lombard Street is definitely the most aesthetically pleasing "crookedest street" in the city—so stop by to enjoy the cute architecture of the adjacent houses and the manicured greenery!
Charter Bus Tip: Your motorcoach won't be able to handle the street's twists and turns, but it can drop you off at the top. From there, everyone can walk down the staircases at either side of the street, take a selfie at the bottom with the street behind you, and have your bus meet up with you at the nearby loading area.
Japanese Tea Garden
If you're feeling a little stressed lately (aren't we all?), this serene pocket of greenery and waterfalls offers a nice getaway in the middle of Golden Gate Park. Take a walk with your loved ones and enjoy the natural landscaping and architecture of the farm-style tea house!
If you've visited before, though, expect your next visit to be a little different. For one thing, the gardens are only open Wednesday through Sunday now, and guests are encouraged to purchase admission online. Many of the winding trails have been converted to one-way pathways, and only 100 people are allowed on the grounds at a time. Bathrooms and places with high-touch surfaces like the steep bridges are still closed. And like at most outdoor attractions in SF nowadays, masks are required to enter the gardens.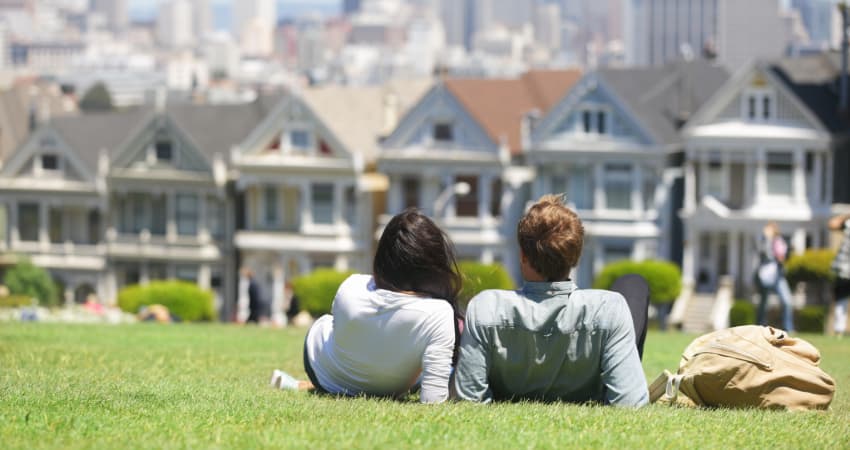 Hang Out in a Public Park
There are 220 parks in San Francisco—one every half-mile—so your established pod shouldn't have a problem finding one with enough room to keep your distance from others. Grab a mission burrito from one of your favorite local eateries and your adult beverage of choice (drinking is legal in most public parks here), and head to your favorite green space!
Be aware that Golden Gate Park has closed several east-west streets to make walkways wider for social-distancing pedestrians—good news if your group wants to walk from one end to the other, but frustrating news when it comes to navigating and finding street parking. To be safe, ensure the motorcoach-friendly lot near Concourse Drive is open, and if not, direct your bus driver to park near Ocean Beach.
If your park visit includes a stop at Dolores Park or the Conservatory of Flowers, keep an eye out for rows of chalk outlines in the grass. These "social distancing circles" (and hearts!) are exactly 6 feet apart from each other, so you and your pals know exactly how far away to stay from other picnickers.
Charter Bus Tip: If your group isn't comfortable with standing in line at a crowded restaurant while waiting for takeout, consider bringing your own picnic lunches from home. Your charter bus rental will have plenty of storage space under the bus to stash coolers and sandwiches until it's time to eat.
Hit the Beach
San Francisco isn't exactly known for its beach scene like LA is, but now's as good a time as any to enjoy some time watching the waves.
The catch? Like most California beaches, the shores of SF are only open for active use, like swimming, surfing, walking, jogging, and biking. As of this writing, your group won't be able to lay out and sun on the sand (not that you'd really want to—the beaches here are cold!). But if your kids or roommates want to get out of the house, stretch your legs, and breathe in the salty air through your mask, we recommend these San Francisco beaches: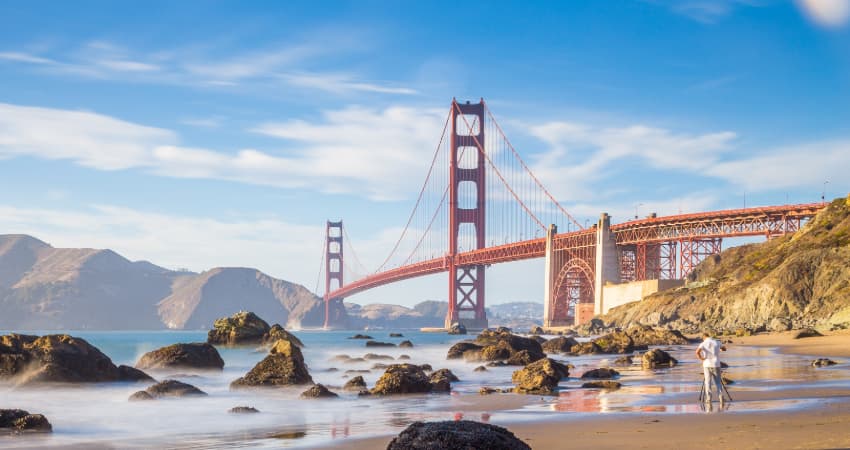 Baker Beach
There was a time when this north-end beach got very crowded nearly every weekend—partially because it's the closest nude beach to downtown, and partially because it offers the best views of the Golden Gate Bridge.
Now, though? The crowds have thinned out in recent months, making it a great place to take in that Bay breeze while social distancing. The parking lots nearest the beach have recently reopened to the public, but if for some reason there isn't enough room for your motorcoach, ask your bus driver to drop you off along Gibson Road and park near the Fort Winfield Scott ball fields.
Ocean Beach
Fun fact: basically the entire west coast of Greater San Francisco is a beach—the aptly named Ocean Beach. During normal times, this beach is known to be a fantastic spot for bonfires. Sadly, the fire pits are closed (and you're not allowed to start a fire outside of them) so the weenie roast will have to wait.
However, Ocean Beach is still the city's longest stretch of sand—3.5 miles, to be exact—which means your group should have no problem finding space away from other people for your beachfront yoga sessions, morning jogs, or casual surfing ventures.
Charter Bus Tip: The north end of the beach has a large, bus-friendly parking lot right next to the sand, and your bus driver will be more than happy to look after whatever belongings you leave in the cabin. That means you won't have to walk far to get to your towels, water bottles, and electronic devices during your beach outing.
Take a Hike
Need to get out and burn off some energy? It's a good thing San Francisco offers tons of trails for urban hiking—and that most of them are still open!
Twin Peaks
The 360-view of the city from Twin Peaks is well worth the trip, even when you haven't been stuck inside for months. Before the pandemic, hikers who wanted to reach the top without driving would have a dangerous time ascending, since the only trail is right next to busy traffic lanes. But now that the road to the top is closed to minimize large crowds at the top, the 2-mile hike up Twin Peaks is much easier—and more accessible to folks with mobility aids! Just stay on the paved road all the way up, and your hiking group will be there in no time.
Charter Bus Tip: Normally, we'd recommend having your charter bus rental drop everyone off at the bus-friendly parking lot near the summit so you can  hike to the northern and southern peaks. But now that the road to the top is closed to vehicles, your driver should drop everyone off near the San Francisco School of the Arts and find street parking in the area while your hikers start the paved ascent to their preferred lookout point.
Lands End
Although the Lands End visitor center, cafe, and nearby Cliff House museum are closed until further notice, your group can still hike along the 3.4-mile loop trail that winds through the park.
This oceanfront park is practically riddled with hidden gems (read: less foot traffic and sparser crowds). The rock labyrinth is a fun brainteaser for both young and old, and eagle-eyed hikers can veer off the trail a few yards for a closer look at the Octagon House, an abandoned Victorian watch house in the shape of—you guessed it—an octagon.
Charter Bus Tip: When the visitor center is up and running, normally your charter bus driver would be able to park in one of the five designated bus spots in its parking lot. But while the center is closed, your driver will have better luck finding a spot near Sutro Heights or northern Ocean Beach.
Get Out of Town
Of course, if you've done all the things listed above and you're still sick of being in the city, your group might consider venturing out of city limits for a day trip. We have some ideas of places you can go and still keep your distance from others:
Napa and Sonoma Wine Country
Pandemic or no, stretching your legs amidst the vino and valley views isn't a half-bad way to kill an afternoon. And with over 800 Napa and Sonoma vineyards, wineries, and distilleries just an hour away from downtown, who could say no to a day trip to wine country?
The crowded bar service tasting rooms may be a thing of the past, but there are plenty of vineyards with outdoor tasting rooms and grounds tours still running. Be sure to check what's open before you head out—or, even better, reserve a private room for your tastings and luncheons, so your group can keep contact with other patrons to a minimum.
Charter Bus Tip: Rather than drawing straws to see who drives or increasing risk of exposure by hopping into multiple rideshares or taxis, reserve a private vineyard shuttle for your tour of San Francisco wine country! That way, everyone has a professional bus driver as their DD and a reliable ride home after you've had a drink or two or three.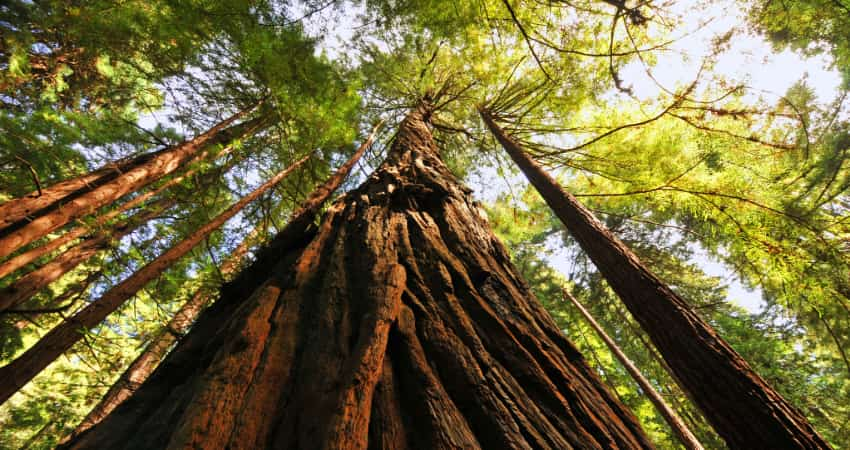 Muir Woods National Monument
Venture just 45 minutes north of the city across the Golden Gate Bridge, and you'll find this Bay Area must-see: these 240 acres of Golden Gate National Recreation Area. The towering redwoods are clearly the star of the show here, but your kids and kids at heart will surely enjoy stomping past the ancient ferns, banana slugs, and other ancient flora and fauna that's been here since the dinosaurs.
As they did before the pandemic, visitors need a reservation to get into the forest. The park usually offers a shuttle between the major sites and the visitor center, but this service is temporarily on hold due to the pandemic—so your group will need to arrange a private shuttle if you need help getting around. Trails are now one-way to minimize close contact, with the Redwood Creek Trail (the main one) running counter-clockwise. Don't worry about getting turned around, though. Rangers have put up plenty of signs to point hikers in the right direction.
Charter Bus Tip: It's worth noting that visitors not only need to reserve their admission, but also their per-car parking fees. This is where traveling by motorcoach can come in handy! Rather than splitting into multiple cars and paying $8.50 per vehicle, rent a minibus and pay $30 for everyone, or pay $45 for a charter bus rental—split the cost among your passengers, and you'll likely save a little money to put toward souvenirs.
Stay Safe During Your San Francisco Outing
No matter how you want to blow off some steam in San Francisco, GOGO Charters is here to keep your group as safe as possible. Give us a call at 415-462-2870 whenever you want to hash out your trip details, and one of our 24/7 reservation specialists will be there to assist you with your rental. Get in touch today to claim a free, no-obligation quote for your SF bus rental, and stay safe out there!
Tags In
Do you need to rent a charter bus?
Do you need a long-term shuttle service?
We offer contracted shuttle services for businesses, schools, hotels, and more. Contact our experts at 1-844-897-5201 to discuss your long-term transportation plans.