Here are just a few of the companies we've worked with: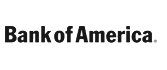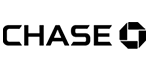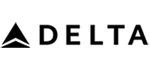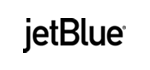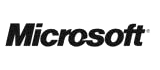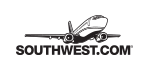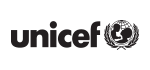 Easy Group Transportation to the Cherry Blossom Festival
CALL 1-855-826-6770 FOR CHARTER BUSES TO THE NATIONAL CHERRY BLOSSOM FESTIVAL
D.C.'s Cherry Blossom Festival is a tradition that spans more than 100 years of appreciation for culture and nature. In 1912, Mayor Yukio Ozaki of Japan donated 3,000 cherry trees to the United States to be planted around the Tidal Basin. The tree's blossoms, which are a symbol for new beginnings and good fortune, commemorate the two countries' lasting friendship.
The festival is now a multi-week event in March and April that spans across the entire city, making reliable transportation a necessity for its 1.5 million attendees. Because public transportation options like the Metro and the DC Circulator will be extremely crowded during this time, your best option for keeping your group members safely together is a charter bus rental.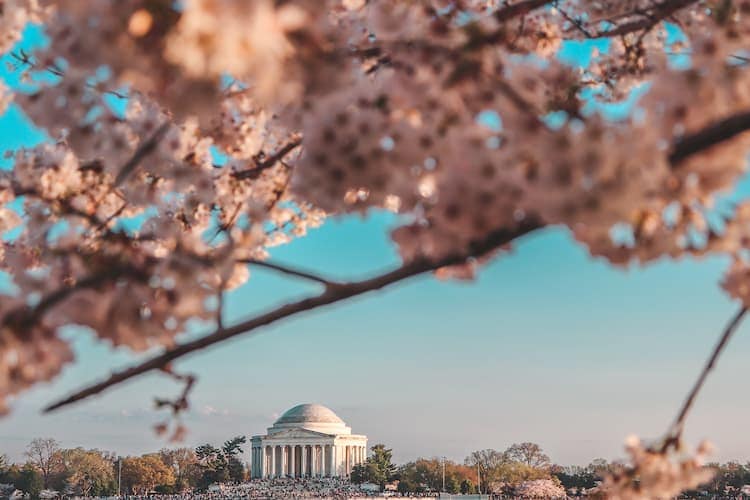 Booking Your Charter Bus
Renting a charter bus with GOGO Charters Washington, D.C. couldn't be easier. When you call us at (202) 741-9808, let our reservation specialists know how many people are in your group, how long you will need your motorcoach, and the addresses of your pick up and drop off locations.
This is also a good time to mention any accommodations or amenities you'll need for your bus. We will gladly pair you with a bus that is wheelchair-accessible if needed. Need more luggage space? We'll make sure you have a full-sized motorcoach with luggage bays to fit all of your personal belongings. You can also request amenities for entertainment and comfort, such as on-board television monitors, DVD players, restrooms, power outlets, and more.
Depending on the size of your group, your reservation specialist will match you with a minibus or full-sized motorcoach. Once you have discussed all of the details of your trip, you'll promptly receive a quote by email. If you accept the quote, we'll book your reservation and ensure you have a friendly bus driver ready to take you to every Cherry Blossom Festival event on your itinerary.
Planning Your Travel Experience
Because it's such a popular destination for group travel, Washington, D.C. has a few guidelines for visitors traveling by motorcoach. Your charter bus operator may be responsible for obtaining a trip permit, and they will need to be familiar with the city's designated pick up and drop off locations. Our reservation specialists will ensure that you are partnered with a motorcoach operator who is experienced in coordinating trips in and around D.C.
The District Department of Transportation has a useful motorcoach map you can use to determine where you should plan your pick up and drop off locations on the day of your trip. For example, if you want to arrive within a short walk from the Tidal Basin welcome area, your driver could drop you off in front of the Bureau of Engraving and Printing.
Tidal Basin Welcome Area
1510 Maine Ave SW.
Washington, DC 20024
Bureau of Engraving and Printing
200 14th St SW.
Washington, DC 20228
Though there are a few lots nearby that allow motorcoach parking, your driver may have an easier time finding parking at Buzzard Point Park, which costs $20 for three hours or $50 per day. Please note that you will be responsible for any motorcoach parking fees during your trip.
Buzzard Point Park
1880 2nd St SW.
Washington, DC 20024
Coming from out of town? GOGO Charters Washington, D.C. can also help you book your transportation to and from Reagan National Airport. Your driver will serve as a personal chauffeur during your stay, taking your group safely to your hotel, restaurants, national landmarks, and more.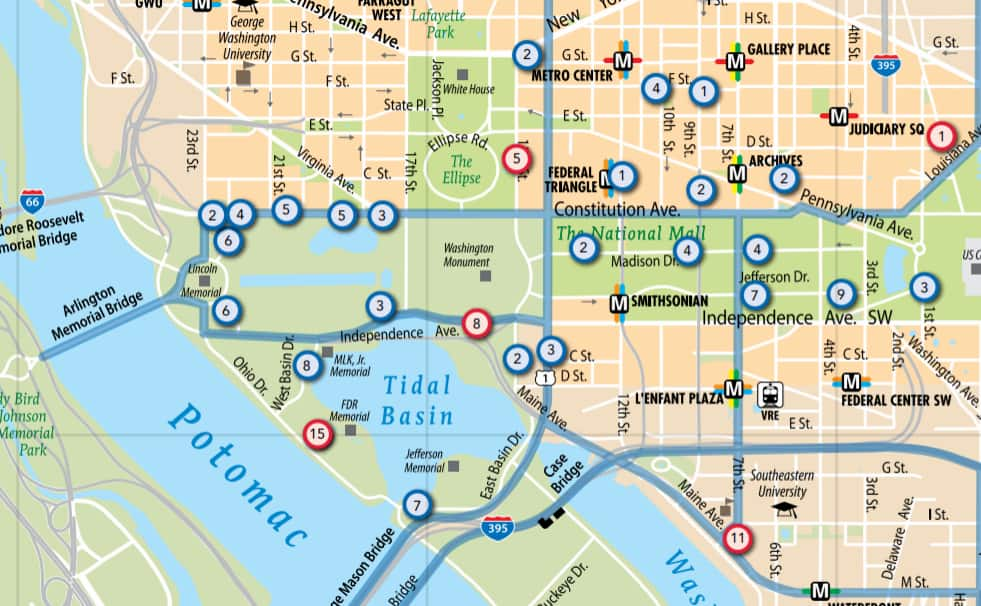 Map shows loading and unloading areas (blue) and parking locations (red) for motorcoaches near the Tidal Basin.
Helpful Resources for Charter Bus Groups in D.C.
To make your trip to the Cherry Blossom Festival run smoothly, keep the following resources from the Department of Transportation handy:
Motorcoach Hotline
Your driver or event coordinator can call the motorcoach hotline at 1-855-67-BUSES for questions about parking, permits, routing, itinerary planning, and more. The hotline operated Monday through Friday from 8:30 am to 5:00 pm Eastern Standard Time.
Loading/Unloading Locations & Parking Lots
For a complete list of where your group may be picked up and dropped off, as well as where your driver can park while the bus is not in use, check out this comprehensive list.
Interactive Route Planning Map
Want to see exactly where your charter bus is permitted to go? Use this interactive map with loading and unloading information to see if there is a parking or loading area nearby.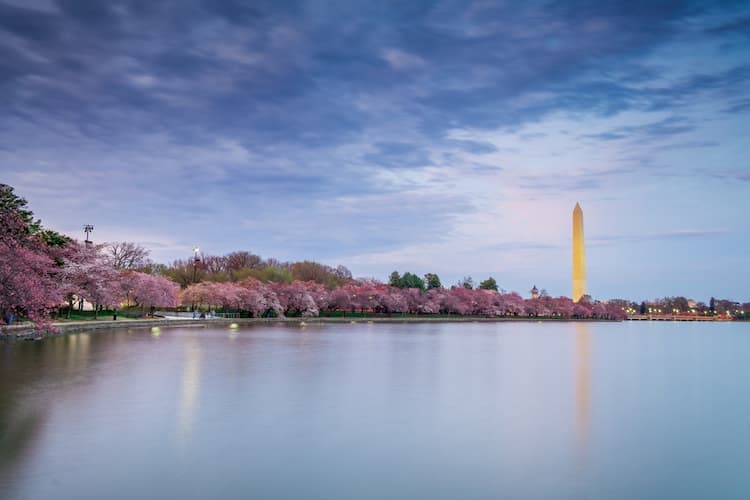 Planning Your Cherry Blossom Festival Itinerary
During March and April, Washington, D.C. hosts dozens of events to celebrate the peak of cherry blossom season. Some of the highlights include:
Cherry Blossom Festival Opening Ceremony
The festival kicks off with an opening ceremony, featuring traditional and contemporary cultural performances.
Petalpalooza
Take in the vibrant, interactive art displays, live music, and giveaways at this all-day celebration.
Cherry Blossom Freedom Walk
Participate in this year's annual benefit walk, which was started to raise awareness about the experience of Japanese Americans during World War II and to honor the 33,000 Japanese American soldiers who served in the U.S. Military.
National Cherry Blossom Festival Parade
Spanning ten blocks along Constitution Avenue, this parade features colorful floats, giant balloons, celebrity performances, and more.
Sakura Matsuri - Japanese Street Festival
People from all over the country come to this street festival to celebrate their love for Japanese culture.
Book Your Trip to the Cherry Blossom Festival Today
No matter which events you're attending, GOGO Charters Washington, D.C. is here to make your travel plans run smoothly. Get started today by calling us at (202) 741-9808 for a free quote. Our reservation specialists will help you choose the right bus to take your group to unforgettable cherry blossom events around D.C.
Rent your charter bus now:
You may have seen us featured in: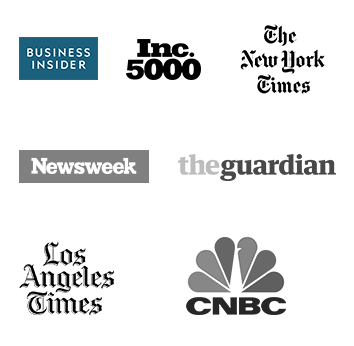 Latest
Blog Posts