Charter Bus Rental Service In Atlanta Georgia
The premier motor coach, minibus & charter bus rental company servicing metro Atlanta, Georgia. Book your charter bus now by calling 855-826-6770.
Whether you're looking for an Atlanta charter bus for a local shuttle service, a wedding, corporate travel, or need long distance arrangements, our reservation agents are available 24/7 to accommodate your every need. On top of providing the largest bus service nationwide, GOGO Charters also maintains the highest safety standards. We screen all drivers and operators to ensure they are abiding by our safety standards.
CALL 1-855-826-6770 FOR CHARTER BUSES IN ATLANTA, GEORGIA
Atlanta Charter Bus & Minibus Rentals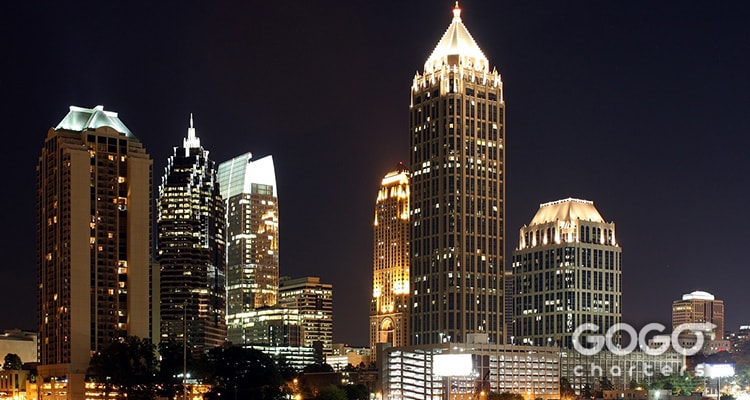 Renting a Charter Bus and Minibus in Atlanta
Charter buses are a fantastic transportation option for school and college trips, sporting events, and business trips and meetings-- all of which often require the help of GOGO Charters, the best local charter bus company in Atlanta.
Equipped with luxurious interiors and fitted with modern amenities, GOGO Charters are the number one choice for a variety of institutions, from multi-national companies to primary schools. We provide access to buses with various seat capacities to make sure every group enjoys a comfortable trip for a reasonable price.
Explore the city by charter bus and save time and money. Call 1-855-826-6770 to rent your charter bus now.
Take Your Time To Experience Georgia
While visiting the city, make sure to include our biggest and best attractions on your itinerary. You don't want to miss amazing attractions such as the largest aquarium in the western hemisphere, CNN Center and the World of Coca-Cola.
If you love history, museums such as the Martin Luther King, Jr. National Historic Site is home to MLK's birthplace, church, and tomb. The Atlanta History Center features a 33-acre experience filled with historic homes, gardens, and interactive exhibits.
Art venues are also a central part of the city's culture: locals and tourists alike attend performances at the Fox Theatre by the Atlanta Ballet and the Atlanta Symphony Orchestra year-round. The High Museum of Art often features world-famous artists in unique exhibitions that are only available for a limited time-- don't miss your opportunity to dive into the world of your favorite artist.
Within only a few hours' drive are other popular cities also serviced by GOGO Charters. If you're interested in sightseeing trips to Charlotte, Chattanooga, Charleston, or Birmingham, we're happy to help you schedule your day trips out of Atlanta.
Charter Buses: The Best Solution for Groups
For tourists, business persons, VIPs, or sports fans, a charter bus is always the best solution for cruising around a new city. An authentic metropolis, Atlanta has hectic traffic-- don't get caught up in the frustrations of navigating a new city while simultaneously trying to explore all that Atlanta has to offer. Entrust your journey to the professional hands of GOGO Charters-- one of the best national charter bus companies in Georgia.
Vehicle options include a wide variety of buses with a range of 20 to 59 seats, perfect for any type of event or trip. With impeccable interiors and exteriors, access to free wireless internet and toilets on board, as well as plenty of room for luggage and your legs, the charter buses GOGO Charters has access to are the ideal solution for a relaxing trip.
Nearby Cities We Service
Book your charter bus or consider minibus rental in Atlanta from GOGO Charters right now by calling 1-855-826-6770.
DAY RATES FOR BUSES RENTAL IN ATLANTA
REVIEWS
Charter Bus Rental Rates from ATLANTA, GEORGIA
roundtrip
From: Atlanta,GA
To: Albany,NY
roundtrip
From: Atlanta,GA
To: Baton Rouge,LA
roundtrip
From: Atlanta,GA
To: Charlotte,NC
roundtrip
From: Atlanta,GA
To: Chicago,IL
roundtrip
From: Atlanta,GA
To: Dallas,TX
roundtrip
From: Atlanta,GA
To: Houston,TX
roundtrip
From: Atlanta,GA
To: Miami,FL
roundtrip
From: Atlanta,GA
To: Nashville,TN
roundtrip
From: Atlanta,GA
To: New York,NY
roundtrip
From: Atlanta,GA
To: Orlando,FL
roundtrip
From: Atlanta,GA
To: Philadelphia,PA
roundtrip
From: Atlanta,GA
To: St Louis,MO
roundtrip
From: Atlanta,GA
To: Washington DC,DC
1075 Peachtree St NE
Atlanta, GA 30309
USA