Bus vs Plane: Why Traveling by Charter Bus is Better than Flying
Why take a bus when flying in a plane seems far easier? Actually, there are a lot of advantages to traveling by bus rather than flying to your destination. When price, hassle, overall travel time, and amenities are all considered, you may be surprised to see that a bus is sometimes the best travel option for groups.
While they have an unfortunate reputation of being old and stuffy, modern charter buses offer comfortable transportation solutions at prices that blow other options out of the water.
Able to carry up to 56 passengers at a time, charter buses decrease in price-per-person as your group becomes larger. While the cost of flying will soar as your group grows, you'll cut the price of your charter bus rental exponentially as you add people to share the cost.
Consider this: let's say you've got a large group of about 40 people from Chicago to New York City. A round-trip economy flight will cost upwards of $220 per person. A Chicago charter bus rental, however, will total about *$4600 round-trip, which comes to only $115 per person. If you're traveling with a smaller group, you can cut your costs even more with a minibus.
Whether you're traveling with your church group, classmates, friends, or family, a bus is the best way to go. Keep reading to learn more about the benefits a bus can offer you on your next journey!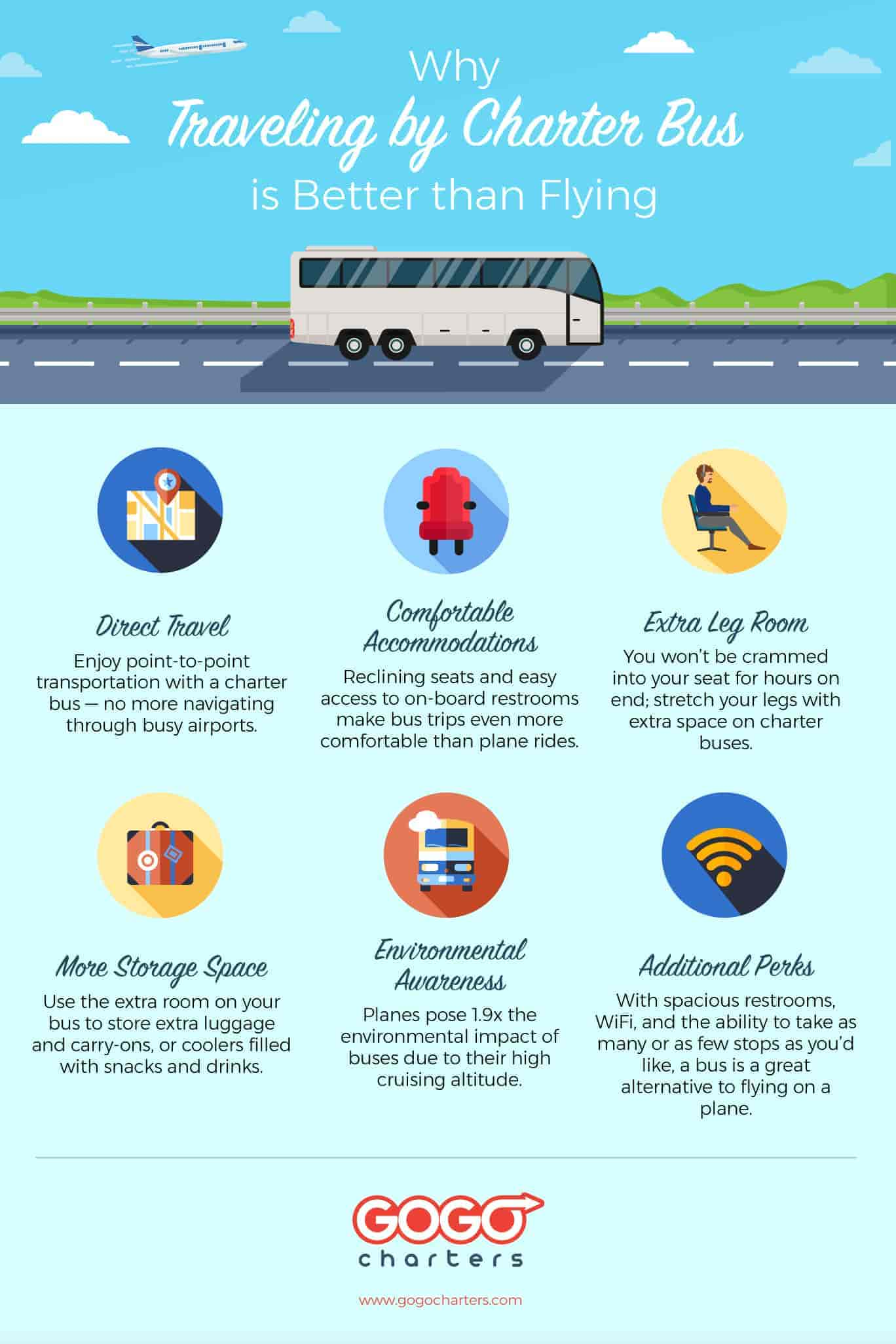 Direct Travel
When you're traveling on an airplane, total travel time has to account for getting to the airport 60-90 minutes in advance, checking baggage, shuffling through security, finding your gate, and waiting in your seat for the plane to taxi and take off. After landing, you'll also have to find baggage claim and wait for a transfer vehicle to take you to your destination.
A bus, on the other hand, can pick you up right from your neighborhood, or other designated pickup area, and drop you off at your final destination with as many or as few stops as you'd like to make along the way. This point-to-point transportation eliminates much of the hassle that comes with air travel.
Comfortable Accommodations
Bus manufacturers take more care to ensure passenger comfort since bus trips tend to be longer than plane rides. Many buses come with leather seats designed for long-term comfort while most planes are stuck with old, rough fabric and lumpy seat cushions.
Like plane seats, bus seats recline for added comfort, but they are also accompanied by large, panoramic windows instead of the small, unevenly spaced windows you typically see on planes. On your private bus, you'll be able to take in the view on a long-distance road trip, making your journey just as enjoyable as your destination.
It's much easier to sit back, relax, and enjoy the ride on a bus, which leads us to our next point: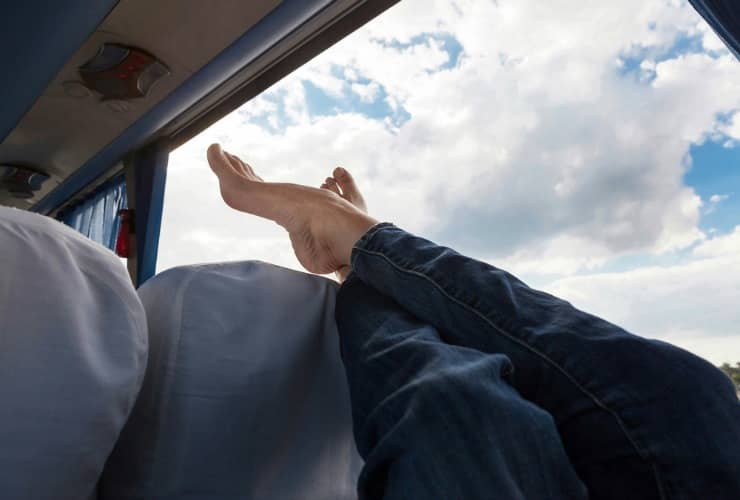 Extra Leg Room
Plane seats are very close together, keeping your legs cramped for hours at a time. The average plane seat is 30 inches behind the seat in front of it, while bus seats tend to be 36 inches away from each other.
If the leg room still irks you on a bus, you're free to walk around with few restrictions. Move to a different row to talk to someone else, or use the on-board restroom whenever you wish. Planes often require that you stay seated due to turbulence or other setbacks.
More Storage Space
You won't incur added fees for oversized baggage or extra carry-ons with a private bus. Pack as much as you'd like and store it safely in luggage bays until you reach your destination while your carry-ons stay safely stowed in overhead compartments. You can even pack a cooler or two of your favorite snacks and drinks to keep on the bus without having to worry about added carry-on fees.
Once you've arrived, you won't have to wait at baggage claim or worry that an airline lost your luggage. You can unload everything immediately from the bus with no worries, allowing for more time to get the important part of your trip started.
Environmental Awareness
Since planes reach such a high cruising altitude, their impact is magnified. Per gallon of fuel burned, the environmental impact of a plane is 1.9 times greater than that of a bus.
Planes also emit up to 1.10 pounds of carbon dioxide per mile per passenger, which is even greater when the plane is not at capacity. Buses emit only .18 pounds of carbon dioxide per mile per passenger, placing them even further ahead of planes in terms of environmental safety.
Additional Perks
WiFi usually comes with an extra charge on planes, but most modern buses come with WiFi already set to go for passengers. If they don't, it can often be requested at no additional charge.
Restrooms are more spacious on buses as well. While they won't quite be tour-bus levels of fancy, they're still larger than plane bathrooms, making for a more comfortable experience.
Take as many or as few stops as you'd like along the way, since you'll be grounded throughout your trip.
Running low on your snack stash? Request a stop from your driver whenever you'd like so everyone can step off the bus, stretch their legs, and load up on snacks and games before the next leg of your trip.
Once you've arrived at your destination, your bus can also stay with you for the duration of your trip. Easily transport your group to nearby attractions without having to worry about navigating public transportation or separating everybody with rideshare services. You'll travel on your time from the moment you begin your journey to the moment your driver drops you off back at home.
Finally, competitive prices secure charter buses as your #1 choice for group travel. Take a look at what you can expect to *pay per person for a 40-person group:
Prices above are based on a round-trip estimate. Please note that your bus rental price will vary depending on time of year, type of bus, and other factors.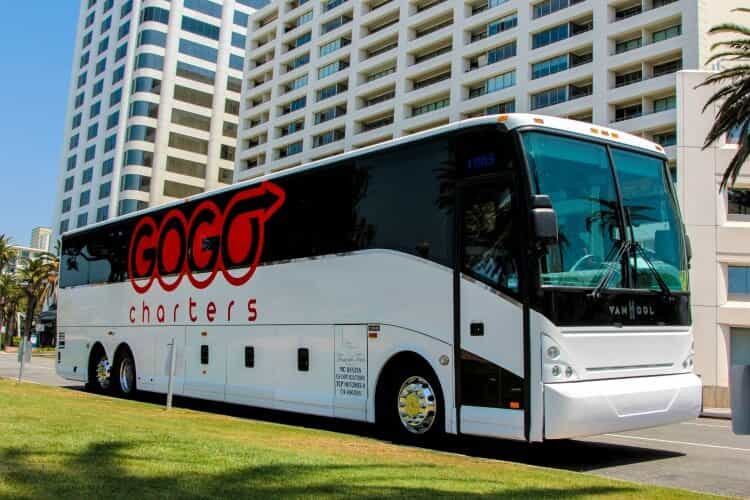 Booking your Own Charter Bus
Thinking of renting a bus for yourself? We've got lots of options to choose from! Pick a compact minibus for small groups or a full-sized charter bus for long journeys. Not sure which one is best? Check out our guide to choosing the best bus type for your group.
Get started on your trip today by reading our complete guide to charter bus rentals. Our reservation specialists are also available 24/7 at 1-855-826-6770 to guide you through your rental process. Call us any time for more information and a free quote!
*Prices are estimates. Call our reservation specialists at 1-855-826-6770 with your trip information for a personalized quote.
Do you need to rent a charter bus?
Do you need a long-term shuttle service?
We offer contracted shuttle services for businesses, schools, hotels, and more. Contact our experts at 1-844-897-5201 to discuss your long-term transportation plans.