Fun Social Distancing Activities in San Diego
As spring grows closer, enjoying the outdoors in San Diego is more tempting now than ever! Although the current health crisis is ongoing, that doesn't mean you can't safely enjoy activities in America's Finest City.
Group travel should be limited where possible, but groups like educational pods, large single household families, and groups of coworkers can still enjoy each other's company with outdoor activities that have space for social distancing. GOGO Charters can help your group safely travel around San Diego with a private bus rental. Call 619-312-4991 to rent a charter bus or minibus with a professional driver dedicated to transporting your group around town safely. We'll make sure your San Diego bus rental is thoroughly sanitized and is a comfortable ride for your entire day.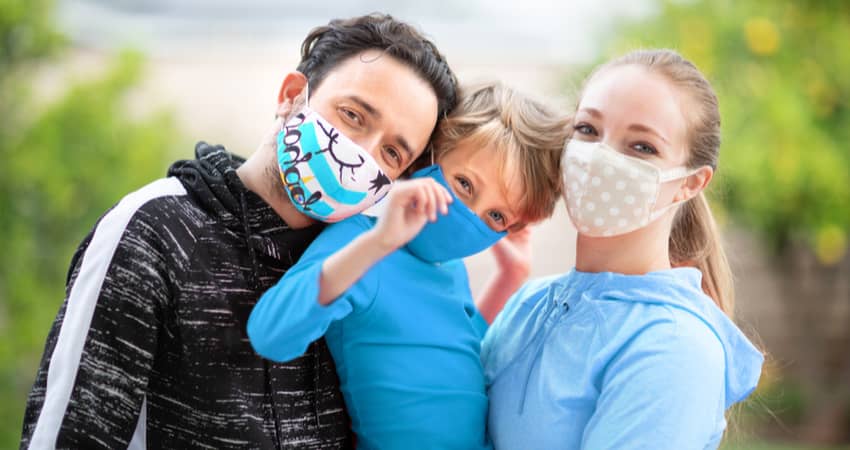 Visit the San Diego Zoo and San Diego Zoo Safari Park
Most museums and attractions in famed Balboa Park are closed, but the San Diego Zoo is still open to the public! Visit the zoo's more than 3,500 furry, scaly, and feathery residents with your loved ones. If you want to take a little trip over to Escondido, the San Diego Zoo Safari Park is also open for business with reservations. All guests ages 3 and up will need a reservation and will be required to wear face coverings throughout their visit. There may be some restrictions on multi-household groups, so you'll want to thoroughly read through the zoo's rules and regulations before you make reservations.
Charter bus rental parking tip: San Diego Zoo doesn't have designated bus parking. Your bus driver can find oversized spots at the lots at Inspiration Point near Balboa Park's Veterans Museum. Oversized parking is available for $20 in designated spaces at the San Diego Zoo Safari Park in Escondido.
Go for a swim or hike at San Diego beaches and parks
The beaches and local parks in San Diego are currently open with some restrictions. Pack up your bus rental with hiking or beach gear to enjoy a breath of fresh air. Keep in mind that organized sporting activities or large gatherings are not allowed in public parks and beaches at this time. If you're looking for slightly smaller crowds than those you'd usually find at Balboa, check out these spots:
Mission Trails Regional Park
Mission Trails is a 7,220-acre park filled with around 24 trails for hiking, biking, BMX riding, and casual walking.
Address: 1 Father Junipero Serra Trail, San Diego, CA 92119
Tecolote Canyon Nature Park
This park is included in the Tri- Canyons Parks network along with Rose Canyon Open Space Park and Marian Bear Memorial Park.
Address: 5180 Tecolote Rd, San Diego, CA 92110
Cabrillo National Monument
The museum portion of the monument is currently closed, but the waterfront overlook and surrounding trails are open.
Address: 1800 Cabrillo Memorial Dr, San Diego, CA 92106
La Jolla Cove
This quaint beach is surrounded by gorgeous sandstone cliffs in the seaside community of La Jolla.
Address: 1100 Coast Blvd. (at Girard Ave), La Jolla, CA 92037
Mission Beach and Pacific Beach
These popular beaches are located right next door to one another and are the perfect places to soak up the sun.
Mission Beach Boardwalk Address: W Mission Bay Dr, San Diego, CA 92109
Charter bus rental parking tip: Parking will vary at each park or beach. Finding bus parking will be more difficult at busier locations like Mission and Pacific Beach, so you may have to organize parking at an off-site lot.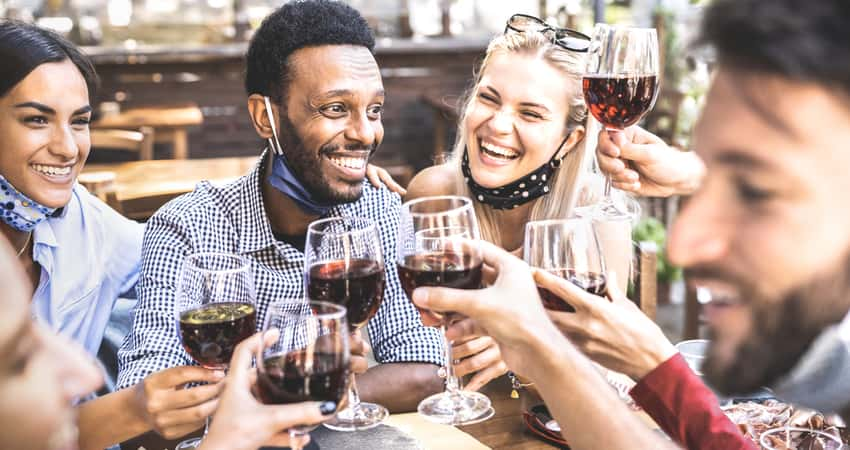 Take a self-guided winery tour of Temecula Valley
Are you planning an adults-only day out with friends or coworkers in your pandemic pod? Hop on a shuttle bus rental with a built-in DD to Temecula Valley. Many wineries in the area have reopened with outdoor seating or limited capacity indoors. Reservations are highly recommended, and unfortunately, guided winery tours are suspended at most locations.
Doffo Winery
Wine highlights: Bold reds like their award-winning syrah, malbec, and lighter-bodied zinfandel
Address: 36083 Summitville St, Temecula, CA 92592
Phone: (951) 676-6989
Lorimar Vineyards and Winery
Wine highlights: Sauvignon blanc tops the white wine list, and award-winning reds include a Montepulciano and cabernet franc
Address: 39990 Anza Rd, Temecula, CA 92591
Phone: (951) 694-6699
Wilson Creek Winery
Wine highlights: Variety of sparkling wines and dessert wines like rose, almond, limoncello, and chocolate ports
Address: 35960 Rancho California Rd, Temecula, CA 92591
Phone: (951) 699-9463
Charter bus parking tip: Many bigger wineries can accommodate guests traveling by charter bus or minibus. You'll want to let the winery know you're traveling by bus when you make your reservation. Keep in mind that there may be limitations on groups arriving by bus for wineries with a tight capacity.
Support local eateries with outdoor dining
State and local ordinances regarding outdoor dining have changed quite a bit throughout the pandemic. At this time though, outdoor dining is permitted in San Diego. Many local restaurants are still struggling to garner as much business as they used to before the pandemic. Why not support them with outdoor dining or takeout? Reservations are highly recommended when possible, and large groups may not be permitted at certain restaurants. Just be sure to call ahead to your restaurant of choice to inquire about any group reservation restrictions.
Here are a few San Diego-area restaurants that are offering open-air dining:
Stone Brewing World Bistro & Gardens – Liberty Station
Address:  2816 Historic Decatur Rd UNIT 116, San Diego, CA 92106
Phone: (619) 269-2100
Park 101
Address: 3040 Carlsbad Blvd, Carlsbad, CA 92008
Phone: (760) 434-2217
The Crack Shack – Little Italy
Address: 2266 Kettner Blvd, San Diego, CA 92101
Phone: (619) 795-3299
Charter bus rental tip: If you're penciling a lunch or dinner into your itinerary, you'll likely have to organize parking at a public lot or along the street at your restaurant of choice.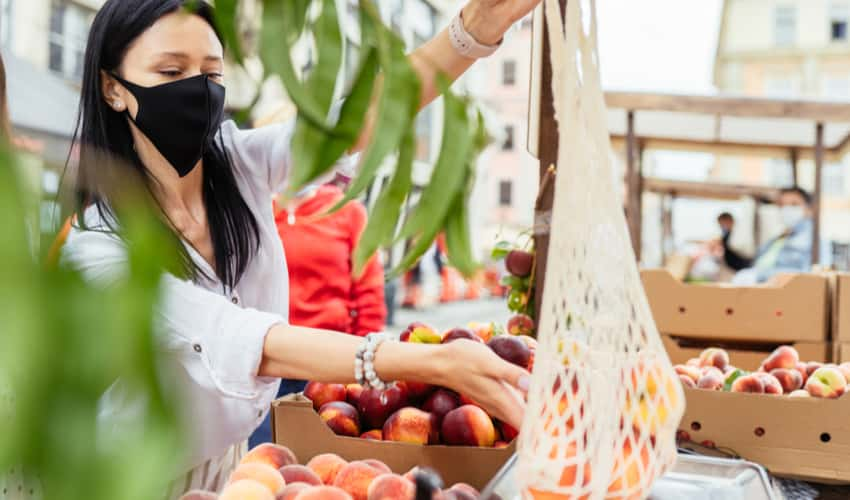 Shop at local farmers' markets
Did you know that the San Diego metro area has 38 certified farmers' markets? Support local family farms by stopping by a market to stock up on fresh produce, baked goods, meats, cheese, readymade food, and flowers. Depending on the market, you'll also find local artists and makers selling clothing, art, and jewelry. Most San Diego farmers' markets have open-air areas and are limiting the number of shoppers at a time. Your group may need to split up to shop, but it's well worth it to support local businesses!
Here are a few of San Diego's best farmers' markets:
Little Italy Mercato Farmers' Market
Held every Wednesday and Saturday.
Address: 600 W Date St, San Diego, CA 92101
Phone: (619) 233-3901
Hillcrest Farmers' Market
Held every Sunday.
Address: 3960 Normal St #3960, San Diego, CA 92103
Phone: (619) 299-3330
Pacific Beach Farmers' Market
Held every Tuesday and Saturday.
Address: 901 Garnet Ave, San Diego, CA 92109
Phone: (208) 922-8900
Charter bus rental parking tip: Most San Diego farmers' markets are pop-up-style and don't have a private designated lot. You'll have to have your bus driver utilize public parking lots and metered street parking.
Explore San Diego botanical gardens
If you're looking for an outdoor location that's a bit more educational than a public park, consider visiting a local botanical garden. The San Diego Botanic Garden, the Japanese Friendship Garden, and several outdoor spaces in Balboa Park, like the Alcazar Garden, are open to the public. However, the Botanical Building in Balboa Park is still closed until further notice. Admission for the San Diego Botanic Garden and the Japanese Friendship Garden should be purchased online and in advance, while the public gardens at Balboa Park are completely free. Get together with your group, grab your masks, and stroll through San Diego's lush gardens with informative exhibits.
San Diego Botanic Garden
Address: 300 Quail Gardens Dr, Encinitas, CA 92024
Phone:  (760) 436-3036
Japanese Friendship Garden (Balboa Park)
Address: 2215 Pan American Rd E, San Diego, CA 92101
Phone: (619) 232-2721
Charter bus rental parking tip: Bus parking can be found at the lot near Inspiration Point to access gardens in Balboa Park. Free parking for the San Diego Botanic Garden can be found at the San Dieguito Heritage Museum and the Dickinson Family Conservatory.
Safely Travel in San Diego with GOGO Charters
GOGO Charters always prioritizes the safety of passengers above all else, especially during the ongoing pandemic. Whenever you're ready to book a bus rental in San Diego, the GOGO Charters team will be available to help 24/7 at 619-312-4991!
Tags In
Do you need to rent a charter bus?
Do you need a long-term shuttle service?
We offer contracted shuttle services for businesses, schools, hotels, and more. Contact our experts at 1-844-897-5201 to discuss your long-term transportation plans.