Best Group Day Trips from Denver
Denver is surrounded by cities and small towns packed with rich history, creative local businesses, and beautiful natural landscapes. Plan a tour with your family and friends, school group, or scout troop of some wonderful locations a relatively short drive from Denver. Small groups can hop in a car and ride out of Denver with no problem, but large groups may want to consider an easier travel option than carpooling.
Wherever your Denver day trip travels may take you, GOGO Charters can make sure your group has a smooth ride with a private charter bus rental. Renting a charter bus in Denver can have your day trip running according to schedule and keep your group comfortable on the road. Your charter bus rental will be spacious and can be equipped with amenities like WiFi, reclining seats, and TVs. Don't worry, if your group doesn't have dozens of passengers, you don't have to rent a large, full-sized charter bus rental. GOGO Charters also has access to a variety of minibus rentals for anywhere from 18 passengers to 30 passengers for your small- or medium-sized group.
Call 720-216-2068 to get a personalized charter bus rental quote and lock in your Denver day trip transportation!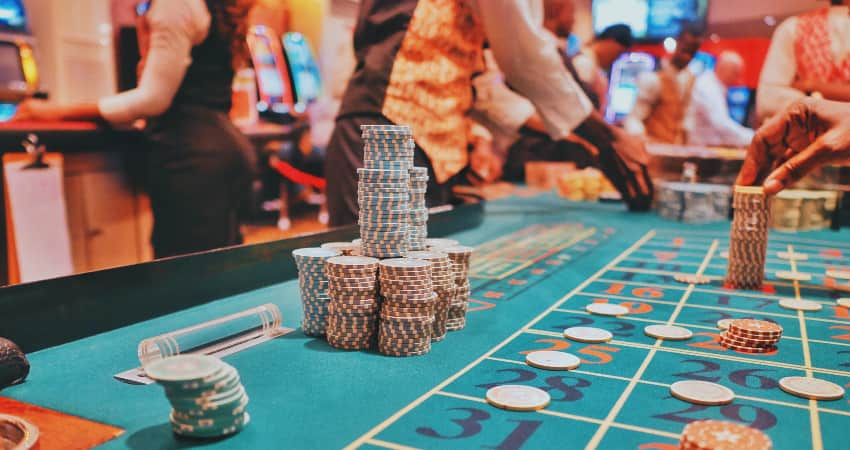 Central City and Black Hawk, CO
Distance from Denver: ~40 miles or 50 minutes
Great for: history tours and fun casino nights.
Black Hawk and Central City are sleepy historic mining towns just west of Denver. This area was established in the late 1800s during the Pike's Peak Gold Rush and became a major hub for casino resorts in the 1990s. Today, Central City and Black Hawk are popular destinations for casino hopping among Colorado's rolling mountainous landscape. Ameristar Black Hawk and Monarch Casino Resort are just a couple of the area's most popular casinos.
Are you looking for a more family-friendly activity in the historic towns? Tour the Gilpin Historical Society, catch a show at the Central City Opera House, or try your luck at gold panning at Hidee Mine.
Charter bus rental tip: Easy, free parking for visitors can be found at casino parking lots and garages, but oversized vehicles like charter buses and RVs will need to reserve parking off-site. The towns have narrow, mountainous roads which make street parking relatively limited.
Fort Collins, CO
Distance from Denver: ~65 miles or 1 hour 10 minutes
Great for: brewery hopping and seasonal college sporting events.
Not only is Fort Collins home to Colorado State University, but it's also a major hub for some of Colorado's most famous breweries. The city has more than 20 craft breweries, many of which are located in Fort Collins' Old Town and Midtown. With so many breweries, Fort Collins is one of the best places to plan a team-building event, bachelor party brewery tour, or a birthday party brew hop. With a charter bus rental and pro driver, your group won't have to worry about needing a DD between breweries.
Large breweries like Odell Brewing Company and New Belgium Brewing Company usually offer daily tours. Smaller breweries like Funkwerks also offer tours for small groups with reservations. Map out some breweries that pique your groups' interests and explore at your leisure.
Charter bus rental tip: Street parking in Downtown Fort Collins usually has a 1- or 2-hour time limit. Groups spending an extended period of time in the area may need to organize parking in a public lot.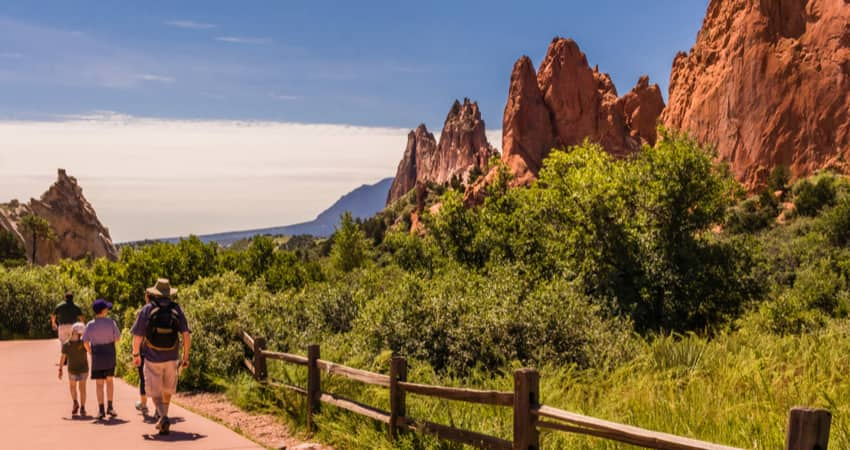 Colorado Springs, CO
Distance from Denver: ~70 miles or 1 hour 15 minutes
Great for: scenic group hikes and historic tours
Colorado Springs has the perfect combination of picturesque natural rock formations and unique historic areas in the city's outskirts.
Garden of the Gods is home to some of Colorado's most magnificent rock formations, making it a must-stop location in Colorado Springs. You'll find 21 miles of trails through the sandstone rock formations, including paged accessible trails for guests with mobility devices. Adventurous hikers should also visit Pikes Peak, one of the top 20 highest peaks in the Rockies. Hiking Pikes Peak will take your breath away (literally, with the 14,115-foot elevation). Rather than hiking to the top, your group can also opt to take the Cog Railway 9 miles to the summit of Pikes Peak.
Groups of history lovers looking for a more relaxing day should plan to visit spots like the Colorado Springs Pioneers Museum, Western Museum of Mining & Industry, and the Miramont Castle Museum. Your group can take guided or self-guided tours of the museums and learn about Colorado Springs' unique role in the Gold Rush era.
Charter bus rental tip: Keep in mind that locations like Garden of the Gods have multiple parking lots, some of which may not be able to accommodate oversized vehicles. High peaks like Pikes Peak may also limit oversized vehicles from sending the summit roads. Your group may alternatively explore designated shuttle or train options.
Dillon, CO
Distance from Denver:~70 miles or 1 hour and 15 minutes
Great for: seasonal trips in fall and winter.
Dillon is a beautiful town any time of year, but it's especially mesmerizing in the winter months! The Dillon Ice Castles are one of the biggest seasonal attractions in Colorado and are a must-see location for groups with kids. The attraction designs will vary a bit from year to year and usually include ice slides, caverns, LED-lit sculptures, and mazes. One of the best times to visit the castles is during the evening while everything is beautifully lit by colorful LED lights.
Groups looking for ski spots will find that Dillion is a central location to multiple Colorado resorts. You'll find Arapahoe Basin, Breckenridge, Keystone, and Copper Mountain within a reasonable distance for a day of skiing. During warmer months, groups visiting Dillon can snap photos of the glistening Dillon Reservoir from Sapphire Point Overlook or hike trails near the water.
Charter bus rental tip: Since the Ice Castles are a seasonal attraction, there isn't a private parking lot. A parking area can be found across the street and nearby at Dillon Town Hall.  Locations like Sapphire Point and nearby trailheads have small parking lots, but these may fill up on a busy day. Free street parking can be found in some surrounding areas.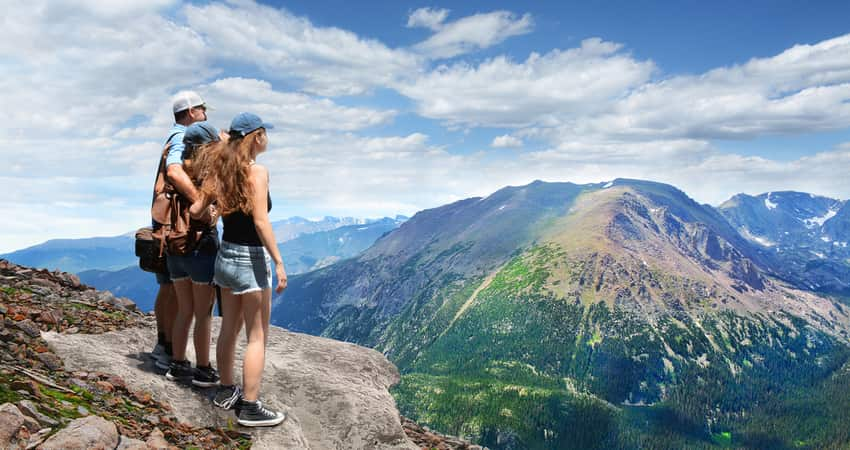 Rocky Mountain National Park
Distance from Denver: ~70 miles or 1.5 hours
Great for: group hikes and nature watching.
Rocky Mountain National Park is the closest national park to Denver and is well worth a visit for locals or out-of-towners alike. The sprawling park sees more than 3 million visitors every year who flock to hike, camp, watch wildlife, and take scenic drives.
There are more than 355 miles of hiking trails throughout Rock Mountain National Park. Beginner-friendly hikes include the 2-mile Dream Lake Trail and 1.6-mile Alberta Falls Trail. If your group is a little more experienced, the 3.2-mile Emerald Lakes Trail and 5.8-mile hike to Loch Vale are popular options. Looking to break a serious sweat? Experienced hikers should try the 9-mile hike to Sky Pond or 6-mile Deer Mountain Trail. If you're lucky, you may see native wildlife like moose, elk, marmots, and bighorn sheep.
Charter bus rental tip: Rocky Mountain National Park has 4 entrances and 7 visitor centers/information stations. Parking areas can be found at both the visitor centers and trailheads throughout the park. Large vehicles may be limited to certain parking lots near the visitor centers, which can fill up very quickly.
Travel Around Colorado with GOGO Charters
Planning a group day trip from Denver doesn't have to be stressful. Focus on organizing your itinerary and the GOGO Charter team will worry about how you'll get there. Relax in a climate-controlled charter bus rental after a long day of hiking, skiing, touring breweries, or learning about Colorado history. Reserve your Denver charter bus rental 24/7 at 720-216-206!
Do you need to rent a charter bus?
Do you need a long-term shuttle service?
We offer contracted shuttle services for businesses, schools, hotels, and more. Contact our experts at 1-844-897-5201 to discuss your long-term transportation plans.