Tour Baltimore Colleges with a Private Charter Bus
The Northeast is home to an extensive number of universities and colleges, making it a great area for high school students to tour. Baltimore is one of many cities in the area with various public and private institutions for higher learning. If you're an educator or parent looking to organize college tours for a group of students, look no further than GOGO Charters for your transportation needs. Booking a charter bus rental for a large group has never been easier with transportation solutions provided by GOGO Charters.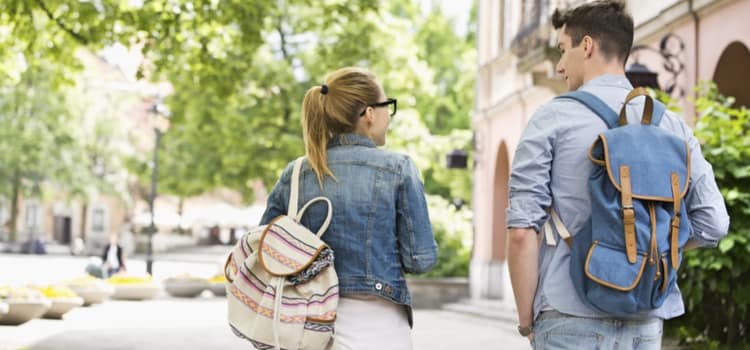 No matter where your group decides to travel in Baltimore and the surrounding areas, we have a full-sized motorcoach or minibus to meet your needs. Whether your group is large or small, the buses we charter come in various sizes with options of premium amenities to keep every student comfortable and entertained. The minibuses we charter can suit anywhere from 18 passengers to 35 passengers, while full-sized motorcoaches are best for larger groups of up to 56 passengers. Each bus includes a professional driver to safely traverse the Baltimore roads. Our network of charter buses spans across the nation, so whether your group is local to Baltimore or from out of town, we can cover all distances.
Get a taste of collegiate life and travel through the Baltimore area with our guide to university tours. Once you're ready to book a bus to visit your top schools, give us a call at (410) 469-7978 to chat with a rental representative about your trip.
Johns Hopkins University
Hailed as the first research university in the nation, Johns Hopkins is well-known for its innovative programs and groundbreaking research in the medical and public health sectors. Johns Hopkins continuously ranks in the top 20 universities in the country and is a dream school for many students desiring to enter the medical field.
Students and chaperones looking to visit the university's main Homewood Campus can request a tour with the Office of Undergraduate Admissions. Groups of 15 to 50 must complete a request form at least one month in advance, with a minimum of 1 chaperone per 10 students. When planning a group visit to Johns Hopkins, keep in mind the high volume of visitors the school generally receives. To give the school options to accommodate everyone, pick at least two separate days your group can attend a tour. Group tours are available most weekdays, Monday through Friday, with select Saturday tour dates, between 9:00 a.m. and 4:00 p.m. Each tour includes a 30 to 45-minute information session with an admissions counselor, followed by a 60-minute campus tour given by a current JHU student.
The school offers a handful of visitor parking options, as well as metered street parking in the surrounding neighborhoods. Buses and oversized vehicles are best suited to park in the North Visitor lot off of San Martin Drive, which is a ways from the admissions office in Mason Hall. Your charter bus driver can organize to drop your group off at Mason Hall before parking the bus at a location designated by the admissions office. 
Loyola University Maryland
With its range of excellent undergraduate programs, this private institution continues to rank as one of the best regional universities in the North. Loyola University Maryland has roots in the Roman Catholic Church and is grounded in a liberal arts education. Undergraduates can choose from over 30 different programs, with strong respect given to their majors in business and communication. The university has also been voted as having the best campus and dorms in the state, making it a frontrunner for quality student living spaces.
Tours are available for high school groups no larger than 45 students during normal university hours. Each tour is led by a current Loyola student and takes groups through the academic quad, dining facilities, a residence hall, and more. Group visits are unavailable during holidays and high-volume visitor days, which fall during December and from mid-March through May. Groups must request a tour at least two weeks in advance, being sure to provide at least three separate dates that everyone will be available to visit campus. Tours are generally held between 9:00 a.m. to 2:30 p.m., with each tour lasting up to an hour.
Parking during campus tours is available in the Jenkins Parking Lot off of East Gold Spring Lane. This lot sits adjacent to the Humanities Center, which houses the Undergraduate Admissions Office and is the beginning point for group tours. Oversized parking in the Jenkins lot must be requested at least 72 hours in advance by emailing admission@loyola.edu. A reserved spot will be organized for your group. 
University of Maryland, Baltimore County
The University System of Maryland is often known for the College Park and University College campuses, which host the majority of students in the public university system. University of Maryland Baltimore County (UMBC) is a slightly smaller campus of around 13,500 students, located in the suburbs surrounding Baltimore. Students looking for a more "college-town" experience may prefer to visit the College Park campus, but those looking to stay a little closer to the Baltimore metropolitan area will find UMBC more suitable. UMBC is recognized for its programs in computer science, information technology, and biomedical sciences.
Group tours at UMBC are available Monday, Wednesday, and Friday by request. The school recommends providing 2 to 3 potential visit dates so they can try their best to accommodate your group. Visiting the campus is best done during fall and spring semesters, but be sure to avoid trying to schedule a visit the first week of classes each semester. Groups must be between 10 to 50 high school students and the request form must be filled out at least one month in advance. Each visit includes an information session with an admissions counselor and a tour of the UMBC campus.
Bus parking for group tours is available in the Technology Research Center (Lot 25) with advance registrations made through Parking Services at parking@umbc.edu. Be sure to include the date of visit, number and type of vehicle(s) (bus, van, car) and contact name with a phone number. Register your vehicle with UMBC Parking Service at least one week before the campus visit.
Towson University
Located 25 minutes north of Baltimore, Towson University is hailed as the first training school for teachers in Maryland. Since opening in 1866, the school has gradually become a top regional public university in the North with over 60 undergraduate programs. Many students attending Towson choose fields related to business, health, and education. Towson is often ranked as a school known for providing students a higher education at a good value, offering a strong curriculum at an affordable price.
High school groups can tour Towson by registering through their website. Dates and times for group tours vary by semester. Group tours are reserved for groups of 10 to 50 students, with at least one chaperone per 10 students. Tours last around two hours and include an information session with University Admissions, followed by a 90-minute campus walking tour with a student ambassador.
Parking on Towson's campus is by permit through designated pay stations or through the Park mobile app. Each vehicle on campus must register with the pay station or mobile app before parking in a visitor space. Visitor spaces and pay stations are located throughout campus, but oversized vehicles like charter buses should contact Parking Services at 410-704-7275 (PARK) or uPark@towson.edu before parking.
Book a Bus in Baltimore
There are an endless number of schools in the Northeastern United States, and GOGO Charters is here to make sure your group safely tours each one. We are able to offer transportation options for groups traveling locally or even those going longer distances to tour schools in Washington DC, Philadelphia, New York, and beyond.
If you aren't sure which charter bus rental is best for your group, give us a call today at (410) 469-7978 to chat with a rental representative about your group's unique rental needs. We'll pair you with the best bus and driver, to make your travels as easy as possible.
Tags In
Do you need to rent a charter bus?
Do you need a long-term shuttle service?
We offer contracted shuttle services for businesses, schools, hotels, and more. Contact our experts at 1-844-897-5201 to discuss your long-term transportation plans.