The Ultimate Guide to Renting a Charter Bus for a Weekend
A lot of planning goes into a weekend trip. From the itinerary to gathering everyone together, group trips require a lot of work and organization in order to make sure everyone gets the most out of the journey.
Do you usually find yourself separating your group between different vehicles, leading to extra confusion? Do you get frustrated when everyone arrives at different times, putting your itinerary off-schedule? Are you worried that some group members may end up lost along the way?
A charter bus rental is your solution for your next weekend getaway. Your entire group can ride together without dealing with the hassles of transportation. Your group can focus on spending time with one another and fully enjoying all the activities without stressing over navigating through a new city, traffic, and parking.
Not sure where to start with renting a charter bus for an entire weekend? Keep reading for our expert advice to have the most seamless rental process possible.
Determine Your Budget
Renting a charter bus for an entire weekend might sound pricey, but it's actually the most cost-effective way to travel with a group. Before calling bus rental companies, determine your budget to ensure you get the most bang out of your buck with your quote.
Bus rental quotes aren't always one-price-fits all. In fact, various factors determine your overall cost, like the season, bus model, trip duration, and more.
To get started, you can use these average charter bus prices:
| | | | |
| --- | --- | --- | --- |
| Bus Type | Per Hour | Per Day | Per Mile |
| Charter Bus | $125 – $180 | $1,300 – $1,700 | $4.00 – $5.50 |
| Minibus | $125 – $160 | $1,200 – $1,500 | $4.00 – $5.50 |
| Entertainer Bus | N/A | $1,900 – $2,500 | $7.00 – $8.50 |
How is charter pricing determined? It all depends on the details of your trip. When you call a trustworthy bus rental company like GOGO Charters, your reservation specialist will walk you through your trip details and how pricing works. They'll work with your budget to find the perfect bus for your special occasion.
When renting a bus for the weekend, you'll be charged the daily rate because you'll have the bus for multiple days. On top of paying your rental fee, you will be responsible for your driver's lodging each night. We recommend booking a room in a hotel with a 3-star rating or more to ensure your driver has a good night's rest for your next day's adventure.
While it's not required, tipping your driver is greatly appreciated. Show your driver your appreciation for a job well done by tipping them 10%-20% of your quote's total.
Pick Your Bus Model
Whether your group only has 10 people or 100+ passengers, you have options. Before calling, you should have an inkling of what kind of bus you need to best fit your group's specific needs.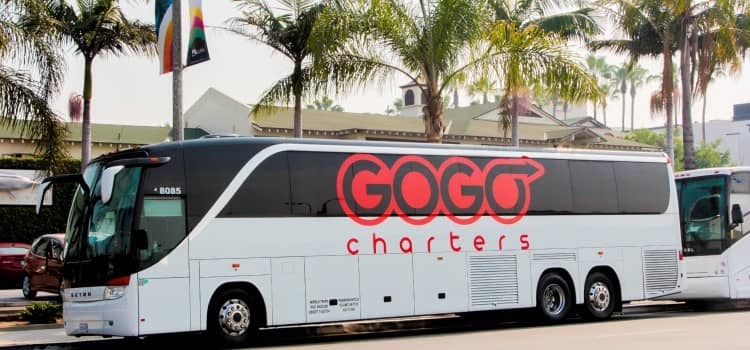 A minibus rental is best for smaller groups and traveling short distances around town, like for shuttle services for weddings, corporate events, or any other large-scale event. They come in various sizes, from 18 passengers all the way to 35 passengers, making it easy to accommodate groups of any size. Minibus rentals can come with amenities like reclining seats, TVs monitors, WiFi, power outlets, a PA system, and more to make the ride enjoyable.
A charter bus rental is better for larger groups and traveling long distances, like across state lines. Charter buses are the most spacious option, holding up to 56 passengers comfortably. Because charter bus rentals offer more space, they are the best option for luggage storage with storage bays available below the bus and storage bins above seats. Motorcoaches can also come with a variety of amenities like flat screen TVs, air conditioning, reclining seats, WiFi, power outlets, and so much more.
Once you know the size of your group and their specific needs, your reservation agent will work with your details to find your bus rental and send you a quote as quickly as possible.
Have Your Itinerary Ready
One of the most important factors of your trip overall will be your itinerary. Before calling, you will need your complete itinerary in order to book your bus. Your itinerary should include the dates of your trip, your desired destinations, and your departure and arrival times.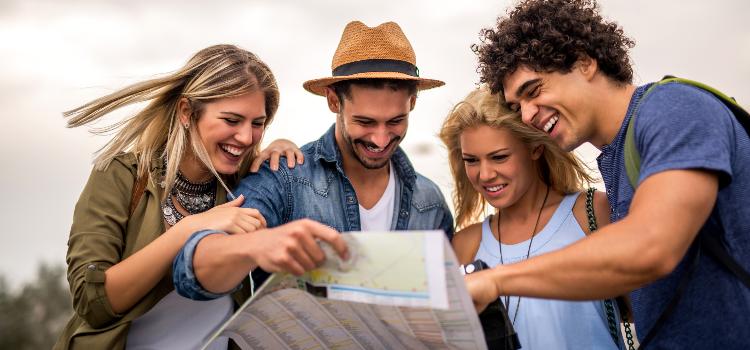 If you're not sure how to build your weekend itinerary, no worries– that's what our reservation specialists are here to help you with! They're experts at building the perfect itinerary, and because we work with local companies that know their area very well, we can provide advice on where to go and what to do. However, the more detail you provide your reservation agent, the easier and faster the process will be.
Tips for Certain Trips
Each trip is unique in its own way– but there's one thing they all need: efficient, reliable transportation. GOGO Charters has worked with groups of every kind, giving us the experience to help you plan the most successful weekend trip with your group. Here are our weekend bus rental tips for your special trip.
Wedding Bus Rentals
Planning a wedding is stressful enough in itself, but it's the guests that can really make or break your event– when your guests arrive late or not at all, it can put a damper on your whole wedding day.
If your wedding event runs all weekend and spans across multiple venues, renting a bus is the best way to not only keep your wedding party organized, but to give your guests the most enjoyable weekend. Instead of leaving guests stranded, you can shuttle them between their hotel and the venues to ensure everyone arrives together and on time.
To make transportation one less thing to stress over during wedding planning, book your wedding bus rental as early as possible, preferably at least 6 months ahead. Consider booking a separate bus for you and your wedding party for a private ride to and from the event, giving you a moment to savor the intimate time with your closest friends and new spouse. Provide exact details of departure and arrival times, addresses, and other important parts of your big day to ensure everything runs smoothly the entire weekend.
Corporate Events
You need your employees' full attention and motivation to impress clients and make your next corporate event successful. That's why it's important to provide professional transportation for your weekend-long event.
For your event to run smoothly, before renting your bus, make sure you have your routes planned, the most efficient pickup and dropoff locations selected, what times your attendees will need shuttles the most, and an itinerary with enough time for loading and unloading passengers. For the best deal and availability, we recommend booking as far as in advance as possible. Aim for three to six months ahead of your event's date.
School Trips
Whether you're planning a field trip, campus tour, or heading to a game with your sports team for the weekend, renting a charter bus is the safest, most comfortable option for the entire group. When students are involved, safety is always a priority, so make sure you choose to work with a reputable company like GOGO Charters who only work with certified drivers and bus rentals that undergo numerous safety inspections before hitting the road.
Collect participant contact information and insurance information before your trip for a safety precaution. Since there is plenty of room for luggage, make sure students pack all their essentials, from any medication to their pajamas and any carry-ons while on the trip. To keep students entertained on the long bus ride, you can make use of the bus's TVs and DVD players or play any traveling games.
Private Trips
Bus rentals make the perfect option for groups of friends who want to explore a new city, attend a local festival, plan family reunions, or participate in weekend retreats with their church groups without the hassles of separation or transporting on their own.
For a private trip, it's important to finalize your itinerary as soon as possible so you can make any needed reservations at hotels, restaurants, tourist attractions, and wherever else you're headed. While your reservation agent can accommodate last-minute changes, it may result in extra charges. Research if your hotel or attractions require a bus permit or if there are any tolls on the way and make arrangements beforehand to avoid any last-minute surprises.
Riding with friends gives you plenty of time to bond with one another, but long-distance trips can get boring easily after a few hours. To make the most of a long bus ride, bring a comfortable pillow and blanket to snooze comfortably, reading material, snacks, and electronics. While your bus may come with power outlets and WiFi, make sure all your devices are charged to stay entertained the entire journey.
Ride with GOGO Charters
Next time you're planning a weekend trip, work with GOGO Charters for a seamless process and the most comfortable ride for your group. We've worked with groups of every kind, helping them find their perfect bus rental so they can focus on other trip-planning details. Our team is available 24/7 at 1-855-826-6770 to help you plan your trip!
Do you need to rent a charter bus?
Do you need a long-term shuttle service?
We offer contracted shuttle services for businesses, schools, hotels, and more. Contact our experts at 1-844-897-5201 to discuss your long-term transportation plans.