The Complete Guide to Charter Bus Loading and Parking Logistics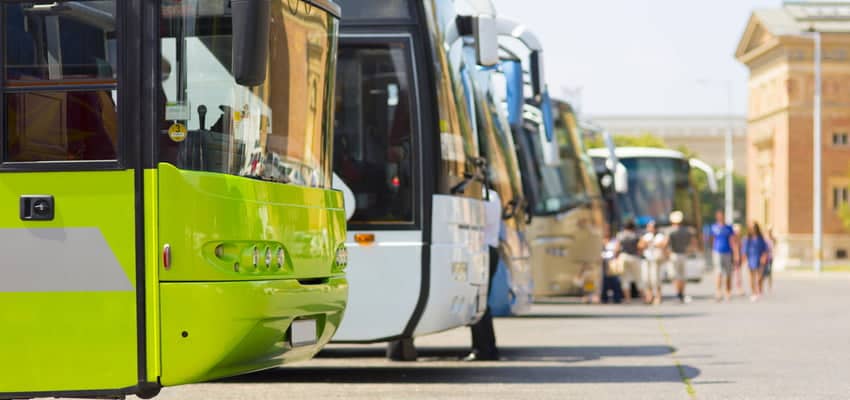 At GOGO Charters, we pride ourselves on making every part of your group transportation experience as easy as possible. From the charter bus quoting process to organizing pickups and drop-offs, we aim to have everything covered for your group trip.
We've already covered the charter bus rental basics, but what about the parking and pickup details? Pre-planning your staging and loading logistics for your charter bus will help us get your trip running as smoothly as possible.
While booking your charter bus, consider these general tips to organize staging areas, loading areas, and a seamless pickup and drop-off:
1.   Keep your destination in mind.
Finding a place to stage, unload, and park a bus in Washington DC is going to be more difficult than doing so in a more attraction-sparse location. This may seem obvious, but starting with a realistic mindset regarding traffic and transportation accommodations is a good first step.
2.   Consider contacting the city's Department of Transportation.
Most major cities with high levels of out-of-town travelers have several resources for passengers. These offices will outline any important parking regulations and limitations of charter bus travel, as well as information about necessary travel permits that need to be obtained by passengers.
For example, cities like New York and New Orleans have roads that prohibit buses in historic areas and crowded business districts. If your destination is in travel-restricted areas for buses, your driver will need to take a different route to designated loading areas.
3.   Understand some important parking terminology.
Major cities will often designate separate parking, staging, and loading areas for buses. When you're looking into parking and drop off logistics for your bus, be sure you know the difference between the following terms:
Staging – Think of this as the waiting time between the bus departing for its destination and when passengers board the bus. Staging areas are where your bus driver will temporarily wait before moving on to the loading area to pick up your group. These designated areas are generally used to keep traffic flow smooth in busy locations and avoid gridlock with buses waiting for their passengers.
Loading – Loading time begins when passengers actually begin to board the bus. Charter bus or tour bus loading zones are designated for the pickup of passengers and their luggage, and shouldn't be used for long-term parking or staging. Loading zones in busy areas generally have a time limit of anywhere from 5 to 30 minutes.
Idling – Cities like Washington DC and 23 states, including California and Arizona, have laws that limit idling. Depending on the location, a charter bus that isn't in motion can't leave the engine running for more than a specified amount of time, usually between 3 to 10 minutes. Keep this in mind when requesting your charter bus driver to pickup and drop-off in certain locations.
4.   Explore parking options at convention centers, museums, stadiums, and parks.
Finding parking spaces for oversized vehicles is often limited in busy cities. Some areas may offer street parking alongside loading and staging areas, while other locations suggest that buses park in large business centers or public areas.
Chicago is a prime example. The city offers designated loading zones near top attractions, but most Chicago charter bus parking must be done at McCormick Place, Soldier Field, or Lincoln Park.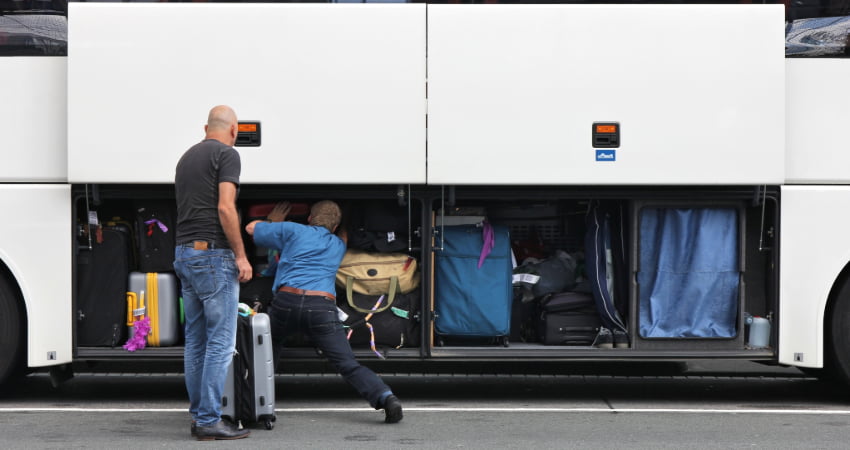 5.   Plan to find multiple loading zones and staging areas for multi-attraction trips.
Cities like Washington DC and Los Angeles are relatively spread out. Walking between locations is doable in some areas, but if you're traveling with a large group, shuttling there may be easier.
If your group is planning to visit multiple attractions in DC but you have passengers who can't make the journey along the National Mall, consider mapping out the best pickup and drop-off locations at each stop throughout your journey.
Staging and Unloading at Airports
At GOGO Charters, we understand that chartering a bus for your entire journey isn't always feasible. Sometimes taking a plane for a cross country trip is simply easier for groups. But what about after the plane lands?
Reserving a private motorcoach as a shuttle will make your airport transfer much easier than relying on transportation from hotel shuttles or rental cars.
Most major airports have a designated location for bus staging before passenger pickup and separate curbside pickup areas that prohibit waiting.
Depending on the airport and the level of traffic, consider contacting Airport Authority to ensure passenger pickup and drop-off is allowed in certain terminals with a charter bus. Some exceptionally busy airports require trip permits for passenger pickup, while others allow simple curbside loading at terminals.
Charter buses can generally be staged at cell phone lots or parking lots designated for oversized vehicles while waiting for passengers. Once passengers arrive curbside at their destination, your driver can arrange a meeting location to load to your group. Cities like Phoenix have charter bus access at multiple airport terminals, while busier locations like Chicago have a separate bus and shuttle center.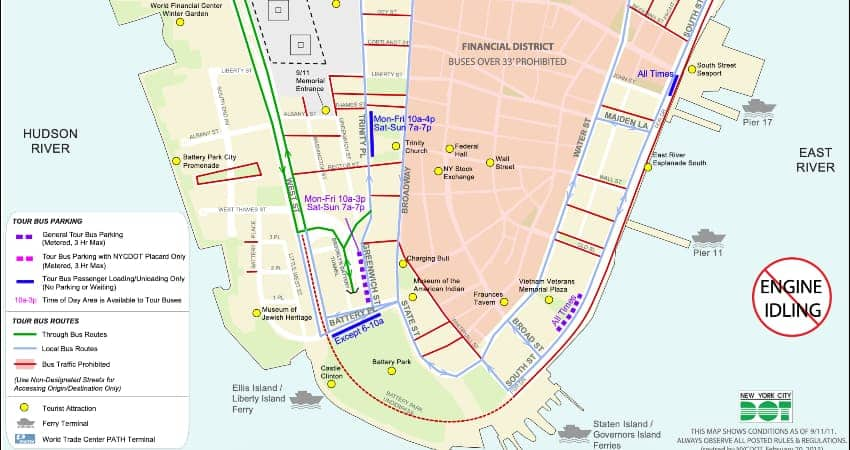 Parking and Unloading at Popular Tourist Attractions
Cities with a large number of tourist attractions like New York City and Washington DC have designated drop-off locations near popular areas. Bustling cities like The Big Apple are generally better when traveled by minibus rather than full-sized charter bus.
New York restricts charter buses access on several roads in Lower Manhattan, while all charter vehicles over 33 feet are prohibited in areas like the Financial District.
Attractions like the 9/11 National Memorial and Battery Park in Lower Manhattan have designated passenger pickup and drop-off locations that work around bus restrictions. Parking is still exceptionally limited in these areas, but large groups can use a loading area for up to 15 minutes.
If your group is traveling to busy areas like Lower Manhattan or the National Mall in DC, be sure your loading and unloading process is as streamlined as possible. During peak travel seasons in summer and around holidays, DC sees more than 1,000 motorcoaches daily. So you'll likely have dozens of other buses needing to unload and load in the same areas.
Charter Bus Parking at Hotels and Lodging Accommodations
Going on a multi-day trip? GOGO Charters caters to trips of all lengths, and we're always available to help you go the distance—wherever your travels take you.
When planning a long-term group trip, keep two things in mind:
1.   Don't forget about your driver!
There are a lot of moving parts when organizing a long group trip. You have to take care of your group's lodging, but you'll also need to ensure your driver has a place to rest their head.
This can often be an overlooked detail, but we want to make sure your driver is rested and ready to transport your group around town.
2.   Don't forget about your bus!
Hotels in busy downtown areas are often working with limited parking space, meaning that finding oversized vehicle parking may be difficult, if not impossible.
Be sure to contact your lodging accommodation well in advance to inquire about bus parking. If your hotel does have space, there's usually an upcharge in the daily parking fee for oversized vehicles. If your hotel doesn't have space, find a private or public lot that can accommodate large vehicles and secure your driver's lodging near the lot.
Many groups visiting New York City often have their buses parked in New Jersey for the evening with close by lodging for their driver. Other cities like San Antonio offer overnight parking options for oversized vehicles in the Downtown area for easy access throughout your trip.
Simplify Your Transportation Logistics
At GOGO Charters, we understand that planning a trip can be stressful. With organizing itineraries, airport transfers, lodging, and so much more, we know you have a lot to handle. As experts in group travel, one of our top goals is to help simplify the transportation process for every passenger. Still have questions about a trip? Need a charter bus quote? Feel free to call us anytime at 1-855-826-6770, we're here to help!
Do you need to rent a charter bus?
Do you need a long-term shuttle service?
We offer contracted shuttle services for businesses, schools, hotels, and more. Contact our experts at 1-844-897-5201 to discuss your long-term transportation plans.