A Group Road Trip Guide to the Great River Road
The Mississippi River is the second-longest river in the United States, snaking through 10 states and over more than 2,200 miles. The Great River Road along the Mississippi began development in the 1930s and has attracted travel enthusiasts from around the country ever since. Along with Route 66 and PCH, Great River Road is one of the best road trip destinations for groups to hit the asphalt and see the many sites. Get everyone together, build an itinerary, book your group transportation, and get on the road!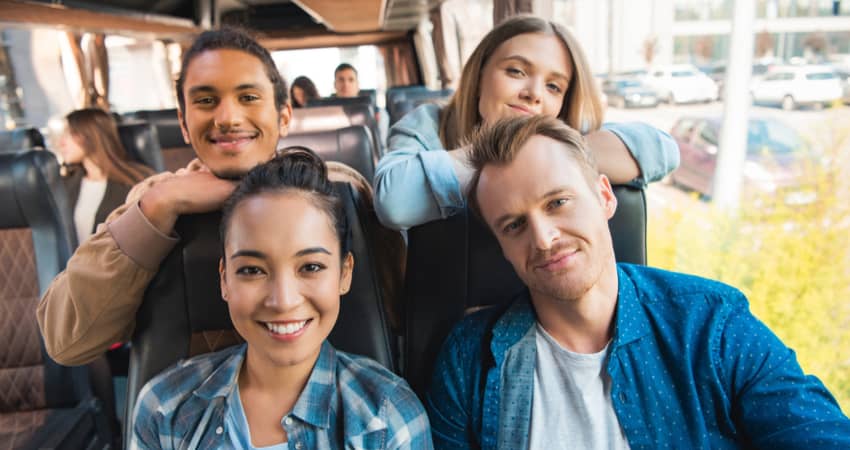 Quick Navigation
You're not going to have the massive crowds and traffic of popular vacation spots like New York and Los Angeles, but you'll still have more than enough to see on your journey. Traveling the scenic Great River Road will take you through major cities like St. Louis and New Orleans along with small sleepy towns throughout ten U.S. states. Rather than being one continuous road, this scenic byway is made up of two main routes on either side of the river that encompass a network of roads. Regardless of the route you choose, most travelers take at least two weeks to complete the long journey. If you're looking for a long, exciting group vacation—Great River Road is the trip to take.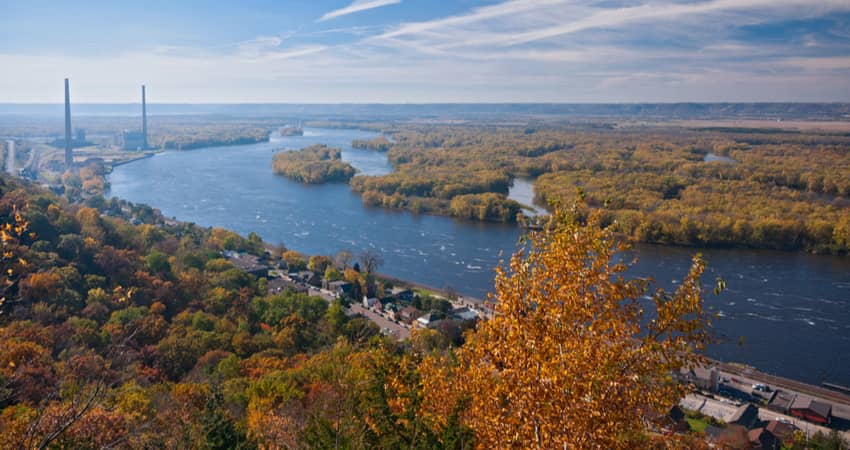 Organizing an old-fashioned car caravan is a popular way to travel for road trips. There's some charm of loading up in someone's Camry and riding between the Midwest and the South, but it isn't always the most efficient way to travel (Just think of the leg cramps from being stuck in the backseat too long). Large groups of travelers may want to opt to book a minibus or charter bus rental for their trip instead.
A charter bus rental will give everyone plenty of space and time to relax, catch some shut-eye, and enjoy the journey. But who's going to drive the bus? Renting with GOGO Charters means you'll have a dedicated and professional charter bus driver too! Don't worry about trading off driving shifts every couple hours, your driver will have it handled.
GOGO Charters bus rentals are perfect for summer camps, private groups of friends and family, and international tourist groups who may not be authorized to drive in the United States. Having your own private charter bus will allow you to build your own itinerary from Minnesota to Louisiana. Everyone can stretch out on reclining seats with plenty of legroom as you travel at your own pace.
Renting a bus with GOGO Charters is easy. All you have to do is call 1-855-826-6770 with all your trip details and you'll receive a personalized rental quote. GOGO Charters bus pricing varies depending on several factors and if you're planning a long road trip, you'll definitely want to have all your ducks in a row before getting a quote. Our charter bus rental guide is a handy resource to learn more about how the rental process works. You will need a few additional details when planning extended rentals for road trips. Keep these planning tips in mind when organizing your trip details:
Reserve lodging early: Although Great River Road does stop in a few major cities, you'll definitely find yourselves in small towns with fewer lodging options. Start looking as early as possible to ensure you find hotels to meet your needs.
Book a room for your driver: Charter bus drivers are required to rest 8 hours for every 10 hours of driving. While booking your group's lodging, be sure to ask about any discounts you may be able to take advantage of for your driver's room.
Pack smart: Charter buses have spacious storage options but they can still become limited if you have a large number of passengers. Longer trips also provide more opportunity for overpacking. Make a packing list well ahead of your departure date to give you plenty of time to talk yourself out of the hazard packing. Be sure to pack a carry-on with essentials for easy access on the rod.
Ask about bus amenities: You never know how much you'd appreciate an onboard restroom until you're on the road in Arkansas without a rest stop in sight. Thankfully, full-sized charter buses include restrooms and can be equipped with additional amenities like WiFi and TVs with DVD players to help pass the hours on the road. Worried about your phone or tablet dying during the hauls between your stops? No worries! Ask your reservation specialist about requesting a bus with power outlets too.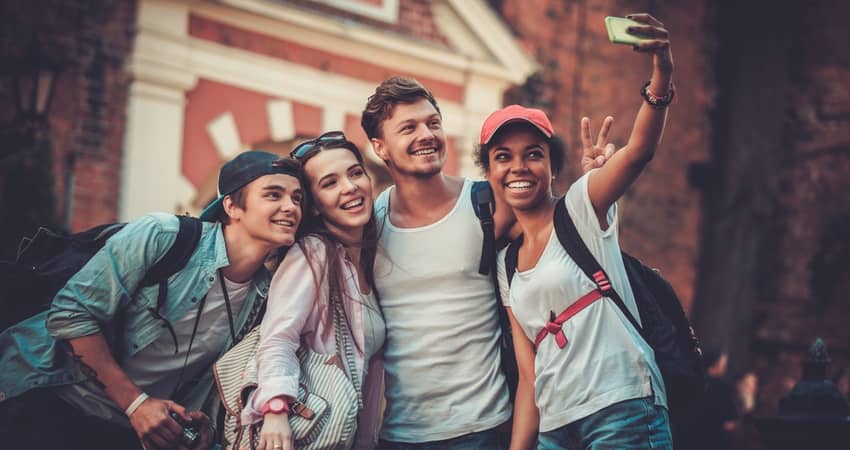 While building your itinerary you can fill it with the most popular stops or specialize your schedule to your groups' interests. Build an outdoor-focused itinerary of state parks and nature centers, or create a history-themed trip filled with museums and national monuments.
If you're not sure where to start with planning, consider adding these major stops in each state:
Itasca State Park
Address: 36750 Main Park Drive, Park Rapids, MN 56470
Phone: 218-699-7251
Hailed as one of the most picturesque state parks in Minnesota, Itasca is filled with so much natural beauty. Lake Itasca is the traditional source of the Mississippi River, offering guests water activities like kayaking and canoeing. You'll also find dozens of hiking trails throughout the park to explore the Minnesota wilderness. Entry permits can be purchased online with discounted fees available for 10 or more cars. Groups traveling by charter bus should inquire about oversized parking and additional entry fees.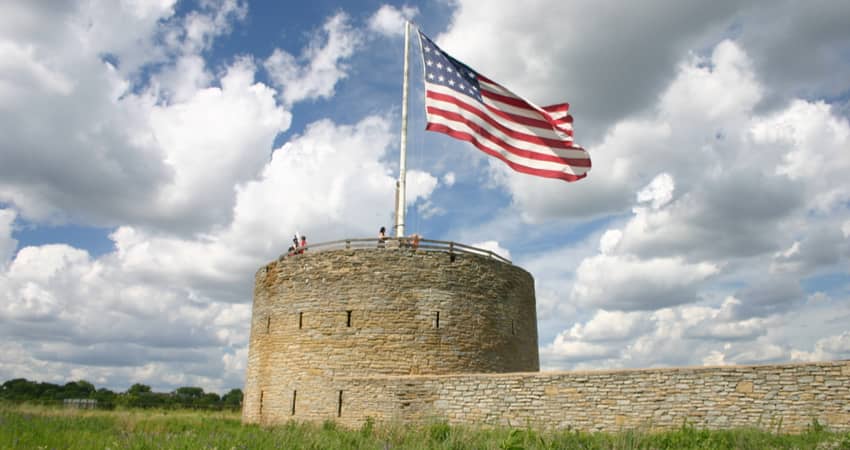 Historic Fort Snelling
Address: 200 Tower Ave, St Paul, MN 55111
Phone: 612-726-1171
Located just a few miles from Minneapolis, this military fort was opened in 1819 and has played a role in events from the Civil War to World War II. The fort holds daily tours and hosts historic reenactments that include cannon-firing and live music. Groups of 10 or more adults can qualify for reduced admission with at least two weeks' notice. Your charter bus driver will also get complimentary admission with your group reservation.
Villa Louis
Address: 521 N Villa Louis Rd, Prairie du Chien, WI 53821
Phone: 608-326-2721
Groups of history lovers should make a stop at Villa Louis, a restored Victorian mansion filled with antique furnishings and historic objects from the early 19th century. The Victorian villa also operates the nearby Fur Trade Museum where your group can take a short, self-guided tour. If you have more than 10 group members, you'll receive discounted admission and free entrance for your bus driver as well.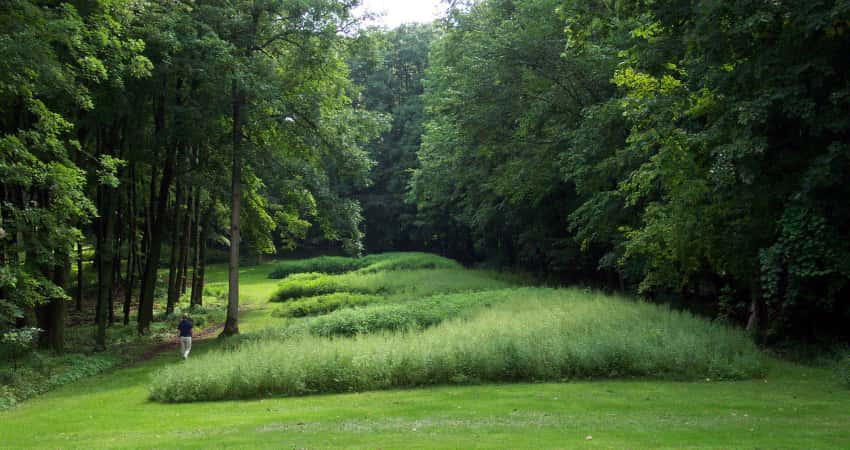 Effigy Mounds National Monument
Address: 151 IA-76, Harpers Ferry, IA 52146
Phone: 563-873-3491
This national monument preserves more than 200 prehistoric animal-shaped mounds built by Woodland Native Americans. The Effigy Mounds are considered a sacred space, having significant cultural ties to around 20 Native American tribes in the region today. Along with its historic and cultural significance, the national monument also has beautiful hiking trails and riverfront views. Admission to the mounds and visitor center is completely free.
National Mississippi River Museum & Aquarium
Address: 350 E 3rd St, Dubuque, IA 52001
Phone: 563-557-9545
The National Mississippi River Museum & Aquarium has plenty to entertain and educate both kids and adults alike. You can explore interactive exhibits about shipbuilding and the local ecosystems, learn about the first Native Americans who inhabited the area, and even hop aboard a decommissioned dredge boat. The aquarium houses more than 100 species of wildlife, including alligators, river otters, turtles, and octopus. Tours must be organized for private groups and school groups at least two weeks in advance.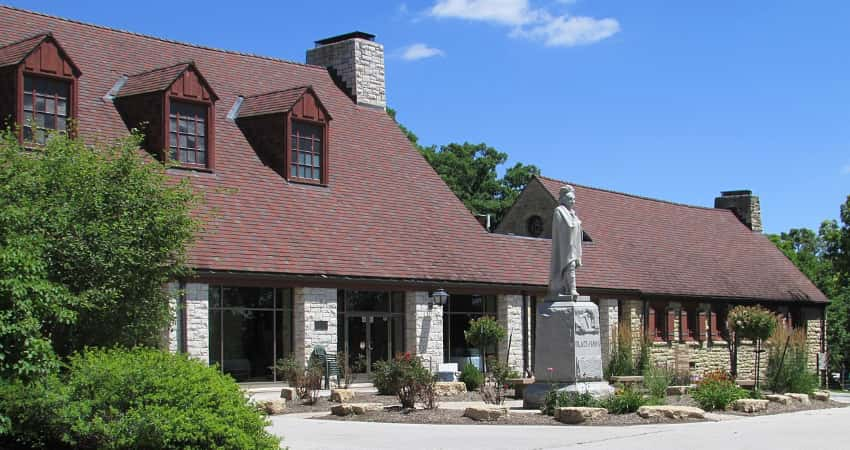 Black Hawk State Historic Site
Address: 4801 11th St, Rock Island, IL 61201
Phone: 309-788-0177
Located about 3 hours from Chicago, this historic site is an important cultural space to learn about the Native American tribes of the region. The site houses Saukenuk village, the historic home of the Sauk tribe. Visit the Black Hawk Museum and Lodge, John Hauberg Museum of Native American Life, and the Singing Bird Nature Center to learn about the culture and history of the Sauk and Meskwaki tribes. Entrance to the historic site and museums is free, but donations are encouraged. Call in advance to schedule a guided group tour of the museum if you'll be traveling with 10 or more guests.
National Great Rivers Museum
Address: 1 Locks and Dam Way, Alton, IL 62002
Phone: 618-462-6979
Have you ever wondered how river dams work? Check out the National Great Rivers Museum teaches the history, engineering, and processes of how the Melvin Price Locks and Dam operate. The visitor center is free to visit and guided tours are open to the public three times a day.
Cahokia Mounds State Historic Site
Address: 30 Ramey Street Collinsville, IL 62234
Phone: 618-346-5160
Cahokia Mounds is located right across the Mississippi River from St. Louis and is a must-see stop for history buffs. Once the site of the largest and most sophisticated Mississippian Native American civilization in the pre-Columbian era, Cahokia Mounds hold over a thousand years of history and culture. Visit the Interpretive Center to marvel at millennium-old artifacts, hike the stairs to the top of Monk's Mound, and take photos of the dazzling St. Louis Gateway Arch in the distance.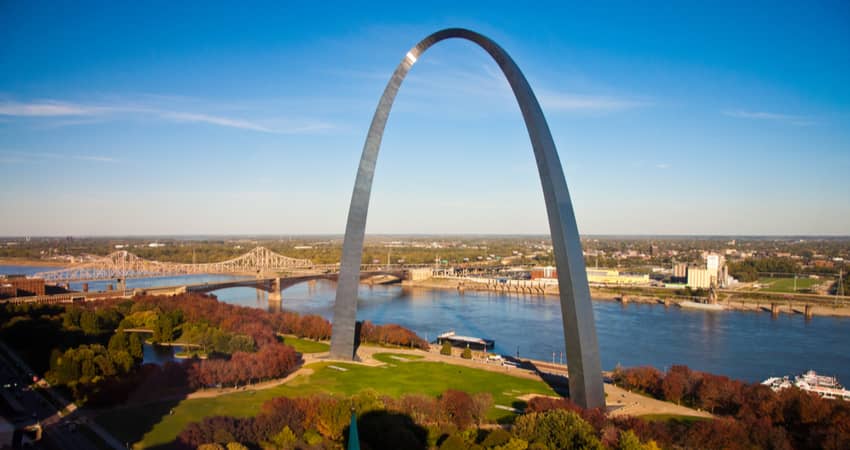 The Mark Twain Boyhood Home & Museum
Address: 120 N Main St, Hannibal, MO 63401
Phone: 573-221-9010
Famed American author Mark Twain was born in Missouri in 1835 and spent most of his younger years in the town of Hannibal. Twain's childhood home has been preserved and converted into a museum alongside several other buildings in the area. Begin your tour at the Interpretive Center and make your way down Hill and Main Street to take a step back in time to Twain's early years. Self-guided and guided group tours are available across the museum's properties with advance reservations.
Gateway Arch National Park
Address: St. Louis, MO 63102
Phone: 877-982-1410
There's a lot to see and do in St. Louis, but nothing is quite as iconic as the city's Gateway Arch. The 630-foot steel archway is also referred to as "The Gateway to the West," documenting the United States' westward expansion in the late 1800s. Although the archway may just look like a sculpture, it's actually an accessible building with a tram to the apex. Groups of 20 or more can snag discounted tickets to the top with advance purchase. Is someone in your group afraid of heights? No worries! The arch is surrounded by a beautiful riverfront park where they can sit and enjoy the views.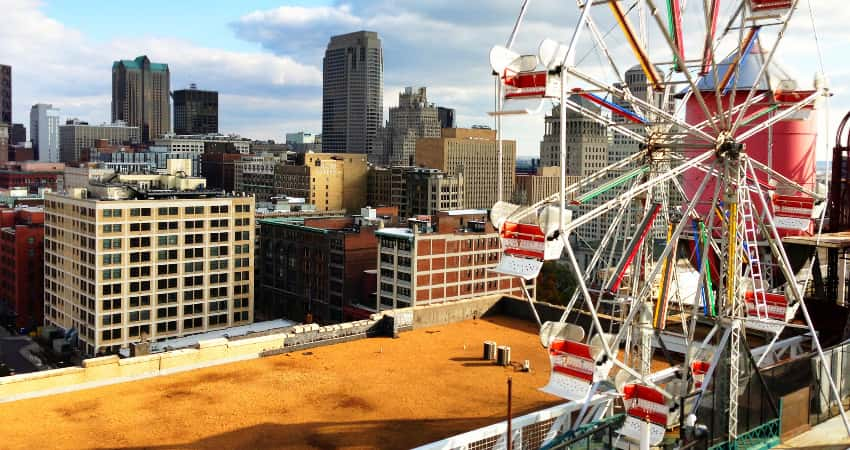 City Museum
Address: 750 N 16th St, St. Louis, MO 63103
Phone: 314-231-2489
If you're traveling with kids, make City Museum a priority visit while in St. Louis. (All-adult groups may feel a little out of place, but it could still be fun!) This one-of-a-kind museum houses a variety of repurposed structures and objects that have been fashioned into the world's biggest jungle gym. The museum has miles of tunnels, 30 slides, a manmade cave system, a massive treehouse, a Ferris wheel on the roof (yep, you read that right), and an overwhelming number of seemingly out-of-place objects—including dinosaurs, airplanes, and Medieval castles. It's easy to burn half a day here, so just be sure to give your group plenty of time. Group admission discounts are available for 15 or more people with advanced reservations. If you're traveling with a large number of children, you'll need at least one adult for every 8 children.
Trail of Tears State Park
Address: 429 Moccasin Springs Rd, Jackson, MO 63755
Phone: 573-290-5268
Although road trips should be fun and enjoyable, they're also good opportunities to learn about overshadowed parts of U.S. history as you travel. Trail of Tears State Park offers visitors a better understanding of the plight of 13 Cherokee tribes as they were forced from their homes between 1831 and 1877. Learn from informative exhibits, explore the nearby hiking and biking areas, and reflect on important history lessons while traveling through this beautiful park. Entrance to all Missouri State Parks is free but donations are welcome to maintain and preserve the park system.
Wickliffe Mounds State Historic Site
Address: 94 Green St, Wickliffe, KY 42087
Phone: 270-335-3681
Although these mounds aren't as large as those at Cahokia, this site is still a quick stop to add to your journey if you enjoy archeology and history. Wickliffe was home to Middle Mississippian Native Americans between the years 1000 and 1350. The four mounds at Wickliffe served as ceremonial spaces, residential areas, and community burial grounds. Today, the historic site has outdoor exhibitions, a small museum with preserved artifacts, and an indoor excavation area. Self-guided tours are available Wednesday through Sunday. Just stop by the Welcome Center and grab a map while your group pays your entrance fee ($4-$6 per person) to the park.
A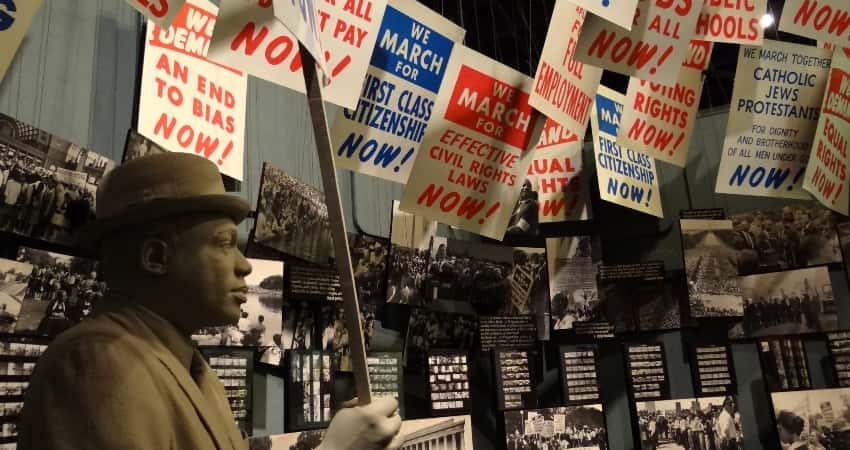 National Civil Rights Museum
Address: 450 Mulberry St, Memphis, TN 38103
Phone: 901-521-9699
Memphis played a prominent role in the Civil Rights Movement of the 1950s and 1960s. The National Civil Rights Museum is a complex made up of several important locations like the Lorraine Hotel where Dr. Martin Luther King, Jr. spent his final moments. Educational exhibits take visitors through the African American experience from the 17th century to the present day, covering slavery, the Jim Crow era, the Montgomery bus boycotts, diner sit-ins, Freedom Rides, and the assassination of MLK. This museum offers vital history lessons and eye-opening experiences that guests surely won't forget. A variety of educational resources are available for schools, camps, and community organizations planning a field trip. Groups of 20 or more are eligible for admission discounts with advance reservations. Your charter bus driver will also be admitted to the museum free of charge.
Mud Island River Park
Address: 125 N Front St, Memphis, TN 38103-1713
Phone:  901-312-9190
Mud Island is nestled between the Mississippi River and Wolf River Harbor, giving guests postcard-worthy views of the water and Memphis cityscape. Mud Island Park is the perfect place to unwind after a long day exploring the city. Have a picnic, visit the Mississippi River Museum, catch a show at the Mud Island Amphitheater, and get amazing photos of the city.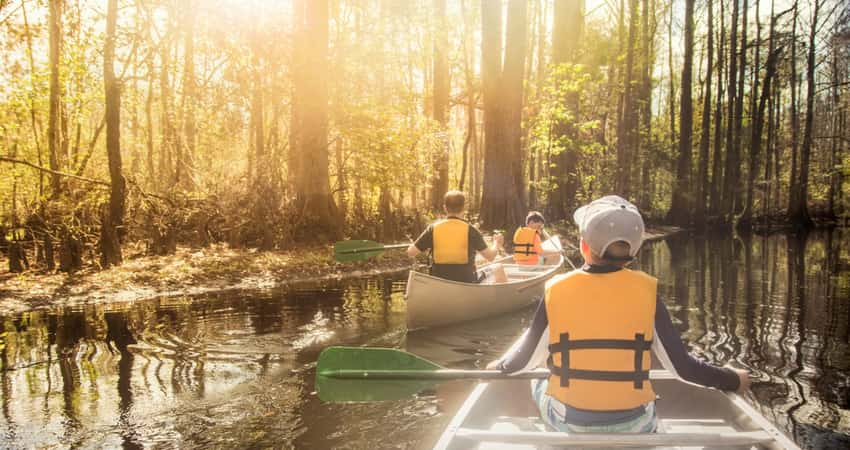 Lake Chicot State Park
Address: 2542 State Hwy 257, Lake Village, AR 71653
Phone: 870-265-5480
Lake Chicot is a wonderful place to get out and stretch your legs after riding through most of Arkansas. This park has hiking trails, rental bikes, fishing, kayaking, boat tours, and a massive swimming pool to cool off and relax. Entry to the park is free but you'll have to pay for any equipment and pavilion rentals, group tours, and pool access.
Vicksburg National Military Park
Address: 3201 Clay St, Vicksburg, MS 39183
Phone: 601-636-0583
Located about 45 minutes from Jackson, Vicksburg was the site of a major Civil War battle in 1899. The Battle of Vicksburg lasted 47 days and ended with the Union taking control of the Mississippi River. The Vicksburg National Military Park has a wealth of history to explore, including educational films at the Visitor Center, roads lined with war monuments, and even a resorted ironclad gunboat filled with artifacts. Along with its historic significance, Vicksburg National Military Park is also just a beautiful location to visit. Snap photos of the lush 1800 acres and rolling hills as you take a step back in time. Most guests walk through the park, but self-guided driving tours are available for those guests who may have mobility concerns.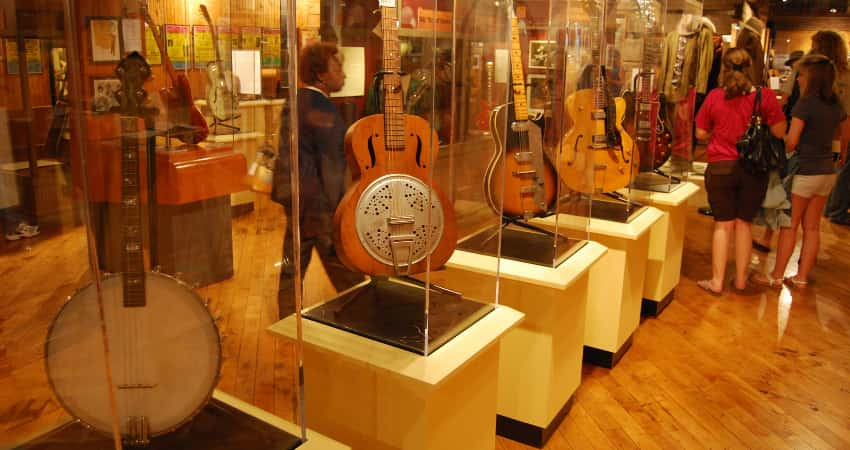 Delta Blues Museum
Address: 1 Blues Alley, Clarksdale, MS 38614
Phone: 662-627-6820
The Deep South has birthed so many important music genres and talented musicians who've changed the world. Blues originated in the South and the Delta Blues Museum exists to educate visitors about the genre's history. The museum's collection includes musical instruments, photos, and memorabilia from famed blues musicians like B.B. King, Robert Johnson, and Muddy Waters. Guided group tours can be requested online for 15 or more guests. These tours include discounted admission and free entrance for your charter bus driver. Performances and music education events are also held regularly at the museum. Check their website in advance to see what additional activities your group can sign up for during your visit.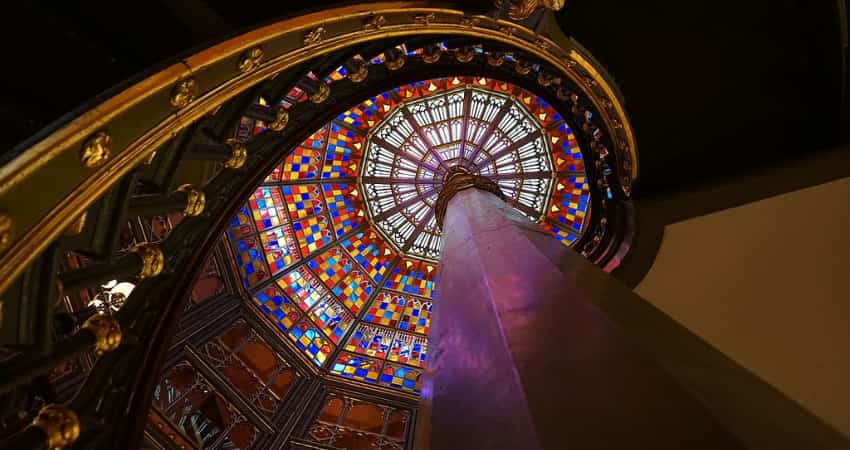 Louisiana's Old State Capitol
Address: 100 North Blvd, Baton Rouge, LA 70801
Phone: 225-342-0500
Art and architecture enthusiasts need to make a stop at the Old State Capitol while in Baton Rouge. Visiting a capitol building may seem offbeat for art buffs but this Gothic Revival-style building has magnificent stained glass windows that are sure to look great in your road trip photo album. The capitol building was converted into a free museum after a new structure was opened in 1932. Today, you can take a free self-guided or guided tour through the beautiful building and learn about Louisiana history. Large groups should fill out a guided tour request online before visiting to ensure docents can accommodate your needs.
French Quarter
Address: New Orleans, LA
Phone: 800-672-6124
With its amazing music scene, rich history, delicious food, and lively nightlife, rounding out a long road trip in New Orleans is only fitting. The French Quarter is known for being the historic cultural hub of New Orleans and is easily the busiest neighborhood in the city. It's home to iconic Bourbon Street and is the heart of most major Mardi Gras parties. Enjoy the quarter's beautiful architecture, grab some beignets at Cafe du Monde, and have a few drinks while partying it up at popular Bourbon Street bars like Fritzel's European Jazz Pub. Keep in mind that oversized vehicles are restricted in historic districts like the French Quarter. Groups planning to spend a large amount of time in New Orleans' historic districts should advise their reservation expert in order to plan an efficient dropoff, pickup, and parking process.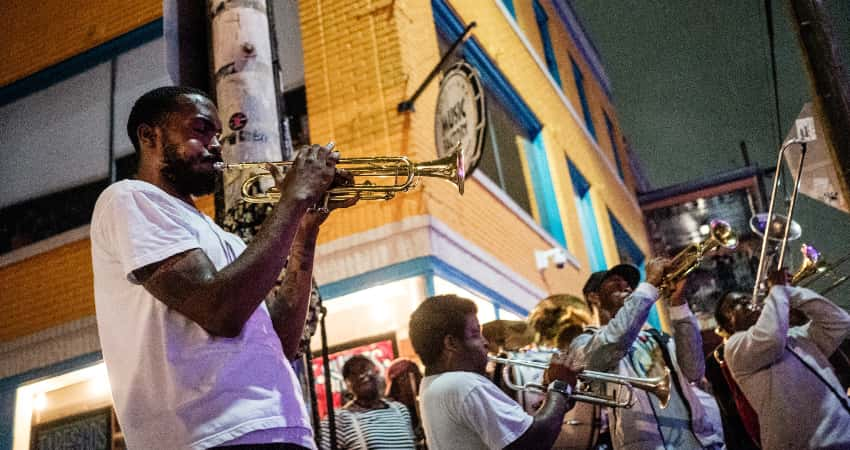 Frenchmen Street
Address: Frenchmen Street, New Orleans, LA 70116
Phone: 800-672-6124
Is your group looking for an area a little less tourist-heavy than the French Quarter? Frenchmen Street is a major hub for live music clubs and local nightlife. If your group is looking for a laidback evening filled with live jazz, local art, tasty food, and adult drinks, take a stroll down Frenchmen Street. Visitors in the market for local art and souvenirs will also find a wide selection of galleries and open-air markets along Frenchmen as well. On any given night, you'll find artists selling their handcrafted goods, hear smooth jazz echoing through the streets, and smell the lovely aromas of Creole and Cajun cooking wafting from restaurants.
Let's Hit the Great River Road
A lot of thought has to go into planning such a long road trip—we totally get it. Whenever you're ready to book your road trip down the Mississippi River, just call 1-855-826-6770 at any time to chat with a GOGO Charters rental expert. You focus on the journey, we'll worry about how you'll get there!
Do you need to rent a charter bus?
Do you need a long-term shuttle service?
We offer contracted shuttle services for businesses, schools, hotels, and more. Contact our experts at 1-844-897-5201 to discuss your long-term transportation plans.