The Ultimate Guide to Group Road Trips on Route 66
Does anything capture "Classic Americana" quite like a road trip along Route 66? This cross-country highway—often referred to as the Mother Road—has served as both a means to see the country and a destination within itself for nearly a century. Rich with history and quirky roadside attractions, it's no wonder that thousands of travelers pay it a visit every year.
The best way to make your road trip even more memorable? Share the experience with a large group of friends, family, and fellow travel enthusiasts—the more the merrier! And lucky for you, GOGO Charters has put together this guide to group road trips along Route 66, so you can get your kicks with minimal stress.
Keep reading to learn how to make the most of your group trip along Route 66, and call 1-855-826-6770 when you're ready to make your travels easy with a personalized bus rental!
Quick Navigation
Why Rent a Charter Bus on Route 66?
Riding in a car can be very cramped—even when you're not on a 2,448-mile road trip—and fitting two weeks' worth of luggage into a sedan is no easy feat. So rather than cramming into your friend's minivan and making your group members take shifts behind the wheel, reserve a minibus or charter bus rental service and let a professional take the wheel! That way, everyone can focus on taking in the sights of Route 66 without stressing the navigation or transportation logistics.
In a way, charter buses are kind of like airplanes: they offer enough storage space for each passenger to bring along one average-sized piece of luggage as well as a backpack-sized carry-on.
But unlike on an airplane, you have total control over what amenities are onboard! Some features like air-conditioning and AM/FM radios (both necessities for a summer road trip, let's be honest) come standard on most minibus and charter bus rentals. And if your group needs something extra—whether that be a built-in entertainment system or ADA-compliant amenities—you can trust GOGO Charters to make it happen.
Upon your request, your passengers can scroll through their social feeds with onboard WiFi, marathon their favorite road trip movies on flatscreen TVs, freshen up in the onboard restroom, and so much more! Our 24/7 reservation team and vast network of coaches can service nearly any transportation request. Just call 1-855-826-6770 with a list of what you need in mind, and we'll handle the rest!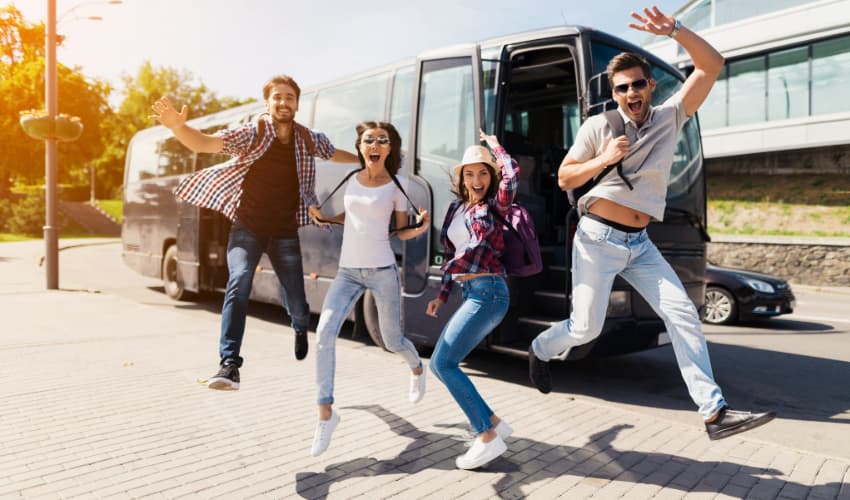 What to Know Before You Embark
Bring the Essentials
When it comes to packing, comfort is key. We know you'll be taking a lot of photos along the way and understand you'll want to look nice for the photo ops, but keep in mind that a great deal of your road trip along Route 66 will be spent sitting in a motorcoach, stretching your legs in a sunbaked desert landscape, or otherwise walking around the hundreds of sightseeing opportunities along the way.
Pack clothes that are comfortable and breathable in the heat, and if you're still worried about your appearance, wrinkle-resistant clothes are a must. Even if you're planning to travel in cooler months, consider packing plenty of sunscreen—again, you'll be in the desert for at least half of your journey.
Book Lodging Before You Leave
Because no one wants to scramble to find 20 rooms at the nearest motel at the last minute. Not only will reserving your lodging before the trip save you time and stress on the road, but you may also receive discounted rates for booking your room blocks early.
If you're traveling by motorcoach on a multi-day trip, remember that you also need to reserve room and board for your driver every night along the way. Professional bus drivers are required to take an 8-hour break for every 10 consecutive hours spent on the road. To make the loading and unloading process easier for everyone, we recommend reserving lodging for everyone—all passengers and the driver—at a hotel or motel that accommodates oversized vehicles in the parking lot. That way, everything and everyone is all in the same place when it's time to roll on to your next destination!
Passing the Time
If you want to see the entirety of Route 66, it'll take at least 14 days to get from one end to the other and see all the important sites in-between. And even if you fill your itinerary to the brim with pit stops and sightseeing, you're going to have a lot of downtime spent on the road with not a lot to do. For long bus rides, we recommend bringing along plenty of movies to pop into your bus's DVD player to keep everyone in the road-tripping spirit—Thelma and Louise, National Lampoon's Vacation, Little Miss Sunshine, and A Goofy Movie tend to be crowd favorites.
Is your group not really the movie-marathoning type? Consider setting up a small community library in one of the overhead storage bins, and fill it with easy reads of all genres that people can take and read as they please.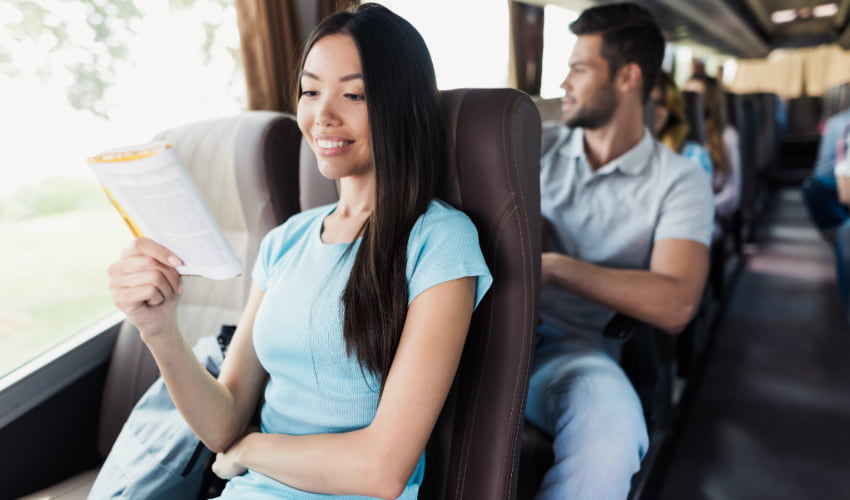 Which Direction Should We Go?
With so much ground to cover along the Mother Road, it can be difficult to know where to start—quite literally. So where should your group embark? Well, it depends:
East to West
Most visitors who travel the entire length of Route 66 go from Chicago to California, east to west, because of historical reasons. For one thing, that's the direction the route was originally built—with the older roads in the east and relatively newly-constructed stretches of highway out west.
Also, going from east to west along Route 66 pays homage to the reason the interstate was built in the first place. Back in the late 1920s, throughout the 30s, and onwards, Americans used these streets to migrate away from the hardships and Dust Bowls of the Great Depression and from overcrowded Eastern cities toward opportunities in the Southwest and California.
Besides, is there anything more romantic than riding into the setting sun on a cross-country road trip?
West to East
That being said, starting your journey in California is still an option, and may even be more desirable depending on your circumstances. If your group is based on the West Coast, or if it'd be easier to fly into LAX for the start of your journey, kicking off your Route 66 trip in sunny Santa Monica is a great idea.
Also, the time of year may determine where you start. The United States' Southwestern states get very, very hot—we're talking +100°F on average—so your group may want to start there if you're embarking as the weather gets warmer. Even if you opt for a completely climate-controlled charter bus rental, you can only soak in that sweet AC for so long before it's time to venture out and sightsee. If you're planning to travel in late spring or early summer and want to be in cooler climates by the time the heat waves roll around, start in California.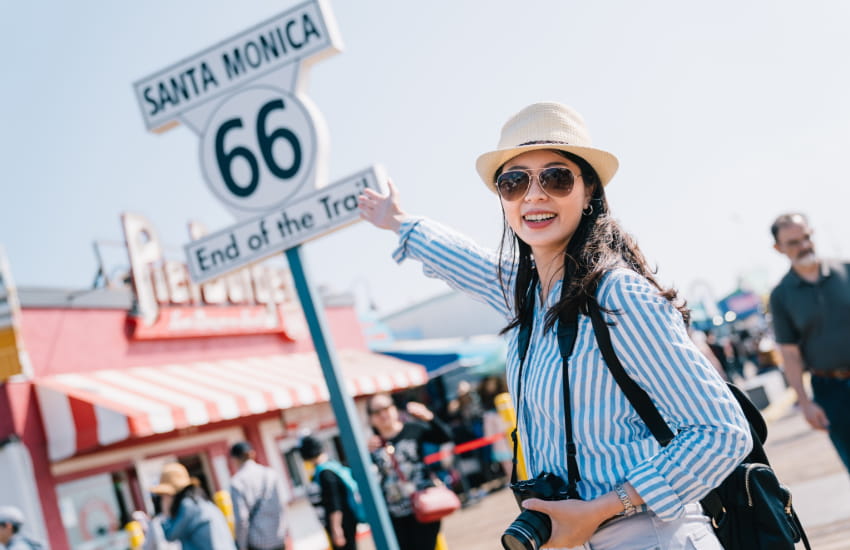 Top Route 66 Attractions By State
Need help narrowing down your Route 66 itinerary? Here are some of the best attractions your group will find along and just off the Route, organized by state.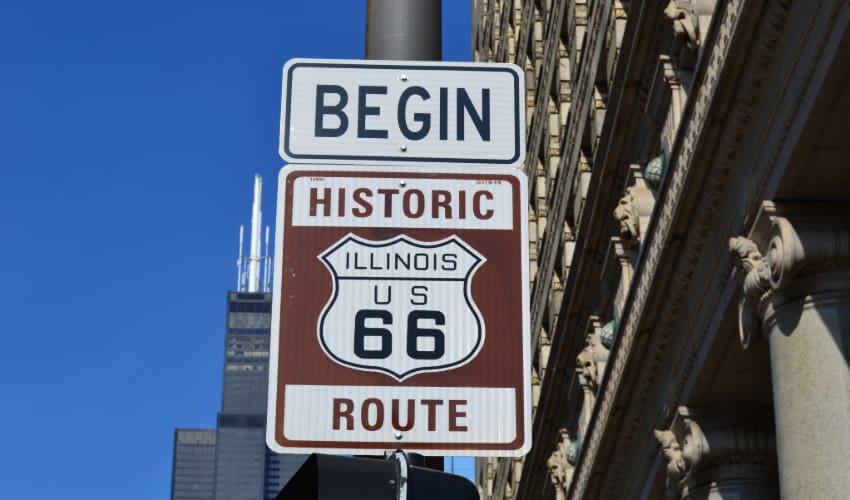 Illinois Attractions
Chicago
If you start your Route 66 trip from the east, that means Chicago is your starting point! There's enough to see and do in this major city to fill a few days' worth of itinerary space. But since there's a lot of ground to cover between here and California, here are just a few Chicago highlights for first-timers if you've got time to kill before everyone rolls out:
Millennium Park—the gorgeous greenspace along the lake. Plan your visit right and you may catch a glimpse of a festival or concert
Cloud Gate—also lovingly referenced to as "The Bean," a large reflective sculpture in Millennium Park that distorts the surrounding skyline, waterfront, and visitors into trippy shapes
Navy Pier—a century-old, 50-acre pier jutting out into Lake Michigan that houses dining, shopping, thrill rides, and sightseeing ops
The Gemini Giant
Address: S East St, Wilmington, IL 60481
If you need a rest around Wilmington, stop for a group photo at the feet of the Gemini Giant—the 30-foot tall fiberglass sculpture of an astronaut holding a rocket. This guy has been patiently posing for tourists' pictures since the 1960s, so he won't mind waiting a few minutes for you to figure out your camera's white balance.
Route 66 Hall of Fame and Museum
Address: 110 W Howard St, Pontiac, IL 61764
Housed in a historic fire station, this museum offers large maps where your group can trace your route in the coming days and see some previews of attractions you'll find as well as nostalgic photos and postcards from the mid-20th century. The museum is free to tour from 10 a.m. to 4 p.m. in winter and from 9 a.m. to 5 p.m. in summer. Once you're done inside, take some time to poke around and take in the 20 murals scattered across downtown—the most famous of which is the big Route 66 shield outside the museum.
Abraham Lincoln Presidential Museum
Address: 212 N 6th St, Springfield, IL 62701
Springfield is the hometown of Abraham Lincoln, the 16th president of the United States, and this Springfield attraction is dedicated to preserving his place in history. Here, your group can view artifacts and hear stories about his presidency and legacies. Your bus driver can drop everyone off near the entrance and park at the nearby motorcoach lot for a flat fee of $5.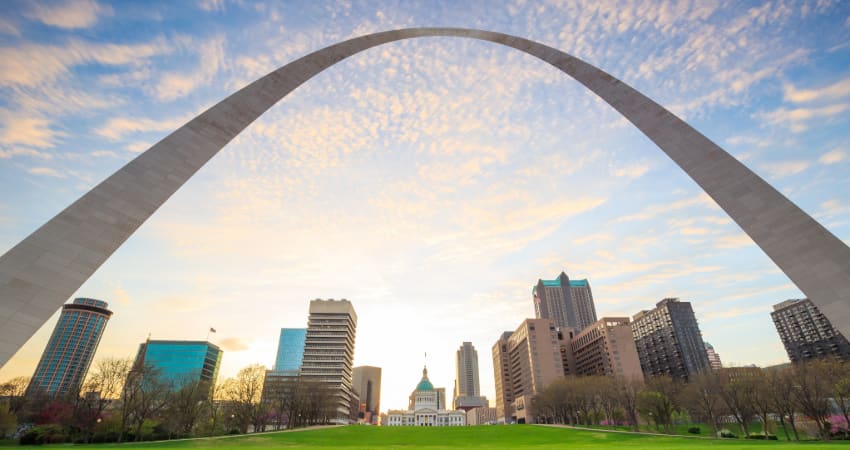 Missouri Attractions
The Gateway Arch
Address: 200 Washington Ave, St. Louis, MO 63102
This towering stainless steel archway has been a road trip destination for groups big and small since the 1960s and stands as the tallest man-made monument in this hemisphere. Once your group has walked around the national park where the monument resides, brave the ride 630 feet up to the top of the arch (yes, you can do that!) and take in the expansive views of the St. Louis skyline and riverfront.
Meramec Caverns
Address: 1135 Hwy W, Sullivan, MO 63080
This system of limestone caves is one of Route 66's most ancient roadside attractions. The caverns once served as emergency shelter for local Osage tribes, as well as a hiding place for the western outlaw Jesse James. Nowadays, tour groups can take a 45-minute trek down into the caverns and observe the 7-story rock formations within.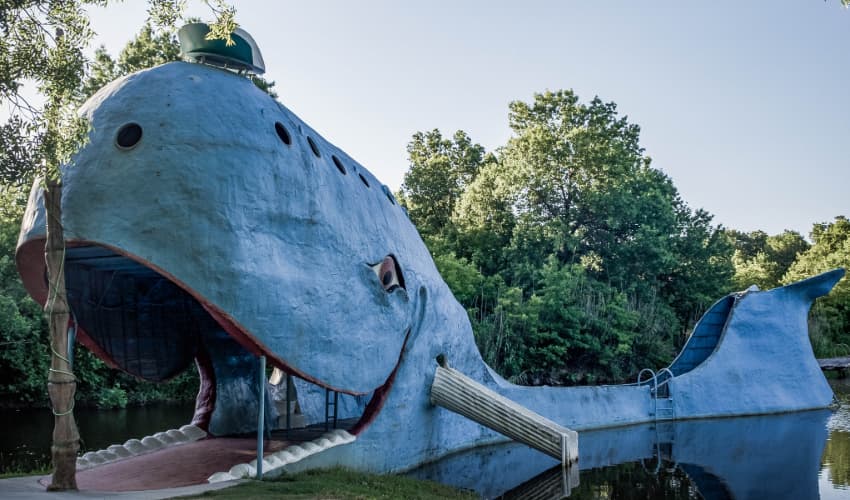 Oklahoma Attractions
The Blue Whale of Catoosa
Address: 2600 U.S. Rte 66, Catoosa, OK 74015
You won't find much in terms of sea life in a landlocked state such as Oklahoma—except this roadside attraction, of course. Just as the name suggests, it's a huge whale sculpture painted bright blue, placed in the middle of a small pond. It was originally constructed in the 1970s by Hugh Davis as an anniversary gift to his wife, but it soon turned the surrounding pond into a local-favored swimming hole and a refreshing pit stop for Route 66 travelers. Swimming in the pond is now prohibited, but you can still walk around inside the whale and have a picnic along the bank.
John Hope Franklin Reconciliation Park
Address: 321 N Detroit Ave, Tulsa, OK 74103
This Tulsa park marks the site of the Tulsa Race Massacre—where hundreds of Black business owners were murdered, looted from, and de-homed by white supremacists in a 1921 riot. In recent years, the city of Tulsa has made efforts to make comprehensive histories and accounts of racial injustice more accessible to the general public—thus the creation of this city park. Be sure to check out the Tower of Reconciliation at the greenspace's center, which depicts African Americans' role in building Oklahoma and the United States as a whole.
POPS Diner and Gas Station
Address: 660 OK-66, Arcadia, OK 73007
A relative newcomer to the Route 66 attraction list, this diner/gas station/soda oasis has delighted visitors and snack enthusiasts since 2007. After you've gandered at the 66-foot-tall soda bottle statue outside, "pop" in and peruse the convenience store's selection of over 700 carbonated beverage brands.
National Route 66 and Transportation Museum
Address: 320 W 3rd St, Elk City, OK 73644
About two hours west of Oklahoma City, your group will come across this series of exhibits celebrating the Mother Road. Similar to the Route 66-centric museum in Pontiac, IL, this place offers visitors an overview of all the attractions you'll find along the highway and also showcases vintage signage. Here your group can view vignettes depicting eras of roadside culture and listen to audio accounts of interstate travelers throughout the decades.
Texas Attractions
The Cadillac Ranch
As one of the most popular roadside novelties along Route 66, your group would be remiss to bypass this outdoor art installation 6 miles west of Amarillo. Take a bunch of artistic selfies next to this rusted out lineup of 10 classic Caddies buried nose-down in the dirt, or spray paint your own masterpiece on one of their upended tail fins—leaving your mark is not only allowed, but encouraged!
Midpoint Cafe
Once you've made it to Adrian, Texas, you're halfway there! This quaint little cafe and souvenir shop marks the exact middle of Route 66. Back in Route 66's heyday, this establishment served weary travelers 24 hours a day. Now, it's the oldest still-running cafe in the area, and serves as inspiration for "Flo's V8 Diner" in the Pixar movie Cars. Snap a quick photo with the milage sign across the street, grab a slice of the diner's famous Ugly Crust Pie, and take in the retro atmosphere.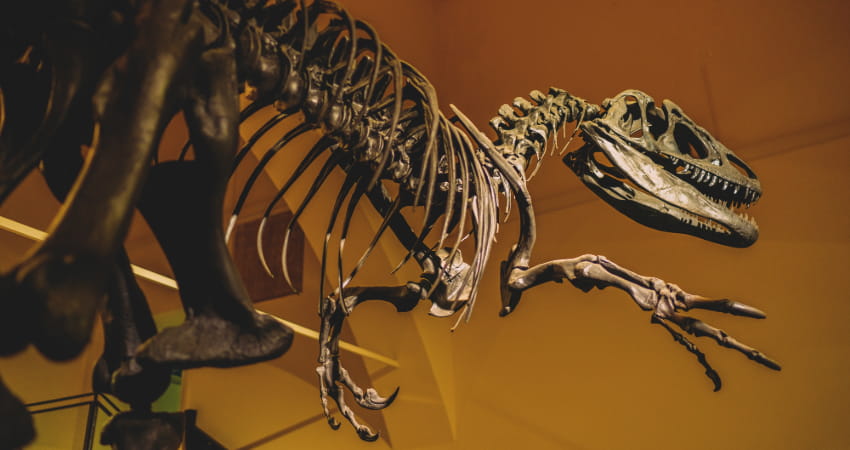 New Mexico Attractions
Mesalands Community College Dinosaur Museum
Address: 222 E Laughlin Ave, Tucumcari, NM 88401
If you're traveling with aspiring paleontologists—or just want to escape the heat—pop into the air-conditioned Mesalands Community College Dinosaur Museum in Tucumcari. Check out the fossils, bones, and artifacts found in the surrounding desert landscape. Be sure to call (575) 461-3466 ahead of time and let the staff know a big crowd is on the way, so they can best accommodate your group's tour.
The Musical Highway
Address: U.S. Rte 66, Albuquerque, NM 87123
About 20 minutes east of Albuquerque, keep an eye out for speed limit signs with musical notes on them, and for this 1,300-foot stretch of highway, make sure your driver hits the rumble strips on the right side of the road. When a vehicle drives over them at exactly 45 miles per hour (the speed limit around these parts), the sound of the rumble strips under the wheels will sound exactly like the song "America the Beautiful!"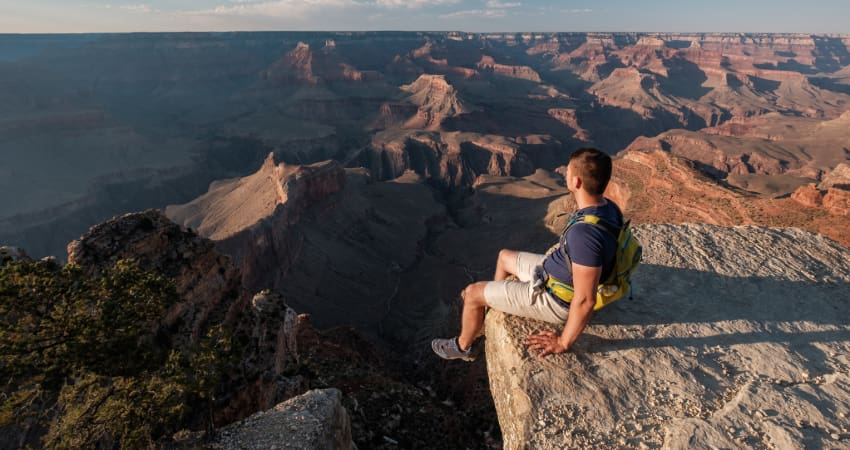 Arizona Attractions
The Grand Canyon
Address: S Entrance Rd, Grand Canyon Village, AZ 86023
A short detour from Route 66, this natural wonder is such a sight to behold, your group would be missing out if you passed it up. There are two main viewing areas to the canyon, North Rim and South Rim. The South Rim is closest to the Route and offers all the majestic photo ops you see on all the postcards. The North Rim entrance is a few hours' drive away from the highway, but if your group prefers sparser crowds, this side of the canyon is a great option that still offers beautiful views.
Meteor Crater
Address: Interstate 40, Exit, 233, Winslow, AZ 86047
Considered one of the best day-trips you can take from Phoenix, this meteor impact site is one of the best-preserved in the world. It's huge—literally a mile wide—and is believed to have formed 50,000 years ago when a meteor struck Earth with more force than 20 million tons of TNT exploding at once. Make a stop at the visitor center on the rim to coordinate your group's tour. And good news: if you're visiting with a group of 15 or more, your driver receives a complimentary ticket!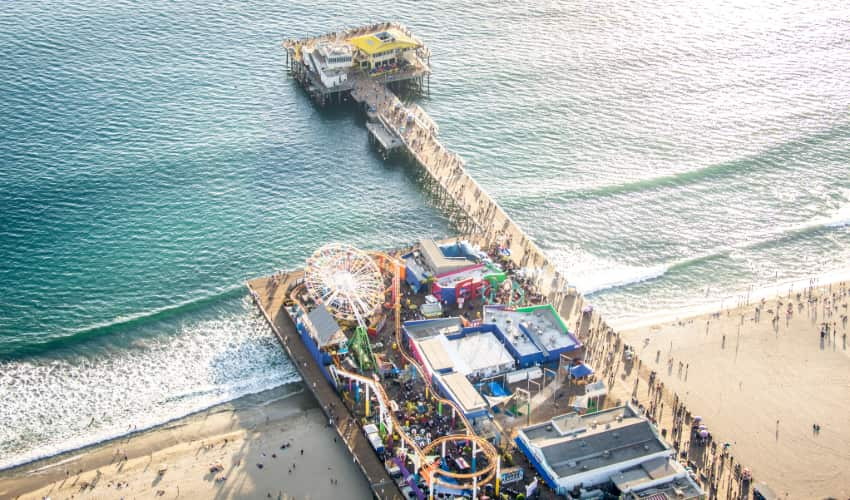 California Attractions
Elmer's Bottle Tree Ranch
Address: 24266 National Trails Hwy, Oro Grande, CA 92368
A grove of tree-shaped sculptures made from glass bottles may be an odd sight in the middle of the SoCal desert, but that's definitely part of the charm. All the sculptures you see in this faux forest were constructed by one man—Elmer Long—after he inherited a massive bottle collection from his father. If you feel a breeze picking up, have everyone in your group take a moment of silence—if you listen closely, you can hear a chorus of gentle whirring as the wind blows over the empty bottles. Parking is plentiful (even for oversized vehicles like motorcoaches), though entry to the sculpture garden is prohibited until further notice.
The Original McDonald's Museum
Address: 1398 N E St, San Bernardino, CA 92405
Because what's more "All-American" than a museum dedicated to the country's biggest fast-food chain? This building opened in 1940 as the first-ever McDonald's—the "Original McDonalds" you'll find in Des Plaines, Illinois, is actually just the first store opened after the chain became a big corporation—and now houses a series of exhibits that showcase the history of the business. Wander through shelves stacked high with kid's meal toys, vintage uniforms, retired playground structures, and other memorabilia.
Santa Monica Pier
Address: 200 Santa Monica Pier, Santa Monica, CA 90401
Here lies the westernmost point of Route 66. In fact, the very end of the Santa Monica Pier has been designated as the official stopping point of Route 66—suggesting that the highway only ends because the ocean is in the way. In any case, this pleasure pier is considered the crown jewel of Santa Monica and a popular Los Angeles destination, with boardwalk thrill rides and cheesy concession stands galore. Sunbathe on the beach and soak in that ocean breeze. After 14 days on the road, your group deserves it.
Get Your Kicks with a Route 66 Bus Rental
Ready to go? Once you've decided where your group is going, who's coming with, and what amenities will make the ride more enjoyable, give GOGO Charters a call at 1-855-826-6770. Our team is available around the close to take your call, hash out any transportation needs you may have, and offer a free, no-obligation quote personalized to your group travel needs. Get in touch today and see for yourself how easy your Route 66 group trip can be with a charter bus rental!
Do you need to rent a charter bus?
Do you need a long-term shuttle service?
We offer contracted shuttle services for businesses, schools, hotels, and more. Contact our experts at 1-844-897-5201 to discuss your long-term transportation plans.