Social Distancing-Friendly Locations in Washington D.C.
Washington D.C. is usually one of the busiest tourist spots in the country. People typically flock to the National Mall by the thousands, but the COVID-19 pandemic has changed quite a few things. Exploring D.C. is more limited than usual, but there are still a few places where you can visit while social distancing. Locals itching to get out of the house can plan a safe, outdoor activity, while people visiting from nearby Alexandria or Arlington can also have a fun day of socially-distanced activities.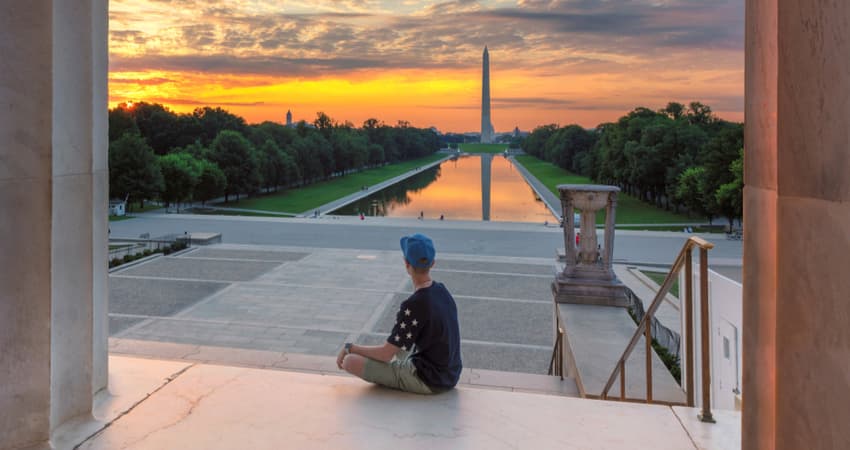 Group interactions should be minimized where possible, but travelers in established pods may want to consider a private minibus rental. GOGO Charters offers safe and sanitized charter buses for relatively small outings. Instead of splitting into several vehicles for your trip, hop on a private shuttle with plenty of space for everyone. Social distance onboard if you wish, and even build your own additional sanitization and safety protocols. Your personal bus driver will have proper PPE and be notified of any of the special requests your group has. Call (202) 741-9808 to get a free, personalized quote and learn more about how GOGO Charters can help you travel safely.
Check out our COVID-19 group travel tips as you head to these D.C. spots for the day:
Stroll through the National Mall Memorial Parks.
Most museums along the National Mall are closed or heavily restricting capacity due to the pandemic. Thankfully, you'll find most of the memorials are still open 24/7/365. Sure, you've probably seen all of these memorials as a D.C. area local, but they're still beautiful locations to get a breath of fresh air with loved ones.
Everything west of the Washington Monument is open to the public. Just be aware of other travelers who may be visiting in the area as well. All of the memorials are located outdoors, which should give you plenty of space to social distance. Start your day at the National WWII Memorial, stroll past the Reflection Pool, enjoy views of the Tidal Basin, and then end your day at the Jefferson Memorial.
Starting Address: 1750 Independence Ave. SW, Washington, D.C.
Phone: (202) 426-6841
Charter bus travel tip: The National Mall has very strict regulations for motorcoaches, even when most of the attractions are closed. Review the National Mall's loading zone and parking procedures before embarking on your trip.
Enjoy nature at the U.S. National Arboretum.
The U.S. National Arboretum is a wonderful place to feel more connected to nature during a time when many of us are stuck indoors. Learn about a variety of native and exotic plants on more than 400 acres of lush gardens. Crowd favorites include the National Bonsai & Penjing Museum, the Asian Garden, the Azalea Collection, and the Dogwood Collections. Along with the beautiful gardens, the arboretum is also home to the National Capitol Columns that were once a part of the U.S. Capitol between 1828 and 1958.
Admission is free, and visitors are welcomed during limited hours throughout the week. Masks are not required but are highly recommended, and all guests must stay at least 6 feet from other visitors. Keep in mind that the bathroom and dining facilities are currently limited. Your group can pack a picnic lunch and enjoy a meal in the shade of the arboretum's greenery.
Address: 3501 New York Ave NE, Washington, DC 20002
Phone: (202) 245-2726
Charter bus travel tip: Motorcoaches are allowed to unload at the arboretum's visitor center but aren't allowed to park there. Have your driver drop everyone off before parking in the Grove of State Trees parking lot off New York Avenue NE.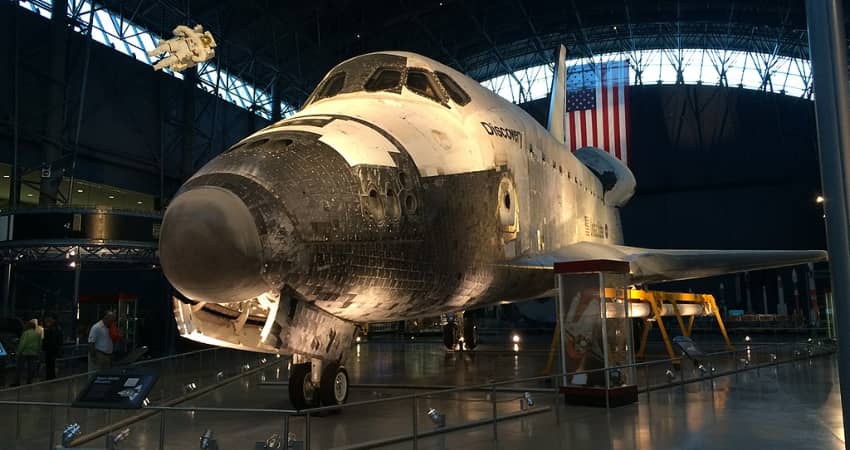 Learn about space and aviation at the Udvar-Hazy Center.
The beloved National Air and Space Museum on the National Mall is temporarily closed, but the Udvar-Hazy Center is open and running! Located about 30 minutes outside of D.C. near Dulles Airport, the center offers a variety of exhibits on space exploration and aviation history. Highlights include the original Space Shuttle Discovery, a Lockheed SR-71 Blackbird, and an observation tower with views of the airport. Some exhibits that are in tight quarters may be temporarily closed during the pandemic.
Passes to the center are completely free, but timed entry tickets are required to minimize visitor capacity. Depending on when you're planning to visit, there may be a limit on how many passes one visitor is allowed to reserve. Everyone in your group will be required to wear a mask and social distance from other visitors.
Address: 14390 Air and Space Museum Pkwy, Chantilly, VA 20151
Phone: (703) 572-4118
Charter bus travel tip: The Udvar-Hazy Center has a large parking lot with a section designated for oversized vehicles like charter buses and RVs. Parking for cars is usually $10, but additional fees may apply for buses.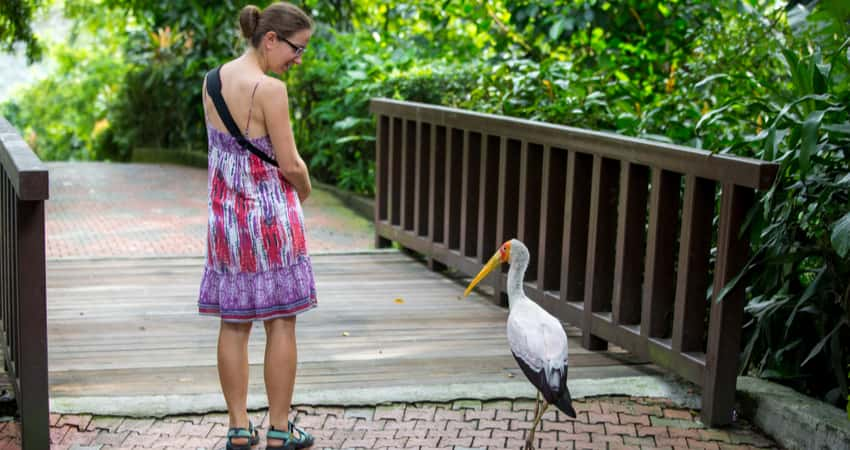 Visit some furry, feathery, and scaly friends at the National Zoo.
The National Zoo is an amazing spot to visit with kids, and since the majority of animal exhibits are outside, your group may feel more comfortable here. There are more than 4,000 animals representing around 500 species from across the world. A few of the zoo's most-visited residents include the giant pandas, Komodo dragons, gorillas, red pandas, sea lions, and big cats.
Although admission is free with timed entry passes, parking does cost a fee. The zoo highly encourages visitors to take alternative forms of transportation since parking easily fills up. If you are planning to take your personal vehicle, parking costs $30.
Any visitor over the age of 6 will need to wear a mask for the entirety of their visit to the zoo. Guests between 2 and 5 are highly encouraged to wear masks as well. Some dining areas, restrooms, and indoor animal exhibits like the Small Mammal House may be temporarily closed.
Address: 3001 Connecticut Ave NW, Washington, DC 20008
Phone: (202) 633-4888
Charter bus travel tip: Charter buses and oversized vehicles are not allowed to park at the zoo. If you'll be traveling via minibus, you'll need to organize off-site parking for your bus rental.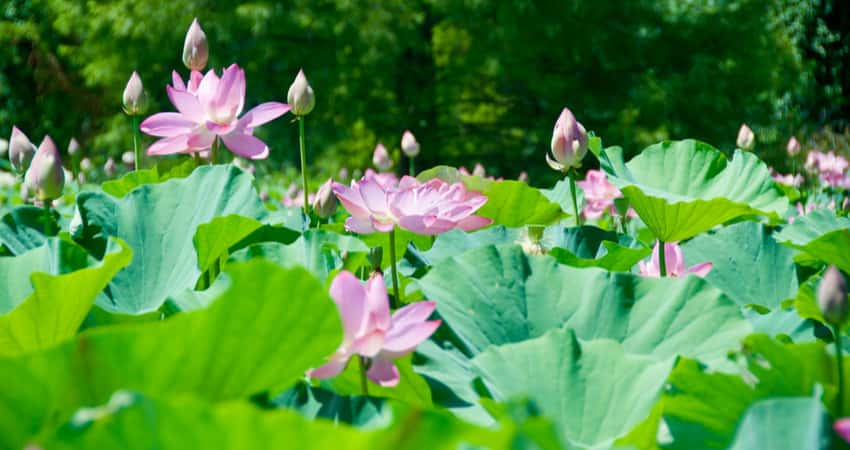 Soak up some sun at Kenilworth Park & Aquatic Gardens.
Kenilworth Park is located right across the Anacostia River from the U.S. Arboretum and is a beloved local greenspace. It's the perfect place for a quiet day by the river with loved ones. The aquatic gardens are exceptionally beautiful when the lotuses and water lilies are in full bloom during the summer. Take some time to appreciate the gorgeous gardens, hike the park's short trails, plan a group picnic lunch, or even organize a day of birding. (the park's diverse ecosystem attracts a variety of native birds like meadowlarks and bobwhites.)
Park hours have been limited during the pandemic, but it is still open every day of the week. Before you visit, be sure to have plans in place for food and restrooms, as the park's facilities will be limited or closed.
Address: 1550 Anacostia Ave NE, Washington, DC 20019
Phone: (202) 692-6080
Charter bus travel tip: You'll find plenty of free parking at Kenilworth. If you're worried about not having access to the bathroom at the park, ask your GOGO Charters reservation specialist about booking a full-sized charter bus with a restroom.
Rent Safe D.C. Transportation with GOGO Charters
Planning a group outing may not be at the top of many people's must-do lists, but if you are organizing a day out, leave the transportation up to GOGO Charters. You can rest assured that you'll have a safe and sanitized private ride for whenever you plan to social distance in Washington D.C. The GOGO Charters rental team is available 24/7 to help you pick the best type of bus and to answer any questions about safety procedures. Call (202) 741-9808 for a free quote today!
Tags In
Do you need to rent a charter bus?
Do you need a long-term shuttle service?
We offer contracted shuttle services for businesses, schools, hotels, and more. Contact our experts at 1-844-897-5201 to discuss your long-term transportation plans.