The GOGO Charters Guide to Group Day Trips from Tampa
Tampa's beautiful beaches, thriving craft brewery scene, and exhilarating theme parks are all wonderful reasons to visit. But what if you're a local? Then you've probably already brewery-hopped through Ybor City and ridden Busch Gardens' roller coasters more times than you can count. Good thing Tampa's central location makes many of Florida's other major cities and attractions easily accessible.
Whether you're a group of locals looking for a change of scenery or an out-of-town group wanting to see what else Florida has to offer, GOGO Charters has the perfect charter bus rental for a day trip from Tampa!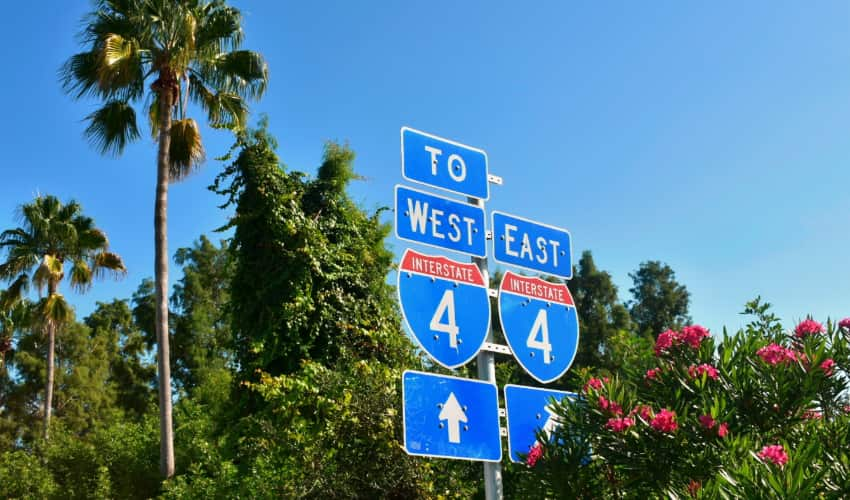 Easy Group Transportation from Tampa
Groups of all sizes traveling for a variety of day trips can benefit from a charter bus rental. Instead of splitting among several personal vehicles, a charter bus will keep your group together and ensure nobody is lost to traffic or confusing directions. You won't need to wait around after a scout troop chaperone made a few wrong turns on the way to Blue Spring State Park, leaving half your group missing and running behind schedule. With GOGO Charters, you'll have a bus tailored to your group size and a professional driver to handle the navigation, keeping your trip on-track.
Small groups don't need to worry— you won't be required to rent a full-sized charter bus. We have a variety of minibus models in our network that can comfortably accommodate groups of friends, local community organizations, or small businesses. Minibuses are usually more economical and the optimal size for comfortable short trips with 25 or fewer people. When you book your bus, be sure to ask your rental expert about what amenities are available on your vehicle of choice. You can request TVs with DVD players to keep your group entertained on the road, WiFi and power outlets for everyone to stay connected on their mobile devices, and plush, reclining seats for longer trips that require extra comfort.
Call GOGO Charters Tampa at (813) 452-6111 to chat with a rental expert to find the best model of bus for your day trip!
Now let's hop into some day trip ideas that are great for groups.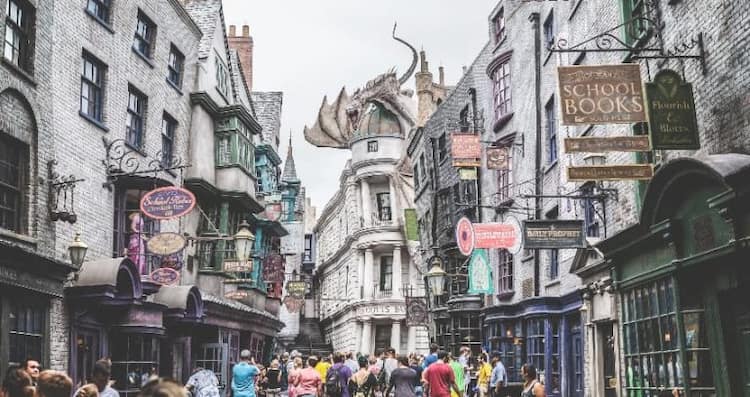 Image Courtesy of Troy Jarrell on Unsplash.
Day Trip for Thrill Seekers: Tampa → Orlando
Travel time: 1-1.5 hours
Visiting Disney World or Universal Orlando Resort is one of the most popular day trips for groups coming from Tampa. Although none of Orlando's parks have as many intense roller coasters as Busch Gardens, they have plenty of other thrilling rides and magical experiences. (You can't get much more magical than Magic Kingdom at Disney or the Wizarding World of Harry Potter at Universal.)
Groups of 20 or more visiting Universal Orlando Resort can take advantage of discounted group tickets by calling 1-888-266-2121. Youth groups of 15 or more traveling with schools, colleges, religious, or community organizations can request discounted group tickets here.
Disney World offers group discounts for youth programs and for lodging guests booking 10 or more rooms at a Disney resort hotel. If you're organizing a business or social event, Disney offers planning resources and package deals. All other groups will, unfortunately, have to pay standard admission, which fluctuates depending on when you plan to visit.
Orlando theme parks see dozens of charter buses and minibuses a day. You'll find oversized vehicle accommodations at any theme park— just be aware that parking can become limited during busy travel seasons like summer and major holidays. Oversized vehicle parking is $30 at Disney and $32 at Universal.
Universal and Disney are both comprised of multiple parks, so if you're planning a one-day trip, you'll likely need to pick one park. If you've always wanted to take a photo in front of Cinderella's Castle, choose Magic Kingdom over Disney's other parks. And if eating magical candy in Honeydukes has been your dream since childhood, make sure you get your ticket for Islands of Adventure in Universal Orlando to visit Hogsmeade (Diagon Alley is located in a different park). You'll also want to make sure your group outlines a few must-see attractions at any park you choose, as it'll be difficult to see everything.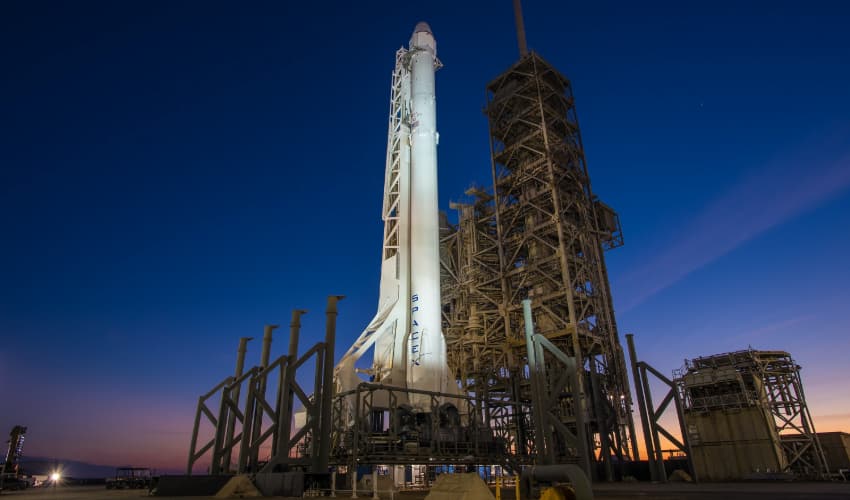 Image Courtesy of SpaceX on Unsplash.
Day Trip for Science Buffs: Tampa → Merritt Island and Kennedy Space Center
Travel time: 2 hours
Address: Kennedy Space Center Visitor Complex, Space Commerce Way, Merritt Island, FL 32953
Phone: 1-855-433-4210
Does science pique your interest more than magic and Mickey Mouse? The coast just east of Orlando is home to one of the most important science facilities in the country, the Kennedy Space Center (KSC)! This NASA field center has been the administration's primary hub for human space exploration since 1968. Of NASA's 11 visitor centers throughout the US, the Kennedy Space Center Visitor Complex sees the most foot traffic.
Although Merritt Island is a little farther from Tampa than Orlando, it's well worth the additional drive time to learn about integral advancements in space exploration. The center's exhibits are great for visitors of all ages. Walk among giant rockets from the Mercury, Gemini, and Apollo missions at the center's rocket garden, visit the U.S. Astronaut Hall of Fame, and take a bus tour of the launch pad. Depending on when you plan to visit, you can even witness a rocket launch (KSC is one of three current SpaceX launch facilities) from the visitor complex.
Group discounts are offered for visitors of all ages and can be booked by calling 1-855-433-4210. Group minimums (to qualify for discounted admission) are as follows:
Youth groups: 15 or more youths, ages 3-18
College groups: 15 or more students, must be organized by a university
Adult Groups: 30 or more guests, additional discounts are offered for 50+ visitors
Senior Groups: 15 or more guests, ages 55+
Oversized vehicle parking is $15 for motorcoaches of all sizes. KSC has plenty of parking, but during busy travel times, we'd advise your group to get an early start to beat the crowds and packed lots.
The visitor center also offers a variety of add-on experiences like private tours, dining with an astronaut, flight simulation training, and VIP rocket launch viewings (when available). Grab your tickets, add any additional experiences to your group package, and book your bus to explore the cosmos!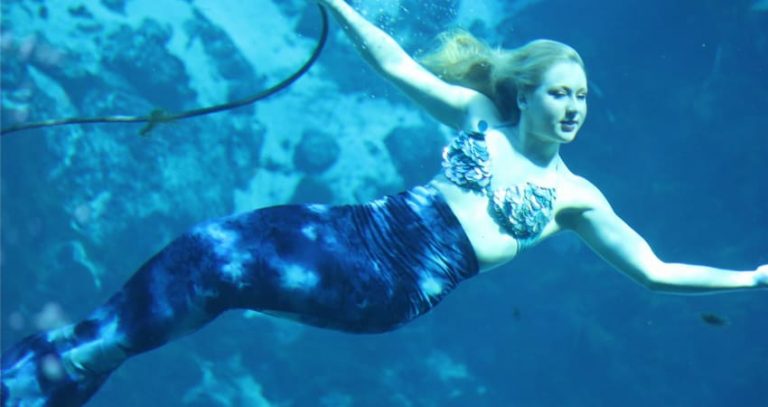 Image Courtesy of Robin Wendell of Flickr.
Day Trip for Outdoor Enthusiasts: Tampa →  Florida State Parks
Florida has an impressive state park system. The central region of the state has several locations with natural springs, beautiful rivers, and hiking trails surrounded by lush greenery. There are a handful of state parks within a day-trip distance from Tampa, so you'll have to pick one that appeals most to your group. Some locations are better for groups traveling with small children, while others may be better for adults who want to kayak, canoe, and snorkel.
Most state parks charge entrance fees per vehicle, but charter buses will need to pay fees per person. Expect to pay between $2- 8 per person, with additional equipment rental fees for activities like tubing, fishing, and camping. Parks with high annual attendance and additional features (like Buccaneer Bay at Weeki Wachee) may charge a bigger admission fee.
Here are a few state parks close to Tampa we'd recommend:
–       Weeki Wachee Springs State Park
Address: 6131 Commercial Way, Spring Hill, FL 34606
Travel time: 1.5 – 2 hours
Weeki Wachee Springs State Park has all your typical aquatic activities like snorkeling, swimming, canoeing, and kayaking. However, it does have a few things that set it apart from the rest of Central Florida's state parks: Mermaids! Well, not real mermaids (shh, don't tell the kids), but highly-trained underwater performers who've put on choreographed shows for more than 60 years. Daily shows are held in a 400-seat auditorium, bringing magical tales like The Little Mermaid to life. It's a family-friendly show that will marvel children and adults alike! After the show, you and your group of kids can hit the park's water slides at Buccaneer Bay. The slides may be overwhelming for small children, so anyone traveling with children six and under can opt to splash and play in the Lil' Mates Caribbean Cove.
–       Ichetucknee Springs State Park
Address: 12087 Southwest, US-27, Fort White, FL 32038
Travel time: 2.5 hours
Located about 160 miles north of Tampa, Ichetucknee Springs State Park is home to the Ichetucknee River, one of North Florida's most popular tubing locations. The park has 5 tubing options that span 45 minutes to 3.5 hours, where you can sit back, relax, and coast down a spring-fed, crystal-clear river.
If rolling down a natural lazy river sounds a little too slow for your taste, you can canoe, kayak, or hike one of the park's three trails, and scuba-certified visitors can snorkel up to 40 feet in Blue Springs Hole. The park's variety of activity and tubing options makes it a great location for groups of adults and visitors with older children (many areas in the river may be too deep for little ones). Fair warning: this state park gets exceptionally busy on the weekends, so be prepared for crowds.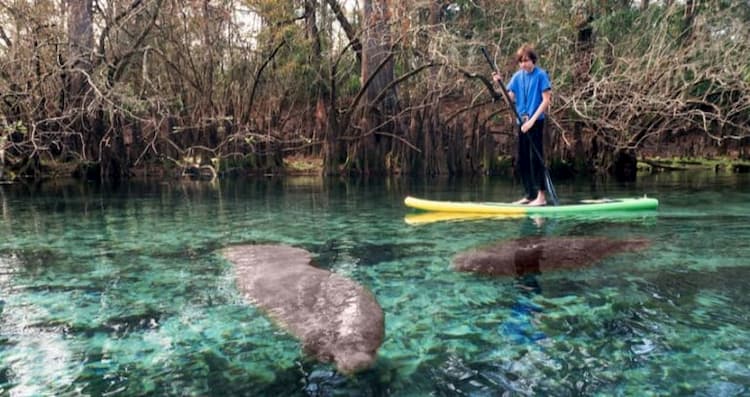 –       Blue Spring State Park
Address: 2100 W French Ave, Orange City, FL 32763
Travel time: 2- 2.5 hours
Wildlife watching is a wonderful group activity available at most state parks throughout Florida. Blue Spring is a great place to watch native wildlife in designated areas, canoe, kayak, scuba dive, hike, and of course swim.  If your group is lucky, you can even catch a glimpse of Blue Spring's most popular residents—the Florida manatee. This state park is the largest winter gathering site of manatees in the state, which makes it a great outdoor day trip for out-of-town visitors escaping the northern cold. Blue Spring is also a popular place to bring small children with a love for animals. They can't get too up close and personal with the endangered manatees, but it offers a wonderful learning experience. Be sure to check the park's website before our visit, as manatee season can limit water activities.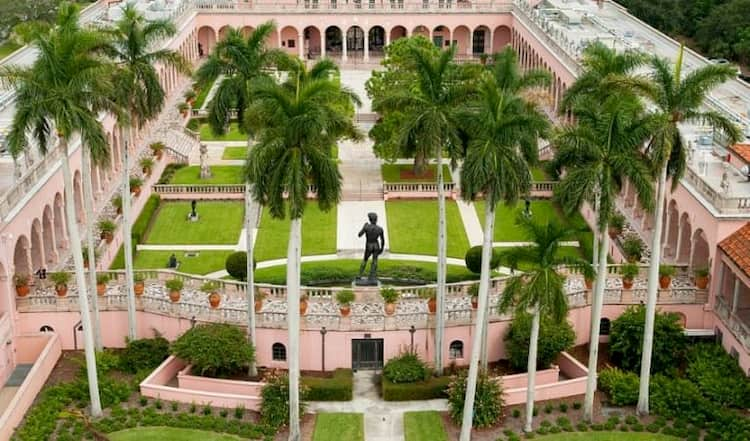 Image courtesy of Wikimedia Commons.
Day Trip for Art and History Lovers: Tampa →  Sarasota and The Ringling
Travel Time: 1 hour
Address: 5401 Bay Shore Rd, Sarasota, FL 34243
If you're a group of Tampa locals, you've probably already been to the Salvador Dalí Museum in St. Pete. It's a magnificent art museum and is definitely worth a second or even third visit for art lovers. But why not change up the pace with a group trip to The John and Mable Ringling Museum of Art (often just called The Ringling) in Sarasota?
The museum complex offers so much more beyond art. The Ringling is comprised of the State Art Museum of Florida, the 56-room Ca' d'Zan Mansion, Bayfront Gardens, The Ringling Circus Museum, and the Historic Asolo Theater. Admire a variety of European and Asian art, marvel at miniature circus models, learn about circus life throughout history, and tour the complex's 66 acres of lush gardens.
Groups of 20 or more will receive discounted admission. Adults and seniors are $20 while children are $5. General admission includes access to the art galleries, circus museum, and gardens. Guided public tours of the art museum are also included with admission. Additional fees are applicable for private guided tours, admission to the Ca' d'Zan ($10-20 per person), and admission to shows at the Asolo Theater.
Privately organized groups should complete a group inquiry form before their visit. If you're traveling with a school or youth group, be sure to inquire about The Ringling's educational programs. Parking for your charter bus is free and complimentary admission is provided for your driver. Buses can unload passengers at a designated drop off area along Bay Shore Road moving to a bus lot at the Asolo Theater & the Cook Theater on US 41. Once your museum trip is over, your bus driver can pick everyone up at the bus unloading zone to explore other attractions in Sarasota or head back to Tampa.
Start Planning with GOGO Charters
Need a bus for a multi-day trip from Tampa? We service trips of all distances and durations. Just let your rental expert know your trip details and we'll provide you with a personalized quote for your Tampa group trip. Give us a call at (813) 452-6111 to learn more about charter bus pricing and to get a personalized quote.
Tags In
Do you need to rent a charter bus?
Do you need a long-term shuttle service?
We offer contracted shuttle services for businesses, schools, hotels, and more. Contact our experts at 1-844-897-5201 to discuss your long-term transportation plans.