Rent a Charter Bus in New York City
At GOGO Charters, we have access to a huge variety of motorcoaches and minibuses. Our 24-hour sales team can help you find a compact 28-person minibus or a full-size, 56-person charter bus. If you're worried about the cost of a bus, check out our pricing guide before giving our representatives a call to receive a free, no-obligation quote.
CALL (212) 356-0174 FOR YOUR PRIVATE BUS IN NEW YORK CITY
Whether you're planning a short trip so your youth group from Queens can volunteer in Manhattan or a road trip from New Orleans to New York City, a charter bus makes it easy to keep your group comfortable. Buses typically have more legroom and larger windows than airplanes, and you can request convenient amenities like on-board lavatories, WiFi, and TVs with DVD players.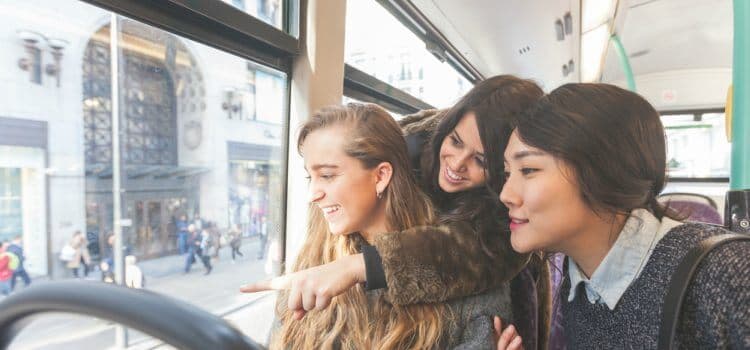 If you plan to fly to New York but still need transportation within the city, we can send a bus to pick you up at JFK, LaGuardia, or Newark. Don't force your group to navigate multiple trains or wait on rideshares after a long flight. Climb on a charter bus that's already waiting for you, lean back in a reclining seat, and enjoy heating or air-conditioning on the way to your hotel.
See the City That Never Sleeps
If you want to see New York's sights but you're traveling with a group of young kids or people with mobility concerns, a hop-on, hop-off charter bus tour offers an easy alternative to the subway. You won't have to worry about children getting lost in a crowded train station or how to find a station that's accessible.
Take your charter bus to iconic destinations like Times Square, the Empire State Building and Rockefeller Center while you relax and gaze out the panoramic windows. GOGO Charters also provides ADA-compliant buses by request, so you won't have to worry about finding accessible transportation for everyone in your group.
Tour New York's Best Colleges & Universities
New York City provides a home for several legendary universities, including Columbia, NYU, and Juilliard. If your high school student and some of their friends are all considering the same school, you can arrange your own private college tour by booking a minibus to travel from one campus to the next. Your professional, fully certified driver will help you navigate the city streets and take you safely to each campus.
Since these campuses are in the heart of New York City, they often have limited or no visitor parking. Your driver can drop you off at the student center and then circle the city, go to a public parking lot, or head back to the hotel while you and your prospective students take a campus tour. Want to treat your kid and their friends to a nice dinner out after a day of touring? Your bus can take you there too. Just let us know which stops are on your itinerary when you call.
Check Out Educational Sites with a Charter Bus
Just because you're not in school doesn't mean you have to stop learning. Whether you're a young adult or a senior citizen, GOGO Charters can help you take a private sightseeing tour of New York City's best educational attractions. Ask your charter bus to drop you off near the American Museum of Natural History so you can stroll past dinosaur fossils, or visit The Met to see paintings by Pollock, O'Keeffe, and Degas.
Want to go all the way to the New York Botanical Gardens in The Bronx? Need to catch the ferry to the Statue of Liberty from Jersey City? GOGO Charters has you covered. We provide transportation throughout the 5 boroughs as well as to upstate New York, Connecticut and New Jersey. If you have a long drive ahead of you, you can request onboard WiFi and TVs to keep everyone in your group entertained.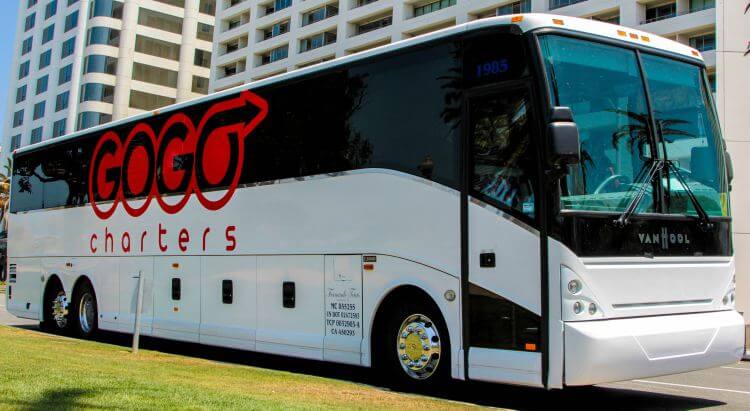 Religious Trips to New York City
If your religious community needs to reach a retreat, convention, choir performance, or volunteer event in New York City, GOGO Charters can provide safe, reliable transportation. We encourage all drivers to arrive at pick-up locations 10 minutes early whenever possible to ensure you won't be late for a performance or discussion group.
New York also has many famous religious buildings you can visit during your stay. Stop by St. Mark's Church in-the-Bowery, New York's oldest site of continuous religious practice, or spend an afternoon at the Islamic Cultural Center of New York, a huge, beautiful mosque in East Harlem. If you'd like to include these stops on your itinerary, your driver can easily drop your group off to explore or pray and then pick you up to take you back to your hotel.
Family Reunions Made Simple
Planning a reunion for your entire extended family isn't easy, but GOGO Charters can take the stress out of organizing your transportation. Don't worry about whether your great-aunt can drive safely or how to keep your young cousins entertained in the car. Load everyone onto a bus with a professional driver, and request WiFi so your cousins can watch TikToks while your great-aunt scrolls through Facebook.
Once you're in New York, you'll find an abundance of affordable, family-friendly activities. Go for a walk along the High Line, or plan an evening at Brooklyn's Greenwood Park, a casual restaurant and beer garden that has 13,000 square feet of indoor/outdoor space where your family can spread out.
Private Tours for Senior Citizens
Who doesn't want to travel during retirement? But who wants to spend their vacation shoving through crowded subway stations and trying to figure out whether to take the 4 or the 5? Sure, if you're a city dweller, the subway may be no problem for you—but that may not be true for all 40 or 50 people in your group, especially if some of them have mobility concerns.
A charter bus offers an easy, safe way for your entire tour group to travel to Broadway shows and Brooklyn food festivals with a minimum of stress. We have ADA-accessible buses available by request, and all of the buses in our network feature plush seats that will keep everyone comfortable during the drive.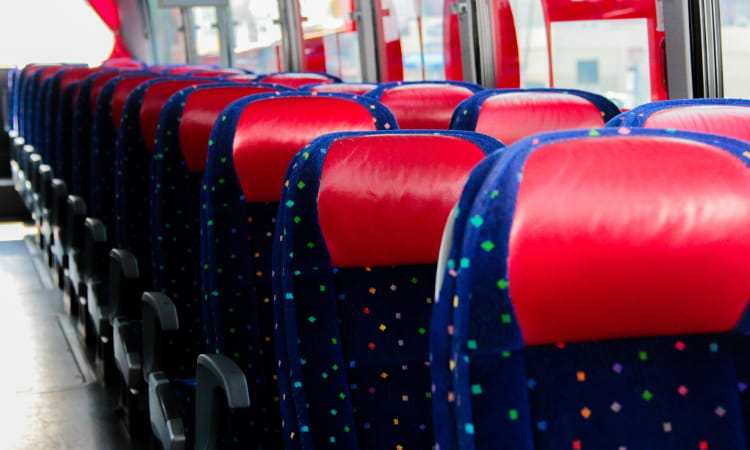 Choose a Reliable Bus Company
The GOGO Charters sales team is available 24 hours a day, 7 days a week to answer any questions you have about organizing a private charter bus tour of New York. Whether you need a minibus to help a few students tour colleges or a full-size charter bus for a family reunion, we've got you covered. Call us at (212) 356-0174 for a free, no-obligation quote today.
Rent your charter bus now:
(212) 356-0174
You may have seen us featured in: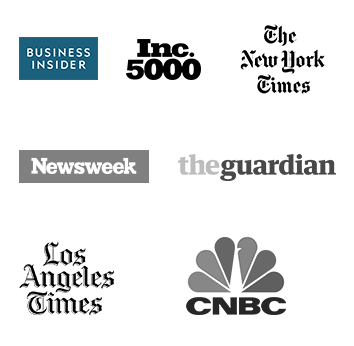 Gogo Charters New York

New York, NY 10016, USA

(212) 356-0174
More About Group Travel in New York
Helpful Bus
Rental Resources
Latest
Blog Posts